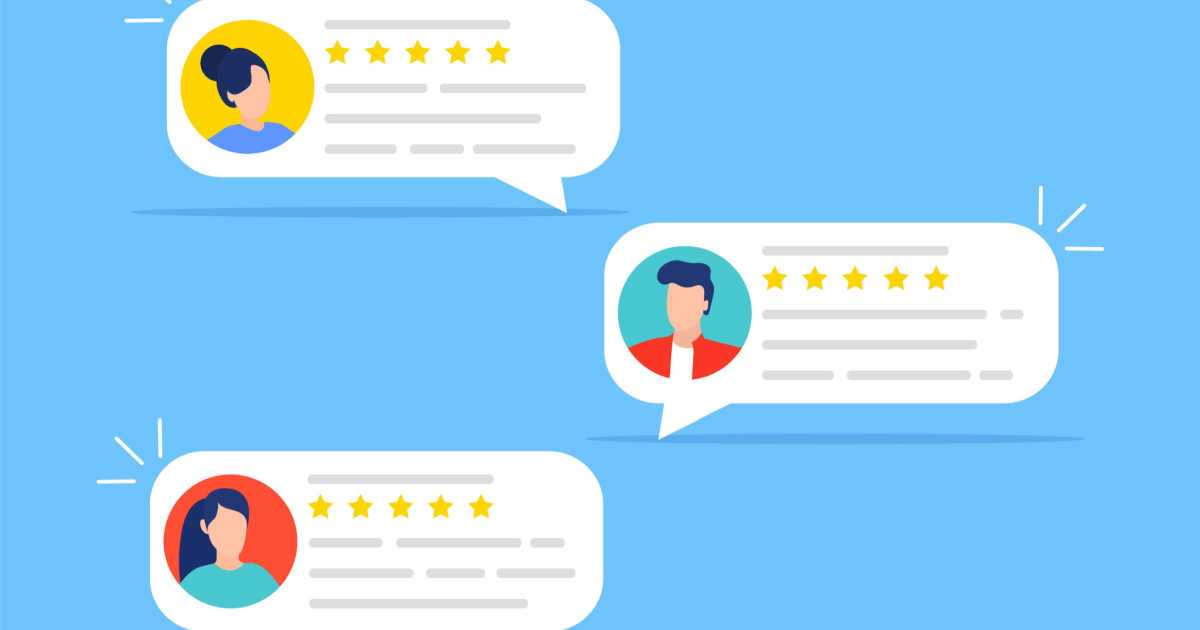 ---
Customer feedback is the lifeblood for any business. Least year, nearly 90% of consumers reported reading online reviews for local businesses before a purchase, according to a BrightLocal survey. Ratings and reviews provide valuable insight into what shoppers truly think about your brand and products.
But where many businesses trip up is lack of quantity. They simply aren't asking for reviews. Whether it's because they don't realize they need to, or they don't know how to ask — either way, we see it too often.
This user-generated content (UGC) goldmine is criminally underutilized. Which is why we've created this comprehensive guide to show you the best ways to get more reviews for your business.
Chapters:
---
---
How often do you check reviews before visiting a restaurant, booking a trip, or buying something new? Probably most of the time. Maybe all the time. If yes, you're one of the 88% of shoppers who rely on reviews to discover and evaluate products and services. Reading about the experiences of others instills confidence, builds trust, and inspires shoppers to return and buy again.
Even just a few reviews can have a significant impact on your business. Shoppers typically view up to 10 reviews before deciding what to buy, and they're influenced by both negative and positive reviews. The more high-quality reviews you can get, the more benefits you'll see.
Without a doubt, there's a strong correlation between customers interacting with reviews and conversion rate.

Sven Lindell, Chief Marketing Officer, Appliances Online
The best way to get more reviews for your business is to simply ask — over 70% of the customers who are asked to write a review actually do. Shoppers enjoy sharing their opinions and appreciate opportunities to interact with the brands they love.
But what's the best way to ask them? There's several ways to ask for reviews, from emailing consumers directly to offering samples in exchange. Here's how to ask for them, and why you definitely should.
How reviews benefit your business
Before we get to how to ask customers for reviews, let's delve into why you need them. In short, it's great for business because they build relationships and significantly boost conversion rates and sales.
There's more to it than that though. Here's the five top ways ratings and reviews benefit your business.
1. Drive conversion 
Shoppers place a high trust value on reviews and are more likely to purchase from sites with recent, high-quality reviews. In fact, they're 2x more likely to convert when they interact with reviews. according to Bazaarvoice's Shopper Experience Index, product pages with at least one review can see a:
354% conversion rate increase
446% revenue increase per person compared to pages without reviews
For example, Australian online appliance retailer Appliances Online has gathered 386,000 total reviews to date, which the brand uses on its product display pages. This influx of UGC translated to a 3x higher conversion rate.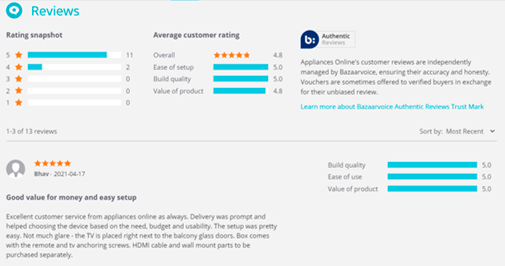 And business technology company Brother International Europe also worked on its reviews strategy and has since seen customers spend 3x longer on product pages that have reviews.
2. Boost revenue 
Reviews entice shoppers to spend more time on product pages. This tends to increase conversion rates, often giving brands a revenue boost. Businesses can drive 52% more revenue when they have nine reviews and 108% more if they have 25, according to Womply. And businesses with a higher-than-average number of reviews experience a 54% increase in annual revenue.
Feelunique, Europe's largest online beauty retailer, worked with Bazaarvoice to grow increase review volume and encourage shoppers to make purchases. The retailer experienced a 140% increase in conversions, a 32% lift in average order value, and a 375% jump in the time on site. The impact of which generated a $10 million revenue lift for the brand, as explained below:
Reviews, both negative and positive, also give customers a true sense of what a product looks like and how it works. This helps them make more informed purchases. This often reduces return rates, which is good for a brand's bottom line, too.
For example when fashion brand GANT began including product reviews on its website, it reduced return rate by 5%, significantly increasing revenue.​​
3. Establish brand trust
Shoppers want to feel secure when they purchase something and confident that what they buy will meet their needs. About 80% of consumers trust online reviews and 40% rely on them to inform their purchases, our research shows. Most shoppers trust reviews, just as much as, if not more, than a recommendation from a friend or family member. Ultimately, they inspire consumers to continue purchasing from the brands they trust.
Consumers want to hear what their peers have to say. Encouraging reviews, displaying them across your channels, and engaging with shoppers by answering their questions builds trust and promotes authenticity. And this will translate into sales.
French retailer GroupeAdeo launched a user-generated content (UGC) program to collect as many ratings and reviews as possible, and realized that 50 reviews increased orders by 30%. The process aided the brand in establishing itself as a trusted expert, reassuring customers along the way.
4. Improve SEO performance 
When you think of reasons to get more reviews for your business, search engine optimization (SEO) probably doesn't spring to mind. But when shoppers are hunting for a specific item, they often start on a search engine like Google. Search engines rank brand websites higher when they have new content, and one of the best ways to rank higher is to ensure fresh reviews are constantly coming in. 63% of brands rely on ratings and reviews to boost their SEO performance.
Essentially, reviews ensure customers can find you easily through SEO. The professionally written descriptions on your product pages sound great but they likely use wording different from what consumers use to search. For example, your team may identify something as "cigarette pants," while shoppers are actually searching for "skinny black pants."
UGC is written by real shoppers, so it's more likely to contain keywords that match what consumers are querying. You can also use tools and plugins to display social media content on your website, including videos and influencer posts that are SEO-friendly.
Primal Kitchen for example has a blog of recipes, above, that incorporates its products and adds keyword-rich content to its website that boosts SEO and appear higher up in search rankings.
5. Improve products 
Ratings and reviews offer consumer insights into what about their products is working and what isn't. UGC often identifies issues with products, new use cases, and areas for product innovation. According to our own research, 25% of shoppers want businesses to use their positive reviews to make product improvements, and 38% want their negative reviews used for this purpose.
Consumers do the talking for us. They speak, and we listen and take action

Lee Beech, Director of Consumer Experience, Nestlé Canada
This exact scenario played out for European retailer Vertbaudet. The team had noticed similar customer feedback surfacing in product reviews — a line of maternity dresses was cut too tightly. They responded by reassessing the line and fixing the cut accordingly, leading to a 12% sales increase.

What customers want in a review
We know how important reviews are for for your business, and that they can help you boost sales, drive conversions, and build emotional connections with consumers. But, what specifically do shoppers notice and care about most when they read a review? Here's a deeper look at what customers look for.
Review recency
Gathering as many reviews as possible is crucial for a successful UGC program. But, it's not a one-time thing. Keeping a fresh flow of UGC coming in is even more important than how many reviews you have. Not only will new content improve your SEO, it instills confidence in shoppers.
81% of consumers value review recency as much as or even more than the quantity and quality of reviews, and most would rather buy items with fewer reviews overall if they were written recently.
Quantity of reviews
The more product reviews you have, the better. Though there's not necessarily a magic number to reach. But we do know that one review alone lifts purchases by 10%, and every review brings exponential growth — 50 reviews can increase sales by 30%, and so on. Focusing on increasing review volume is an essential strategy for business growth.
For example, Dole Packaged Goods implemented a new UGC strategy which collected 2,300 new reviews, leading to a 64% conversion rate lift among shoppers who engaged with content.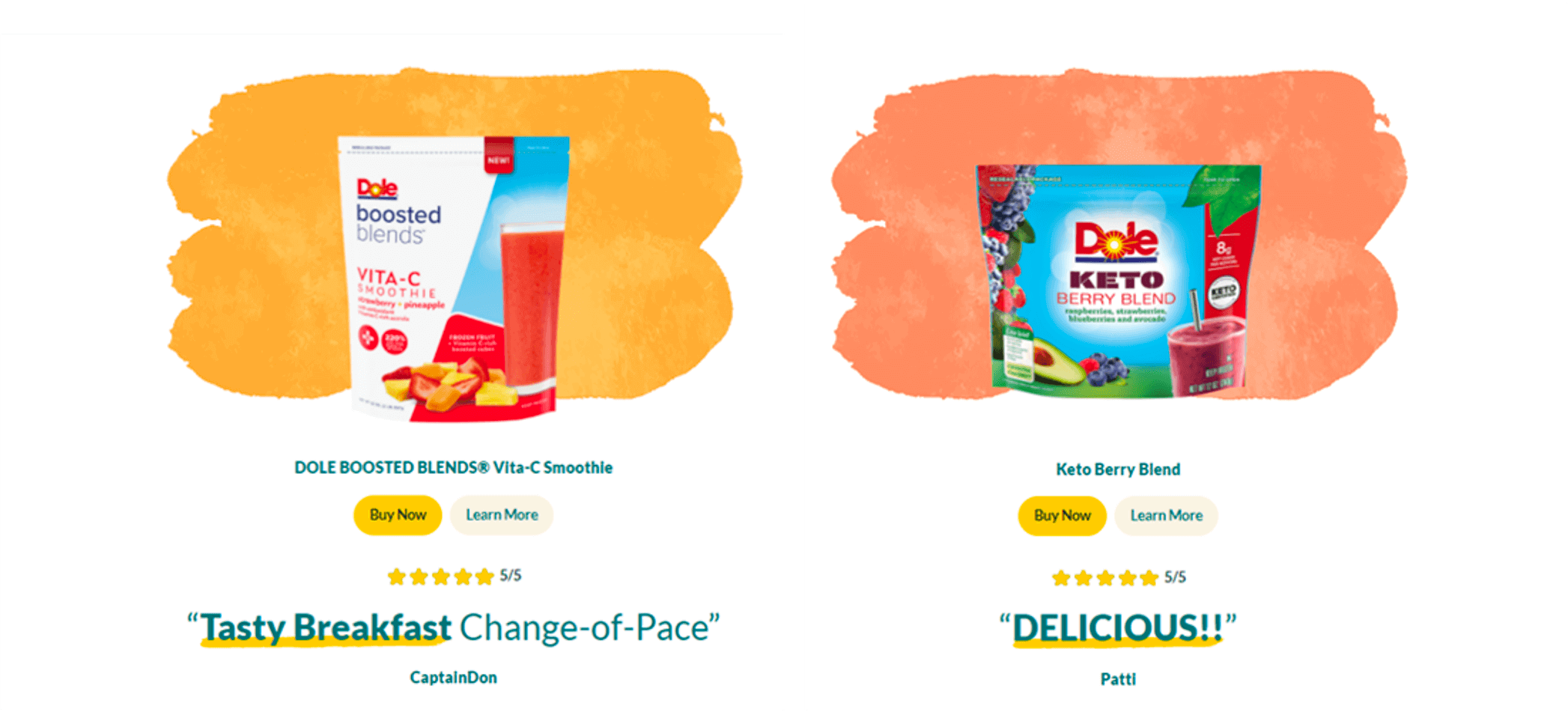 Authenticity
Consumers place a high value on brand transparency these days. They want every interaction to be as authentic as possible, and that includes reviews. Shoppers are concerned about fake reviews, with 54% saying they won't purchase a product if perceive a review to be fraudulent.
Fake reviews diminish trust, and once trust is lost, over 80% of consumers will never shop with that brand again. They're also likely to leave a negative review and post about the experience on social media.
You can reassure shoppers that reviews are indeed from real consumers by setting up a verified buyers program, which identifies reviews with a badge or icon. Verified buyers have been shown to sway shoppers and boost sales, as consumers consider them more reliable.
Visual UGC
Visual UGC, like photos and videos, is perceived as more authentic and trustworthy. Consumers also think visuals are more helpful. They can see how clothing fits or what furniture looks like in a real living room. When we asked 30,000 global shoppers why they consider reviews with photos more credible, they said: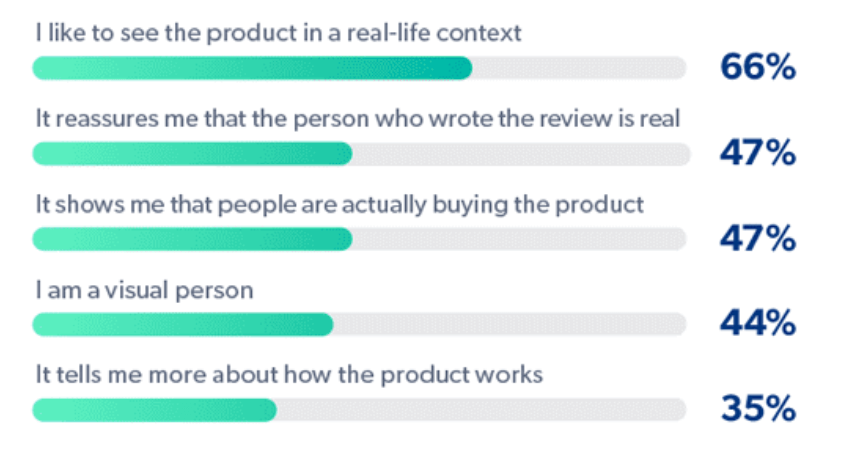 Featuring visual UGC along with reviews heightens product discoverability, increases purchases, and makes shopping experiences more exciting. An easy way to feature visual UGC from social media on your website is with Bazaarvoice Galleries. Brands using this tool have increased conversions by 150% and overall order values by 15%.
Responding to reviews
Shoppers feel the deepest connections when they feel brands understand their needs. 57% will spend more when they feel that connection and 76% will keep shopping with those brands, according to Sprout Social. An effective way to build and solidify these connections is to listen to shopper feedback and respond — whether the feedback is negative or positive.

No one wants to receive any negative feedback, but it's inevitable so it's important to show customers that you're dedicated to righting wrongs. Negative reviews, which detail a product's best and worst features, are sometimes even more useful to shoppers than positive ones.
Nestle Canada did just that when it listened to customer sentiment about a new iced tea product and made a change to regain their trust, and it paid off when sales increased.
5 ways to get your business more reviews
Growing your review volume will help shoppers make more informed shopping decisions and give brands the opportunity to boost revenue and build a loyal following. There's several ways to get more reviews for your business and keep review content fresh. Here's how to do it.
1. Launch a sampling program 
Everyone loves a freebie. We've found that 88% of shoppers like receiving free samples, according to the 2021 Bazaarvoice Shopper Experience Index. A product sampling program exchanges free product samples in return for authentic reviews. Sampling campaigns increase product discoverability and are a proven tactic to increase reviews for a new product release or freshen up core SKUs.
Through a survey of over 6,000 Influenster members, we found that of the shoppers who've participated in sampling campaigns:
63% purchased the product they sampled (97% of whom purchased at least one additional product from the brand)
87% recommended the product/brand to friends and family
50% said the product became a new staple in their life
50% followed the brand on social media
McPherson's Consumer Products, a health and wellness brand, sent samples of its Manicare brand to shoppers and has continued to run sampling programs. Now about 20% of the brand's review volume come from sampling campaigns.
Sampling works for retailers too. Beloved Pet retailer Petco recently rolled out a new sampling campaign, which has grown review volume by 405% and led to 48% increase in revenue per visit for sampled products.
The bottom line is if you want more reviews for your business, sampling is how you do it.
i) Tap into the Influenster community
The Bazaarvoice Influenster community is a community of over 7 million engaged shoppers eager to share feedback via reviews or visual UGC. Influenster members, often recipients of sampling campaigns, have already left over 55 million reviews, growing by 1 million each month.
Beauty brand Pacifica utilized this community and gathered 2,000 reviews for 200 products in just a few months, inspiring shopper confidence and driving sales. The fresh review content you want to grow your brand is already there — go out and collect it.
2. Ask on social media
Social media is where brands and customers go to connect. And, that makes it a great place to ask for reviews. Especially since people typically use social media platforms on their phones and are likely to respond to review requests quickly via mobile. 64% of consumers say they want brands to connect with them on social media, and 37% expect brands to promote UGC, according to Sprout Social.
Over 25% of shoppers say they've been approached on social media about leaving a review. You can target customers on social media to ask them to leave a review or send a general branded message asking for one, and include a link to make reviewing easier. If influencers are part of your marketing mix, invite them to leave product reviews. This will resonate with shoppers who often base purchasing decisions on influencers' recommendations.
A good time to ask for a review on social media is after someone tags your brand in a post, likes a post, or interacts in another way. And, you'll get bonus points if you respond publicly to reviews. Here's an effective template for asking for a review on social media:
Do you love [brand name or product name]? We'd love to hear from you! Would you mind writing us a review? Click here here to share your thoughts with us. [add the link] Thanks — we appreciate you so much!
3. Send a review request email
Almost 50% of consumers say they've been asked by email to leave a review. And, it's one of the best ways to rev up UGC. Most people check their email regularly and are likely to open a message from a brand they trust.
We've found that a review request email can increase review volume by 50% and account for 70% of a brand's total review volume. And the best part is they're fully automated.
Review request emails should include a link to the product purchased to leave a review and a simple call to action, such as "write a review." Ideally, send the email right after the consumer has tried the product, but when the purchase is still on their minds.
Take the time to personalize the message and thank shoppers for their recent purchase or continued loyalty, too. Here's the perfect review request email example.
Dear [customer's first name],
Thanks for purchasing [product name]! We hope you're enjoying it. If you have a second, please share your thoughts with us by leaving a review. We love hearing what our shoppers have to say, and are always looking to improve. Your review will also help your fellow shoppers make the right purchase in future!
"Leave a review"
Thanks so much for leaving a review! We love you!
[Brand team]
MeUndies, the quirky underwear brand, turned to review request emails as part of a new review collection strategy, and saw review volume grow 218% year-over-year.
i) Text message review collection
Similar to review request emails, just on a different channel. Text message review collection is simply a highly effective method of asking for a customer review via text — the average text open rate is 98%.
Text message review collection helps you collect almost 2x more ratings and reviews by sending requests where your customers are already checking.
4. Use review syndication tools 
Review syndication is a great way to enrich the organic reviews that you collect from social media or review request emails. Review syndication involves collecting UGC and distributing it across different channels, like social media, email, and brand websites, to reach more shoppers.
Syndication drives sales because it puts UGC right in front of 20x more consumers — no matter where they are. And consumers are 6x more likely to purchase from product pages with UGC on them.
For example, direct-to-consumer brand Primal Kitchen increased conversions by 131% on Target.com using review syndication. The brand uses the Bazaarvoice platform to curate UGC content from customers and distributes it across its channels. Primal Kitchen also syndicates visual UGC on its Target.com product pages.
5. Request visual UGC 
While shoppers seek out written reviews to learn about products before purchasing, reviews with photos and videos particularly resonate. In fact, 62% of shoppers are more likely to buy products with reviews containing visual UGC. Consumers are growing to prefer visual UGC over professionally shot photos because shopper photos display products in action in real-life settings and seem more authentic.
So, make sure you're allowing and actively encouraging shoppers to submit visual content. The visual UGC can also be incorporated into your marketing campaigns to elevate the customer experience. When you send an email or request a review on social media, ask them to submit a photo or video showing how the product meets their needs or fits in with their daily routine.
Home Depot Canada worked with Bazaarvoice to launch photo syndication, which is the collection and distribution of visual UGC for brands to retailer websites. More than 930,000 of its syndicated reviews now include photos and about 1.4 million of the photos have been syndicated.
Get more reviews for your business with Bazaarvoice
Honestly, there's multiple ways of asking for reviews. All are effective in their own right. Which is great for your business. Because the more you increase your review volume, the more likely you'll reap the benefits.
Whether it's sampling, review request emails, or syndication, Bazaarvoice has a solution to support your review collection strategy. Learn how Bazaarvoice Ratings & Reviews supports best-in-class site performance. Or you can get in touch below to get started right away.
Request a demo