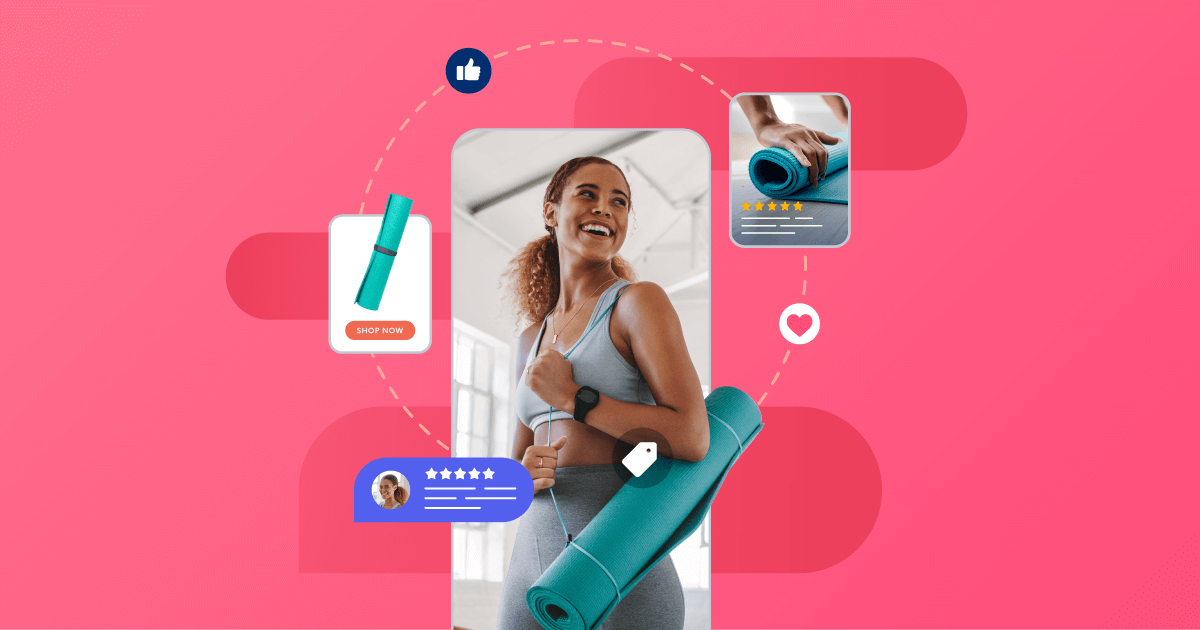 When it comes to answering the question "what is UGC?" few are more qualified than Bazaarvoice. We're the #1 user-generated content platform on the market (not our words, the words of G2) for the 12th consecutive quarter, which best positions us to provide you with a comprehensive UGC education.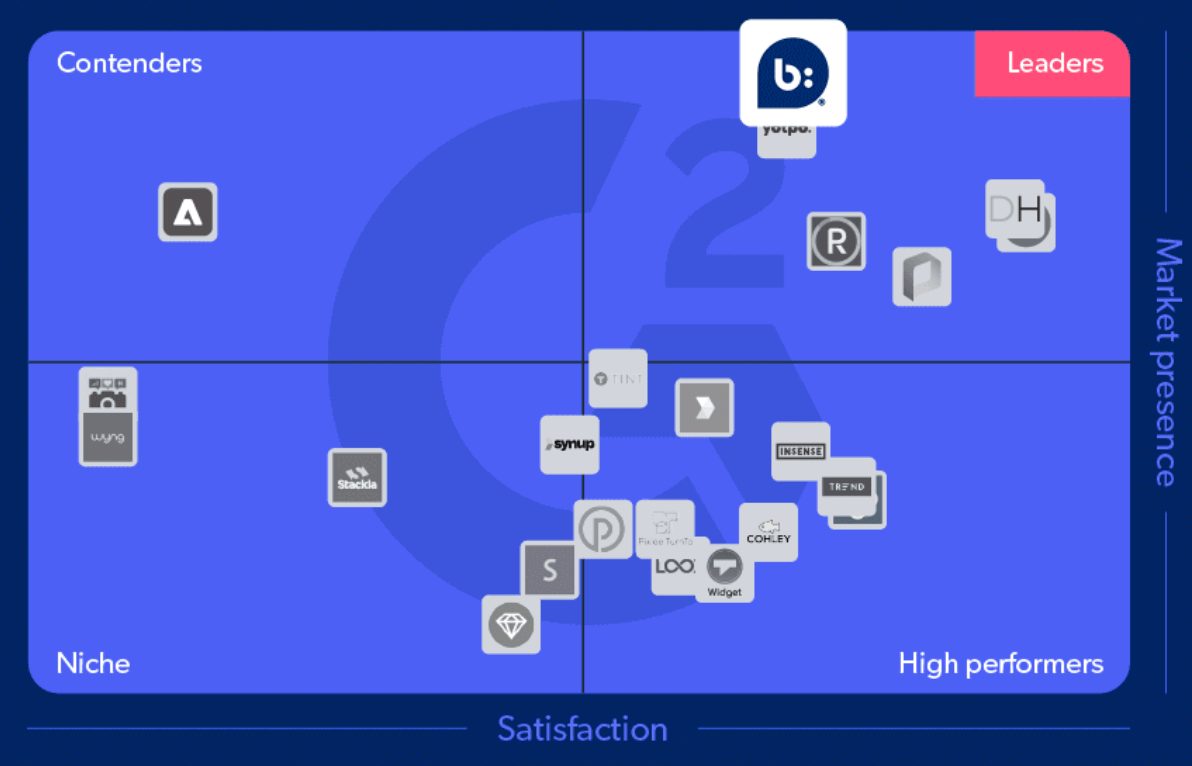 Here we'll not only provide the answer to "what is UGC?" but also explore the "why UGC" by demonstrating how it can transform your brand, the best strategies for sourcing reliable UGC, and where you should distribute it.
Chapters:
---
---
What powers your online purchasing decisions? Is it a convincing product description, brand loyalty, or recommendations from other users? A good portion of consumers admit it's the latter. According to our 2022 Shopper Experience Index, an annual study into changing shopper behavior, 40% of global shoppers agree that user-generated content (UGC), like reviews and customer photos, makes them more likely to buy a product from an ad.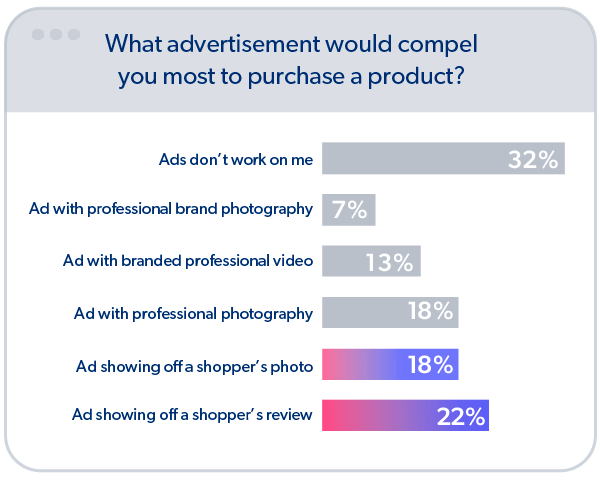 By integrating user-generated content into your marketing strategy you'll build authenticity, drive sales, and seamlessly move your brand into the growing social commerce sphere. All necessities to succeed in today's market.
What is UGC (user-generated content)?
User-generated content, or UGC, is a form of content that's created by real people to promote your brand. This includes written ratings and reviews, photos, videos, and even audio that your brand's customers, followers, ambassadors, or even employees create and share across social and other digital platforms.
User-generated content has evolved to include professional-quality images, engaging videos, and thoughtfully written content that seamlessly support your brand identity. The days of grainy selfies and lackluster videos are long gone, but UGC has retained its essential component of authenticity. UGC doesn't feel like an ad, and just like a word-of-mouth recommendation, it's often more influential than one.
UGC is far more powerful than traditional brand marketing. In fact, user-generated content is essentially the modern-day equivalent of a product recommendation, and the numbers back it up. 84% of consumers are more likely to trust a brand's marketing campaign if it features user-generated content, and 77% are more likely to buy a product they found through UGC.
Who provides UGC?
User-generated content is usually found through your customers, brand loyalists, and employees. An easy way to turn customers into UGC creators is to make it easy for them to leave reviews and add their own product photos. Brand loyalists are repeat customers who love your product so much that they're willing to advocate for you without incentives.
Love them or hate them, the infamous Crocs knows how to rally its brand loyalists, with its hashtag #croctok gaining traction on TikTok and spreading its message to over 300 million viewers.

Finally, employee-created content, like video content discussing the company's values, acts as a source of UGC that demonstrates diversity, support, and authenticity.
How user-generated content boosts your brand
Not only is user-generated content more influential than traditional advertising, but it's also free, authentic, and engaging. There's several benefits to UGC that have a big payoff for brands.
Builds authenticity
User-generated content showcases how actual people use products in real-world settings. This creates authenticity for brands and allows them to promote products without being overly salesy.
Authenticity means a lot to consumers. 84% of millennials say user-generated content influences their purchasing decisions. And nearly half of Gen Z cites social media as their chief source of inspiration — even above family and friends.
Plus, people trust peer recommendations over branded advertising. A whopping 85% of consumers say they turn to visual UGC, rather than branded content, when making purchasing decisions.
Establishes trust
78% of shoppers trust other consumers' opinions, so it's no surprise that customers place so much stock in product reviews.
Take, for example, the product page for Jack Black's Post Shave Cooling Gel below. In addition to written reviews, the page features user-submitted lifestyle photos. Jack Black links to the users' Instagram accounts, providing further social proof that the reviews are legitimate. Plus, the brand gives props to the content creators, very likely inspiring them to share their content in the future.
Why does lifestyle content perform so well? Because it doesn't only give consumers greater insight into how a product fits into their lives — or their spring wardrobe or vanity shelf, it also allows shoppers to read accompanying reviews. This dynamic combination drives engagement with both the brand and the product while reinforcing quality through two forms of social proof.
Increases engagement
User-generated content is all about connecting with consumers, building an online community, and creating a conversation between customers and a brand. So it's no surprise that your content receives 28% higher engagement when UGC is integrated alongside your typical posts.
This is evident in all types of marketing content, including digital ads. When direct-to-consumer bedding and bath brand Parachute incorporated UGC into its retargeting ads, the ads generated a 35% higher click-through rate and a 60% lower cost per click.
What's behind this higher engagement? It comes down to the fact that people want to get in touch with their favorite brands through social media channels. 60% of millennials alone say brand loyalty influences their purchasing decisions, according to joint research by Future Workplace and Elite Daily.
Plus, the most followed brands on social media are those that share their followers' content. And engagement breeds further engagement, which inspires the creation of more UGC.
Drives sales
Using data from our Bazaarvoice Network of over 12,500 brands and retailers, we found there's a 144% lift in conversion rate when shoppers engage with UGC and a 162% lift in revenue per visitor. Further research shows that visual UGC is more likely to convert compared with brand-created content.
Not only do 74% of shoppers agree that shopper photos increase their likelihood of buying a product, but companies experience an average increase of 29% in web conversions when their sites feature UGC.
However, some brands have experienced much greater growth in conversions, thanks to UGC. Take apparel brand Tuckernuck, for example. When Tuckernuck implemented a gallery of user-generated content on its website, as well as displayed UGC and influencer photos on its product pages, conversions skyrocketed by 190%.
"Having social content on our PDPs really helps with conversion," says Kayla Robinson, a Tuckernuck customer experience and marketing associate. "When a customer sees other customers and influencers wearing the product, it inspires her or him to purchase it as well."
User-generated content can be particularly beneficial to certain industries. The table above compares the click rate of posts both with and without UGC among various industries.
Provides audience insights
Consistently engaging with customers and analyzing the content they post about your brand allows you to better understand your audience. This enables you to not only improve how you interact with customers but also make adjustments to products and services based on customer feedback.
For example, branded hashtags often offer a ton of insight into what consumers want. If you own a cosmetics company, try searching for product names on social media to see what your target audience is saying. Do they want a more diverse shade range or sustainable ingredients? If a lot of people are voicing similar concerns, it's time to take action and adjust your product offering.
Ratings and reviews also contain a wealth of insights. If you're constantly seeing customer reviews containing similar feedback, you know how to improve your products going forward. European retailer Vertbaudet noticed multiple customers had left reviews saying a maternity line dress was too small.

So in response to this feedback, the brand reassessed the dress and fixed the sizing of the cut which led to the average customer rating increase significantly.
Synchronizes with social commerce
Advertising on social media isn't a novel concept, but social commerce is quickly becoming the new generation of shopping. 69% of shoppers say social media has inspired them to purchase products, and 52% have already shopped through social media. Consumers name convenience and product photos as the top reasons for embracing social commerce.
User-generated content seamlessly aligns with social commerce because UGC takes the place of a branded ad and becomes an authentic, shopper-approved recommendation. Social media users see the UGC on a TikTok or Instagram post, click it, read the reviews, and purchase the product because it's convenient and doesn't require them to go to a different website to checkout.
5 easy ways to source user-generated content
Finding authentic, high-quality user-generated content is often the most difficult step in integrating UGC into your marketing plan. The best user-generated content comes from real people who love your product or brand. Here's how to find them.
1. Product sampling
We love free products. Just think of your local Costco on a Saturday afternoon, with hordes of hungry shoppers sampling tiny delicacies on toothpicks. Product sampling draws potential customers in and allows them to experience your brand in exchange for UGC, be it a review or an Instagram shoutout.
Beyond providing exposure and UGC, product sampling also increases sales. 63% of consumers purchase a sampled product, and more importantly, 87% recommend it to a friend.
2. Branded hashtags
If you're not already using a branded hashtag on social media, now's the time to create one that's unique, easy to remember, and consistent with your brand.
To source the UGC it uses on its product pages and on-site gallery, apparel brand Tuckernuck uses two hashtags: #Tuckernucking and #findthefun. The brand consistently uses these across its various social outlets to encourage customers to share its content.
When coming up with a hashtag for your brand, focus on what makes your brand unique. For example, #tuckernucking is snappy and catchy and features the brand name itself. To date, there's 14,680 instances of #tuckernucking and 19,628 of #findthefun. #Success.
3. Social media
Customers are proud of their brand associations, and many already tag brands in personal posts and use brand-associated hashtags. Fortunately, this makes it easy for brands to find user-generated content to share. But there are countless other ways to find user-generated content:
Search for your brand or product names on Twitter, TikTok, Pinterest, and other social platforms
Read product reviews
Check out Amazon and eBay wish lists
Find YouTube mentions
If your brand has brick-and-mortar stores, look at tagged locations on social media
Use Google Analytics for on-site traffic insights
For example, Adventure Cats discovered its site was getting a lot of traffic from specific subreddits. Upon closer inspection, the team learned there was an entire subreddit dedicated to Adventure Cats, which was a "pawsitive" treasure trove of shareable UGC.
4. Review request emails
A review request email, or post-purchase email, is an automated method for collecting user-generated content, particularly reviews. Customers receive an email shortly after making a purchase, with a call to action and a link. Like this example from Etsy:
Bazaarvoice data shows that using review request emails increases review UGC quantity by 10x.
5. User interaction
The opportunity to be featured on your company's website or social media may be incentive enough for users to create content about your brand. But a contest, free product trial, giveaway, gamification marketing, or prize can accelerate submissions and sharing.
Giveaways and contests have a conversion rate of 34%, making them one of the most popular methods of sourcing UGC through user interaction. Consumers usually have no issue sharing an Instagram post or filling out a quick survey for the chance to win a product they love. And with the sharing nature of social media, around 45% of entrants will share the link with a friend, spreading your message further.
Below is an example from cruelty-free skincare company Versed. Within a week of making the post, Versed received nearly 50 in-feed submissions on Instagram.
Where to distribute user-generated content
Sourcing and distributing UGC is a little like tossing out a boomerang (no, not the Instagram kind). The content originates from and goes back into the same source. Your customers create the content, and you sell it right back to them.
Social channels
According to one of our surveys, 76% of respondents spend their time shopping through social media. It makes sense, considering every social media platform now features advertisements, but how does UGC fit into the mix? If millennials are killing diamond engagement rings and house ownership, then Gen Z is killing advertising.
84% of Gen Zs have no faith in social media advertisements, but they enjoy authentic, user-created content.
UGC is the natural alternative to advertising on social media, which is important because as Gen Z gains more purchasing power, brands need to evolve to cater to their preferences. Distributing on social media can look like:
Instagram reposts of product reviews or brand awareness videos
YouTube video content mentioning your product
Re-tweets about your brand
Duets or stitches on TikTok with content creators talking about your products
The list doesn't end there. Discord, Snapchat, Reddit forums, Facebook, Pinterest, and podcasts are other useful digital spaces for distributing user-generated content in the creator economy we live in.
In advertising
UGC makes your advertising, like testimonial ads, more authentic and relatable, whether you're creating ads for social, web, or any other format.
75% of global consumers put their trust in customer reviews. Why? Because social proof works — we're likely to mirror the behavior of others in a social situation, even if it's online.
Say you see a branded Instagram post about a company's new product. It's professionally shot, beautifully designed, and features top-notch copywriting. Now imagine it also shares a heartfelt story about a real customer who used the product and loved it, complete with authentic pictures and quotes from the user. Which one are you more likely to relate to?
Advertising with UGC is simple and effective once you've asked for permission to use the content (more on that below). And because UGC advertising is still advertising, it's governed by consumers protection laws in the same way traditional advertising is. That means it's regulated, moderated, and held accountable to a high standard set by the government, ensuring it's legitimacy and authenticity.
Bazaarvoice alone has an entire team dedicated to UGC moderation, who work to ensure no fake, low-quality, or fraudulent UGC passes through our network.
On-site galleries
Featuring shoppable lifestyle imagery from customers on your website allows consumers to be inspired, make discoveries, and shop all in one place.
Brands incorporating these galleries see a 250% increase in time on site, a 150% conversion rate life, and a 15% average order value increase from consumers engaging with social content on-site.
When visitors engaged with UGC on Accessorize's website, time on-site increased by 150%, conversion rates increased by 65%, and average order value increased by 33%.See how you can easily build customizable carousels and galleries from user-generated content.
Product pages
Displaying UGC on a product page has been shown to improve conversions by up to 64%.
Product pages sit at the end of the customer journey because they're meant to simply be a rundown of the product customers are already interested in purchasing. But incorporating UGC on product pages makes shopping a more engaging experience and helps customers make additional discoveries.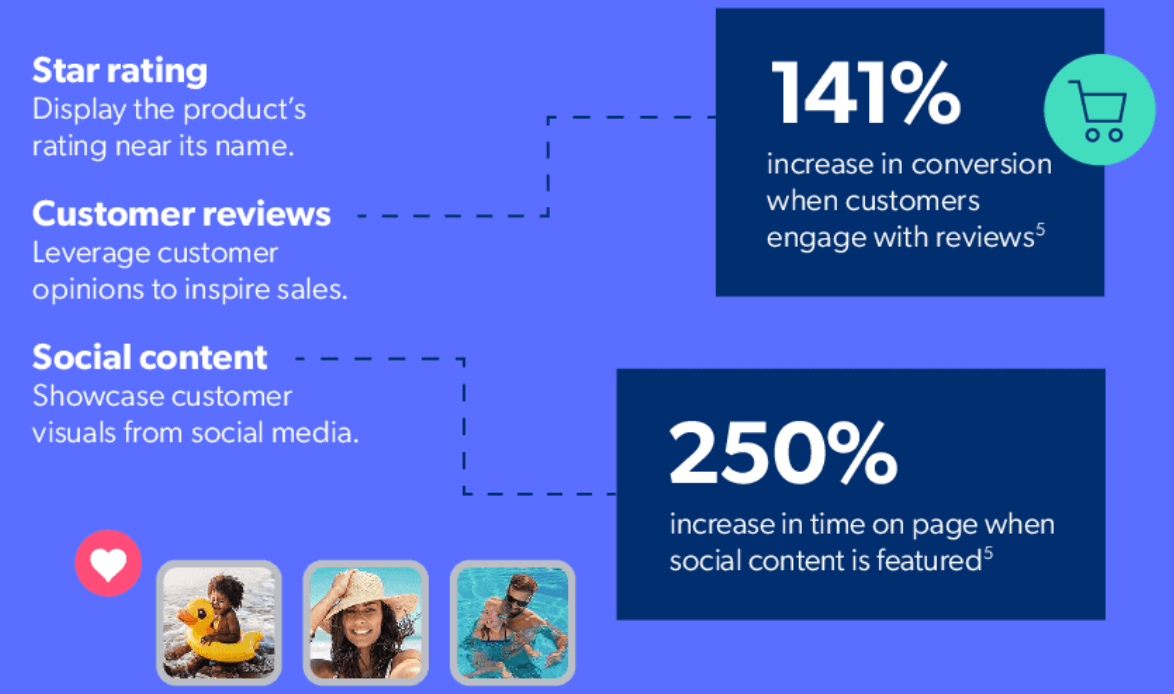 Another reason to use UGC on product pages is to answer customers' questions about sizing and fit. Seeing actual people wearing items can help consumers purchase the right size, which reduces return rates. For example, clothing giant GANT saw a 5% reduction in return rates after implementing a UGC program by displaying more product reviews. Incorrect fit or wrong size is the top reason customers return goods, and it's estimated that return deliveries will cost $761 billion this year.
Jolie Home has been doing an amazing job of demonstrating exactly how customers are using their products since its launch in 2018. Each paint's product page has online reviews and images of customers crafting with the featured color, as illustrated above. Not only does this show potential buyers how the paint will look once it's dry, but it also provides great inspiration for future projects.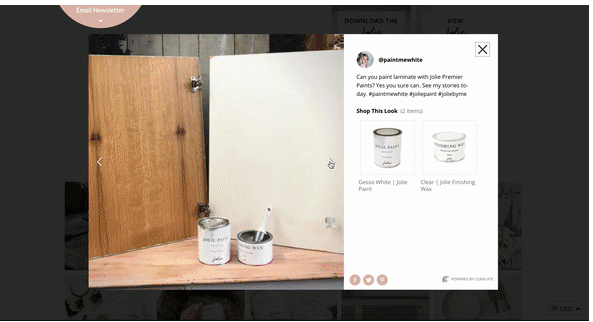 The value of this kind of testimony is immeasurable, and this detailed information is useful for consumers because 88% trust online product reviews as much as they do personal recommendations.
Email
Your brand's email campaigns provide another opportunity to feature user-generated content and engage your subscribers. Some may think that email marketing campaigns are outdated and ineffective, but when done right, they can increase your ROI. A study by Litmus found that every marketing dollar spent on email receives $36 in return.
Since bringing UGC into its emails, fashion retailer Monsoon has seen a 14% increase in click-through rate and a 3% increase in revenue from email campaigns.
In-store
UGC is associated with online channels, because that's where it lives. But that doesn't mean it should remain there. You need to bridge the gap between the physical and digital worlds, and bringing UGC into your brick-and-mortar is how you do it. It's not just that UGC should be displayed in-store, shoppers want it displayed in-store.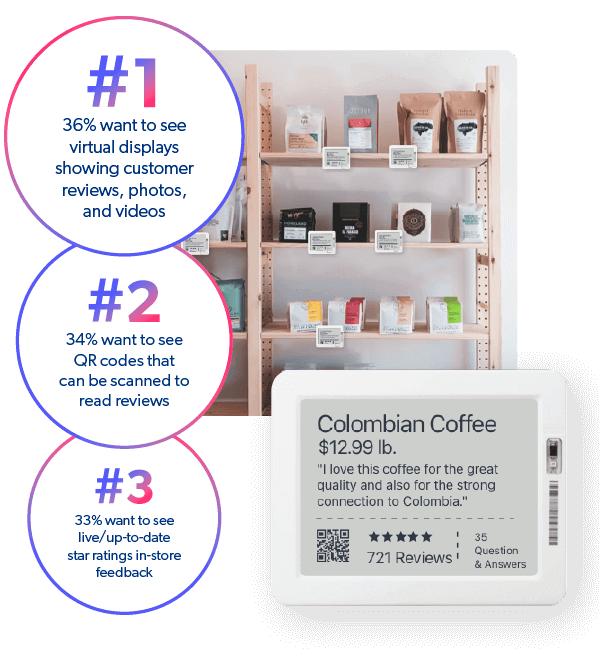 Very few purchases happen without a digital touchpoint these days. Even when shoppers are buying in-store, 63% of them are researching online beforehand. So follow Amazon's lead and simplify the shopping process by making UGC readily available in-store, allowing customers to make confident purchasing decisions without having to rely on their phones.
UGC best practices
Adding UGC to your marketing strategy is an easy decision, considering the value it delivers, but there's a few rules you should keep in mind. Follow these best practices to ensure your UGC works for you and your customers.
Develop a UGC strategy
With so many different types of UGC available, and with the countless ways your brand can utilize it, it's easy to become overwhelmed. However, developing a user-generated content marketing strategy will help you search, curate, and publish the most effective UGC for your specific brand.
Provide clear guidelines
Tell your target audience exactly what kind of content you're looking for. Only 16% of brands provide clear guidelines about the kind of content they want fans to create and share, but 53% of consumers want specific instructions on what to do.
Let's say you're running a giveaway on Facebook for a new product. Make sure the instructions on how to enter are super clear, and the value prop is front and center. Consumers appreciate clear directions as well as general guidance.
Include calls to action on site, on social, in emails, and on receipts, product packaging, and in-store displays. If you're really in need of UGC, cast a wide net. You can also use a social commerce tool that's created to source and sort existing user-generated content.
Ask for permission (and give credit)
Just because a customer tags your brand in a post or uses your hashtag doesn't necessarily mean you can reuse it. So before reposting a user's creation, reach out to them — whether it's through email, comment, or direct message — say something complimentary about the content, and request permission to use it.
Once you receive permission, keep a record of it. Take a screenshot of the conversation or save the email in case any issues or questions come up in the future.
Always credit the original source of the content, and tag them if possible. This is respectful of the creator, and it encourages them — and other users — to continue creating content and sharing it with your brand.
Moderate it
User-generated content is considered quality if it's created by real, non-paid users and conforms to your brand and community guidelines, government regulations, and audience expectations. That's the only UGC you want. Any low-quality UGC (blurry images, typos, etc) or prohibited UGC (nudity, hate speech, etc) needs to be filtered out, reported, and binned.
Content moderation can make or break your brand. Wanting a high volume of UGC is understandable, but quality is better than quantity. You don't want to become known for showcasing low-quality UGC because, "Lawsuits and marketing to rebuild a bad public image are expensive" warns Abi Schuman, Senior Director of Content Management Services at Bazaavoice.
Share diverse content
Diversity and inclusivity are essential in marketing. Not only does it help your brand reach more customers, but it also makes your brand more accessible.
Users want representation, plain and simple. To quote Ad Age: "Given the fact that social networks are accessible by people of all backgrounds, shapes, sizes, and families who experience different seasons, communities, and landscapes, the diverse visual content found in UGC feels more like native social media content than advertising." Couldn't have said it better ourselves.
Make sure your audience finds this diverse content by syndicating it to everywhere they are.
Track content
Keep an eye on all the UGC around your brand — even the content you don't use. UGC is like a continuous feedback loop you can use to stay on top of what people are saying about your brand. Bazaarvoice's Insights and Reports offer a user-friendly dashboard to track and analyze your brand's different types of UGC content, from reviews to social media posts.
Evaluate content performance
The UGC cycle doesn't end with distribution, it ends with an evaluation. Consistently compiling product reviews on your product pages that no one sees is a waste of time and money. That's why evaluating the performance of your UGC campaign and monitoring the data is essential.
Start with our UGC audit webinar here to learn the six core factors that should be evaluated, and get a handy scorecard to see how your content measures up.
Curate your brand identity with user-generated content
Your customers are already talking about your brand on social media.
They're posting selfies and uploading stories that feature your products. They're comparing items and making recommendations. So take advantage of this and curate your brand's content from the multitude of user-generated content out there. And with 69% of people making purchases because they saw a product on social media, it's also the very kind of content that will inspire your customers to convert.
After all, this is the authentic and relatable content that your followers want, the essential meaning of UGC.
Contact us below to learn how Bazaarvoice, the leading UGC platform, can help you transform your brand and marketing strategy with user-generated content. Or continue on to our free masterclass below to get started on your UGC strategy.
Request a demo