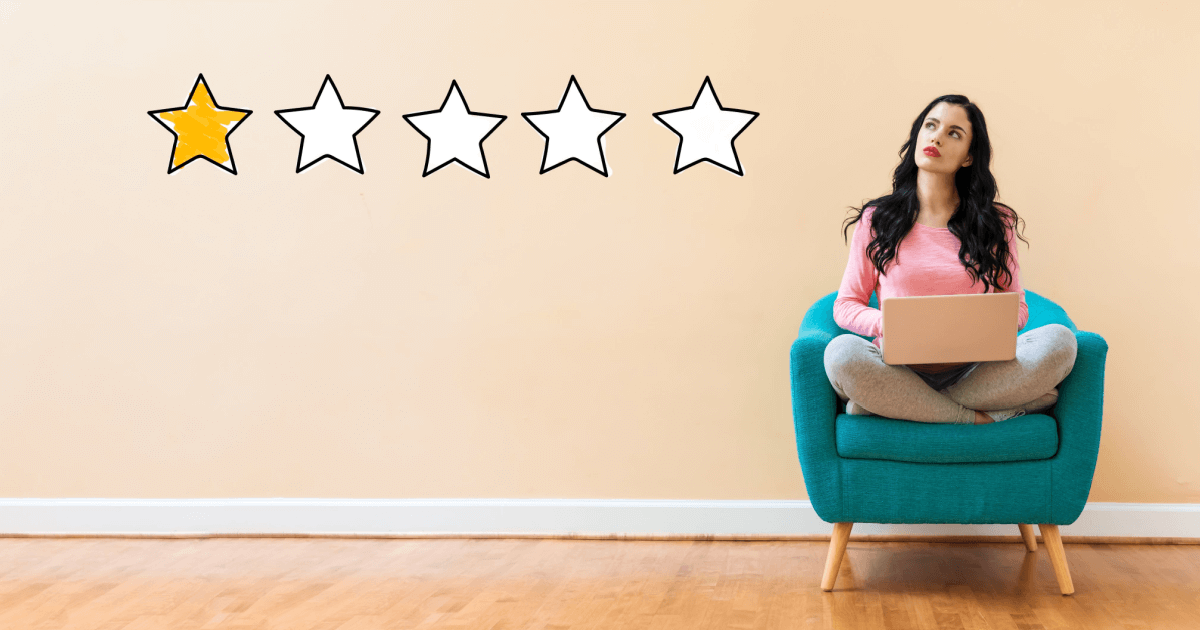 You offer high-quality products and stellar customer service, and your customers tend to agree. Just look at the thousands of rave reviews that you have! But, occasionally, a negative one pops up. While that likely feels like a punch in the gut, a negative review isn't actually a bad thing. And, when you respond to negative reviews, it will benefit your brand.
Customer ratings and reviews matter, with 89% of shoppers consulting them before purchasing anything. They do pay attention to how positive reviews are of course, but also consider other factors like the quantity and recency of reviews. Consumers also rely on negative reviews to inform their purchases.

Negative reviews make your brand seem more trustworthy and authentic. Shoppers expect to see some negative reviews — a string of all five-star ratings can come across as suspicious. Or even fake.
60% of shoppers think negative reviews are just as important as positive ones in deciding what to purchase, as they can learn just as much (if not more) about your products from negative reviews.
So what should you do when you get a negative review? You need to reply. Here's how to respond to negative reviews successfully. And why doing so is good for business.
Why negative reviews matter
When you respond to negative reviews, you position yourself as a company that cares. It shows that you're listening to what your customers say and taking the time to solve their problems and improve. We've seen that products with at least a few negative reviews have higher conversion rates than those with 100% positive feedback.
These are the top reasons we've seen that negative reviews matter.
They make you more authentic
Shoppers value reviews and trust the recommendations of fellow shoppers every bit as much as friends and family, if not more. Consumers also realize that no one is perfect, so they expect to see a mix of feedback. Being transparent — featuring negative reviews and responding to them — makes you seem more authentic.
Retail giant Walmart particularly understands the value of negative reviews.
One of the things that we are not willing to sacrifice is authenticity. So, one of the really important parts of customers reading ratings and reviews is that they trust that they're authentic and relevant to the item. Otherwise, we potentially lose that trust that customers were looking for from reviews in the first place

Alyssa Thomas, Director of Product, Content as Commerce, at Walmart.com
They identify problems
Negative reviews might uncover flaws or problems with products, which you might not otherwise find out about. We've found that about 4% of reviews note manufacturing issues, 2% identify product improvements or additions, and 1% point out discrepancies in product descriptions or website copy, according to our 2022 Shopper Experience Index.
Our research further tells us that 66% of retailers and brands use reviews to improve products, and 50% to improve marketing tactics and messaging. Getting this feedback gives you a chance to talk to manufacturers and vendors to address problems head-on so your reputation stays intact. And, demonstrate to consumers that you care about quality.
Clothing retailer Vertbaudet, for example, noticed consistent negative reviews around the sizing for a line of maternity dresses. The brand took this feedback on board and resized the line, leading to a 12% increase in sales.

They inform product innovation and market needs
Listening to what customers say about your products can inspire innovation. You may come up with ways to improve existing products that drive higher sales or realize there's a market need for an entirely new product.
Here's a good example. Bazaarvoice client The Container Store uses reviews — negative and positive — to make their products better. When customers left negative reviews for a shoe storage box, saying they wished it was taller so they could store high heels, the brand worked with their manufacturer to make a taller box. It was a hit!
And, the company gave all the credit to customers, by posting the message, "You asked and we listened. We took everything you love about our Shoe Box, and made it in a size that perfectly fits high heels."
They help improve customer service
Over 70% of the brands we work with use negative reviews to improve customer service. Think: slow shipping times, unhelpful responses from customer support teams, or items damaged in transit. Shoppers won't be shy about sharing these experiences with your brand. But, they'll be expecting you to listen and remedy the problem.
Most consumers are willing to do business with a company again after a bad experience, and many will delete negative comments once they receive a reply or a fix. So, it's always a good idea to make things right to keep customers coming back.
Should you respond to negative reviews?
Yes. Review management should be a major aspect of your content strategy. And, there's countless reasons why. The biggest one being trust.
When you respond to negative reviews, it gives your customers confidence. A third of customers expect a public response from a brand after providing any type of feedback. And 87% of shoppers expect brands to do something after receiving a negative review, including replying or offering a discount for future purchases.
No matter how annoyed the customer is, your response leaves a positive impression and calms the situation. And, even if they swore to never buy from you again, replying and showing your interest in making things right will likely change their minds.
Other shoppers are paying attention, too. 89% of consumers read responses to negative reviews. Responding to negative reviews makes your brand seem trustworthy and protects your reputation.
Inspiring trust drives customer loyalty. When they know that you're listening and responding to their concerns, they'll come back time and again, and likely spend more money.
How do you respond to a negative product review?
Bazaarvoice client Webroot, an internet security software provider, has seen the benefits of responding to reviews first-hand. The company responded to 70% of its low-rated reviews. This improved the shopping experience for those who left negative reviews, but also humanized the brand and instilled confidence in shoppers by showing off its top-notch customer service.
Seeing similar results when you respond to negative reviews depends on getting the messaging right. You want to keep your brand tone intact and be friendly, personal, and specific. Using a canned response for every review will turn customers off.
Most important of all is to make sure your response is meaningful. Always ask yourself this question: "Is my response providing value to this customer and future customers reading my answer?"
Not sure what to say? Here's a few proven examples.
"Hi Kate! We're so sorry to hear that you had issues with [add the specific product or service here]."
"We're so sorry you had a bad experience with [add specifics of the issue]."
"We appreciate your feedback, Melissa. It looks like others are having this issue, too. We're looking into this."
"Thanks for taking the time to share your feedback with us, Mark. Feedback like yours helps us improve."
"We're sorry you had a bad experience with [add product or service]. We would love to help you further, but we need more details about your experience. Please contact our Customer Care team at [add phone number, email address, and hours of operation]."
Tips and best practices for responding to negative reviews
Most consumers will do business with a company again after a bad experience, if the situation is handled well. Use these tips and best practices to respond to negative reviews to protect your brand.
Respond quickly
Respond to negative reviews as quickly as you can. 91% of shoppers believe brands should respond to social media posts on the same day, and 60% want a response within a few hours. A sense of urgency will inspire confidence. So, it's best to respond within 24 to 48 hours.
Show empathy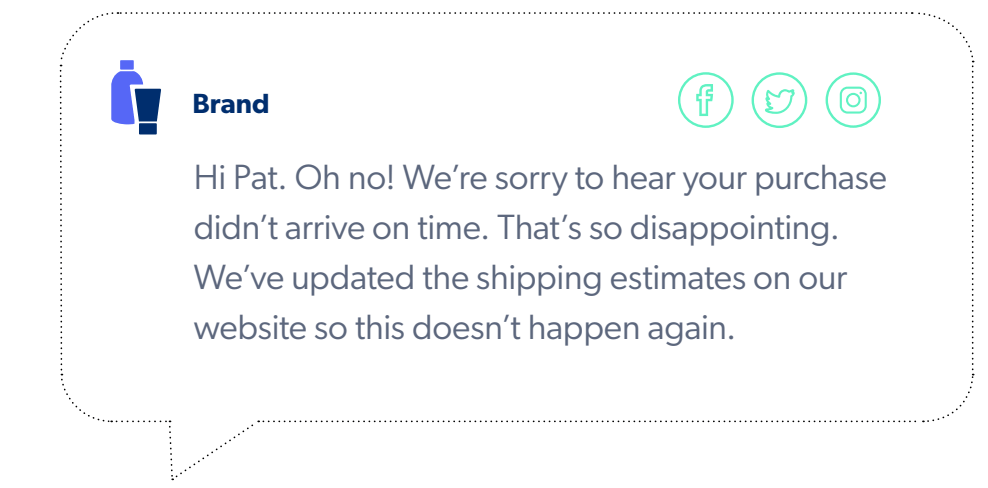 Acknowledge the issue and apologize, even if you think the review is unwarranted. Focus your response on the problem and offer a solution. Never criticize the reviewer or get defensive. Internally, route the issue to product development, shipping, or another appropriate division in your company.
Get personal
Refer to the customer by name in your response. Restate their specific problem to show that you truly understand the issue and state how you're attempting to resolve it. Avoid writing scripted responses that you copy and paste for every negative review. Not only is this unoriginal, but it's also impersonal and will turn shoppers off.
Stick to the point 
Short, simple messages work best. Say too much and you might deviate from your brand persona. Including too many details can be overwhelming for the customer and might make you seem defensive or desperate. Avoid asking any follow-up questions in the response, too. If you need additional information, ask the customer to contact your customer service team and include the contact information. And, be on the lookout for that one-on-one message to come through.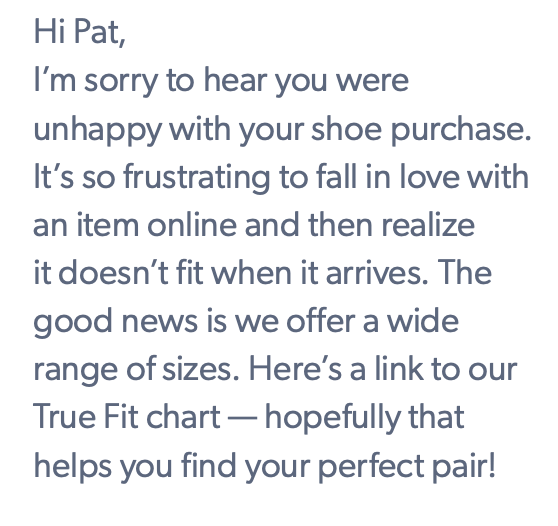 For more best practices, including four more tips, turn to our how to respond to negative reviews and online feedback e-book.
How to use negative reviews to your advantage
No one likes bad feedback, of course. But negative reviews aren't all bad and even offer some advantages:
Customer interactions: You may not always get the chance to connect with your shoppers in such a direct way. Reviews (good and bad) let you find out exactly what they think about your brand and give you an opportunity to make up for a bad experience.
Areas for improvement: Negative reviews offer insights, which you should learn from. If several customers are pointing out the same shipping problem or product flaw, you can take action and improve your products and systems.
Transparency and credibility: Displaying negative reviews shows that you have nothing to hide, which lends an air of credibility to your brand. Consumers will realize that their feedback matters—and your desire to make things right will resonate.
A jump on the competition: When customers point out issues with products, they may give you ideas for new things. Or, help you see a market need for something else. Use this information to get ahead of your competitors.
Brand empathy: Some negative reviews are just unreasonable. But, taking the time to thoughtfully respond, even when you know it's unfair, will win over customers. Consumers often feel empathy toward unnecessary and unwarranted reviews. They'll want to support you, and this is great for your brand reputation.
Managing reviews and responding to them can be a lot to handle. But, it's crucial for you to be there in the moments that matter. Bazaarvoice has the tools you need to manage and respond to reviews and questions on retailer sites, as well as your own channels.
Learn more about Bazaarvoice Ratings & Reviews here.