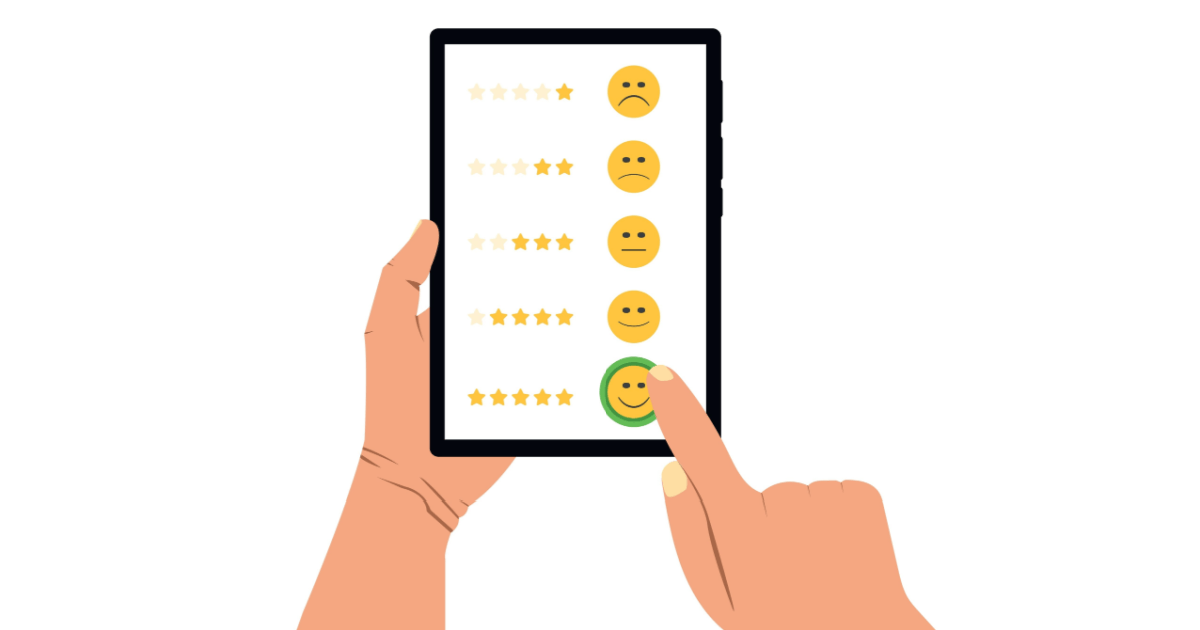 There's multiple effective ways for requesting customer reviews, including through emails, social media, SMS, and e-commerce websites — as we're about to walk through. And are you looking for a template for asking for a review? Great, because we have those too.
Chapters:
---
---
Ask any long-term couple or friend group the secret to their longevity, and chances are "communication" will be one of their top three answers. Just like human-to-human connections, maintaining healthy, long-term customer relationships requires communication.
Requesting ratings and reviews — and putting them to good use — is a good starting point. Read on to learn the importance of requesting customer reviews and how to do it.
Why is requesting reviews important for e-commerce and retail businesses?
Requesting reviews helps you understand your customer pain points and identify opportunities for improving your products and services. Reviews also provide social proof you can use to attract future business.
User-generated content (UGC) is a customer review where happy customers or product reviewers post videos, text, or photos promoting a brand's offerings on social media.
Reviews influence purchase decisions and site traffic
Having high product ratings on relevant platforms is great, but a large number of ratings is more important for driving purchases. In our research, we found that 100 reviews lead to a 37% sales increase, and 200 reviews attract 44% more purchases.
Beyond generating direct sales, more reviews on a product page can also lead to higher search engine rankings and more organic site traffic. Our network data shows that while one review helps boost sales by 10%, eight reviews significantly increased unpaid site traffic.
Potential customers find recent reviews more relevant
81% of shoppers consider review recency to be just as important or more relevant than quantity, according to our research. The same research also found that 56% of customers would rather purchase products with fewer but recent reviews — written within the last three months.
So even if you already have a lot of reviews, don't rest on your laurels — you need to keep fresh reviews coming in to boost shopper confidence.
Reviews help you improve product quality and user experience
Beyond winning customer trust or driving sales and organic traffic, reviews also serve as relevant performance feedback. By studying customer reviews critically, you can gauge user sentiment to determine and resolve the aspects of your product(s) and service delivery that need improvement.
Ultimately, this exercise prevents customer churn and reduces negative word of mouth.
8 proven ways to request product reviews (with templates)
You know the saying, "different strokes for different folks"? It's true when it comes to requesting product reviews. It might take some experimenting to determine which channels your customers respond to the best.
Once a customer samples or buys your product, use one or a combination of the following review request channels to get your UGC engine going. We've included copy-and-paste-able templates for asking for a review, too.
1. Face-to-face
If your business has brick-and-mortar stores, you can request (and get!) customer reviews in person. The best time to request in-store customer reviews is during checkout or as they're leaving the shop after their purchase.
Simply have customer support staff or store attendants talk to shoppers who have just purchased an item and appear to have some time to answer a few questions about their experience.
Don't force it, though, if shoppers aren't receptive — you don't want to turn their positive experience into a bad one. You can always ask the next customer. You can also leave QR codes at checkout for ease
Review request face-to-face template
Brand representative: If you have a moment, could you help us out with a review on [insert desired platform]? We love documenting this kind of feedback, and it also goes a long way in convincing potential shoppers to choose us.
Customer: Of course!
Brand representative: Thanks. [Offers to explain how to do it if the customer needs help]
2. Phone conversations
Call your customers to ask them what they think about their last purchase or overall experience with your business. If they're busy, offer to call them back (and follow through with it). But if the person clearly expresses their disinterest, don't push — wish them a great day and try with another customer.
Review request phone conversation template
Brand representative: "Hello [insert customer name]! My name is [insert your name] and I'm calling from [insert your company name]. If you don't mind sharing, how's that [insert product(s)] you bought from us [insert time period] — I hope you've enjoyed using it?"
If they respond well, ask them about their overall purchase and brand experience.
Brand representative: "Also, is there anything we could improve or that you liked about the purchase experience or our customer service?"
You can also slip in a review request at the end of a customer support call — especially if the person seems pleased with their experience.
Customer: Thanks for your help!
Brand representative: My pleasure! If you have a moment, it would be a big help to us if you'd leave us a review on [insert desired platform].
3. Emails
Bazaarvoice Network data shows that requesting reviews via email can increase product review volume 9x — and sending a follow-up review request email can boost review volume by 50%.
Add thank-you messages to your review request emails to show customers that you appreciate them and are concerned about providing a great service experience. Be sure to include a CTA and review link within the email to make it easy for customers to respond to your request.
Review request email template
"Dear [customer],
Thank you for purchasing [product(s)]! We hope you're enjoying it. If you have a second, please share your thoughts with us by leaving a review. We love hearing what our customers have to say and are always looking to improve. Your review will also help future shoppers make more informed purchasing decisions.
"Leave a review"
Thanks so much for leaving a review!
[insert your business name]"
4. SMS
Though SMS is less popular than email, it can be equally as effective, if not more: 85% of smartphone owners prefer text messages to calls or emails. So, if you typically collect customer phone numbers for SMS marketing, you can also use the platform to ask for reviews.
Text messages help you reach shoppers anywhere they are and encourage them to drop product reviews. Automate texts that go out to customers shortly after they receive a product delivery and include a link that directs them to your desired review site right from their mobile device.
Review request SMS template
Thanks for purchasing [product(s)]! Please drop a review at [link]. Reply NO to stop receiving this.
5. Social media platforms
Social media like Facebook, TikTok, and Instagram are great for sourcing reviews because lots of shoppers already rely on these platforms to discover new products.
Create a post asking users about their experience with your product(s) and watch the comments flood in. These comments will show you how buyers feel about your offerings and uncover opportunities for solving their most pressing product challenges.
Also, make posts redirecting customers to leave feedback about their past purchases outside of social media — like Google, Yelp, or directly on your product page(s). You can also prompt customers to drop reviews by creating posts that include screenshots or excerpts of past reviews, then adding a link to your preferred review platforms.
Review request social media template
"We appreciate all of our customers! If you want to show us some love and help others learn more about our brand, leave us a review! [Insert desired emoji]"
6. E-commerce websites
Your product pages are great places to ask customers for reviews. Just include a CTA on each product page prompting site visitors to "write a review." Or add the review request to the shopping journey and make leaving a review quick and easy by prompting buyers to write a review in their order history.
You can also embed previous reviews from happy customers on your product pages to build shopper confidence and encourage others to drop their reviews.
Review request website template
"Review this product. Please note that adding a review will require a valid email for verification. Thanks!"
7. Push notifications
If you have an app or site that customers typically visit to use your product or buy from you, push notifications are a great way to request reviews.
Simply schedule or manually send real-time notifications asking shoppers how they felt about their last purchase(s) or their overall user experience. You can either send these review requests as in-app popups or device notifications — try both and see which generates the best response.
Review request push notifications template
"Hi [insert customer name]! What do you think about the [insert item name] you ordered on [insert delivery date]? We'd like to get your feedback in a Google or Facebook review. Just click this message to drop your comments."
Once you have the reviews you need, display them on your product pages or social media.
8. Bazaarvoice
As an e-commerce brand or retailer, starting your review collection and distribution process from scratch can be a chore. With Bazaarvoice, you can unify your entire online review management process and leverage multi-channel UGC for recurring revenue.
First, you need to encourage customers to record or write reviews. Next, optimize your site performance and maximize the ROI of customer reviews by implementing our platform's reviews display technology across product pages.
With our retail syndication product, you can also display testimonials across retail sites and sales channels, ultimately boosting your customer experiences.
Even more — we offer automated content rights requests for Instagram, helping you get permission to turn user-generated content into visual galleries on your website. And our review reporting and analytics tools allow you to track and manage reviews like a pro!
See Bazaarvoice in action here.
Customer reviews best practices
Considering how beneficial it is, requesting reviews is a smart choice for e-commerce businesses — but there's a few best practices to follow to ensure you maximize all of your customer feedback and UGC.
Make it as easy as possible for customers to leave a review
Happy customers may be willing to leave product feedback, but if you want to build an excellent review request conversion rate, you need to make submissions as straightforward as possible. Simplify your review submission process by adding a button to your website so customers can submit reviews in just one click.
Allowing customers the flexibility to choose the type of review they prefer — text, video, or picture — also simplifies and encourages submissions, giving you a diverse library of customer feedback to use as needed.
Plus, it's okay to request reviews for each product separately, but that process can be repetitive and tedious for customers. With Bazaarvoice's multi-product submission form, you can collectively request reviews for everything your shoppers bought via your desired channel. The form lets customers submit reviews, ratings, questions, photos, and videos — and makes the reviewing process seamless and quick for them.
Make sure you comply with the Consumer Review Fairness Act
The Consumer Review Fairness Act protects consumers' ability to give their honest feedback on a brand's offerings in any forum, including social media platforms.
Comply with the act by taking the following precautions:
It's okay to create a product sampling campaign (sending free items to shoppers in exchange for honest reviews), but don't pressure people to leave positive feedback
Don't delete negative reviews — customers expect legit businesses to have some negative reviews (and it looks suspicious if you don't!)
While you shouldn't delete all negative reviews, it's okay to remove comments that include shoppers' private information or are irrelevant to your brand offerings. If a review is libelous, abusive, false, or misleading, though, feel free to trash it
Learn more about the Consumer Review Fairness Act.
Respond to your reviews (especially the negative ones)
Responding to both good and bad reviews shows reviewers that you value their feedback. It also indicates to potential buyers that you care about customer satisfaction more than avoiding "looking bad."
Say thank you for positive reviews. And in crafting replies to negative reviews, thank customers as well — for bringing the issue(s) to your attention — then explain how you'll address it.
Keep your tone professional, even if you're upset. This approach helps you turn negative feedback into positive experiences that boost shoppers' confidence in your brand.
Examples of brands using customer reviews and ratings to drive awareness and sales
Starting your review collection and distribution process from scratch can be a chore. See how these leading e-commerce brands unified their review management process.
1. MeUndies: Underwear and clothing brand
Pre-2018, MeUndies had no official UGC strategy in place. But by 2018, the brand adopted Bazaarvoice as its first UGC partner and began sending post-purchase review request emails to customers.
After a few years of only occasionally introducing new products, MeUndies launched 68 new products in 2021, creating an increased need to curate positive reviews to boost shopper confidence and generate sales.
To solve this problem, MeUndies began sending follow-up review request emails to customers who hadn't replied to the first mail. The apparel brand also added a "write a review" button across its product pages and began running giveaways to prompt customers to submit reviews.
Plus, instead of limiting its strategy to customers, MeUndies added staff members to the mix by sending review requests to them as well. The result? A 218% year-on-year increase in review volume generated via emails.
2. Le Col: Cycling gear retailer
As a high-end cycling gear brand that depends mostly on direct-to-consumer (D2C) sales, Le Col's profitability depends on curating a premium online experience. This need led Le Col to begin using UGC as social proof to instill confidence in its product quality.
The brand began to incorporate user reviews, quotes, and images on its product pages, improving its site experience significantly. As a result of this partnership, Le Col recorded a:
13% increase in average order value for products with reviews
155% spike in revenue per visitor
125% boost in conversion rate when shoppers engaged with UGC
3. I and love and you: Pet food company
As a small business, I and love and you struggled to compete against larger and more established pet food companies. To stand out in its niche, the brand decided to capitalize on pet owners' keen emphasis on the quality of food they feed their furry companions.
I and love and you knows that shoppers like to learn about and try the foods their fellow consumers feed their pets, so the brand began leveraging reviews, ratings, and other UGC. They collected this content at scale via Bazaarvoice's Sampling product, which allowed them to send free products to a targeted group of pet food shoppers as incentives in exchange for reviews.
The sampling campaign resulted in a 92% review submission rate and generated 1,000+ high-quality reviews that were shared across Bazaarvoice's network of over 6,000 brands and retailers.
4. Isabella Oliver and Baukjen: Sustainable fashion subsidiaries
Isabella Oliver and Baukjen are ethical fashion brands (Baukjen is a generic sustainable fashion brand, while Isabella Oliver is its maternity wear subsidiary). Though the brands have begun selling in retail stores across the UK, Isabella Oliver and Baukjen originally only sold items via their online stores. And since they still primarily sell their items online, letting shoppers "try on" clothes virtually became important to them.
While the brands didn't implement any virtual reality try-on technology, they launched a monthly hashtag competition for customers to take and upload pictures of them wearing the brands' clothes to their websites.
Isabella Oliver and Baukjen then display these visual UGC in Bazaarvoice Galleries on their website, prompting visitors to "shop their style." When shoppers interacted with these galleries, the brands recorded a:
120%+ conversion rate increase
10%+ average order value improvement
3x longer time on site
Request and leverage customer reviews with Bazaarvoice
Requesting customer reviews is one thing, but what you do with the feedback you receive is another. Bazaarvoice provides a proven system for you to collect, analyze, reply to, and distribute reviews. Our platform also enables you to gather product ratings and visual UGC from satisfied customers, ultimately driving product improvement, discovery, and sales.

Ready to start curating product reviews like a pro? Try Bazaarvoice Ratings & Reviews. The tool removes review submission barriers, grows review volume across products, and boosts the shopper experience.
Request a demo