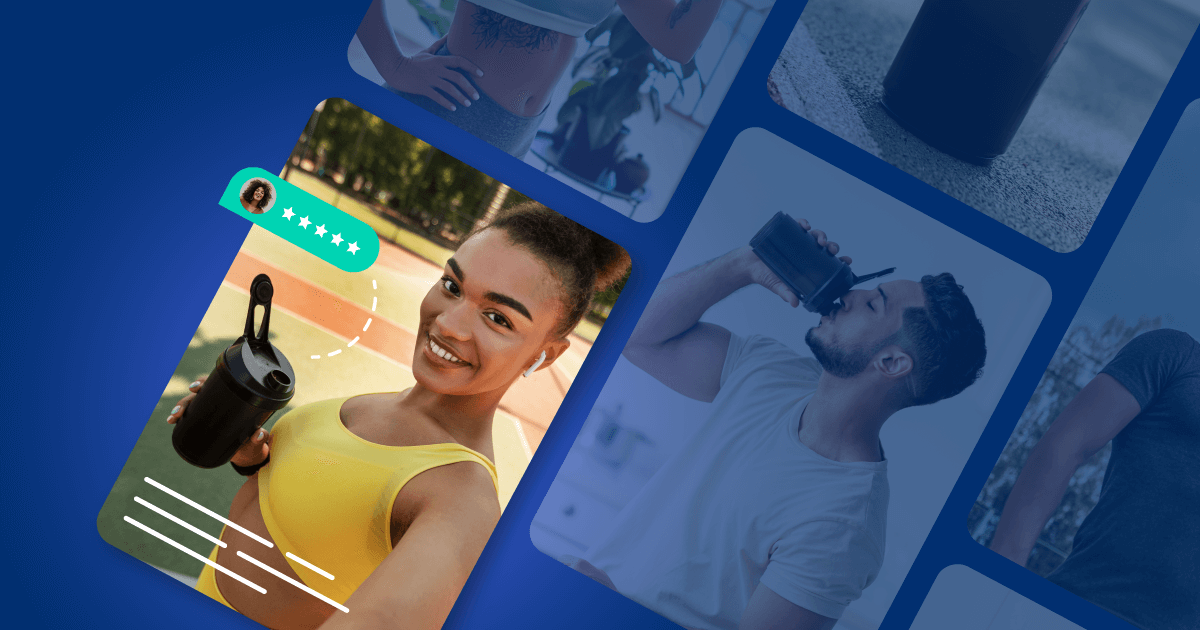 Most of us are visual learners, so it's no surprise that brands are using the power of visual UGC (user-generated content) to strengthen customer relationships and grow their businesses. When it comes down to it, visual strategy is grounded in psychology.
Dopamine is a neurotransmitter made in the brain that gets released every time your brain expects a reward. It washes over us any time we hear our favorite song, smell freshly baked cookies, or experience anything we associate with pleasure.
It also happens when we see visuals. In today's digital world, that translates into hundreds of dopamine releases a day. We can help you turn those dopamine releases into something strategic for your brand. Let's walk through how to tap into consumer psychology and apply visual UGC to your marketing tools to reach audiences on a deeper level that results in discovery, and ultimately, purchasing.
Let authenticity guide your visual UGC strategy
We're going to let you in on a little secret ­— your followers and customers speak to each other about your brand. This is actually a good thing. Authenticity is integral to connecting with consumers because people trust people like them.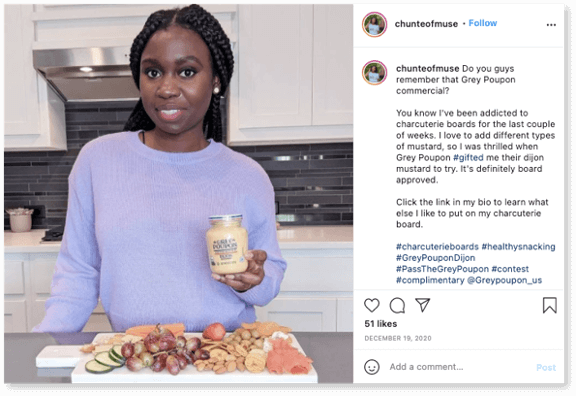 UGC helps personalize shoppers' experiences. This personal connection makes shoppers then feel inclined to purchase. In a global study, 93% of respondents said that friends and family are the most trusted sources of information on brands and services. To be clear, "friends and family" extends to online and social media communities. Because in today's digital landscape, it's easier than ever to connect with people, especially trusted voices who are just like them.
How to spot the best visual UGC
With so many people eager to capture and share photos, that doesn't mean all of them are necessarily something you want to re-purpose for your brand marketing efforts. It may seem overwhelming, but all it takes to choosing the best visual UGC is understanding a few basic photographic principles. These are the golden rules when choosing and creating visual UGC that's a cut above the rest:
Lights, camera, action! Beautiful, natural light adds an overall feeling of warmth, with can help elicit positive feelings about your brand. But don't let your photos get washed out! Find the sweet spot for your lighting – in the morning or golden hour (usually 4 p.m.) is preferred
Focus and clarity. When assessing photos, make sure the product is in focus and that no competing products are in the shot. Photos shouldn't look blurry or grainy
Stay in the spotlight! This is a biggie. Products in the shot should be recognizable as your own. In the case of apparel, that could be a popular item from your seasonal line, or a long-term best-seller. In terms of consumer products, your logo or easily identifiable packaging elements or product features should be clearly visible
Repurpose UGC to strengthen your brand's e-commerce experience
Brands can and should repurpose visual UGC to strengthen their marketing materials and e-commerce experience. Ratings and reviews, for example, are essential to motivate confident purchases. In addition to your products being discovered, a positive review can drive purchase — especially when that review includes a photo.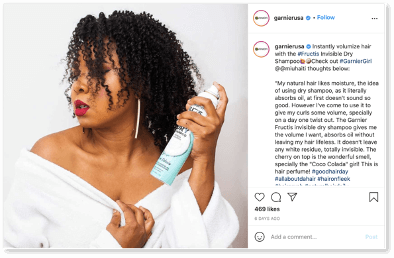 According to a survey conducted by our friends at Influenster, 53% of consumers say they consider reviews with photos more credible than those without.
On behalf of our clients, we conducted research that highlights the power of adding visual UGC to their websites, and they're pleased with the results:

Not only this, but a recent Total Economic Impact™ Study of Bazaarvoice by Forrester Consulting revealed that conversion rates increase 200% with visual UGC.
UGC is meant to be a social experience
One of the most obvious places to consider finding, leveraging, and amplifying visual UGC is social media. According to one study, 90% of consumers will buy products from a brand they follow on social media, and 75% will increase their spending with that brand. This can be especially potent on a highly visual platform such as Instagram, which has a potential advertising reach of a billion users.
This is a great way for us to gather photos from customers wearing our clothes without having to go to studios or without having to get big photo shoots to do it. Customers are wearing our products that show how much they loved it and we can get that sentiment across. It's very much seen as improving our online experience as a whole

Site Optimization Manager, retailer
Here's the bottom line. UGC drives awareness and builds customer loyalty. When a product feels personal to consumers, aka seeing someone like them using a product, that personal experience can drive purchase. Trust in content created by people like them — with the power of the brain's response to visual content, and you have a winning case for visual UGC as a powerful brand-building tool.
Tips to help you start upping your visual UGC strategy
Find consumers who are already posting imagery about your products. You can search your brand handle or a hashtag, or work with us to start collecting and curating them for you. After all, what else are friends for?
Encourage consumers to try your new products and share their authentic photos in your marketing materials, on your social channels, and at e-commerce point-of-sale
Keep yourself educated and up-to-speed. For example, TikTok and Twitch are wonderful emerging platforms where you can get a real taste of consumers are engaging and talking about brands
Be inclusive in terms of the influencers and voices you feature, as well as the types of photos. Unedited content is more relatable than perfectly poised pictures, and consumers can tell the difference. Diversity "behind the camera" — that is, amongst those you entrust with helping to select great photos — will help ensure those photos are truly authentic
If you want to talk more about trust in authentic voices, visual UGC, or how to create and customize campaigns that connect with shoppers, Bazaarvoice can help. A recent Forrester Total Economic Impact™ Study of Bazaarvoice revealed when shoppers engage with visual UGC, the conversion rate rises to 6% for the composite organization (based on nine Bazaarvoice clients).
Learn more here. Or request a free demo below to get started.
Request a demo