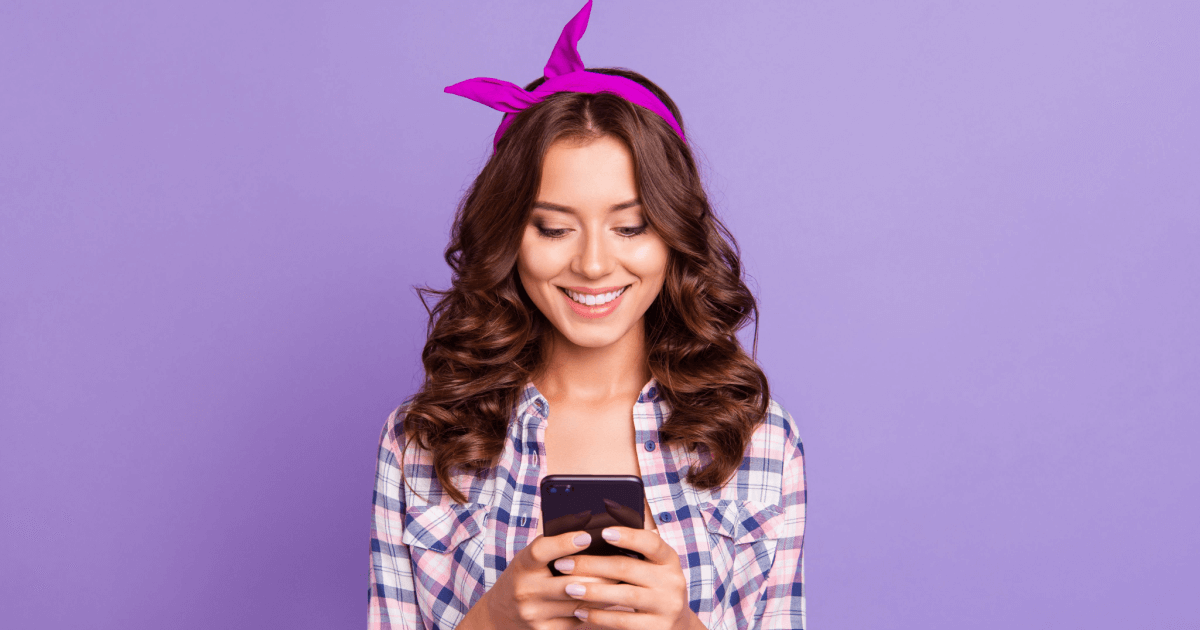 Influencers have no doubt been part of your marketing mix for some time now. Most brands use them, because what's not to love? Influencers post compelling content, generate buzz for your products, and inspire your customers. But, to level up this strategy, it's time to turn your focus to authentic influencer marketing.
Why? Because authenticity builds trust with consumers.
Over 80% of shoppers won't buy from brands they don't trust, and 62% choose products based on a brand's reputation. What's more, 58% of people let their values and beliefs drive which brands they buy from.
Working with authentic influencers helps you establish and solidify your reputation, highlight your values, and engage consumers in the process. But, with so much noise on social media, getting consumers to stop scrolling and engage with your content depends on sincere, relatable messaging.
Here's how to harness the power of authentic influencer marketing.
Why is authenticity important in influencer marketing?
Traditional advertising has long been a one-sided conversation, with your images and messages as the dominant voice. But, we are rapidly shifting towards an influence economy. Today's consumers want more — they want to be active participants in that conversation. They want to interact with you by sharing their thoughts about your products and tagging you in their social media posts.
So much so that the B2C industry might as well be the C2B industry. And in some cases the C2C industry, given that influencer user-generated content (UGC), like customer reviews and social posts, has more sales impact than branded content.
Influencers enable you to communicate with consumers in a more direct, relatable way, which establishes trust. 63% of consumers say they trust what influencers say about your products more than what you say about them, according to Edelman. And, nearly 60% have bought something based on an influencer's recommendation.
Trust is crucial for attracting shoppers, especially Gen Z and millennial consumers, who are twice as likely to trust influencer content as their older counterparts.
Fashion brand Quiz for example uses micro influencers to collect authentic content for its website and social pages, which has led to a 154% increase in engagement.
The right influencer can help you deliver consistent messaging across channels that's perceived as genuine, relatable, and engaging. The more authentic you come across, the higher brand awareness and engagement levels you'll drive.
What are the four types of influencers?
When you think of influencers, you might think of one of the Kardashians or an A-list celebrity. These are certainly examples of influencers, but there's so much more authentic influencer marketing to turn to.
Here's a look at four types of influencers:
Subject matter experts: As the name suggests, these influencers are experts in a specific subject area. Think: chefs, DIY-ers, home decorators, makeup artists, and fashionistas. They post primarily about their area of expertise, and recommend, sell, or create sponsored content for related products.
Celebrities: This is where the Kardashians and A-listers come in. Actors, reality TV stars, musicians, athletes, and other famous folks may give you a behind-the-scenes look at their lifestyles and promote products that fit into that. They might also promote their own brands or products they're selling.
Social media stars: These influencers don't necessarily have an area of expertise, but might stand out on social media because of their aesthetic or ability to jump on internet trends. They often became well-known solely for their online presence and are often paid to promote products.
Everyday social media users: These are regular people — your family, friends, peers, or others you've never actually met, but follow on social media. They share day-to-day content, like ratings and reviews, photos, and videos, that might feature products, but they don't have an agenda to promote the items.
We wanted to know what influence these influencers have, so we asked 9,000 global consumers to find out which type of influencer they followed the most. It may be surprising, but they said:
What makes an influencer authentic?
What makes consumers perceive someone as an authentic influencer depends on several factors. And, as above demonstrates, it's not always being a household name or having millions of social media followers. We've found that 72% of consumers don't care about follower counts.
And referring back to our influencer survey of 9,000 shoppers, nearly 40% of consumers think everyday social media users and subject matter experts share the most authentic and genuine content. More than 30% feel that these two types of influencers were most likely to provide unbiased reviews of the products they promote. Users are most likely to buy things recommended by an everyday social media influencer.
This further highlights the value that user-generated content, or influencer-generated content, can bring to your authentic influencer marketing strategy. According to our 2022 Shopper Experience Index, 53% of shoppers say UGC, such as social images from real customers, makes them feel more confident in purchasing a product than professional photography. And 40% say reviews, photos, and other content from real shoppers entice them to buy something from an ad.
To be considered an authentic influencer, consumers expect them to disclose whether they've been paid to post about a product. 83% of shoppers trust content that influencers haven't been paid to promote, including UGC.
How can you check the authenticity of an influencer?
The first step in deciphering an influencer's authenticity is to follow them. Pay attention to how often they post, the kinds of content they post, and how their followers react. Conduct audits to make sure their follower-to-engagement ratio is in check — do they have tons and tons of followers but very few likes or comments on their posts? If so, they may have a slew of fake followers. Then you may want to reach out and make contact yourself.
Make sure, too, that any influencer you work with follows the rules about disclosing whether posts are sponsored or not. Shoppers expect this, too. Norway announced new regulations in 2021 to legally require influencers to disclose if their photos are altered. And Bazaarvoice research shows that 80% of consumers think this should be a rule everywhere.
Everyday social media users and consumers are some of the most authentic influencers. Your authentic influencer marketing strategies will be most effective when you use user-generated content from these individuals, as well as subject matter experts — instead of just relying on branded content.
82% of consumers trust organic content posted by influencers the most. Not only that, shoppers who interact with user-generated content are 2x more likely to convert. Most consumers also actively look for content from other shoppers to find inspiration about which products to buy and ideas for how to use the items.
What makes an influencer a good fit for a brand?
It's simple: a willingness to be authentic. Find and partner with authentic influencers who align with your brand's values, style, and point of view. Most often, that's everyday users who post organically about the products they love.
Even when you directly reach out to subject matter experts and everyday users for direct collaborations, avoid placing too many brand restrictions on the content that they post. Consumers are most receptive to messaging that feels honest and relatable, and not too staged or scripted.
Research shows that "nano-influencers," or those with 1,000 to 10,000 followers, can experience engagement levels of 8.8%, while "mega-influencers" with more than a million followers see only 1.6% engagement.
Don't just take our word for it though. Look at how L'Oreal partners with Bazaarvoice's Influenster community to find the right hyper-targeted audiences for its products.
L'Oreal brand Redken wanted to build buzz and word-of-mouth in an authentic way so they used the Influenster community to target a hair care product to specific groups, including women ages 20 to 46, who have oil-prone hair, frequently hit the gym, or have busy schedules.
Redken sent out 2,500 boxes of products to everyday influencers and earned a whopping:
7.7 million impressions
1,700 reviews
84,000 posts, shares, and likes
$567,0000 earned media value
And on Instagram, the brand gained 69,000 likes alone and 6.2 million impressions.
This example demonstrates the power of the authentic influencer. Customers trust what they have to say, enjoy engaging with real people, and feel confident in purchasing based on their recommendations.
Like with Redken, Bazaarvoice can help you find the right influencers for your brand to up the ante on your authentic influencer marketing. Learn more about how the Bazaarvoice Influenster community can help support your authentic influencer marketing goals. Or skip the middle man and get in touch directly below.
Request a demo