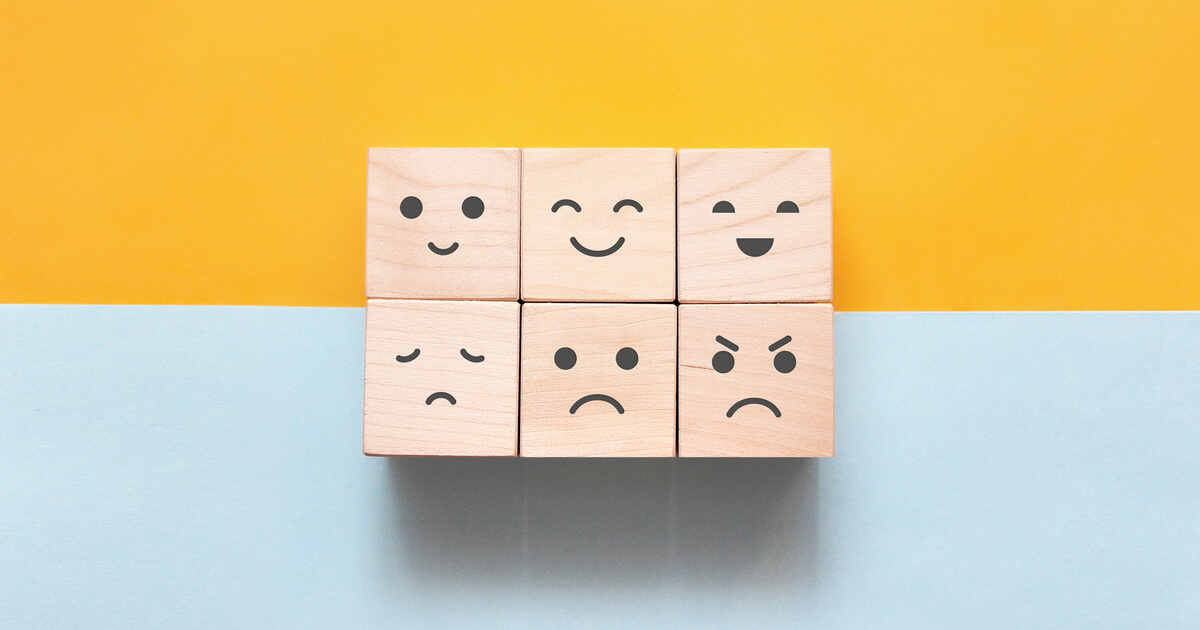 Customer sentiment is different from customer emotion. Where a customer may feel, "I'm angry!" or "I am sad" as an emotion, the sentiment behind them is "negative." What this article is going to look at is that sentiment.
An emotion can change multiple times throughout a day, but sentiment is the overarching attitude of a consumer towards a brand. It's the difference between customer loyalty or no loyalty. Return business or no business. So unless you plan on losing your customers, it's time you started on your customer sentiment strategy.
Here's everything you need to know.
Chapters:
---
---
What is customer sentiment?
Imagine two shoppers walking through a grocery store deciding which box of cereal to buy. They probably think they're logical shoppers: they compare price, size, nutrition, and flavor to make sure they each get the best option. Most people believe they shop logically, but in reality, most of the time, buyers are swayed by emotion, not logic. They base decisions on how each cereal makes them feel. There's a reason Tony the Tiger is still going strong.
The way customers feel about a product, service, or brand can make or break e-commerce companies. That's why measuring customer sentiment is mission-critical. Finding recurring themes in customer sentiment will give you a better picture of the positive and negative aspects of your business or product, so you can make improvements.
Customer sentiment is a metric that indicates customers' feelings, opinions, and attitudes towards a brand. It can be measured on a scale between positive and negative, or it can be measured as an emotion — like angry, frustrated, or happy. Customer sentiment can also describe a customer's urgency and intent in terms like interested. Feedback can be both qualitative and quantitative, and it can address your entire brand or a specific product or service.
Why you should care about customer sentiment
Customer sentiment provides feedback about a brand's most important task: Eliciting a positive, eager response from buyers. No matter the sentiment, you should know that positive sentiment means Keep it up! And negative sentiment means Something's not working.
Keeping your finger on the pulse of customer sentiment can help you better shape your customers' buying experiences, making their path to purchase as frictionless as possible. It also means you can tweak product and service offerings to better meet your customers' needs and increase retention.
Measuring customer sentiment helps companies identify trends and answer broad questions like:
Do certain teams, products, or days of the week usually correspond with a particular customer sentiment?
How do customers feel about your latest marketing campaign?
Has customer sentiment shifted recently?
If customer sentiment is negative, you risk losing your customers altogether. According to Zendesk's Customer Experience Trends Report 2021, half of your customers will defect to a competitor after they have just one bad experience with you. If they have multiple bad experiences, that number snowballs to 80%.
Tactics to collect and measure customer sentiment
There's several tactics you can use, from surveys and social media to on-page feedback, one-on-one interviews, and AI-powered analysis.
Solicit reviews and conduct satisfaction surveys
Reviews and satisfaction surveys contain valuable qualitative and quantitative data on existing customers about what they loved about your brand and product. But also what they didn't. Spend a few minutes (or hours, if you have a large number of reviews) each week looking through reviews on Google, Yelp, Facebook, and Trustpilot to understand your customer sentiment.
You should definitely request a review or a one-to-five-question survey after a customer has bought your product or service. With a survey, only you see the answer (unless you publish it), while reviews are public. Longer, more in-depth surveys should be sent just once per quarter — to your most active customers — to drive customer loyalty.
When collecting reviews, aim to collect a high volume of recent reviews. You can do this by using a targeted approach, like a post-interaction email (PIE). A PIE message, like this one from Amazon, prompts customers to give a star rating after making a purchase.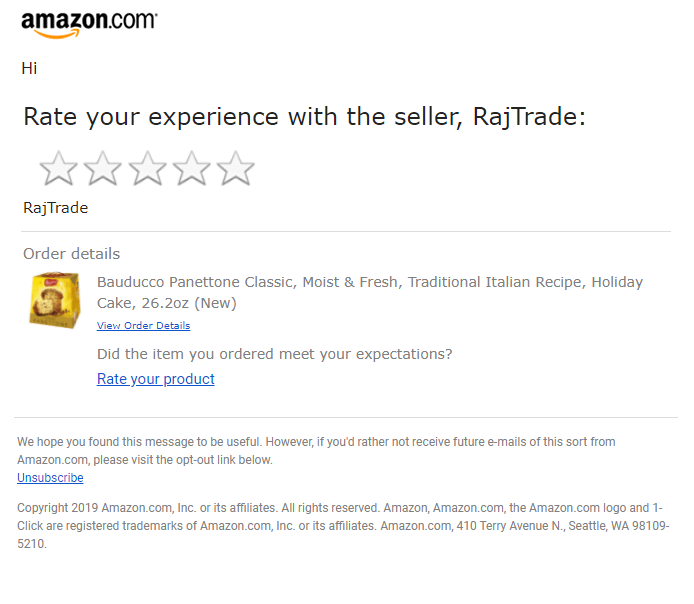 This text review invite from Sura Eats (another targeted approach) makes it easy for customers to provide feedback by tapping a URL.
If you don't have many reviews, conduct a customer satisfaction survey to collect sentiment information from your existing customers. Justworks uses an always-on survey method by inviting users to rate them on the dashboard's main page.
Metrics to measure sentiment via reviews include:
Average rating: Let us know how we did! On a scale of one to five stars.
Net Promoter Score (NPS): How likely are you to recommend this product (or brand) to a friend or colleague? On a scale of 0 to 10.
Would recommend: Would you buy this product again? Or Would you recommend this to a friend? Yes or no.
If you want to dig deeper into customer sentiment patterns, you should search within unstructured feedback (like comment boxes) for common adjectives that indicate positive or negative sentiment. For example, great, awful, easy, difficult, etc. Then you can organize those responses by sentiment and answer questions like, What feature makes customers the happiest? or What part of the service creates the most tension?
Engage with customers on social media
McDonald's famously used social media conversations to make a decision to serve breakfast all day in 2015. A dream come true. Today, it's a basic expectation that companies actively engage with customers on social media. Doing this allows you to collect feedback from a wider, more candid audience than reviews and surveys, which are typically only sent to current or recent customers. Anyone who has an opinion about your brand can mention you or comment on your page.
A flood of complaints on Twitter can help you address product problems. Or, at least unearth an opportunity to be cheeky (if that's your style) like Wendy's does on Instagram.
On the other hand, a pattern of praise on Facebook — like this one about The Kindler Hotel — can clue you in to what makes your customers happy.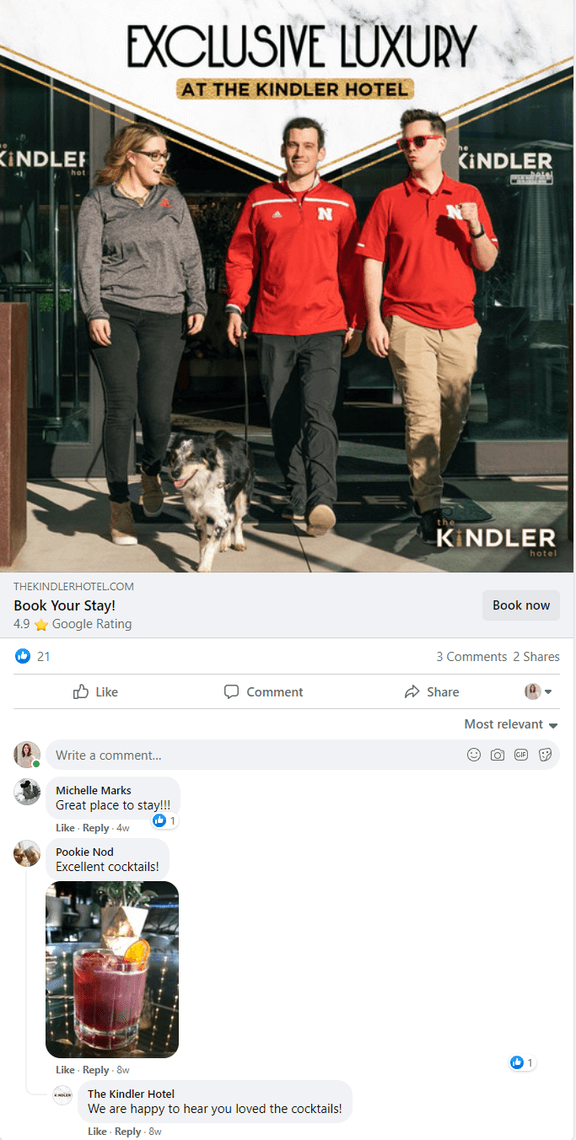 To measure customer sentiment via social media, monitor the platforms where most of your customers are, along with hashtags and keywords related to your brand. Globally, Facebook, YouTube, FB Messenger, and Instagram command the largest consumer audiences.
Respond to comments, mentions, and DMs. Post polls or ask questions to solicit feedback like Stitch Fix does on Instagram.
Then pay attention to how often and why customers engage with you. Access your business profile's analytics or insights feature to track audience feedback. To monitor customer sentiment at scale, you can create a Mentions stream in Hootsuite for each of your active social accounts or use Sprout Social's Social Listening tool.
Conduct user interviews
User interviews — in-depth, one-on-one conversations with existing and potential buyers — help you understand what motivates individual customers and gain new ideas for products and communication strategies.
"…even a few conventional one-on-one interviews yield essentially the same data as several focus groups. Additionally, there is now a lot of evidence that personal interviews yield deep insights that can't be obtained from focus groups."

Gerald Zaltman, Harvard Business School professor
Inviting customers to give feedback via a direct interview is messier and more time-consuming than conducting a satisfaction survey. But user interviews can yield powerful insights into how your customers feel about your brand. According to Zaltman, you should conduct customer interviews when:
Introducing a new product
Extending the value of a current product
You want to reframe your existing brand
To collect interview participants, reach out to specific reviewers or commenters on social media. Some companies hire a professional recruiting firm to help them conduct research. You can also advertise for participants via a social media, Craigslist, or Reddit post (like the one below) and then screen them using a survey like Google Forms or SurveyMonkey.
Measuring feedback from interviews is more complicated than survey or review feedback because the responses are unstructured. Narrow down the feedback by starting with a clear goal, like Find out why half of shoppers are abandoning items in their cart.
Next, craft a discussion guide using clinical psychology and sociology techniques, like metaphor-elicitation. With this technique, you ask consumers to think about a topic (e.g., your brand) and select images that convey their feelings about it. Probe deeper by asking why each image is relevant to them. Then look for patterns in the responses and categorize them by theme, so you can draw conclusions from those themes.
Monitor customer service calls and live chat
Every opportunity to measure customer sentiment isn't necessarily planned — or even online. When customers contact your call center to ask questions or complain about negative experiences, you should have a way to measure and track their feelings about your brand.
This tactic is similar to engaging with customers via social media. Both are organic, but with phone calls and live chat, your customer support reps have to be more intentional about collecting and organizing customer feedback.
For example, let's say a customer calls your support number to complain about a missing tracking number. You can measure their sentiment by having a customer service rep manually summarize the interaction and make anecdotal notes in your CRM. This summary of the Voice of the Customer (VoC) can be put in a structured form or an unstructured comment box.
Use AI to conduct sentiment analysis
Sentiment analysis is a process that uses conversational AI, machine learning, and natural language processing (NLP) to analyze text data and detect sentiment patterns in an instant. Centralized sentiment analysis tools cast a wider net than other types of feedback. They can analyze sentiment across social media as well as review sites, forums, blogs, news articles, etc.
Sentiment analysis tools allow practitioners to classify sentences as positive, neutral, or negative. Komprehend demonstrates this in their demo by classifying the sentence The fit was spot on as a positive sentiment.
AI models can recognize that spot on carries a similar sentiment as great or accurate. The algorithms are able to do this because they turn words into vectors, then demonstrate the relationship between those words as distances between points.
During his TEDx talk, Andy Kim illustrates the way this works. In his example, the words Lion and Cat are grouped together on a coordinate plane, and Ford and Honda are grouped together.
Sentiment analysis tools can detect emotions like happiness or frustration using keywords, their variations, and Contextual Semantic Search (CSS). They can also detect that phrases and synonyms like superior or very durable express good quality, and they use aspect-based classifiers to identify critical product issues like the phone's battery life is too short.
You can buy a pre-built SaaS sentiment analysis tool, or you can try to build your own open-source solution (if you have an excellent team of data scientists and engineers).
Using reports to improve customer sentiment analysis
Measuring customer data isn't useful unless it can be analyzed and used to drive operational and marketing strategies. Tracking customer sentiment is no different. There's simply too much data to process manually. That's why it's important to convert customer sentiment data into digestible reports.
First, pool all your customer sentiment data into one spot, so you can analyze it in a low-effort, cost-effective way. Then segment your customer feedback with tags like location, product, and sentiment. Look for patterns and correlations in these tags and convert them into reports. This can help you figure out if customers like your pricing and packaging, what delights them the most about a certain product, and what's causing the most problems.
Use your reports to create a visual chart or dashboard that shows overall sentiment, sentiment over time, and sentiment filtered by rating or by topic. For example, compare a selected date range to 12 months ago to get a year-over-year comparison of customer sentiment.
Cleaning technology company Kärcher was able to collect thousands of reviews about a new product across many different retails sites and analyze them in one central dashboard. By doing this, they learned that many customers misunderstand the purpose of the product and even how to use it. Kärcher was able to then use this information to adjust messaging and clarify the product's intent.
Gain insights from authentic customer sentiment
Now that you know how to measure customer sentiment using reviews, social media feedback, and organic interactions, next you need to learn how to perform a customer sentiment analysis to learn how to retain loyal customers and win over unhappy shoppers.
Then check out our Insights and Reports tools to analyze them and make better business decisions.