Frequently Asked Questions
Bazaarvoice FAQs
Curious about what we do? We've compiled all of the common questions that we get from our customers. From topics like user-generated content to social commerce solutions, we're here to keep you in-the-know.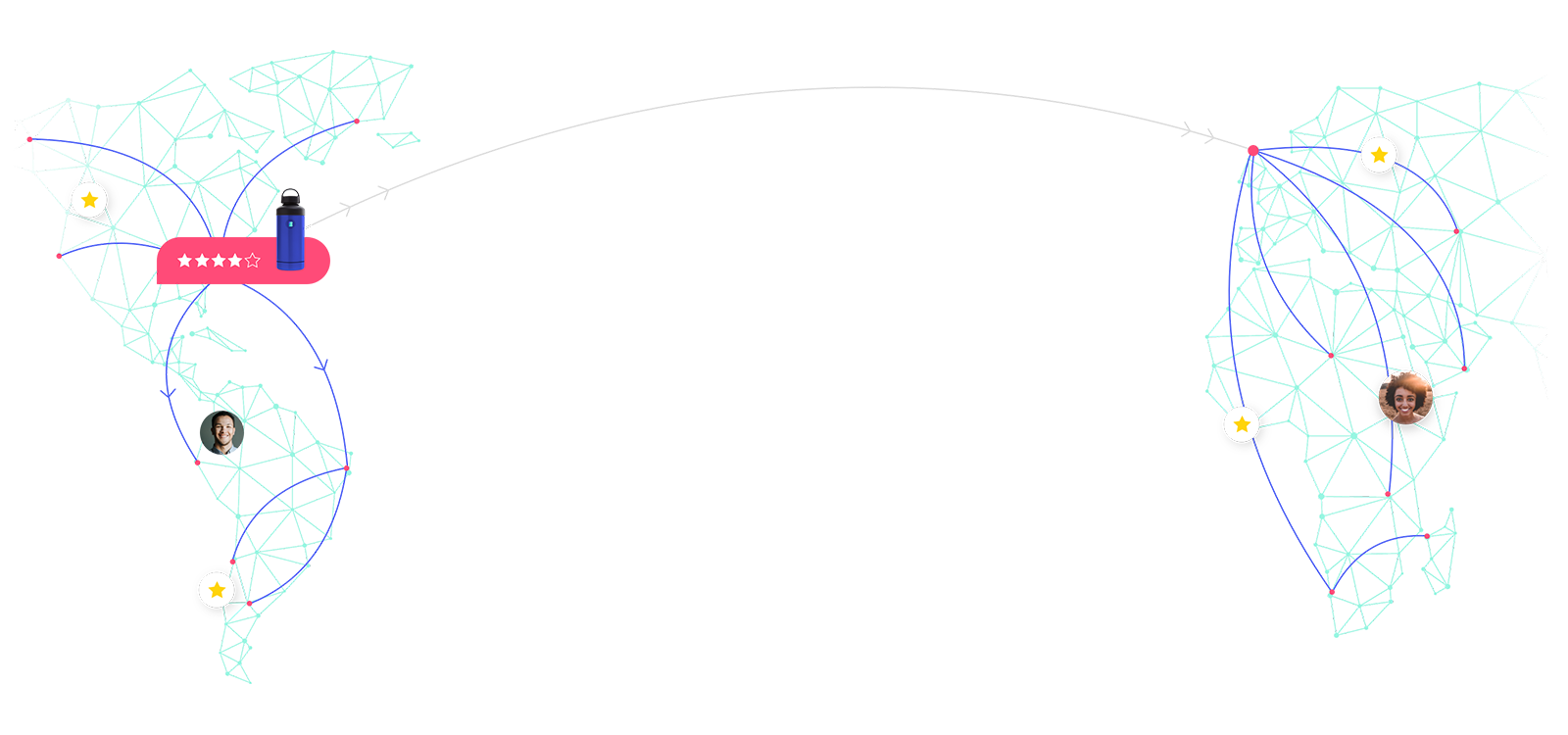 What does Bazaarvoice do?
Good question. We provide software that allows brands and retailers to find and reach consumers and win them over with content they trust. Every month, over 1.3 billion shoppers view and share authentic user-generated content, from ratings and reviews to curated social content, across the 12,500+ brand and retail websites in our network. We champion authentic voices of the marketplace.
What is user-generated content?
User-generated content (UGC) is any content — social images, ratings and reviews, questions and answers, videos — created by an individual, rather than a brand.
What are ratings and reviews?
Ratings and reviews capture consumer opinions about your products or services, and displays their valuable input on your site. They increase sales, decrease product returns, and build trust in your brand. Collected reviews can then be syndicated to the Bazaarvoice Network.
What is the Bazaarvoice Network?
The Bazaarvoice Network is the summation of the Bazaarvoice Platform and Bazaarvoice solutions on Bazaarvoice client's sites. It provides social data about the online and offline shopping behavior of over 1.3 billion monthly users. This enables marketers and Bazaarvoice clients to identify real-time purchase intent and better target consumers with more relevant, engaging experiences that increase e-commerce conversion, average order value, brand loyalty, and repeat business.

What are the benefits of joining the Bazaarvoice Network?
Unrivaled scale: The BV network includes two-thirds of the IR100 in North America and nearly half of the IR100 in Europe.
Seamless experience: You easily submit product catalogs and review content then we manage the product matching and distribution process to provide a turnkey experience — you don't need to implement any software to sync to the network. 
Authentic content: We moderate circa 4.6 million reviews within 72 hours of submission and prevent over 100,000 fraudulent reviews a month.
What brands are already part of the Bazaarvoice Network?
We're trusted by over 12,500 of the world's leading brands and retailers, including Nestle, Walmart, ASDA, Unilever, L'Oreal, and Pepsi. Feel free to peruse our client success stories to learn how we work together, and see why they speak so highly of us.
What countries is Bazaarvoice software available in?
Our software is available globally. Wherever you are, we can help.
How much does Bazaarvoice cost?
We have multiple packages to suit every business, whether enterprise or SMB. Contact our wonderful team here to learn more.
Is Bazaarvoice safe?
Yes. Bazaarvoice is built on trust. It's something we take very seriously, arguably more seriously than anything else we do. Customer privacy and security are paramount to us, end of. For our full trust-specific FAQs, please click here.
Is Influenster a part of Bazaarvoice?
Yes — we acquired Influenster in August 2019 to enhance our UGC solutions and product reviews. Influenster is home to over 55 million honest product reviews, hundreds of thousands of customer photos, and discussions from savvy shoppers and brand enthusiasts. The Influenster community has 7.5 million global members, who are committed to sharing their authentic experiences online — and helping others find their next favorite thing.
Do you offer social commerce solutions?
We do! We acquired Curalate back in July 2020 specifically so we could incorporate its leading visual commerce solutions to our global network of retailers, brands, and consumers. Now, Bazaarvoice makes social shoppable. Learn more here.
How can I become part of the Bazaarvoice Partner Program?
You can apply to become a partner over on our Bazaarvoice Partner Program. Simply fill in the short form and our team will be thrilled to help you. Seriously, they love it.
I'm interested in learning more — do you provide any free resources?
Absolutely. Get cutting-edge insights to accelerate your success over at our asset library. E-books, webinars, infographics, and online events — whatever your tipple, we have a resource for you.

Alternatively, check out the BV Blog for industry trends, latest research, and marketing strategies for engaging consumers in a social, mobile, and data-driven world.
Do you offer a free trial?
You can request a demo by clicking here: Get started
Where is Bazaarvoice located?
Our headquarters are in the vibrant tech city of Austin,Texas, USA. Recently named as the coolest city in America. I'm not saying that's down to us, but I'm not not saying that either.

As a global company with a global mindset we also have beautiful offices all over the world, from London to Sydney to Bengaluru. The specific contact info for each office can be found on our contact page.
Is Bazaarvoice hiring?
We are! We're always looking for the brightest minds and biggest personalities to join our team. Keep an eye on our careers page for the latest job postings!
Get started
Get in touch to find out which solutions will make the most impact for your business. Our helpful sales team can answer your questions and talk about everything from set up to ROI.
Book a call