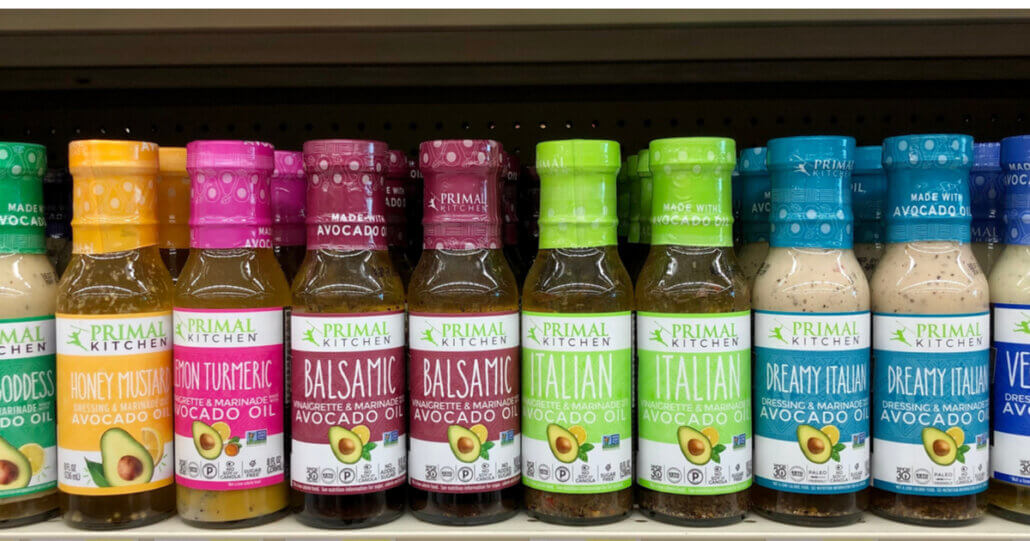 If you're thinking to yourself, "How does review syndication increase sales in any way?" you've come to the right page. Here, we're going to show you how one brand, Primal Kitchen, successfully managed to increase conversion 131% Q4 year-on-year on Target.com.
What is review syndication?
Review syndication is the process of collecting user-generated reviews and distributing them across multiple channels — social media, brand websites, emails, etc — to reach more consumers. In Bazaarvoice's case, a lot more consumers thanks to the scope of our network.
The beauty of review syndication is that it helps increase sales for brands. How? Because it puts the brand's best user-generated content (UGC) in front of customers wherever they are. People are 6x more likely to buy from a product detail page (PDP) that contains images from social media. Therefore it's essential for brands today to curate the best content on channels across the web for the most impact.
Syndication explained in 21 seconds
If you've been in a grocery store lately or shopped for food online, you've most likely come across Primal Kitchen's products. The direct-to-consumer brand creates pantry staples from clean ingredients, like avocado oil and apple cider vinegar. The company understands the importance of UGC in getting customers to try products they've never heard of before.
That's why the brand partnered with Bazaarvoice to increase reviews and visual UGC on its own sites. But also to syndicate that content to partner sites, like Walmart.com and Target.com, to increase sales.
Here's 7 benefits Primal Kitchen gained from review syndication and increasing visual UGC:
1. Curate the best UGC to help new customers discover products
Primal Kitchen uses the Bazaarvoice platform to curate the best UGC content from existing customers, and then it distributes that curated content through all of its channels. This content gives potential customers the confidence they need to make a purchase. The brand has standards for the visual content it curates. According to Primal Kitchen, photos need to be bright, and the food needs to look appetizing yet authentic.
2. Drive traffic to PrimalKitchen.com from Instagram
Like2Buy is a social commerce solution to drive traffic to a website and increase sales. Primal Kitchen leverages this tool in swipe-ups in Instagram stories. When it calls out a specific product in an Instagram feed post, Primal Kitchen will include a Like2Buy link in its main profile bio.
3. Build an engaging community on social media
Bazaarvoice enables Primal Kitchen to manage and engage with the brand's 700,000+ followers at scale. Primal Kitchen uses Bazaarvoice's social suite for daily social media posting and scheduling. The brand also engages with every piece of customer feedback on social media to set itself apart from other brands in the same category.
4. Syndicate visual and social content to retailers
With Bazaarvoice's Visual Syndication Network, Primal Kitchen can syndicate its stand-out visual content to Target.com's product pages. These visuals offer customers a better look at how Primal Kitchen's products fit into a regular person's lifestyle. The brand also seamlessly sends this high-performing content to several other retail partners, like Walmart.com.
5. Continue driving awareness of core hero SKUs through review syndication
Primal Kitchen is constantly working on driving traffic to its core products, like vegan mayo, organic ketchup, and cashew butter buffalo sauce. Leveraging review syndication has helped increase sales for these products on its direct-to-consumer site and across all other distribution channels.
6. Improve search rankings and organic search traffic
Once review volume increased, Primal Kitchen noticed that its product pages moved up in search rankings online as well. Its competitors were outranking the brand in Google Ads, but once the team was able to amplify the number of reviews behind products, Primal Kitchen started to appear above those competitors.
7. Listen to consumer feedback in reviews to further improve products
Insights from reviews are important to Primal Kitchen because these insights share how consumers view the company's products. Primal Kitchen gives this feedback to its QA team to further improve products.
Learn more about how Primal Kitchen uses review syndication, and other UGC, to increase sales. Read the latest case study here.