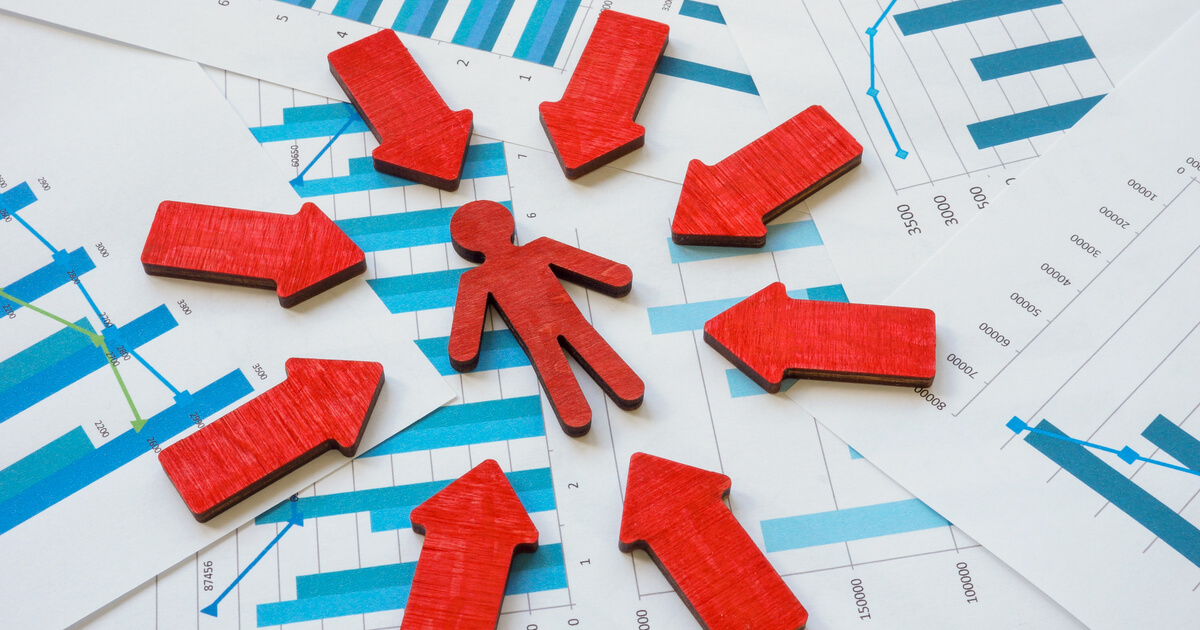 Gartner defines customer centricity as, "the ability of people in an organization to understand customers' situations, perceptions, and expectations." Meaning, if you want to really know your ideal consumer, you need a strong customer-centric selling strategy.
Luckily, we're going to show you how. And why. And possibly even when. Using global brands, and Bazaarvoice's own client success stories, we explain exactly how you can rock customer centricity.
Chapters:
---
---
Imagine you're shopping online for a new social media management tool. You're checking your LinkedIn account, scrolling through your feed, or listening to your favorite podcast at the same time. Suddenly, you get a DM from a salesperson crowing about their platform. You need to sign up right now! Quick! This is a one-time deal! Aaaand… Close browser.
The truth is, most people prefer to buy from salespeople who first establish a friendly connection and then take the time to personalize their pitch to you and your needs. That's customer-centric selling at its core.
Most e-commerce managers know customer centricity will help them grow revenue and foster customer loyalty. In fact, a Vantage Partners study suggests that companies that adopt a mature customer-centric approach realize 2.5x revenue growth compared with the average company. But in practice, many brands still end up fumbling around in the dark and not really harnessing the data to make this happen.
Here's how top e-commerce brands use UGC about real customer challenges to inform their customer-centric strategy.
What is a customer-centric selling approach?
Customer-centric selling is a sales methodology that puts customer needs first to establish a successful, mutually beneficial relationship. Engaging in a customer-centric approach relies on empathy and nurturing a two-way dialogue with customers. It's the approach that actually provides the best customer experience.
Customer centricity also allows brands to modify their processes, product, messaging, and sales timeline to fit customer needs. A brand that adopts a customer-centric selling strategy becomes its customers' best problem-solving ally because it approaches customers in a way that benefits the customers.
For a successful customer-centric selling approach, salespeople (and marketers, too!) should engage prospects and customers with key behaviors. In the influential book "CustomerCentric Selling," co-writers Michael Bosworth, John Holland, and Frank Visgatis break down those behaviors into eight basic tenets, which I've adapted and simplified below:
Actively listen with curiosity — not assumptions.
Ask curious, open-ended questions that give them the freedom to express themselves in a non-pressured environment.
Focus on helping them overcome a challenge, solve a problem, or satisfy a need.
Align with their values.
Here's a great visual that defines customer centricity on four different levels of maturity: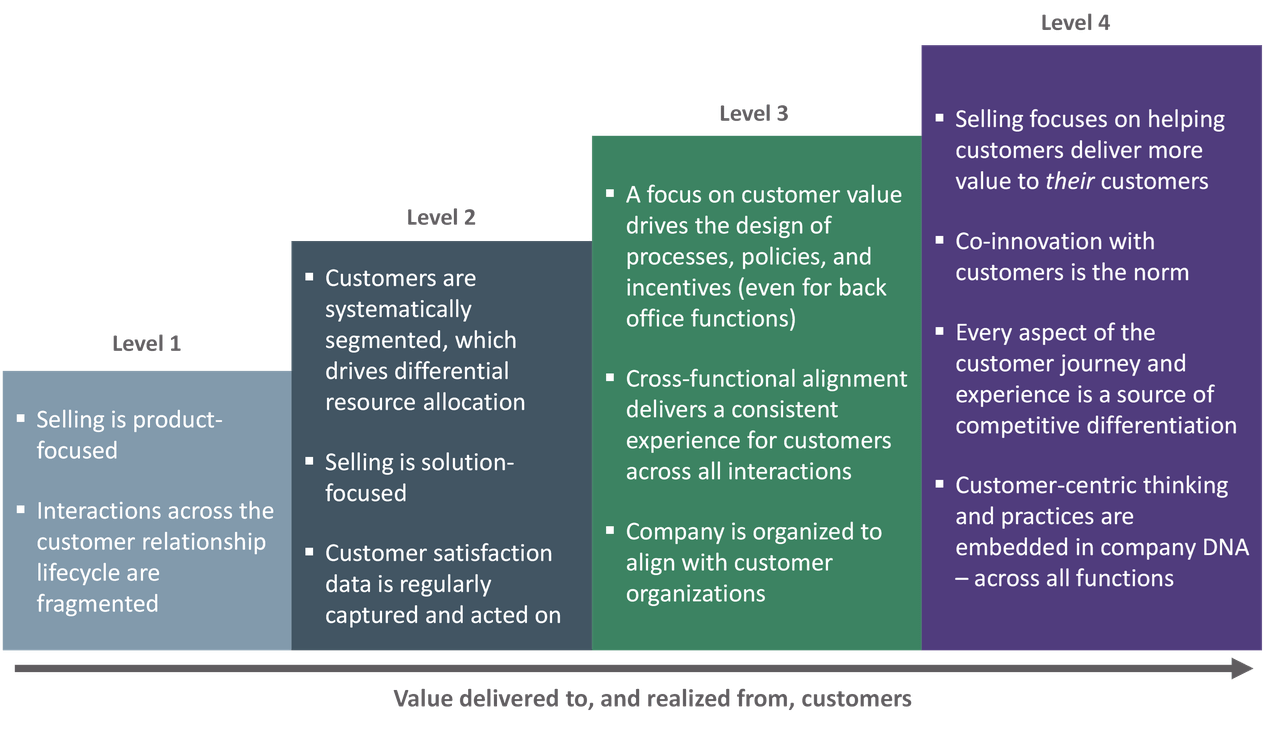 Customer-centric vs consumer-centric
Customer-centric selling is an empathetic, inside-out approach in which all teams — R&D, product management, marketing, sales, support — seek to learn and understand what your customer's needs truly are.
Compare this to the more traditional consumer-centric selling, which is a product-focused, outside-in approach. Rather than asking questions, consumer-centric selling seeks to make a sale by judging and assuming what the customer's needs truly are.
The table below offers an easy way to compare the two approaches, adapted from the book "CustomerCentric Selling" and an article published in California Management Review: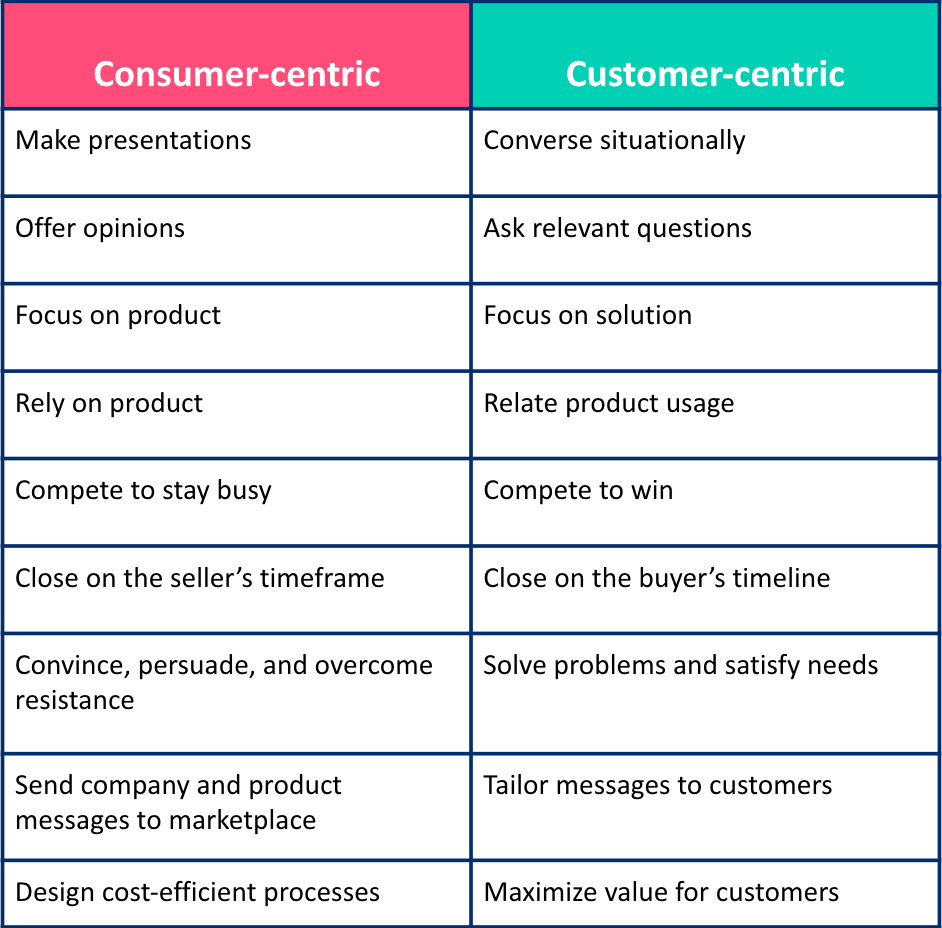 A recent example of assumptions gone wrong comes from the wonderful world of Disney. Taking a consumer-centric approach to marketing Encanto, Disney assumed people would love the character of Isabela. She's classically beautiful, has that perfect Disney princess singing voice, and so on. So, Disney made tons of Isabela merchandise.
Except… Little girls actually loved Luisa. A character whose signature muscles the film's development team had to fight with Disney executives to keep. Following the film's release, Disney has had to scramble to meet customer demand for Luisa merchandise.
Had Disney taken a customer-centric approach, it may have been less shocked by changing tastes and trends for women. And maybe Luisa's beloved, fan-favorite muscles could have been helping Disney generate even more revenue.
In contrast, Blue Bottle Coffee has taken a customer-centric approach by allowing newsletter subscribers to opt out of Mother's Day and Father's Day marketing messages.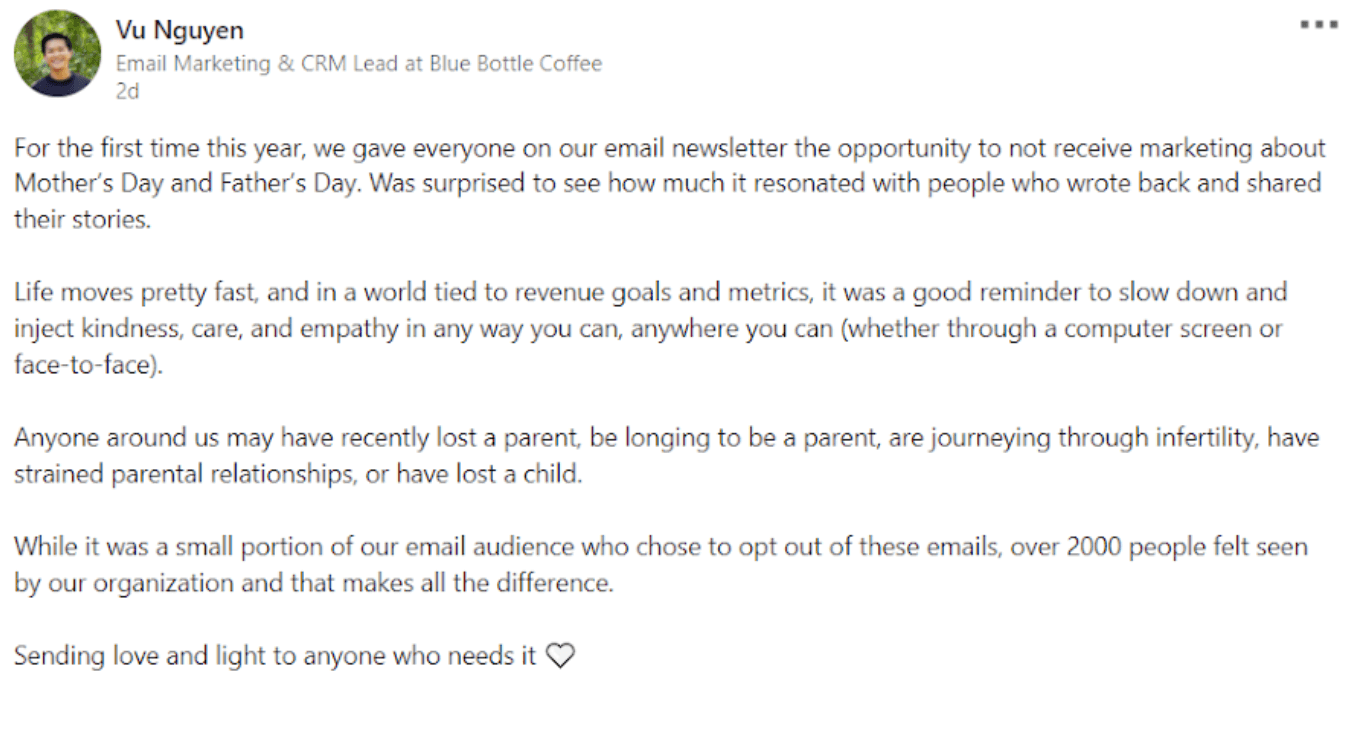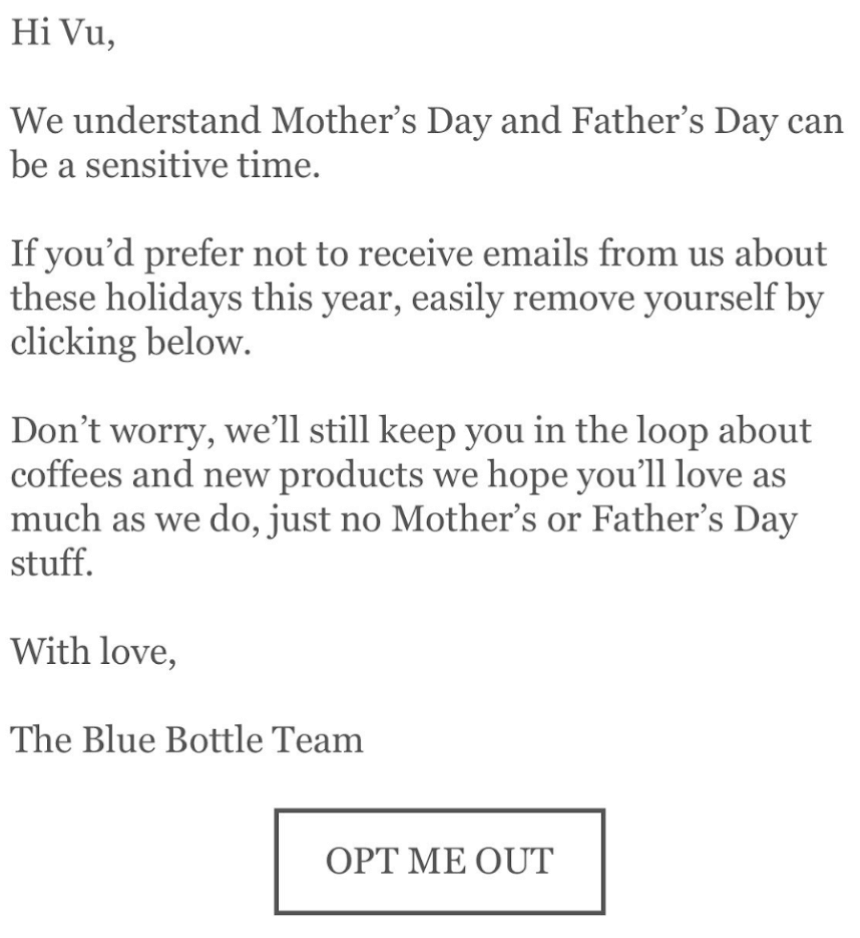 The company realized that many people struggle with the constant barrage of messages surrounding those holidays. So instead of assuming that their audience relates positively to Mother's Day and Father's Day and pushing marketing on them, the company listened to what their audience wanted and took action based on that insight.
Benefits of customer centricity
A customer-centric selling approach is more successful because it's focused on building a sustainable, trusting relationship. According to Nielsen's 2021 Trust in Advertising Study, most people place the most trust in recommendations that come from people they know.
Sales and marketing reps obviously can't be a friend or family member to every customer. But, they can strive to do the next best thing — "put the consumer first in every strategy, plan and execution." In doing so, brands will earn the trust of customers and foster positive word of mouth.
The goal isn't to become better sellers but rather "buyer facilitators," said Chris Sargent, senior director of Global Sales Enablement at NICE inContact, during his discussion on sales training.
If employed correctly and combined with the right data-collection tools, a customer-centric selling strategy will help your brand better resonate with customers and bolster both customer success and customer support. It will target their specific needs and pain points.
Your customers will be better served because your brand will be providing a better overall value.
As a result, loyalty and trust will grow. Loyal customers will transform into full-fledged ambassadors who will help positively characterize your brand by word-of-mouth. Your entire company will better understand and empathize with its audience. This will promote more innovative product development and an elevated cycle of inspired, engaged employees.
The more engaged your employees are, the better the customer experience will be. And the better the customer's experience is, the more customer loyalty and retention will increase — not to mention your revenue.
How brands use data to implement customer centricity
The best customer centricity strategies rely on asking the right questions and actually listening to customer responses. Traditionally, brands hired consumer psychologists to design focus groups and surveys. But this process is long and arduous, not to mention expensive.
Today, brands can utilize sophisticated software to source and use first-party data and user-generated content (UGC) in their marketing and sales efforts.
Enventys
According to Roy Morejon, President and Co-founder of Enventys Partners — a B2B product development, launch, and marketing firm — customer-centric data is often found through interactive data tracking. This involves tracking data such as the number of confirmed purchases, abandoned carts, and returns.
Brands can also collect quantitative first-party data through recurring email subscriptions, Morejon explained, by analyzing open rates and measuring how many customers click the links within the emails they received.
"Analyzing this data in comparison to other user details," said Morejon, "such as general internet behavior, job, lifestyle, and other personal data (age, gender, etc.), provides insights that you can use to optimize customer-centric selling."
Morejon mentioned Pardot as a specific tool to help harness this data.
"Pardot is a great feature integrated with Salesforce. This app tracks how customers move through the sales funnel, tracking purchases, abandonments, and returns. It provides data on how customers interact with digital marketing assets, such as social media ads and emails, and even offline interactions. It gathers data submitted through user forms, Salesforce, and other integrable platforms." — Roy Morejon.
Unilever
UGC, like reviews, and questions and answers, is a common method to bolster customer centricity. Unilever set out to get more user reviews, which it then used as a marketing tool to improve revenue. In doing this, it also improved customer loyalty and satisfaction, and increased organic search traffic and engagement.
This success was facilitated by Bazaarvoice-powered sampling campaigns. Unilever saw a massive increase in customer reviews across all its brands, numbering in the hundreds of thousands. This, in turn, gave Unilever additional leveraging power.
"When we include reviews in social ads and display ads," said Jenna Spivak Evans, Innovation and Digital Capabilities Manager at Unilever, "we see about a 20–30% improvement in performance."
"Because UGC delivers such rich content, you can see increases in search traffic of 15–25% as a result of using customer-generated content," said Evans. "You will also see increases in website engagement metrics such as product page views per visit, average time spent onsite, and return-visitor rate."
Unilever also cross-referenced the people leaving reviews with the customer data it has about those people in its CRM. Doing this not only helped collect UGC and demographic data, but it helped increase personalization as well.
According to Evans, "Integration of UGC into CRM will give us deeper demographic information and provide an incremental way to understand different customers' needs."
For a closer look at Unilever's path to success, check out the Bazaarvoice case study.
Kärcher
Kärcher, a global cleaning technology company, uses UGC to collect customer insights, drive conversions, and strengthen its relationships with retail partners. By monitoring customer feedback and reviews throughout the sales process, the brand was not only able to create new products customers would love, but also improve pre-existing products and set a company-wide quality standard.
"Having reviews in place just before the retailer releases our products gives consumers the confidence to try our new products right from the start," said Kevin Wiredu, Senior E-Commerce Specialist at Kärcher. "It's a key to our success."
In Kärcher's first sampling campaign, 98% of sample recipients responded with a review. The brand received hundreds of high-quality product reviews, videos, and images. Currently, it's collected over 280K reviews across 73 retail sites.
With new valuable UGC data at its disposal, Kärcher was able to jumpstart its latest sales cycle and product launch by having numerous, high-quality reviews ready and available the moment new products went live.
Even better, leveraging UGC data helped Kärcher address some issues with product messaging. After reading some customer reviews, the brand realized that many customers didn't understand the purpose of one of their products — or even how to use it. So, the company was able to tweak the product messaging and packaging to better communicate the product's intended use.
This is a key example of customer-centric selling because the brand listened to customers and made relevant changes to address their needs.
You can read Bazaarvoice's full Kärcher case study here.
Nestlé Canada
By leveraging UGC data, Nestlé Canada improved both its overall performance and its relationship with customers. The types of UGC that proved most beneficial were customer reviews and insights, customer feedback, and customer questions.
Thanks to Nestlé's broad reach, it receives thousands of reviews on a constant basis. But all that data can be difficult to manage. So the company used Bazaarvoice Insights and Reports to make sense of the flood — and, more importantly, to inform business decisions.
Other helpful solutions Nestlé Canada leveraged were Bazaarvoice-powered focus groups and Questions & Answers. In fact, within three months of enabling Bazaarvoice Questions & Answers, Nestlé Canada received over 700 questions from its customers.
The driving force behind Nestlé Canada's focus on reviews is that the company wants to listen to customers and solve their needs. "Consumers do the talking for us," said Lee Beech, Director of Consumer Experience at Nestlé Canada. "They speak, and we listen and take action. "
By leveraging all these solutions, the Nestlé sales team observed that many of its neutral product reviews contained customer questions. In response, Nestlé implemented Bazaarvoice Salesforce Connector and began devoting time each day to provide responses, enhancing customer support all from a single tool.
"It saves, on average, eight minutes to code a case," according to Kristina Rapljenovic, Website Manager at Nestlé Canada. "We previously didn't have the capacity and had to let go of engaging with as many of the reviews as we wanted. It would have taken eight minutes to open a case and transfer all of that content. Now, it's all automated."
For a more in-depth look, check out the Bazaarvoice's Nestlé Canada case study.
KidKraft
Like Nestlé Canada and Kärcher, KidKraft uses data from UGC to make product changes. It's been able to fine-tune its product positioning and fuel its marketing messaging due to the automated ways it can now collect customer feedback, reviews, and customer-shared product photos.
As a mark of its success, KidKraft has collected over 100,000 reviews across the Bazaarvoice Network and achieved 100% review coverage on retail sites as a result of syndication.
"We work really closely with the product development team," said Heather Stables, the Director of Consumer Engagement at KidKraft, "to make sure that if we see consistent issues or questions being raised by consumers, we can go back and address that by making changes to the actual product."
One example of this comes from KidKraft's playhouses. Using Bazaarvoice Insights, KidKraft was able to quickly observe that many customers were DIYing one of the playhouses to have a white, more modern appearance. Recognizing the need, KidKraft released their own white, modern-style playhouse and saw a huge uptick in sales as a result.
Check out Bazaarvoice's KidKraft case study to learn more.
Adeo
Adeo, a French home improvement retail company, launched a successful UGC program across all its brands. It also implemented strategies to handle fake reviews by collecting UGC data directly after a sale and including a verified purchase badge. Even more, it accessed new markets that, until recently, had low brand awareness. Its latest goal is to reach an overall customer satisfaction rating of four stars.
To begin implementing its customer-centric selling approach, Adeo began collecting UGC data such as customer reviews and ratings. Similar to Nestlé Canada, it also took into account customer questions. And like KidKraft and Kärcher, it utilized customer product photos.
UGC was particularly important to Adeo because its products are often used to complete technical projects like plumbing and electricity that require a degree of expertise. UGC helps to solve a common customer problem — confidence.
"Incorporating reviews, photos and questions by our customers on our products and services pages provides this reassurance and complements the expertise of our sellers," said Nicolas Fillat, Marketing Business Leader, Customer Care and Feedback at Adeo.
Adeo also places a high value on reviews written in a language that customers can read. With the Bazaarvoice Translated Reviews feature, Adeo has been able to ensure both ratings and reviews are always presented in the customer's preferred language. This way, customers benefit from reading insights from other customers.
"Bazaarvoice, with its strong global network, allows us to support our customers regardless of country or language," said Fillat. "This has allowed us to collect, moderate, and display product reviews throughout ten group business to date."
Check out Bazaarvoice's Adeo case study for more info.
Wayfair
Wayfair stands out as another example of successful customer centricity. For its UGC campaigns, Wayfair encourages customers to share their design ideas using the branded hashtag #WayfairAtHome.
By measuring both demographic and UGC data, Wayfair has been able to deepen its understanding of its audience and deliver a hyper-personalized experience. It's achieved this through analytics and predictive AI. Wayfair creates a detailed buyer persona through this AI system. This helps to show customers only the products most relevant to them. Wayfair simply has too much content not to do this.
Customer centricity isn't just a choice for Wayfair. It's a necessity.
"On average, we capture and store four terabytes of data every day and over the course of a year, we track approximately 40 billion customer actions on our site. Data has been democratized across the organization — it can be accessed and used regardless of whether an employee works in marketing, logistics, or engineering. Data has allowed the company to better execute on its strategy through improved personalization." — Steven Conine, Wayfair Co-founder
By focusing on customer centricity, Wayfair has avoided the problem of customer experience becoming overwhelming and time consuming, which would certainly hurt sales metrics and decrease Wayfair's overall revenue.
Instead, Wayfair has successfully streamlined the buyer process, thanks to its machine learning technology.
Use UGC to enable a customer-centric selling strategy
Customer centricity is a better approach to selling. To do it well, you need the right data and tools to collect it:
Now that you know how and why to put the customer first in sales, enable customers to make those sales for you by using product sampling and user-generated content. Or get in touch directly below to request a free demo.
Request a demo
---
You can check out more of our Long Read content here for more marketing strategies, tips, and insights.