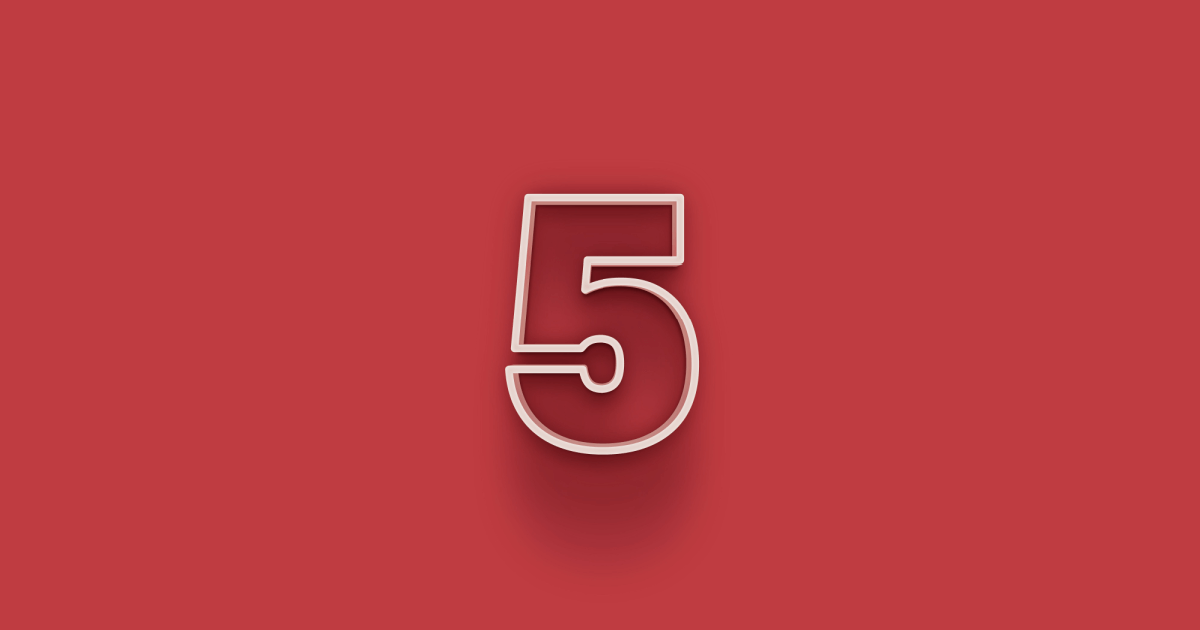 In Greek mythology, King Midas could turn everything he touched to gold, coining the phrase "the Midas touch." Ratings and reviews are the Midas touch of the commerce realm — both online and in-store. 89% of shoppers always consult reviews before making a purchase, so you'll want to get more product reviews as quickly as possible.
A number of factors dictate customer opinion of a review, but two of the top are "recency" and "quantity" according to our consumer research. So not only do you need to get more product reviews, you'll need to know how to do in consistently and efficiently.
Why do I need to get more product reviews?
Product ratings and reviews play a significant part at every stage of the consumer buying process, whether on the digital or physical shelf. And the more you collect, the better the results.
From increasing search visibility to inspiring shopper confidence to lifting conversions, product reviews cast a large magical web over numerous aspects of your business.
Most consumers consult with reviews when shopping for new products. Reviews introduce new products, with 88% of shoppers using reviews to discover and evaluate products. Not only do shoppers look at product reviews, they care about the number of them. According to Deloitte and Touche LLP research, a high number of reviews is one of the most significant factors that sway purchasing decisions for 46% of shoppers
Brands utilizing reviews see a significant conversion and revenue lift. Shoppers engaging with reviews from the best-in-class sites (the top 25% of our clients) can see a 138% increase in sales conversion
Reviews give your brand an edge over the competition. According to our Shopper Experience Index, 63% of e-commerce brands say reviews improved SEO. Because reviews create more content for websites, they can add more keywords relevant to your business, boosting your SEO. (Also, Google plays favorites with brands that have positive reviews since it wants to provide users the best experience possible)
Reviews provide authenticity for shoppers. Shoppers want to buy from brands they trust. In fact, close to 82% of shoppers refuse to buy from a brand they don't deem trustworthy. With over 78% of shoppers using reviews to identify brands they trust, it's essential to keep the reviews pouring in
Brands crushing the review collection game
Now you see the importance of a review collection, how are brands doing it? Here's a few examples of brands amplifying the voices of their customers and building their sales conversions along the way.
Making lasting impressions
Shoppers remember first impressions. Brands making a splash sway the shoppers' experience — good or bad. That's why the first thing you see on Carvana's home and product pages are the rave (and not so rave) reviews.
Once you arrive on Carvana's homepage, visitors witness fellow shopper's affirmations of the brand. Carvana embraces the power of all reviews and invites web visitors to check out what fellow customers have to say (the good, the bad, and the ugly).
Bridging the gap between the user experience online and in-stores
Although online shopping is the primary way people prefer to shop, in-store shopping still provides a convenient and straightforward purchasing method. To showcase fellow shoppers' opinions of products, Neutragena includes testimonials on all in-store displays and signage.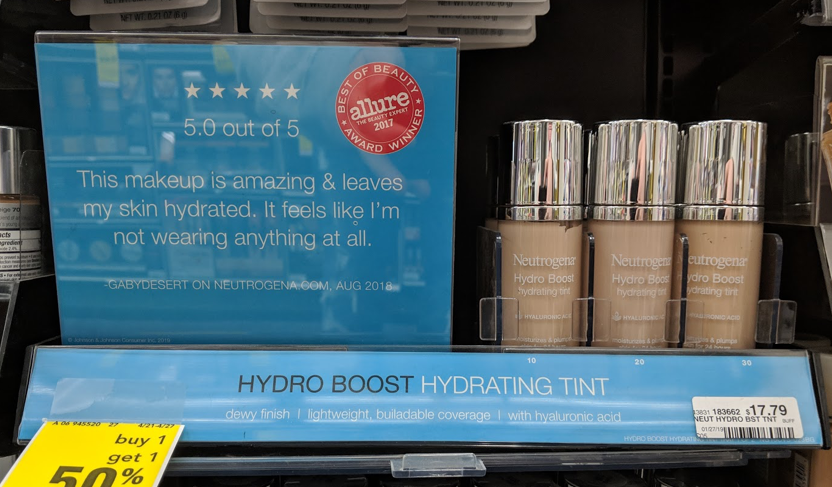 This way, shoppers can instantly engage with the reviews of others while trying the new product out for themselves.
Fueling retail sales and partnerships
Petmate enhances buyer confidence and purchasing decisions through review syndication. If not for the syndication of reviews, most of Petmate's products would have little-to-no review content. But now, Petmate has syndicated over 8500 reviews across more than 50 retailers.
This initiative helps feed sales to the retail channels while simultaneously solidifying relationships with partners.
How to get product reviews
We're in the ratings and reviews business. And we have a network of over 12,500 brands and retailers combined, all of which utilize reviews, so we know what works, and what works well.
While there's multiple ways to get product reviews from customers, these are the five speediest that we see.
1. Incentivize reviews for your products 
Waiting for reviews on products to filter in organically is like waiting for paint to dry. A great way to turn on the review water valve is to incentivize feedback. While you may think shoppers are skeptical of an incentive initiative, they actually aren't phased. Therefore, both organically and incentivized reviews matter to shoppers.
To encourage your shoppers, you could create sweepstakes, for example. With a sweepstake, shoppers exchange review submissions for the chance to win a prize. Sweepstakes improve submission rates, drive volume spikes, and improve a product's average star rating.
Another option is a sampling campaign, where you provide a free sample of a product in exchange for an honest review.
Either way, from cashback to loyalty points to coupons, shoppers drool over freebies — but who doesn't? Not to mention people love to share their opinion about brands. But just make sure you're transparent about any incentive, so you can continue building trust with your shoppers. We recommend including a disclosure such as," This reviewer received a free product in exchange for their honest feedback" to any incentive reviews.
2. Review request emails
One of the best solutions to get product review submissions is to email customers asking them to review a product right after purchase. Our research shows that review request emails yield an increase of 4-9x in review content. And if you send a follow-up email, you can see up to a 50% increase in review volume.
If you collect the shopper's email at the point of sale, you can include a link to the item in question. Roughly 80% of collected reviews on products come from a review request email that contains the product link.
If the product purchased is a mystery, you can email the shopper to pick from several items and write a product review from there.
For the best results, don't wait too long to interact with your shoppers. Ideally, you'll want to send the email after the shopper has received the item and has had time to test it. Also, avoid including too many calls to action. You don't want the shopper to become overwhelmed. Instead, stick with one call to action, like "write a review," so that they understand the message right from the start.
Clothing brand MeUndies turned to review request emails and grew review volume 218% year-over-year.
3. Scan social media 
Shoppers want brands to hear them loud and clear. They want to know brands care about their thoughts and opinions — 64% of consumers say they want brands to connect with them on social media
So, what's a great way to validate their opinion and feedback? Meet and connect with them where they spend most of their time — social media.
One way to ask for a review on social media is to share recent feedback from your shoppers and directly tag them. Or if someone tags your brand in a post, comment directly asking if you can have permission to share.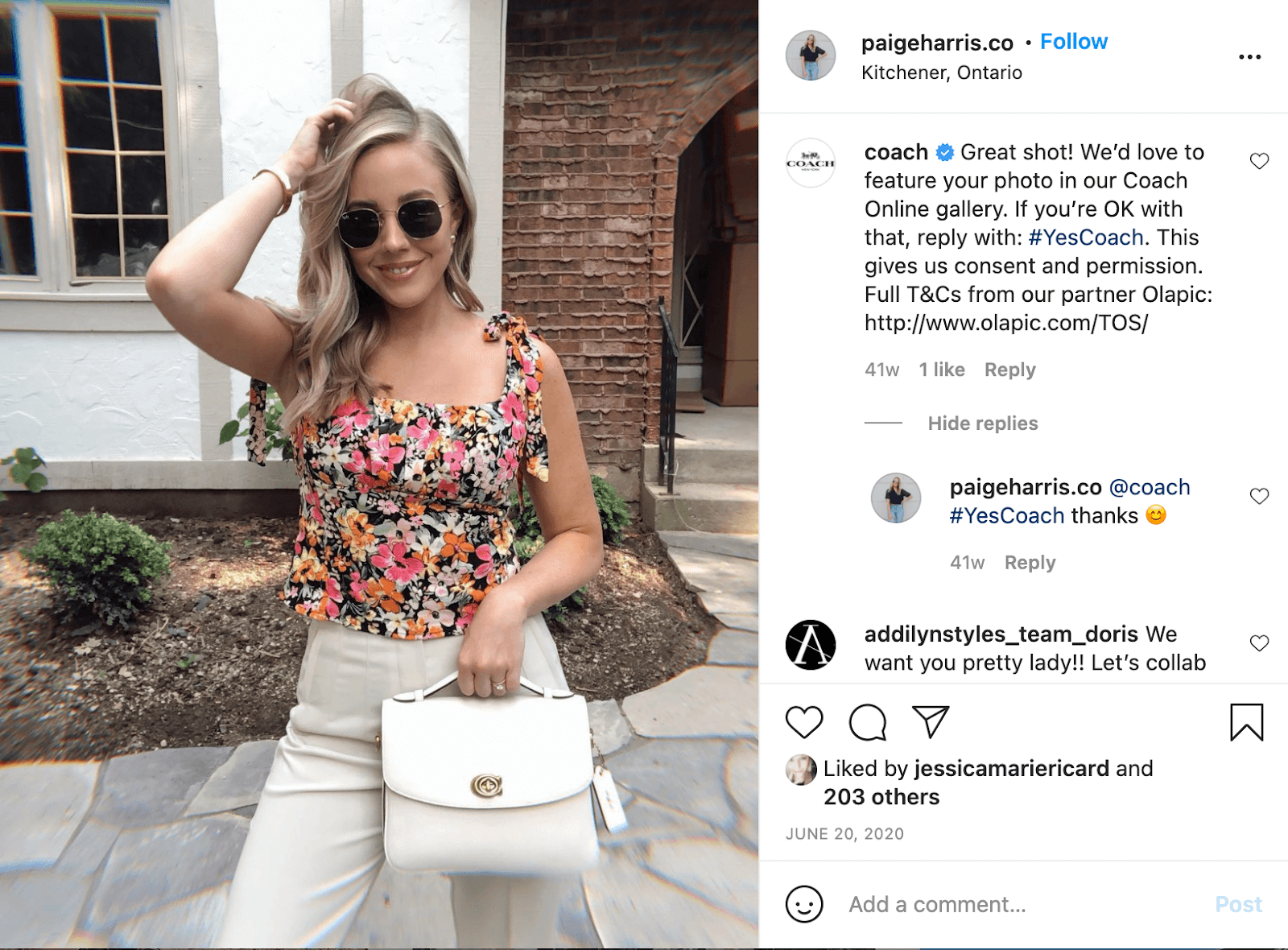 In addition, you can include a link to your product page requesting more reviews from your social media audience. Another way to get a product review is to simply ask your audience to write a product review about a specific product or an assortment of products.
You could also utilize your social media community of influencers to write a review about a product they love. If you don't have a community of influencers, then tap into an existing one. The Influenster community for example is made up of over 7.5 million members, each willing and eager to provide authentic content about your brand.
4. Get visual product reviews 
While written reviews are great, reviews with visual content take the cake. Strong image-based content creates an in-store experience for the shopper. In addition, visuals help customers observe the product content as if it were right in front of them, creating more buying confidence. According to Bazaarvoice data, 66% of shoppers are more likely to buy a product if the review has visual content.
Therefore, allowing shoppers to submit visual content increases the originality of each review, but it also increases sales. So actively ask customers to submit visual content too. When you run a sampling campaign or
To encourage more reviews and ultimately increase revenue, it's essential to give customers the ability to showcase content on your site instantly. Incorporating visual reviews into your broader marketing output will transform the consumer's online shopping experience and set your brand apart from the competition.
5. Work with a ratings and reviews platform
You know you need reviews, but why go it alone? Managing, collecting, and updating reviews is time-consuming and cumbersome. Using proven resources like a ratings and reviews platform provides you with the technology needed to efficiently and effectively manage your UGC (including collecting reviews) at scale, as well as show you the sales impact of your UGC.
Get more product reviews with Bazaarvoice
As the leader in the industry (according to G2), the quickest way to get more product reviews is to work with Bazaarvoice, because we'll do it for you.
Dole Packaged foods for example wanted to give customers a voice through product reviews, so they turned to Bazaarvoice ReviewSource and gained 2.3k new reviews — and a 64% conversion rate lift among shoppers who engaged with that content.
Take the guesswork out of gathering new reviews while effortlessly elevating the voice of your shoppers and conversions. Learn more about Bazaarvoice Ratings & Reviews.