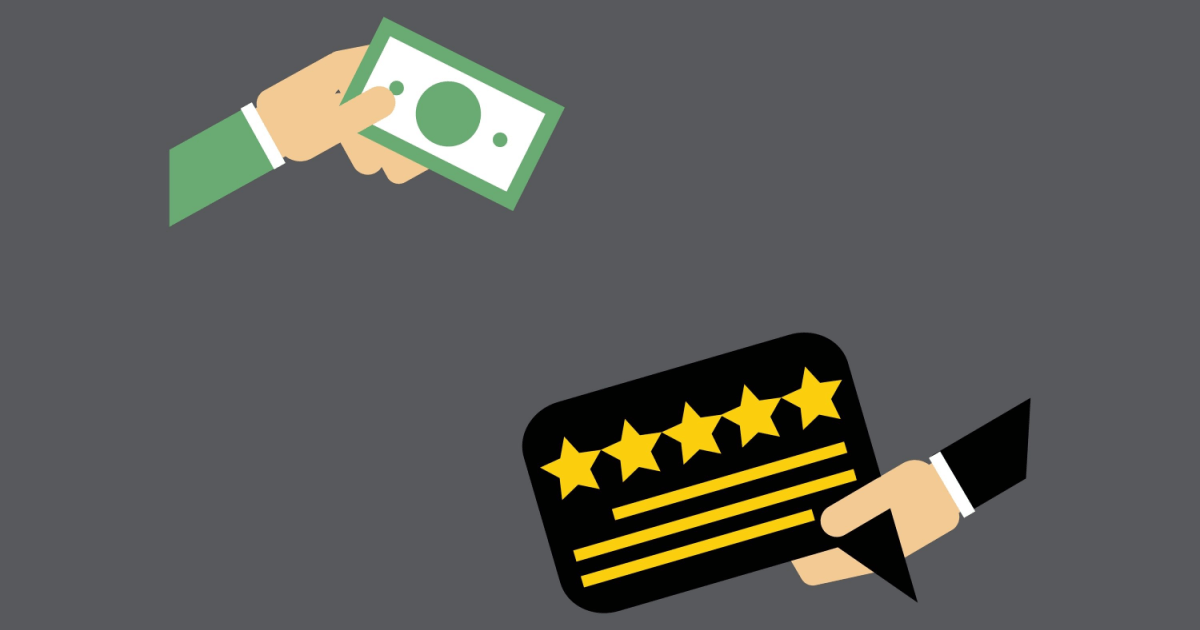 Fake reviews have taken center stage in retail news over the past year. From companies using employees or hiring fake review writers to more industrial fake review bot farms, it's an issue that is increasingly top-of-mind for consumers and our clients alike.
While almost all (88%) shoppers use ratings and reviews to evaluate or learn more about products, fake reviews can affect their ability to confidently turn to reviews as a trusted source. This can prevent them from making a purchase and have a significantly negative impact on your revenue. In the current economical climate, that is not something brands and retailers can afford.
To better understand how fake reviews affect consumer mindset and behavior, we surveyed 10,000 global shoppers. Here's what we learned.
Consumers are scrutinizing reviews
Thanks to increased media coverage, shoppers are aware and evaluating reviews for authenticity. According to our survey, the top five factors that make consumers suspicious that a product has fake reviews are: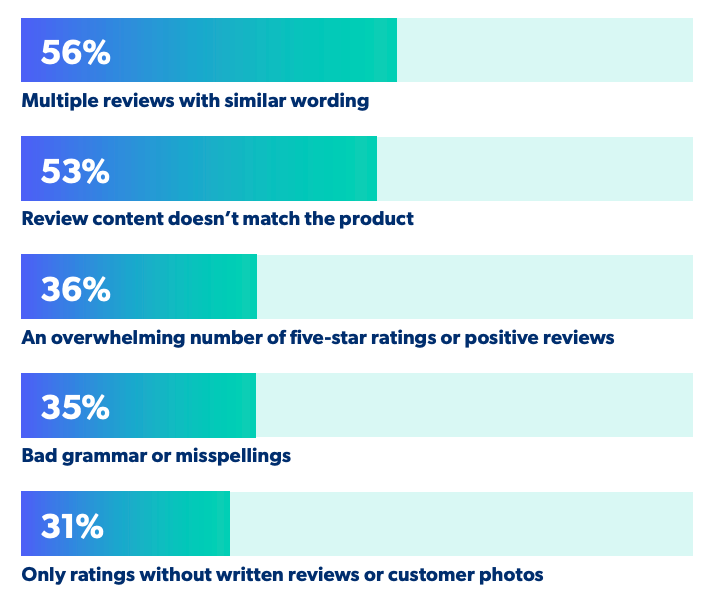 As consumers have become more shrewd and skeptical of marketing and advertising practices as a whole, they're constantly evaluating product reviews to look for red flags. And if they do spot what they perceive to be a fake or fraudulent review, 81% would avoid using that brand again.
Consumer trust is affected by fake reviews
Nearly all (97%) of our survey respondents said that fake reviews make them lose trust in a brand. Some instances of fake or inauthentic reviews shoppers look out for include reviews generated by a bot, undisclosed incentivized reviews, and reviews written by someone who didn't purchase the product
The thing with inauthentic or fake reviews isn't that they'll simply cause a consumer roll their eyes or skip past it. Losing trust is losing revenue. We found that once consumers lose trust in a brand:
81% will avoid using that brand again
48% leave a negative review
25% wouldn't purchase from the website
16% will post [negatively] about the brand on social media
It isn't just one potential customer you might be alienating — that one fake review can cause just one customer to spread the news of your untrustworthiness across their social pages, where their reach might be in the 100's.
Having fake reviews has major consequences on consumer trust and could ultimately impact your business' bottom line.
Consumers think fake reviews should be regulated
In a landmark settlement, fashion brand Fashion Nova was recently fined $4.2million by the FTC for suppressing negative reviews. It served as a wake up call to other brands to be honest and authentic with about the reviews they receive. And consumers are on board with this punishment too.
Not only will consumers punish brands who have fake reviews by taking their money elsewhere, they also want them to be regulated and fined more formally by the relevant powers. 70% of global consumers think the retail industry needs a new set of standards to combat fake reviews. And when asked what these standards should entail:

Our survey also asked what an appropriate level of punishment for brands in breach of these standards would be and 27% of respondents suggested a fine of almost 30% of the brand's revenue.
This is up from a suggested 16% fine when we last ran this survey (in 2020) — evidently consumers feel that this violation of trust warrants an increasingly significant consequences for brands.
The takeaways for brands: Embrace authenticity and transparency in your reviews
All of the above proves the massive risk that fake reviews present for your business. Shoppers, while they continue to trust reviews, are always on the lookout for any signs of untrustworthy content.
Consumers have a right to trust the reviews they encounter, and, moreover, businesses have a responsibility to ensure this content is legitimate. We believe that authenticity and trust in ratings and reviews is foundational to their value for shoppers, brands, and retailers.
At Bazaarvoice, we have three golden rules when it comes to how companies should protect consumer trust in reviews:
Don't allow fake reviews.

Companies should be aware of the possibility of fraudulent content through a variety of means, including disruptive or trolling activity, commercial messages, automated submissions (e.g. bots, programs, and scripts), illegitimate or degrading content by a competitor, and self-promotion by employees. This is a big part of how we serve our clients. Using both textual moderation and data driven anti-fraud processes to evaluate reviews in the Bazaarvoice Network helps us to protect our clients and their shoppers

Don't screen out negative content — find value in it.

71% of our survey respondents said that negative reviews are as important as positive reviews in their purchasing decisions. The majority claimed that negative reviews contain more detailed info on product pros and cons, while 54% think that they're less likely to be fraudulent. Negative reviews are also an opportunity for engaging with consumers and identifying potential product improvements. We have

endless stories from clients

that have used the feedback from their customer reviews to help inform all parts of their businesses. Brands who

respond to negative feedback

will build trust and loyalty with their customers

Be transparent about how you collect reviews.

There's a variety of ways that a business can ask customers to provide reviews, including through review request emails, a sampling campaign, or on social media. Regardless of how a review is collected, you shouldn't ask for positive reviews. Consumers should always feel empowered to provide their honest feedback. If consumers are offered a free product, promotional material, or a chance to win something of value in exchange for providing an unbiased review, then the review should explicitly indicate this. We recommend adding descriptors like, "This reviewer received a free product in exchange for their honest feedback" to any reviews that were collected using a promotion
Beat fake reviews with the right reviews provider
Simply put, a reputation for fake reviews can (and will) damage your brand. As consumer trust of media, business, and marketing continues to decline, brands and retailers need to continuously work to combat fake reviews to ensure that shoppers can continue to use ratings and reviews as sources of truth.
At Bazaarvoice, we continue to be committed to the protection of authentic content on behalf of our clients. In fact, a recent Forrester Study of Bazaarvoice found that our moderation filters reduce time brands spend evaluating content by 75%.
Learn more about Bazaarvoice Ratings & Reviews here.