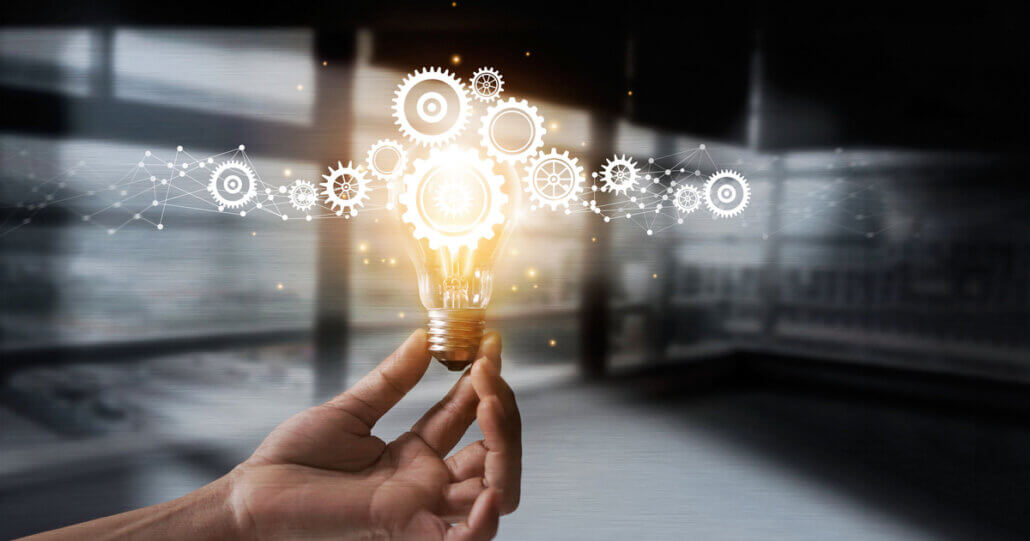 Let's take a look back at the best user-generated content marketing examples over the past year. From product reviews to video tutorials to branded hashtags, user-generated content (UGC) has taken over the internet. In the past year, one in three shoppers made a purchase on social media after engaging with UGC.
Another 74% of shoppers want to see that content shared on brands' websites. As more brands become hip to the power of UGC, its applications in marketing continue to change and evolve.
Our favourite examples of user-generated content marketing
This year brought more innovative and brand-boosting UGC to the playing field. In this year in review, discover the 10 most impactful user-generated content marketing examples from brands, artists, and tech leaders. Use these strategies for inspiration in the new year to create powerful messaging that clicks with consumers.
1. Tentsile makes UGC shoppable
The tent and hammock brand Tentsile has a gorgeous gallery of Instagram photos, and their customers contribute many of them. But beyond just sharing this striking UGC, Tentsile tags their products and turns the photos into shoppable images. That way, Instagram users can go from "I'd love to do that" to "I'm going to do that" with no steps in between.
Lesson learned: Make UGC a social commerce tool
Social commerce is growing rapidly, with several social media platforms adding new shopping features in 2021. In the past year alone, the Twitter Shopping Module, TikTok Shopping, and Facebook's Live Shopping Fridays all debuted. These developments follow the massive popularity of Instagram Shopping, Facebook Shops, and Pinterest Shopping.
A growing shift to social shopping drives the development of these new digital outlets. Younger shoppers are leading this change in shopping behaviors, with 49% of millennials and 43% of Gen Z using social media platforms to purchase products or services in 2021.
On Instagram, there's many ways to make your content shoppable, by tagging products in static posts, Stories, Reels, IGTV videos, and Live streams.
Pro tip: Bazaarvoice's Like2Buy feature streamlines the process, so users can shop every image on your Instagram feed without ever leaving the app.
Shoppable UGC takes social commerce to the next level. Consumers trust other shoppers' opinions significantly more than branded content, and social commerce shortens the shopping funnel.
Trust + convenience = conversions
Shoppable UGC can extend beyond posts from the average user to include influencer content. Many enterprise marketers are already leveraging this tactic: 86% have enabled purchasing from influencer campaigns in 2021.
2. BarkBox makes influencers out of their followers
If you want a user-generated content marketing example that's both cute and effective, you've found it. Look at any dog owner's camera roll, you'll likely be treated to hundreds of images and videos of their pet. And those proud pet owners love to share that content online, which BarkBox cleverly uses to source influencer content.
Dogs play starring roles on Instagram accounts of many lifestyle bloggers and celebrities. Some are even influencers in their own right. With accounts all of their own. Many of those accounts also belong to BarkBox customers, giving the brand a built-in team of influencers freely posting content they can share with their 1.7 million followers. This helps both parties. BarkBox sells more subscriptions, and their followers that contribute content get access to a huge audience.
Lesson learned: Rethink what influencer means
Influencers don't need to be celebrities or have millions of followers to make a big impact. They can be everyday people (or pets!) who have loyal followings, are avid users of a certain type of product, align with a particular lifestyle, or are experts in their field. Or even work for a brand.
Like BarkBox, other companies are shifting their focus to micro- and nano-influencers. According to Linqia's 2021 State of Influencer Marketing report, 90% of marketers expressed interest in working with micro-influencers.
People perceive these influencers with smaller followings as more authentic, so they are an effective and affordable resource. A Bazaarvoice survey found that 56% of respondents follow regular, everyday influencers more than any other type of influencer, including traditional and social media celebrities.
3. Crocs assembles a UGC squad on TikTok
Crocs is one of the most successful brands on TikTok, the platform where all the cool kids are these days. In the past year, their branded #croctok hashtag created a tidal wave of UGC, inspiring hundreds of TikTokers to create Croc-themed TikTok videos. In these TikToks, Crocs' customers show off their new shoes, create how-to videos for cleaning and decorating Crocs, and anything else Croc-related.
TikTok videos with the #croctok hashtag have generated six million views so far. This UGC on TikTok is valuable for many reasons, from inspiring excitement and interest in the brand to producing a ton of content that Crocs can share and use for marketing purposes.
Lesson learned: It's TikTok time
TikTok is the "fastest-growing social media network ever," outpacing Facebook and Instagram, but still in its early stages as a marketing channel. Early adopters of TikTok as a marketing tool will be at the forefront of a rapidly growing trend, adding to their credibility as industry innovators.
According to an InVideo study of 650 TikTok videos, popular content types for brands include influencer collaborations and content from brand employees — two types of UGC. Another top brand on TikTok, Chipotle, inspires a lot of UGC with their #chipotlehacks content. It's used by employees, food influencers, and customers to show how they customize their Chipotle orders.
4. Bodyform gets real with the #meandmyperiod campaign
Some of the best examples of user-generated content marketing are educational content. The women's health brand Bodyform doesn't just sell hygiene products — it's become an educational resource and community for women to share their reproductive health experiences. Bodyform launched the Me and My Period campaign on Instagram in September 2021 to create a safe space for their community to share their stories. The #meandmyperiod hashtag has become a rich source for meaningful UGC.
Bodyform cultivates trust and authenticity by encouraging transparency and normalizing reproductive conditions and pain. They reveal the problems and pain points that their product and brand attempts to solve.
Lesson learned: Show authenticity with UGC
The whole point of UGC is that it doesn't provide the pristine, unattainable images of traditional advertising. UGC shows how real people use and enjoy products in their everyday lives. UGC comes from a genuine affinity for a brand and its products, not because the customer is peddling something.
Because 92% of shoppers trust peer recommendations over claims from brands or retailers, UGC shows that brands can deliver their promises. Developing brand pillars will help identify what values to align messaging and campaigns with.
5. Dove takes a stand with #nodigitaldistortion
Dove's latest campaign in their ongoing mission to advocate for self-esteem and body positivity is #nodigitaldistortion. This campaign combats the pressures that social media puts on its users, especially young ones. Dove asks its community to have "The Selfie Talk" with the young people in their lives using the "Confidence Kit" it provides as a communication resource.
Dove's comprehensive campaign partners with influencers like Lizzo and Shonda Rhimes to talk about what having a healthy image means. They then ask their social community to share their own thoughts about #nodigitaldistortion. Dove promotes the campaign on its active social media channels, including Twitter, Instagram, and Facebook.
On Instagram, over 1,000 posts are tagged with #nodigitaldistortion, and hundreds of conversations including #theselfietalk appear on Twitter.
Dove isn't the only Unilever brand benefiting from UGC. Socially conscious ice cream darlings Ben and Jerry are also UGC pros to draw inspiration from.
Lesson learned: Start a movement with UGC
#nodigitaldistortion is more than just an example of user-generated content marketing. It's an entire movement. Dove invites UGC with the intention of disrupting current social media standards and culture. Growing their community and building brand awareness and loyalty are all bonus outcomes. Galvanize your online community around a purposeful mission, idea, or statement, and you could see similar results.
During a 2021 Advertising Week New York panel, Lindsay Stein, chief of social impact at Havas Media, emphasized that 78% of consumers will choose a purpose-driven brand over one that lacks a message and identity that demonstrates brand values.
6. Fresh Beauty masters the art of Instagram Video
Skincare brand Fresh kills the Instagram video game. Instagram itself cites the brand for leveraging Instagram TV as a social selling tool. Fresh also utilizes Stories, in-feed videos, and Reels, continuing to innovate with each new Instagram video feature.
Fresh regularly reposts their customers' video content, tagging any featured products so other shoppers can instantly learn more and make purchases. One reason these videos are so effective is it shows the customer's genuine reaction to the product as they're using it in real time.
These examples from Fresh's Instagram feed are an Instagram video and Reel created by shoppers that Fresh reposted and tagged with products. Of all the user-generated content marketing examples showcased here, this is our favourite. It's UGC in the purest form.
Lesson learned: Embrace Instagram Video
Video on Instagram garners more views and engagement than any other content type. Permanent, in-feed video posts receive 46% more likes than static image posts, and Stories with videos have a lower tap-forward rate than images, meaning they retain users' attention better and for longer.
It was all about video last year, and the format shows no signs of slowing down anytime soon. Video is not only dominating engagement on Instagram but all other major social media platforms, as well. And video is a persuasive shopping tool. 84% of respondents to a Wyzowl survey reported making a purchase after watching a brand's video.
7. T2 successfully launched new products during pandemic lockdowns
This is one of the best examples of user-generated content marketing because T2, like so many other e-commerce and retail brands, faced new product marketing challenges as a result of COVID. This was especially true for food and beverage product launches, more than half of which were delayed due to the pandemic. Prior to the pandemic, T2 offered new product samples at their tea bars located in physical retail spaces. The global tea brand was ready to launch new products but knew shoppers would be hesitant to try something new without sampling it first.
The solution was to, "get the latest tea to their most loyal customers, like top review contributors and members of their loyalty program" through a targeted sampling campaign. Not only could those high-value customers get access to T2's new products, but they could spread the word to other potential customers in the form of UGC. "We saw an immediate increase in reviews just after products went live. That gave other customers confidence to buy the new teas," said Sally Lennox, head of digital at T2.
The reviews and visual UGC that the sampling campaign produced resulted in a significant increase in conversions and revenue per visitor for T2.

Lesson learned: Launch and revive products with UGC
Now's the time to invest in product sampling. So you can get the word out about products in a world where in-person shopping is still recovering slowly. According to Adweek, "The great shifts of preference, mindset and expectations will have a significant impact on the product sampling industry and how brands adapt to utilizing this proven marketing strategy."
A benefit of product sampling is that samplers produce high-value UGC, which brands can use on product pages and social channels. Sampling yields authoritative reviews from customers who have personally tested products, and, "every 10 reviews nets a 5% conversion rate lift," according to our sampling data.
This approach works well for hero products in need of some revitalization, too. Sampling is a great way to reintroduce established products to customers and accumulate more recent reviews, which prove more reliable to customers than older reviews.
For example, French skincare company Clarins lacked reviews for one of its key product. So they opted to run a sampling campaign targeting that particular brand staple. Within 36 days, they received 138 reviews, and 91% of sampling recipients left a review.
8. Maybelline puts the customer perspective front and center
If you want to know the secret to crafting a high-performing product page, Maybelline can show you how it's done. Hint: It's all about the UGC. Of course, Maybelline does have beautiful, professional product photography. But the real secret weapon is how they've combined and displayed different elements of UGC.
Take the product page for their Lash Sensational Sky High mascara, for example. Directly under the product description with the "buy now" button and product photos, there's a gallery of visual UGC from social media. The entire gallery is shoppable, with tagged products in each image.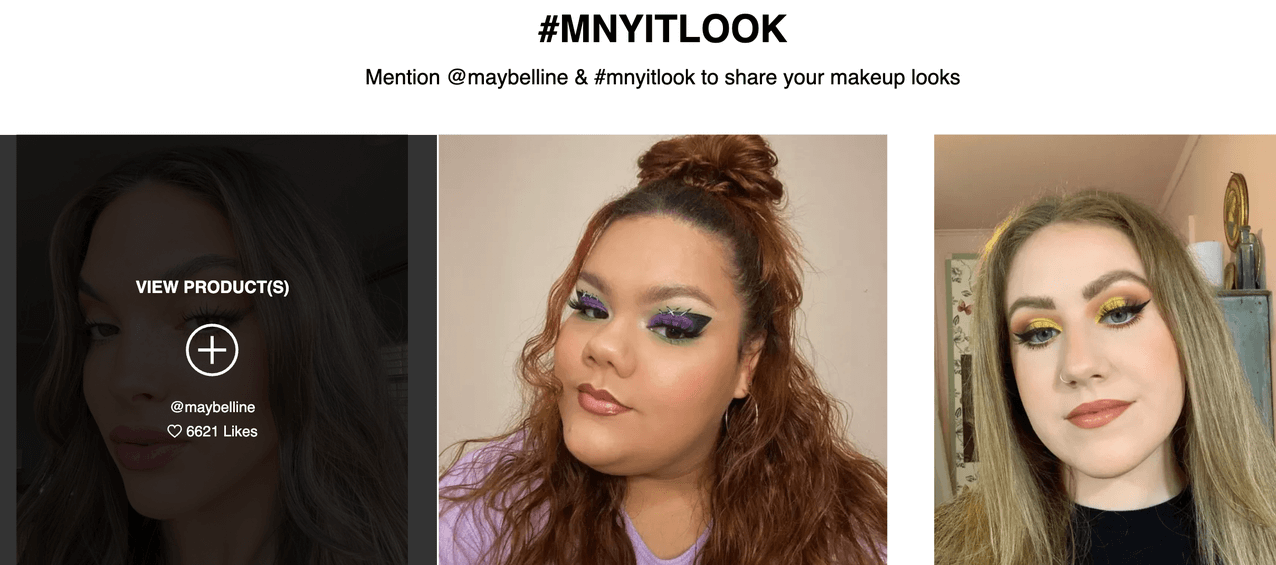 Below the UGC gallery is customer reviews of the product, with a breakout section at the top for review highlights. Because there's over 400 product reviews, the highlights condense and summarize the reviews with key takeaways. That way it's easy for shoppers to digest quickly.
Lesson learned: Optimize product pages with UGC
Product pages are the gateway to checkout pages, so if you're not optimizing them, you could be losing sales. To leverage this critical space for conversions, go all in with a combination of visual UGC and customer reviews. Visual UGC sourced from social media on product pages can increase conversions by 150% and average order value by 15%. Reviews are highly influential to 95% of shoppers who read them prior to making a purchase.
By strategically and prominently placing UGC on product pages like Maybelline, you can attract the majority of shoppers who rely on them for purchasing decisions. For reviews, that means highlighting the most important elements. Which, according to a survey of 30,000 global shoppers, are: recency, volume, images with text, positive reviews, and negative reviews that brands respond to.
9. Spotify's Only You campaign
Spotify knows a thing or two about getting its audience hyped to interact with the platform. Just look at the hold Spotify Wrapped has on society. This year, Spotify's Only You campaign provided its users with an in-app experience that revealed their unique listening habits based on Spotify's internal data.
Only You asked users what three artists they would choose to have at a dream dinner party. Once listeners engaged with the feature, Spotify generated personalized playlists based on the final results. Only You appealed to each listener's personal tastes and invited them to share their results on social media, thus turning the feature into a source for UGC. The campaign delivered content that fans were eager to share because it reflected their interests, and who doesn't love talking about themselves?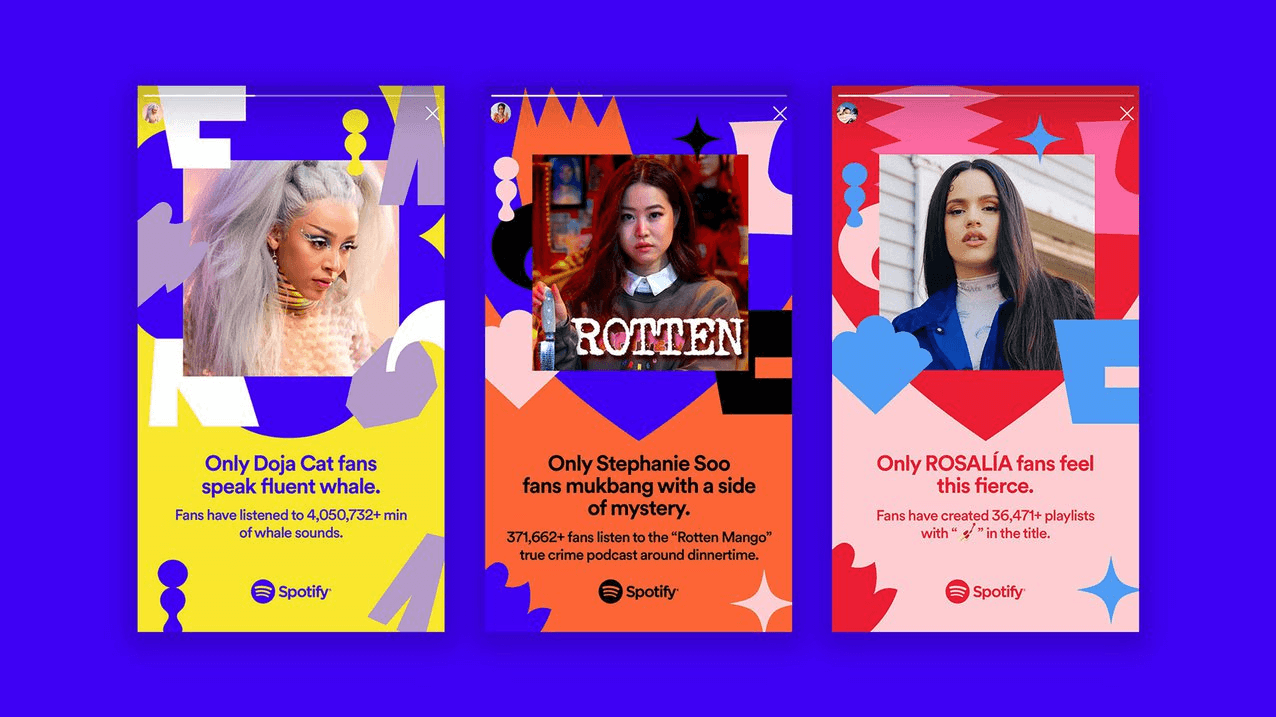 Lesson learned: Use customer trends for creative campaigns
Spotify leveraged its own insights and analytics to share with its listeners, allowing them to explore information about themselves with the option to share it. A lot of people did choose to share their Only You results because it was unique to them, fun, interesting, and wrapped in an attractive visual package.
Brands can take a page from Spotify's book and send customers content related to their shopping experiences that they can customize and share. For example, an apparel brand could send customers a branded "best dressed" badge or template they can use to post with their favorite outfit from a recent purchase. A wine subscription company could send their customers digital cards they can fill out with their favorite wine selections and tasting notes to share on social media.
10. Lucy Dacus' Brando music video contest
Our last user-generated content marketing example, but certainly not the least. For the release of her latest album, "Home Video," Lucy Dacus hosted a contest asking her fans to record themselves dancing to her single, "Brando," for a chance to be featured in the music video. The final product is a heartwarming compilation of the submissions, serving as a kind of tribute to her fans.
With this charming and inventive piece of crowd-sourced UGC, she made her fans creative collaborators and strengthened her relationship with them. "These videos brought me a lot of joy and made me feel more connected to the song and all of you," Dacus said in a press release.
Lesson learned: Run a contest that celebrates your fans
Involving your fans in your creative process is one of the best ways to engage your community and build loyalty. And if it's a contest, that gives your followers an extra incentive to participate. The reward for entering could be as simple as being featured in a campaign or piece of content — like the Brando contest — or something with more concrete value, like a gift card, free experience, or subscription.
Be an industry innovator
Take what inspires you from these user-generated content marketing examples and make them your own to fit the tone, style, function, and personality of your brand. If you want to boost sales this year, you need to push UGC forward to the next level.
Still need convincing? Our free marketing ROI calculator tool will show you the positive impact UGC can have on your sales.