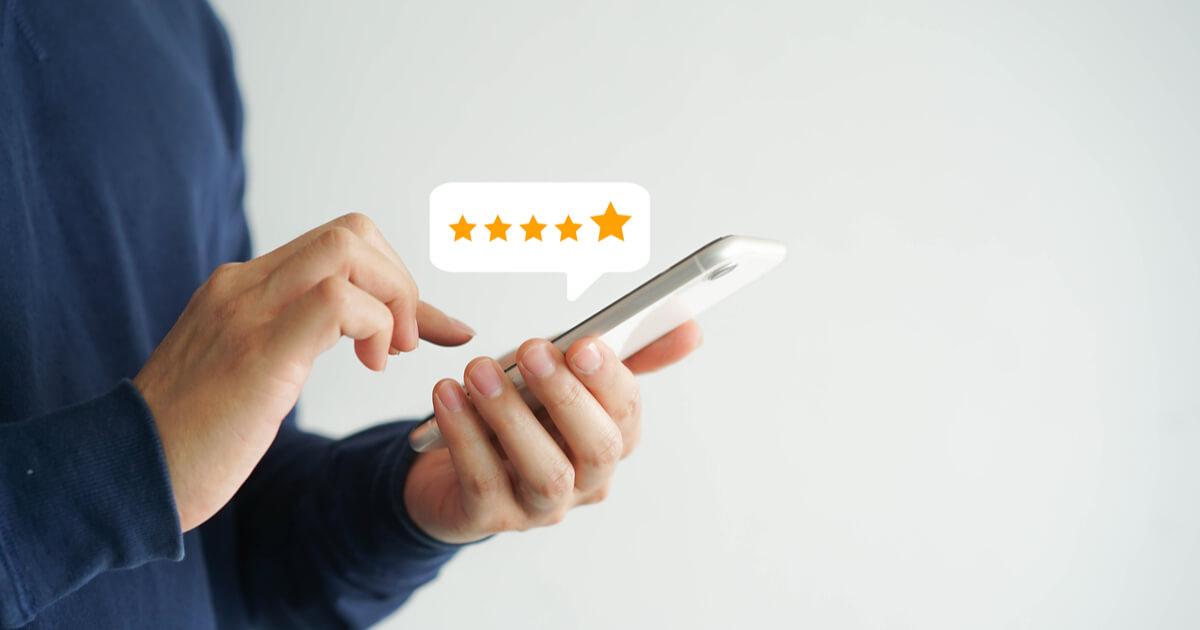 Review management is exactly what it says it is. It's the process of monitoring ratings and reviews about your business left across digital and social channels. Or any channel where there's a review. Sadly, we see that this tends to be a neglected part of e-commerce.
Sure, positive reviews are essential for building brand trust and conversions. But what about the negative ones?
Instead of ignoring or deleting bad customer reviews, this guide will show you how to respond to all types of reviews. Because making customer reviews work for you requires a systematic approach to review management. Here, we'll go over what that means and why it matters.
Chapters:
---
---
Why does review management matter?
Today's businesses are obsessed with getting reviews — and for good reason. According to a Northwestern study, just five product reviews can increase a shopper's likelihood to purchase by 270% compared to a product without any reviews.
But while reviews are indisputably valuable, that doesn't mean they're all positive. Customers leave reviews when they've had memorable experiences, and that can mean they were memorably delighted or memorably disappointed. But in either case, the impact of the review all depends on how you respond to it.
It's not enough just to allow customer reviews to roll in while you sit back and watch. Taking an active role in overseeing your company's online reviews is important for many reasons.
Reputation management
Just as you would represent your company in person or on the phone, you also need to do so in the digital spaces where your brand is active. How you communicate with customers who leave reviews reflects your company values, brand pillars, expertise, professionalism, and level of customer service.
Review spaces provide a forum for customers to give feedback. Sometimes that feedback will be negative. When negative reviews threaten your brand's reputation, it's an opportunity to make it right. Even if you feel you've been wronged. How you handle negative reviews, or any type of review, is a way to maintain your good standing with problem solving, acknowledgment, and/or whatever the circumstance requires.
Trust building
How you approach review management establishes trust with both the customers who left the reviews and the other shoppers inevitably looking at them. This type of user-generated content (UGC) from customers is what shoppers trust most. 78% of shoppers trust reviews, even over family and friend recommendations.
By effectively managing reviews by addressing them when appropriate, shoppers will trust not only the voice of the customer but also the brand. And resolving issues with unhappy customers who express their feelings in reviews can repair that relationship and restore trust.
Brand loyalty is a product of brand trust, so the two go hand in hand. According to a Bazaarvoice study, the majority of shoppers claimed they would only do business with brands they trust. Reviews and how they're managed instill trust. Trust leads to loyalty. There's many major benefits to gaining brand loyalty, including customer retention, higher average order values (AOV), and converting brand ambassadors.
Shoppers rely on it
Reviews play a huge role in the shopping discovery stage. A recent Bazaarvoice survey of the Influenster community found that:
How you respond to reviews, especially the negative ones, could very well be what seals the deal for shoppers.
Customers expect it
If you're not responding to reviews, you're not cutting it, according to customers. For negative reviews specifically, 87% of customers expect the brand to respond and offer a resolution, and 72% expect a response to positive reviews, as well.
Positive review management best practices
Handling positive reviews may seem like a no-brainer, but you can do more with them than just say "thanks!" You should use a positive review to strengthen your relationship with that customer and make further sales. So, pay attention to positive reviews as much as you do to the negative.
Respond to positive reviews
Responding to reviews, no matter the sentiment, makes the customer feel valued. Thank customers who leave positive reviews and highlight something from their review to acknowledge or comment on. For example, if a customer mentions a certain product component in their review, you can echo that by saying, "We're so glad you enjoy it. That's one of our favorite features, too!"
If you have a large volume of reviews — first of all, well done. Secondly, it may be difficult to respond to each and every one of them, especially if you don't have a lot of resources to dedicate. If this is the case, you can be selective about which positive reviews you respond to. If it's a short and simple review, that doesn't necessitate a response. However, if the customer puts in the time and effort to leave a thoughtful or helpful review, it's worth a response.
Positive reviews also present an opportunity to communicate your company values. For example, if a customer comments on getting a helpful answer to a question or getting their delivery earlier than expected, you can respond by saying, "We strive to deliver the best customer service possible, so we're so happy to hear that."
Be sure not to sound robotic or impersonal in your responses. Tailor your responses based on the details of the review, so it doesn't sound like it's a canned response from a PR company. Customers value authenticity as much as they value personalization.
Promote positive reviews
Positive reviews can be excellent, influential content to share on other channels, including social media platforms, email campaigns, and even physical packaging materials.
For example, natural skincare brand Le Prunier shows how to promote glowing customer reviews on their Instagram account, giving it a boost with attractive on-brand aesthetics.
Within your main review spaces, like on product pages, you can also promote the best reviews with Bazaarvoice's Review Highlights tool. This is mutually beneficial, as it helps the customer make faster, more informed purchasing decisions, especially if the product has hundreds or thousands of reviews.
Review Highlights doesn't just isolate the most positive reviews. It categorizes them based on pros and cons for transparency. This distills a lot of information into digestible content for the customer and accurately and honestly represents the product. Plus, it's effective, resulting in a 3.6% increase in conversion rate and 11.9% increase in engagement rate.
Pay attention to the details
You can make discoveries about products and your brand in positive reviews that help you tweak your marketing. For example, Bazaarvoice customer KidKraft, a manufacturer of children's toys and goods, discovered from positive reviews it was underselling a particular feature of their "Building Bricks Play N Store Table."
According to the smart marketer's guide to using customer insights, "KidKraft didn't originally consider the storage to be a major selling point of the product, so the brand edited the features section of the product page and promotional copy to highlight the table's storage. The brand saw an increase in sales after tailoring the marketing messaging."
Negative review management best practices
Negative reviews are decidedly the less fun of the two review types, but they aren't all bad. In fact, it sounds counterintuitive, but you need them to gain customers' trust in your brand and products. Negative reviews are equally as important as positive reviews for the purchasing decisions of 62% of U.S. consumers. This is because if you only have or display positive reviews, consumers become suspicious. So, making negative reviews visible improves trust.
Respond to negative reviews
You can take a negative review and turn it into a positive outcome by offering support with a solutions-oriented approach. Be empathetic, understanding, and authentic in your response. This will show customers you hear them, and their feedback matters to you. Keep your responses simple and not too lengthy. If the response requires further discussion, more information, or follow-up questions, direct the customer to an email or phone number so they can contact you privately.
Whatever you do, don't ignore negative reviews. As tempting as that may be. Customers, both the ones leaving reviews and the ones viewing them, can view a brand that doesn't address a negative review as untrustworthy and negligent.
Remember that reviews can come from multiple channels, including social media, so it's important to respond on each source. 35% of customers say they wouldn't keep purchasing from a brand that ignored their complaint.
Stay positive
A negative review might incite negative feelings, like anger and frustration. But resist any urge to fight fire with fire. According to Sprout Social, responding poorly to complaints and negative reviews will result in 50% of customers never buying from your brand again.
Don't just keep it positive with customers, but also with yourself and your team, since we've established that some negative reviews can actually be a good thing. According to a Northwestern study, purchase likelihood tends to peak at ratings in the 4.0–4.7 range and starts to go down at consistent five-star ratings.
Offer a solution
Do your best to address the customer's complaint. This could be as simple as expressing a genuine apology if there isn't a concrete solution to the problem. It could also mean sharing knowledge that will help the customer in the future. If there is a more tangible solution, like sending a replacement for a damaged product, that can be the best way to satisfy an unhappy customer.
Problem-solving review management can help retain an at-risk customer and rectify the negative review. 70% of unhappy customers will keep doing business with a brand that resolves their complaint, and 34% who are satisfied with a brand's response to their negative review will delete the original review.
Listen and act on feedback
Besides saving a disgruntled customer, negative reviews offer valuable insights that can result in improved service, marketing material, product quality, and even spark new product development. For example, because of negative reviews, Bazaarvoice customer Land O'Lakes was able to identify a problem with one of their cinnamon roll recipes. They quickly corrected the recipe, which boosted their sentiment and customer experience.
Another example from maternity and baby apparel company Vertbaudet shows how a customer complaint led to a product improvement.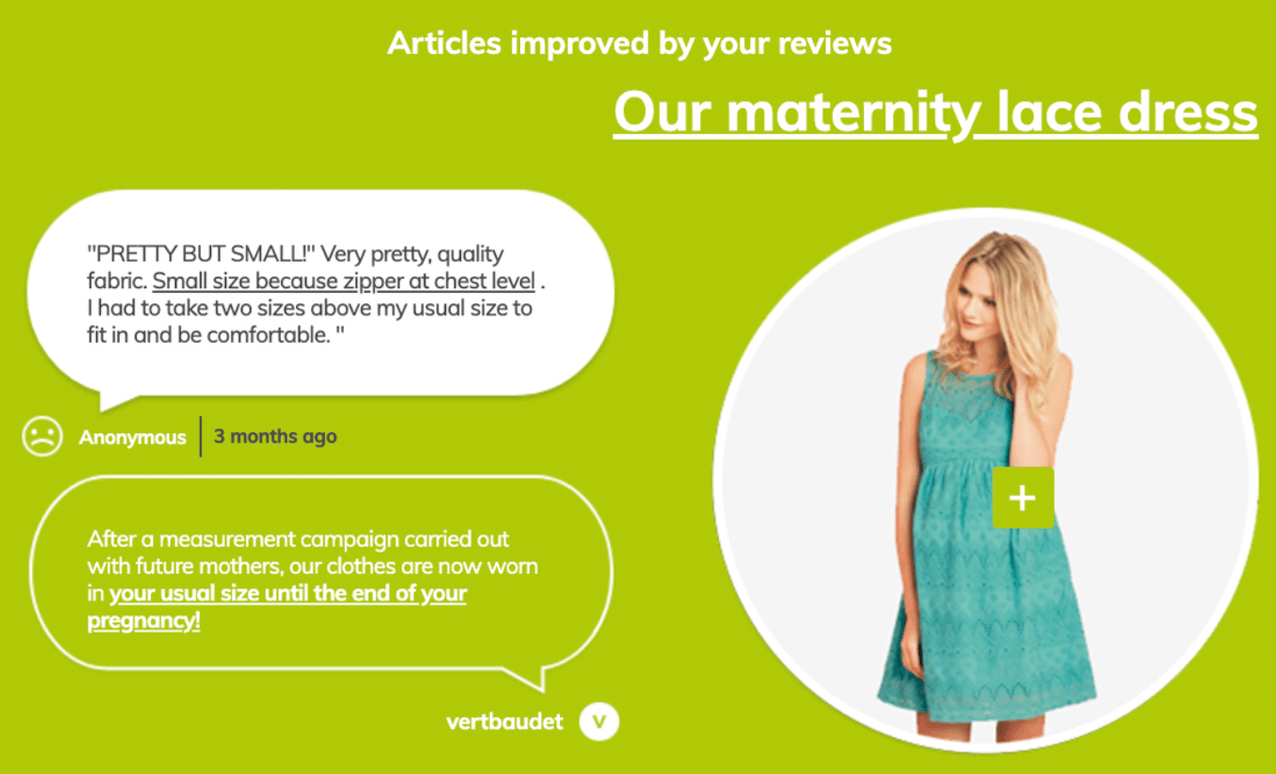 Prepare for them
As you accumulate customer reviews, compile common or notable questions and comments and develop prepared responses to reference when they come up again. Include what resources to direct customers to for help. Categorize them into a guide according to the type of question, complaint, or other feedback. Keep a running list as reviews continue to come in.
This will help train staff, streamline the review management process and provide consistency, reliability, and accountability.
You can use this same guide to create an FAQ page for customers to get ahead of their concerns.
Pro tips for positive and negative review management
There's best practices to follow for all types of reviews, whether they're positive or negative. A major one is to respond quickly. The majority of customers expect a response to their review within seven days.
Next, be sure to manage reviews wherever they are posted, not just on your website. That includes social media, Yelp, Google Reviews, and industry-specific review sites, like TripAdvisor and OpenTable.
Managing reviews can be overwhelming. Dozens, hundreds, or even thousands of reviews on multiple products add up fast. Not to toot our own horn, but if you need help and support with your review management process and system, Bazaarvoice's Ratings and Reviews tools make it easy and streamlined. This feature comes with built-in insights and analytics to easily identify themes, problems, and ways to tweak messaging.
If your problem is that you don't have the reviews to manage, focus on growing your review volume. Some effective tactics include post-interaction emails, product sampling, and offering a discount. To fast-track your review supply, ReviewSource taps the Influenster community of active shoppers to source reviews that will immediately populate your product pages.
Don't forget to claim your business
Remember these departing words of wisdom. An important part of review management is claiming the spaces in which you have reviews. So claim your business listing. That way you're able to edit the listing page and respond to reviews, etc.
This is a quick and simple task that amounts to long-term ROI. According to a Womply report that studied over 200,000 businesses across a range of industries, those who claim their businesses on major review sites like Google, Yelp, and Facebook make 36% more in revenue.
---
And there you have it. Responsible review management best practices. Remember, from our own research we know that shoppers who interact with reviews are 2x more likely to convert. That's a big difference to your bottom line. So we know the importance of review content.
But it's not enough to just have reviews anymore, you need to ensure you keep on top of review management too. Bookmark this guide for future reference, start responding to reviews, and you'll have it nailed in no time.
The easiest way to stay on top of your review management? With Bazaarvoice Connections. Our easy-to-use portal allows you to respond to customer reviews, and questions, at-scale. And more engagement means more conversion. So what are you waiting for?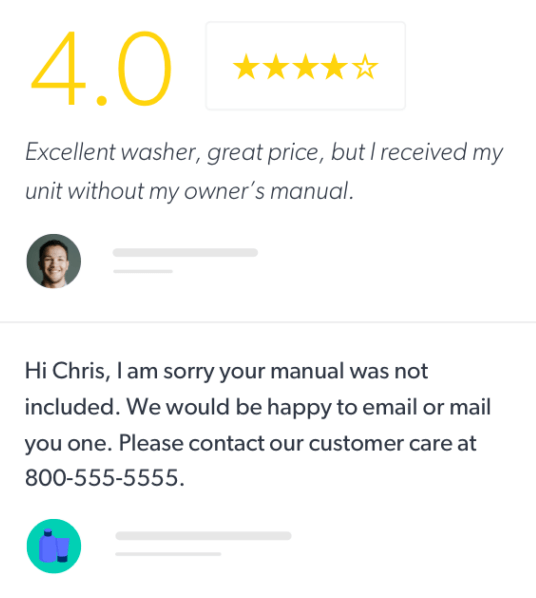 Request a demo