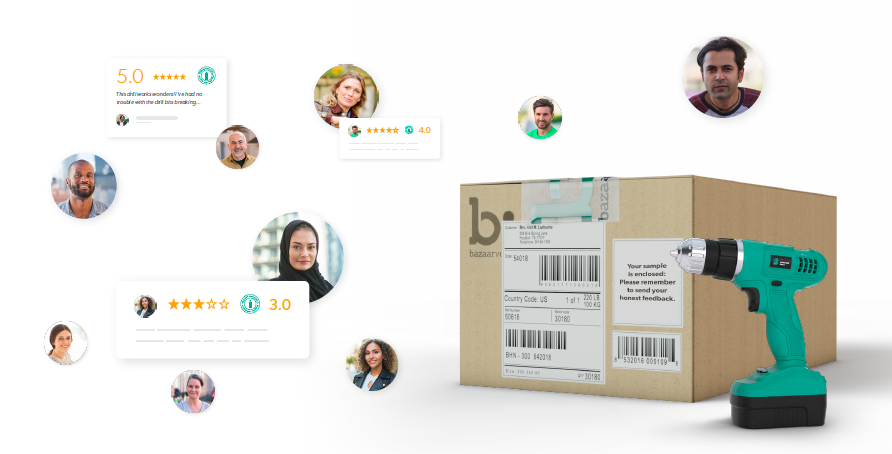 In today's world, trust has become invaluable currency for companies. According to the Edelman Trust Barometer, this year, we are in "the battle for truth". Business saw a 20-point drop in trust year-over-year in the U.S., and media, which includes brands, social media, and search, is the least trusted source of information. In the year of GDPR and the Cambridge Analytica scandal, it is no wonder that consumers are becoming more cautious and selective about how they interact with companies.
35% of global shoppers ranked trust in the top three factors that influence them when deciding to buy from one retailer over another. Brands and retailers who are unable to establish trust with consumers or — worse — who lose established trust, will struggle in an age when consumer opinions are shared on massive scale and directly influence brand perception. Consumers now trust feedback and opinions from one another more than messaging that comes directly from brands. Rather than fighting to control what consumers are saying, brands and retailers should embrace this conversation and, when appropriate, amplify it.
One significant way to do this is through consumer-generated content (CGC), like ratings and reviews. With the growth of e-commerce, the overwhelming majority of shoppers read online reviews before making almost every purchase decision, and shoppers who interact with CGC are more than twice as likely to convert as those who do not.
In the trust economy, credibility is key. Are ratings and reviews seen as credible at a time when consumers generally don't trust marketing or the media at all? If a consumer receives incentives, like a free sample, coupons, or contest entries, in exchange for providing an honest review, does that impact the credibility of the review? What factors do have an impact on whether a review is perceived as credible? To find out, we asked 3,000 online shoppers about review credibility and their perception of incentivized reviews.
Do consumers trust incentivized reviews?
In this study, we wanted to establish consumers' general perception of ratings and reviews and then measure whether or not that perception changed when the reviews were incentivized. For the purposes of this survey, an incentivized review is a product review written by a consumer that received compensation for writing that review. Incentives include sweepstakes entries, coupons, or free samples of products — all offered in exchange for an honest review. Regardless of the type of incentive, it's required that any ratings and reviews that were collected using incentives be disclosed when they are publicly displayed, as they were in this study.
To conduct this study, we asked 2,000 U.S. consumers and 1,000 French consumers, all of whom shopped online regularly, to complete both a mock online shopping experiment and a survey. The study was designed to determine the credibility of incentivized ratings and reviews as compared to organic ones. To see more details about the study, download our full report.
Key findings:
Consumers consult product ratings and reviews

— Three in four U.S. (77%) and French (76%) online shoppers read product reviews before purchasing for more than half the products they buy.

Shoppers consider incentivized reviews and non-incentivized reviews equally credible

— More than half of U.S. and French online shoppers (58% and 56%, respectively) say that incentivized reviews can inform their purchase decision just as much as organic reviews can. These findings were consistent across all products, regardless of whether they were considered high-consideration or low-consideration.The majority of respondents from both markets also agreed that incentivized reviews would be useful in terms of making a purchase if they were written for a product without many reviews yet.

Review recency and amount of detail impact credibility

— 54% of U.S. shoppers and 45% of French shoppers indicated that a review's recency significantly factors into its credibility, and

half of the respondents (50% U.S., 46% French) said that detail is one of the most important factors.
Our top five best practices for a ratings and reviews program
These findings show that brands and retailers can rest assured that consumers trust ratings and reviews, whether they are organic or incentivized. Furthermore, this research offers important insights that should influence how businesses manage their ratings and reviews program.
1. Diversify your review collection using both organic and incentivized tactics
Brands and retailers should exercise all available tactics when soliciting feedback from consumers. A strong ratings and reviews program is inclusive of both organic and incentivized collection.
Ask for reviews and photos in post-purchase communications, in on-site reminders, and via social media. Consider offering product samples, coupons, or contest entries in exchange for your customers' honest feedback. Especially in the case of product launches, sampling campaigns are a great way to both collect feedback on a new product and have influential ratings and reviews available at launch.
Regardless of collection measure, ensure the process and experience of leaving a review is easy, convenient, and user-friendly for shoppers through mobile optimization and implementing features like in-email submission or multi-product submission.
2. Be transparent about how you collect reviews
Transparency is key to building trust with consumers. If consumers are offered money or promotional items (such as samples or discounts) in exchange for providing an unbiased review, then the review should explicitly indicate this. We recommend adding descriptors to like,"This reviewer received free product in exchange for their honest feedback," to any reviews that were collected using a promotion.
3. Ask for honest, detailed reviews
When soliciting reviews from customers, you must be willing to accept both positive and negative feedback. Consumers should always feel empowered to provide their honest feedback. Regardless of how a review is collected, brands should never ask for or incentivize positive reviews. If negative feedback does come in, do not delete it — learn from it.
Consumers in our study ranked detailed reviews as more credible than those that were brief. Inform your customers that reviews are valuable to your business and to other shoppers and encourage them to provide specific details about their experience with your product or service.
4. Keep your ratings and review content fresh
As mentioned, half of the respondents indicated that the more recent a review had been written, the more credible it seemed. Using a variety of collection tactics can help ensure that you always have a consistent flow of content onto yours and/or retailers' websites.
5. Be vigilant against fake content
CGC is a trusted source of information for consumers, and businesses have a responsibility to ensure this content is legitimate. Fake reviews can over inflate and damage brands and trick consumers. Companies should be aware of the possibility of fraudulent content through a variety of means, including disruptive or trolling activity, commercial messages, automated submissions (e.g. bots, programs, and scripts), illegitimate or degrading content by a competitor, and self-promotion by employees — learn more about how we combat fraudulent content.
---
Consumers place a lot of faith in ratings and reviews, and brands and retailers must do everything they can to maintain this trust. For more insights from our survey and best practices for your ratings and reviews program, download the full report.