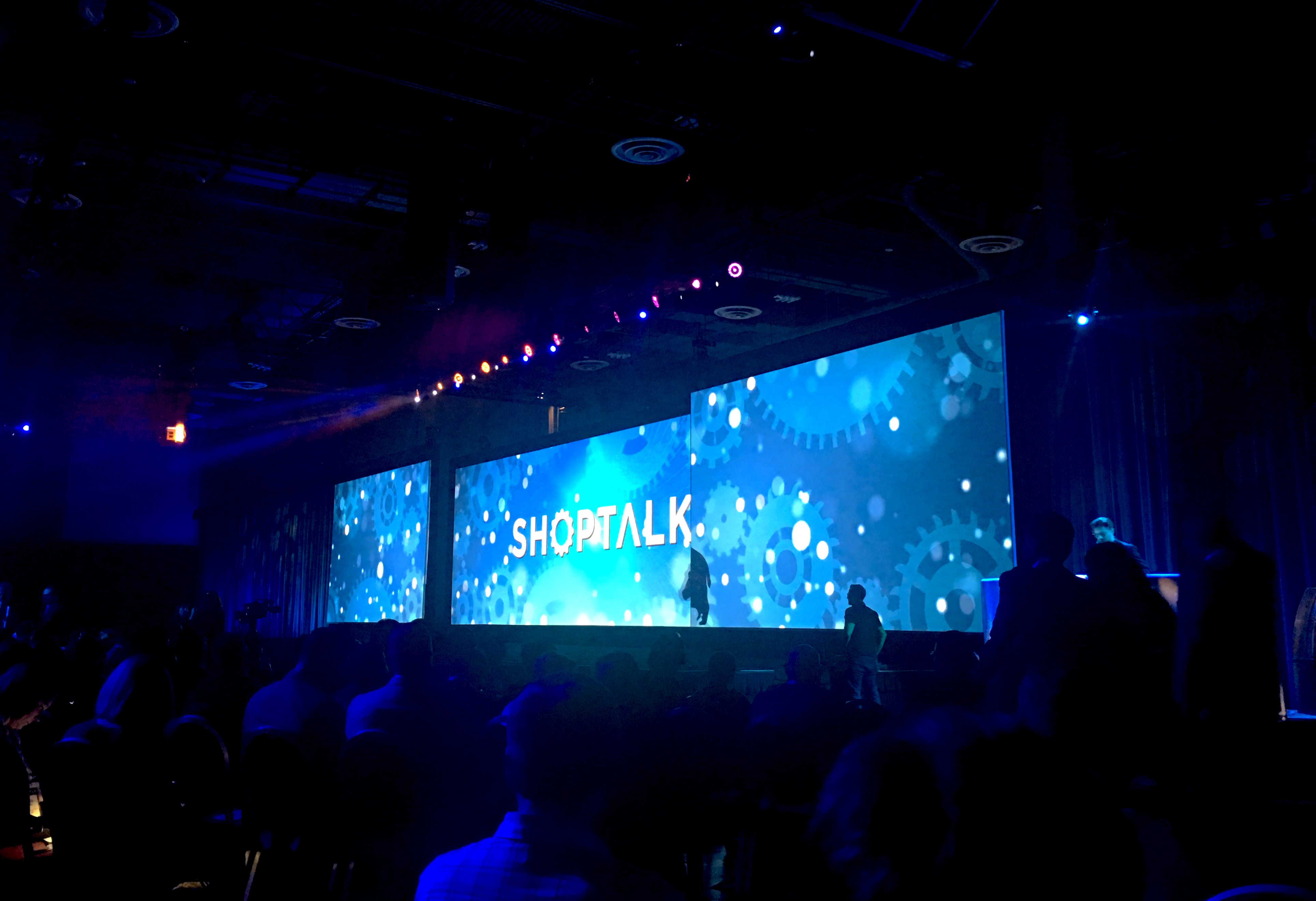 This week, Vegas hosted the fourth annual Shoptalk conference at the Venetian Hotel. Over 8,000 attendees from brands, retailers, and vendors gathered together to "create the future of retail." I attended Shoptalk in 2017, so I was excited to see how the conference and the retail industry as a whole had evolved since then. Between the fire dancers opening night, the busy exhibit floor, the keynotes from top industry leaders, and the lights and sounds of Vegas, it can be a lot to take in. To help distill everything down, here are our top three takeaways from Shoptalk 2019.
Retail isn't dying, it's evolving
Over the last few years, the news has been filled with headlines of big retailers closing and shoppers deserting stores for online. The rise of big players like Amazon has forced the entire industry to evolve quickly or die out.
President and CEO of Gap, Art Peck, said that Gap opened its first store in 1969 and went from that single store to a global fashion business with six brands over the past fifty years. Now, Gap is taking its historical retail model and flipping it on its head by closing 200+ stores that no longer make sense and opening new stores with an emphasis on solving access and service voids. For example, the company is implementing inventory tracking technology to reduce clearance items in store and deliver the right products to places with the most demand. Helena Foulkes, CEO of Hudson's Bay Company, which includes retailers like Saks and Lord & Taylor, echoed this sentiment. The group is in the process of revamping stores and prioritizing personalization and localization online and in-store.
Numerous examples were given over the course of the conference of ways in which brands and retailers have pivoted their retail strategy to adjust to changes in consumer shopping behavior and technology innovations.
The experience economy is booming
The experience economy is swiftly expanding to the in-store experience. Shoptalk itself reflected these changes by offering a slew of experiences for attendees to participate in. Attendees could get haircuts, blow outs, or their makeup done, and photographers were standing by to take new headshots. You could get your shoes shined while waiting in line to get a back massage or your tarot cards read. Shoptalk 2019 went beyond the typical industry conference environment by incorporating experiences that complemented the sessions — a practice reflected in the broader retail industry as a whole.
Co-President of Nordstrom, Eric Nordstom, talked about the company's investment in a new store concept called Nordstrom Local: scalable, service-oriented stores without merchandise. Nordstrom Local offers a wide variety of services including buy online-pick up in-store, onsite alterations, personal stylists, gift wrapping, tuxedo rentals, barbers, cobblers, Goodwill drop-offs, and even to-go food options. Eric said they've learned time and time again to "do what the customer wants, and you'll win."
DSW's CEO, Roger Rawlins, talked about its pilot store at Polaris Shopping Center in Columbus, Ohio, where they are offering new services, including a nail bar. In this store, millennials account for 25% of the shoe sales but make up 65% of the nail bar services sales.
In an exciting announcement at the conference, Macy's outlined three major initiatives aimed at improving their in-store and mobile experiences. In store, they will roll out interactive fragrance displays, which are built around fragrance families, rather than brand name, and entice shoppers to do more exploration at the beauty counter.
Experiential retail is becoming an integral part of shopping. Major retailers and direct-to-consumer brands alike are thinking more about how to build brand affinity and connection through more than just selling products.
Data is art and science
Making data-driven decisions is critical, but many organizations are faced with too much, too little, or the wrong kind of data to make pivotal changes. Lilly Pulitzer's VP of Marketing & Creative Communications, Sarah Engle, recognized that it's challenging to build the data-driven mindset into the culture of an organization. In a session on customer data and brand-building, she said that "understanding customer data is both an art and a science; build in processes for collecting the data you need across customer service, shopper sentiment, in store, and online."
One way companies are taking a data-driven approach to success is through artificial emotional intelligence. In a unique example, Persado's co-founder, Assaf Baciu, stated that consumers tend to make purchase decisions based on emotion rather than logic. His company has been working with Dell to use machine learning to test variations of emotional website copy against more functional website copy. Testing allows Dell to measure copy effectiveness with mathematical certainty. Baciu explained, "Changing words is cheaper than offering a discount. When we're able to interact with customers at scale to build emotional language profiles, we're smarter, more efficient marketers."
Trade Coffee, who connects coffee drinkers with coffee roasters, has been banking on customer data to create personalized experiences that convert. Trade Coffee asks their shoppers to answer a few questions about their coffee experience and preferences. Based on their answers, the company provides them with a personalized subscription offering. Being prescriptive has led to 20% higher conversion rates and an increase in customer lifetime value.
Using consumer data to inform different elements of the consumer shopping journey is an ongoing challenge for brands and retailers. It was interesting to hear different success stories throughout the conference from the companies who have cracked the puzzle for using data in creative ways.
---
Overall, Shoptalk has established itself as one of the leading retail and e-commerce industry events. Despite what you hear in the news, the conference and its attendees left me excited about the future of retail. It's encouraging to see some of the world's most recognizable brands and retailers working on solutions to make sure their shoppers, no matter where or how they shop, are having efficient, memorable experiences.