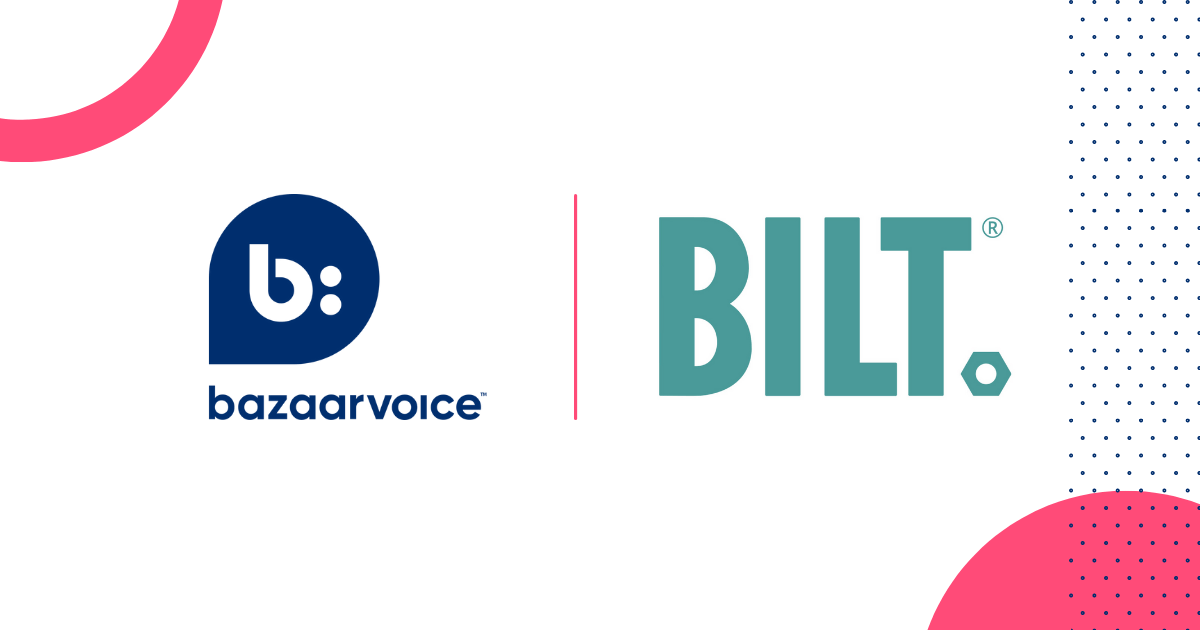 Each partner has a unique story to tell. In this post we'll explore BILT's story as well as challenges they've faced, and the benefits they've achieved since partnering with Bazaarvoice.
---
1. Please tell our readers your name, role at BILT, and how you got involved in the organization?
My name is Jenny Tsao and I'm the VP of Demand Marketing at BILT.
I joined BILT in early 2022 and was looking to make a bigger impact with a smaller team of mission-oriented individuals, while stretching my skills as a marketing demand generation and operations leader. In the past, I've worked in the transportation/logistics and media research/advertising industries, but while networking with some friends, I stumbled upon this opportunity, met the leadership team, and was drawn to the strong culture in the middle of the DFW metro!
2. For those that may not be familiar, tell us about BILT and how the organization got started?
BILT was born out of a frustrating experience with assembling a children's sandbox for a toddler. Having seen how 3D instructions are used in the aerospace industry, the idea of creating the same experience for everyday consumer goods was sparked.
BILT is a mobile app that provides interactive instructions that help consumers and professionals get the job done right the first time. Brands and retailers love it because it reduces assembly-related returns, eliminates costly calls to customer support, and increases product ratings (which ultimately drives higher sales!) And manufacturers are drawn to it because it up-skills their field techs and improves assembly/repair productivity.
3. Product assembly can be challenging and can have an impact on a customer's overall sentiment with the product and brand.
How does the app strengthen a customer's post purchase experience?
Too often, businesses think that the buyer's journey ends with the sale of the product. But if assembly is required, then that journey continues until the product is in place and in use.
BILT shields the customer from complexity and frustration. While it doesn't make the assembly physically effort-free, it makes it cognitively effortless. Many consumers are embracing the DIY process today. So creating an experience that leaves a lasting positive impression will create loyal customers and encourage them to come back to buy more.
And in the age of social media and rating and reviews, they'll find ways to share their experience and tell their friends.
4. How can BILT help differentiate a brand's product line?
Two things. On the last step of the instruction set is a two question survey asking customers to rate the product or service and explain their rating. We've seen that products have 0.25 to 0.8 higher star ratings after adoption of the BILT instructions.
Additionally, if the user gets stuck during the assembly process, BILT's analytics can help brands drive future product design improvements.
5. What is the significance of this partnership for your customer base?
Our partnership with Bazaarvoice enables our mutual customers to seamlessly syndicate their ratings and reviews captured in the BILT app. This ultimately helps consumers make more informed purchase decisions on the products out in the marketplace.
We're happy to have BILT on board as a partner and we look forward to creating smarter shopping experiences together. Learn more here.
---
We're better together. Our global partner program gives you access to the tools, resources, and insights you need to delight your clients and grow your business. Interested in becoming a Bazaarvoice partner? Apply now.