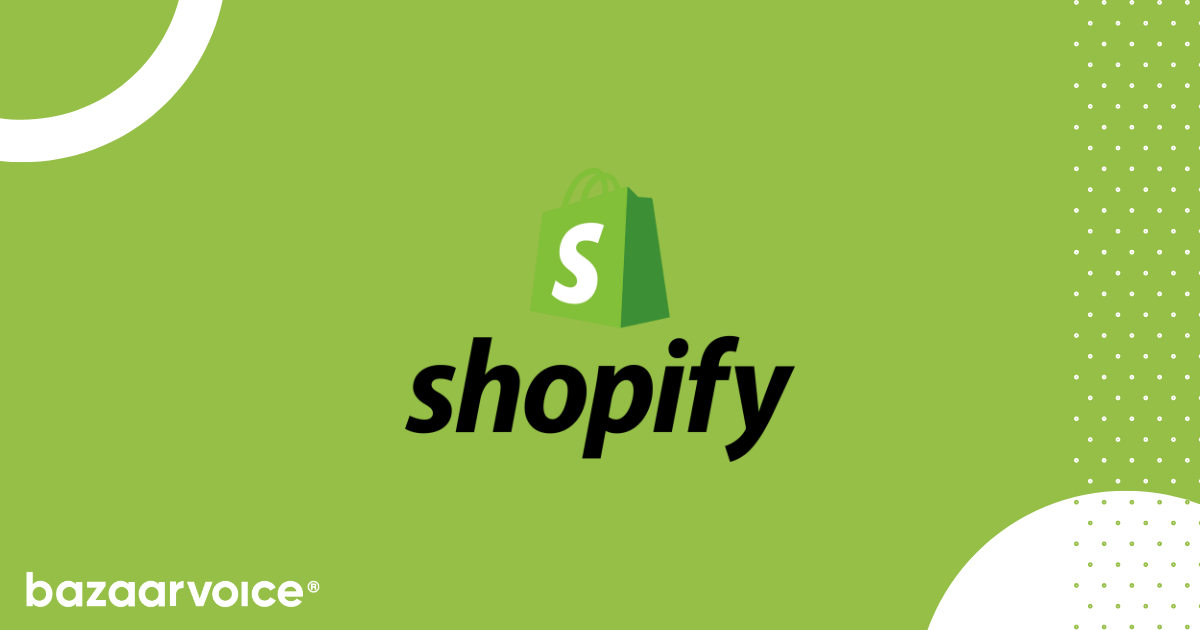 Shopify is one of the most popular e-commerce platforms among brands and retailers that want to quickly establish an online presence. With features like inventory management and automated emails, Shopify makes it relatively easy to build an online storefront, no matter your technical expertise.
Thanks to its ease of use, over 1.75 million retailers use Shopify to sell their products, fulfill orders, and stay in touch with customers.
To stand out from the pack, you want to make sure your Shopify site is optimized to attract search engines' attention and build trust with shoppers.
Enter product reviews.
Why Shopify product reviews matter
Sure, it's important to feature high quality photos and detailed product descriptions on your Shopify store. But today's shoppers seem to be more interested in what actual customers think about your products.
According to a global survey on why reviews matter, almost 90% of consumers read reviews when shopping online and 78% say reviews are the "most influential" factor in their purchasing decisions.
Whatever you sell online, adding product reviews to your Shopify store can help boost buyer confidence, sales, and SEO.
Building shopper confidence and increasing sales
Today's consumers are more likely to whip out their credit cards for brands that listen. Reviews are a tangible way for retailers to see feedback and show that they care about what their customers think.
And don't worry about getting some negative reviews — they actually build consumers' trust in your positive reviews. According to research, 60% of shoppers value negative reviews just as much as positive ones. People know that even with an incredible product, there will inevitably be some criticism in your Shopify store's reviews.
Whether a customer sings your praises or expresses disapproval, it gives you the opportunity to respond. Nearly half of consumers say seeing a brand reply to a review would increase their likelihood of making a purchase.
Customer feedback can also highlight potential problems and opportunities to improve your Shopify store's offerings. Through a consumer survey we've found about 4% of reviews describe manufacturing issues and 2% point out possible tweaks or additions to products.
Improving SEO performance
Adding reviews is also an effective way to boost your Shopify store's SEO.
Search engines rank sites that have new content higher. And with a steady flow of reviews, customers do the content generation work for you.
How to collect reviews on Shopify
No matter what you sell on Shopify, collecting reviews should be one of the key instruments in your e-commerce toolbox. So how do you get more reviews for your Shopify store?
One method is to ask customers to submit reviews directly on the product page. That's easy to do with our new app for Shopify.
Beyond collecting feedback on your website, there's more strategies you can implement to increase product reviews. Consider sampling programs or reaching out via email and social media.
1. Product sampling
Almost 90% of shoppers say that they enjoy receiving free samples. After all, who doesn't like free stuff? That's the basic premise of product sampling programs — retailers give customers free samples to increase product reviews.
And it works. Take global food company Kraft Heinz, for example. The brand sent out free samples of its new Kraft dressings. By the end of the sampling campaign, they'd ended up with 2x the number of reviews they expected — a whopping 20,000 reviews. Not to mention, the added benefit of 369,000 likes, shares, comments, posts, and follows on social media.
2. Ask on social media
Speaking of social media. Want more reviews for your Shopify store? Try going straight to the source — directly ask your customers on social media. Or look for branded hashtags and tagged posts.
For example, when customers tag your brand in social media posts, you can comment or message them to ask for reviews. Over a quarter of shoppers report that companies have done this — so you're not alone.
3. Email requests
You can also simply send review request emails to customers who've recently purchased your products. A rule of thumb is to give them enough time to try the product, but don't wait so long that they've forgotten what they first loved about it.
We've seen that when brands send these requests via email, they can grow their reviews by as much as 50%. And one brand, MeUndies, grew review volume 218% year-on-year with review request emails.
You can also opt for SMS review collection, and collect roughly 2x the amount of reviews.
Both options are also the perfect opportunity to thank customers for their purchase and retain customers through build brand loyalty.
How to add reviews to your Shopify store
Ready to start boosting your sales, SEO, and shopper confidence? Here's how to find an app that will help you collect and showcase customer reviews.
1. Navigate to the Apps button on your Shopify dashboard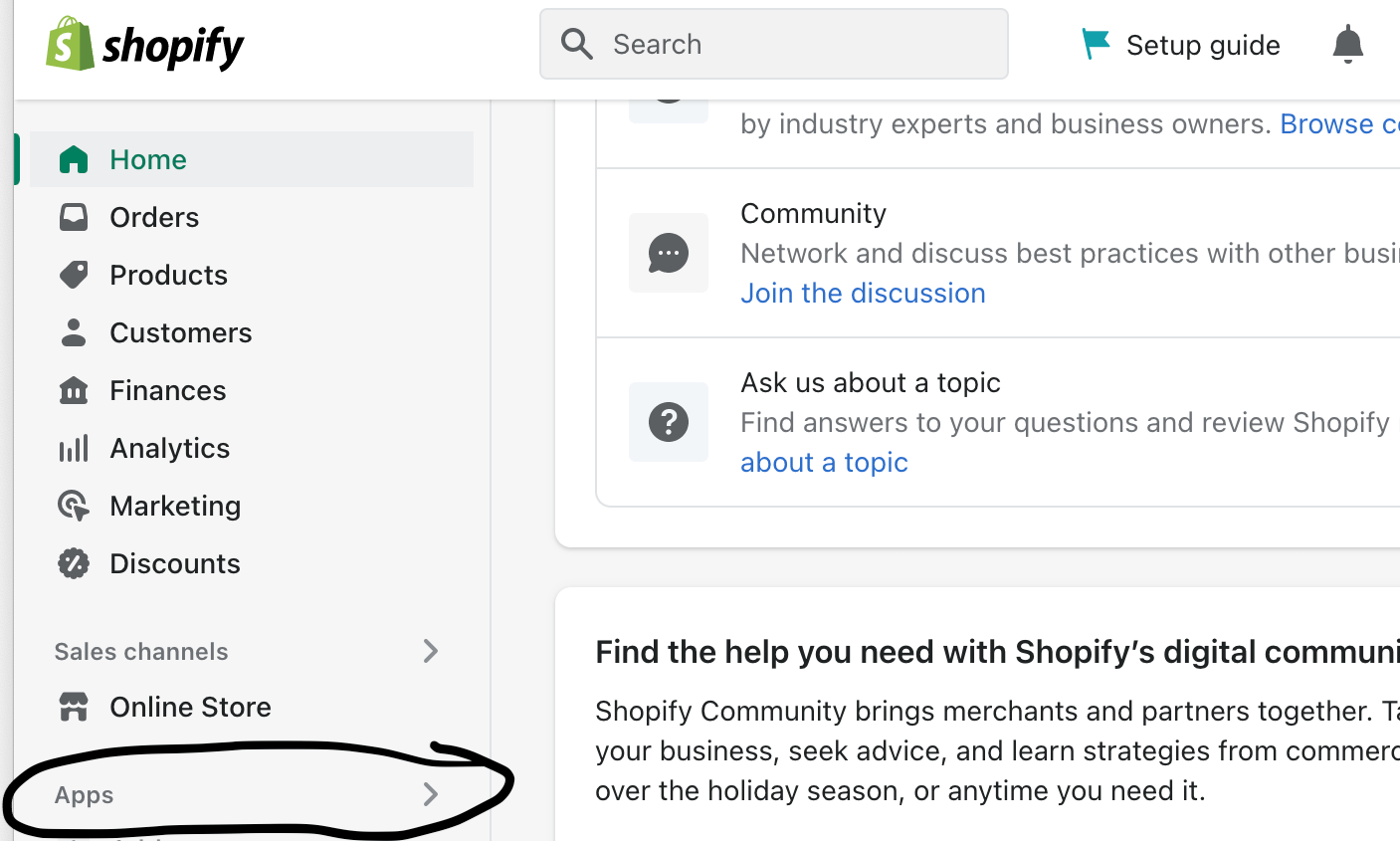 2. Click "Apps." A search bar should pop up
Then type in "reviews" or "product reviews."
3. The search bar should say, "Search for 'reviews' in the Shopify App Store." Press the search button or click enter
Now, Shopify shows you all of the apps that can allow you to add reviews. You can also search directly via App name (for example: Bazaarvoice Reviews & Photos) if you already have a preferred partner.
4. After you click on your preferred partner, click the green button that says "Install App"
If you choose a different app, these same instructions still apply. (We're just using Bazaarvoice as an example because we have the screenshots, obviously).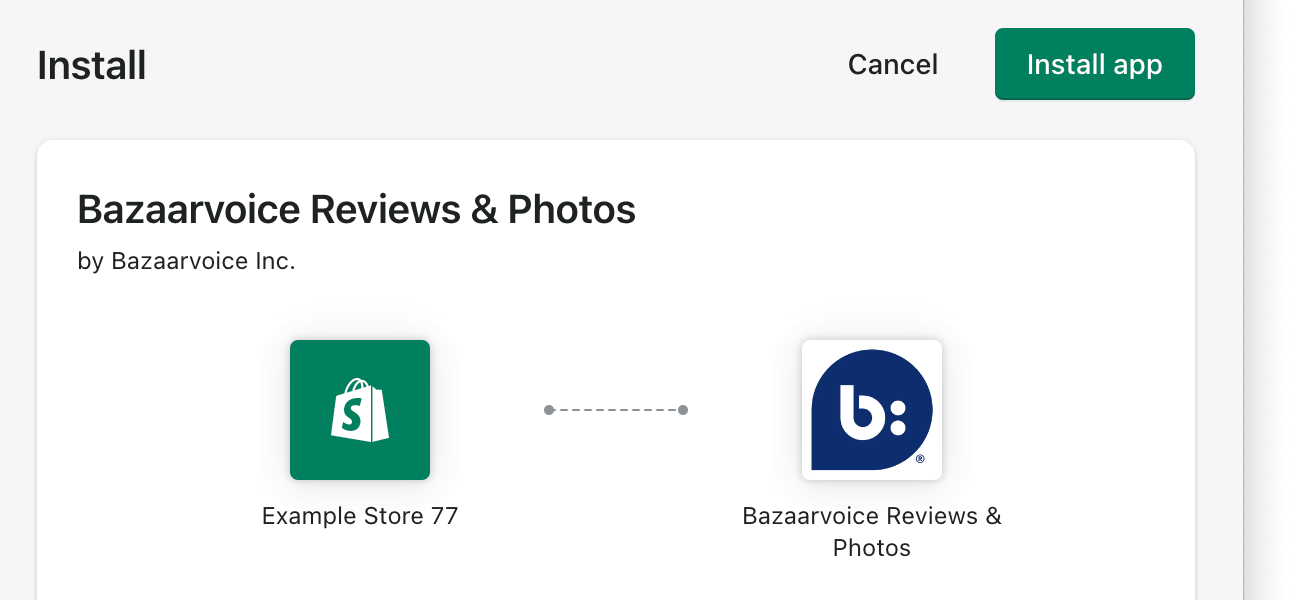 5. After you install your app, create an account
And that's it! Now you can go and get started adding reviews for Shopify.
Finding the right Shopify reviews app
When looking for a good Shopify reviews app, you'll want to make sure it's built with SEO best practices in mind. This way, shoppers will be able to find you, and you'll be able to make the most of the SEO benefits that accompany including reviews on your site.
Check that the app also has a mobile-first design. It's important that your website loads quickly and displays properly on phones. About 80% of smartphone users say they've used their devices to buy something online in the past six months.
We also recommend that you choose an app with a questions & answers feature. For example, a sneakers shop can ask customers questions like, "Are these good for trail running?" These Q&As can help potential customers make purchasing decisions faster. And help you close more sales.
Take reviews beyond your Shopify store
Regardless of what app you use for your Shopify store, showcasing ratings and reviews will take your online storefront to the next level.
But if you want to channel your customer reviews into improved shopper confidence, better SEO for your e-commerce store, and increased sales, you need to work with a review platform that gets your reviews in front of shoppers everywhere they are. Bazaarvoice's best-in-class Ratings & Reviews technology can help you with that.