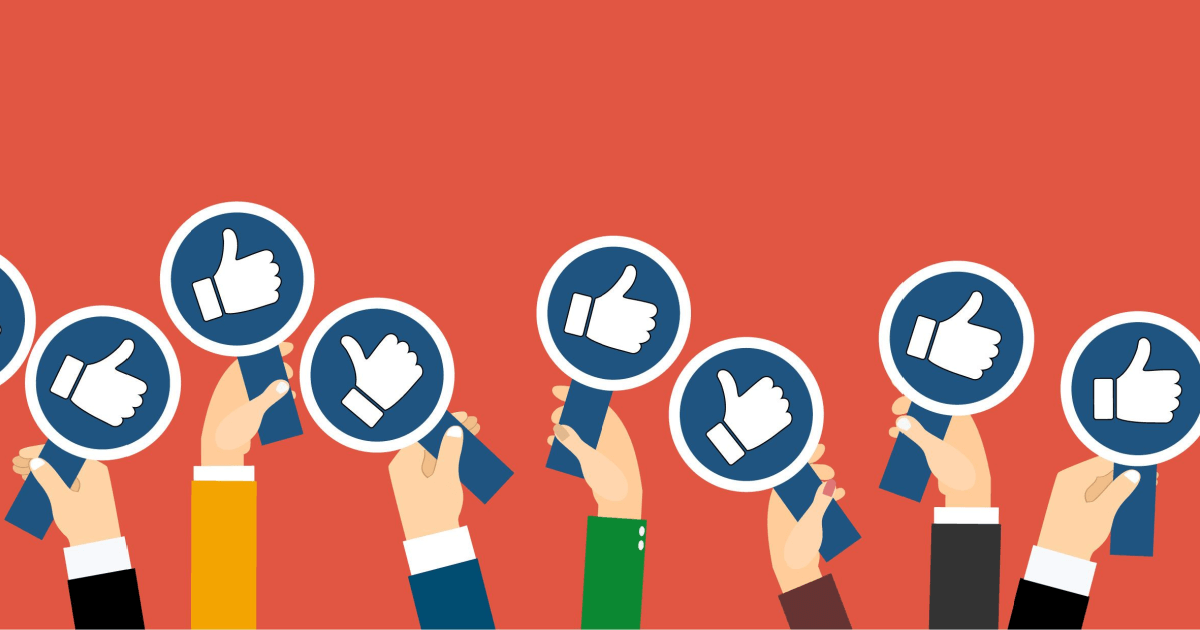 Here we've compiled three of the best social commerce case studies we've seen because in our social driven world, businesses and brands know the basic steps to building a seamless social and e-commerce shopping experience — utilizing content, making multiple touchpoints shoppable, pushing customers to PDP's, and more.
However, learning about social commerce is one thing, seeing real life social commerce case studies in action and how they drive success for brands is another.
Shoppers, more than ever, want to see products being used in real life by other shoppers. Who's using it, how it's being used, and how they can see it fit into their own life. And as the demand for authenticity skyrockets, brands have to find unique ways to build consumer confidence.
One clear-cut method to building that confidence? With user-generated content. User-generated content, or UGC, is a type of social proof, whereby shoppers can see trusted individuals using and recommending products. According to our Shopper Experience Index, an annual study into changing shopper behavior, 40% of global shoppers agree that UGC, like reviews and customer photos, makes them more likely to buy a product from an ad.
UGC works in creating community, building customer engagement and trust, and driving social commerce revenue on social and product pages.
Top 3 social commerce case studies
Let's take a look at three unique social commerce case studies we've seen for some killer UGC strategies.
1. Iconic London
The makeup and beauty industry especially is all about reviews and recommendations, especially on social media. Who wouldn't want to see how a $30 lipstick performs and looks on someone that looks like yourself?
To meet this expectation, UGC collection is more important than ever for this specific industry. Iconic London, a UK beauty brand, realized this and positioned themselves as a digital-first brand above all else.
"We've been very good at outreach, making people aware of the voice of the brand, but we're in a competitive industry with a lot of brands with great messaging and fantastic products. What we needed to do was find a way to make the social piece work for us, both in awareness and financially, and that's what Bazaarvoice helped us to do," says Eleanor Assa, CMO at Iconic London.
Yet, building a full-proof, well-rounded UGC strategy was proving to be difficult, especially conceptualizing how UGC could be used across social platforms and the e-commerce site. The first step they took was discovering how Instagram can work hand-in-hand with their e-commerce site.
Building the relationship between social and site
Oftentimes, brands make the mistake of building two distinct, separate experiences: one on their social platforms and one on their e-commerce site. The aesthetic, photos, product layout, and more are just different. This isn't necessarily a good thing.
When your customer discovers your brand, whether that's browsing Google or scrolling through Instagram, you want them to feel there's an authenticity present. When the shopping, community, and brand experience does not match across the board, authenticity is lost.
One way to solve this problem? Do what Iconic London did and turn your social content into a shoppable experience.
Everyone loves the simplicity of Instagram and being inspired to make a purchase. But, one thing many brands haven't been able to solve is how to bring those new or returning customers to their actual site to make that purchase. Enter: Like2Buy. As a link-in-bio solution, Like2buy directly mirrors your Instagram feed, making the user-generated (and branded) content shoppable via links to product pages.

"We know that our customers like shopping in a social environment. It's the way the industry is going, but especially Iconic. So having Like2Buy allows us to maintain that social shopping experience a bit longer. It allows it to overflow into the website, onto the product page, and the homepage," says Lizzie Newell, Head of Marketing, Social, and Campaigns.
Make the path to purchase that much simpler with Like2Buy, and never worry again about those customers lost on social media. Furthermore, once they reach the site, make sure their shopping experience goes uninterrupted with Bazaarvoice Galleries.
The importance of time on site
Nowadays, there are more distractions than ever before, especially if you are just in "browsing mode" while shopping. With no intent or purpose, you are less likely to be convinced to shop around if you aren't interested in the first minute or so.
But, if you see a homepage full of engaging, shoppable content versus static images with no ability to browse, you will want to stay. Bazaarvoice Galleries, an on-site display of content that can exist almost anywhere on site, enables shoppers to really see products in action.
In the last year, Iconic London saw their customers spending more time browsing UGC and product pages because of their Galleries, with a 361% lift in time on site. They positively benefited from taking into account their customers shopping habits and desires when buying makeup.
"Time on site is a really exciting one for us. We were very pleased with that increase because I think that just proves that what we suspected about our audience was right — they like to have a browse, they like to look at people who look a bit like them. And at the same time, they're looking at multiple images and product pages," says Lizzie Newell, Head of Marketing, Social, and Campaigns at Iconic London.
Placing UGC across your storefront will not only drive those sales, but it will also drive traffic to almost every page that is important to the shopper. In just 12 months of harnessing the power of social commerce, Iconic saw a 126% lift in conversion rate, and an 11% lift in average order value.
Read the full social commerce case study here for a more in-depth look.
2. Urban Barn
Have you ever been in the market for a new sofa but wanted to know how it looked in the real world, not just a showroom? And so scrolled through countless photos or videos of it, imagining it fifteen different times in your room? Well, if you have, you're not alone.
Urban Barn, a furniture and decor company, knew many of their customers visit their website before coming into a store to actually buy the item they're looking for. With furniture being such a large purchase, too, it's essential to show a diverse range of products in diverse settings, fresh up the content often, and build inspirational collection pages.
Although Urban Barn has beautiful brand-owned content, they used UGC to really inspire shoppers to build their own, unique home with Urban Barn products by incorporating it across their social channels and website to meet shoppers everywhere they are.
The art of the hashtag
There's nothing wrong with directly asking your customer for UGC. Instead, it's empowering and showcases that your brand genuinely cares about building a supportive, interactive community.
Urban Barn collects UGC by encouraging customers to post images of its product using the hashtag #Rightathome. From this pool of content, they then select the photos and videos they feel most authentically represent them and their community.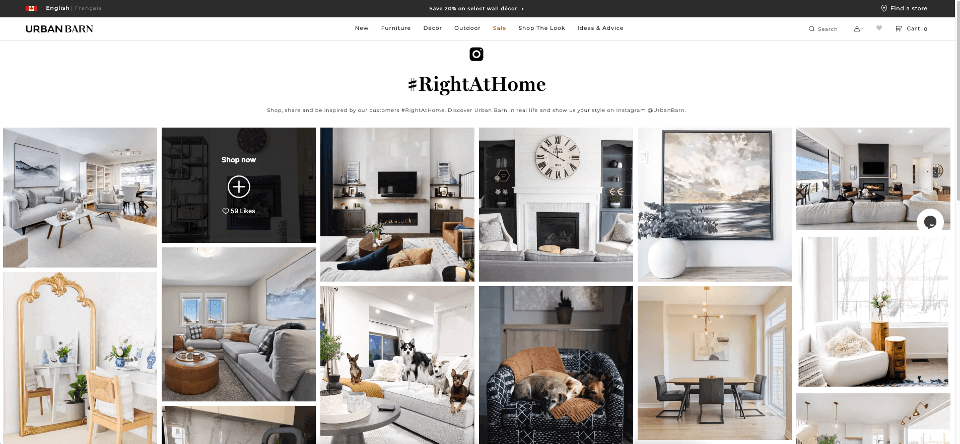 What people also forget is that UGC, and collecting it via a hashtag, is entirely free. No expensive influencer partnership or brand photoshoot required. Instead, it's a win-win on both sides. People love being featured on social media and on a website, and you get beautiful content with no heavy-lifting on your end.
Furthermore, sometimes customers know the brand better than the brand does, especially in the furniture industry. There are countless styles and looks out there, which all all worthy of being displayed
"Customer images show the diverse styles of interiors and different angles of the products that are not often captured by our in-house photographers," said Ainslie Fincham, Director of Marketing at Urban Barn.
When Urban Barn started placing this UGC across their website and social channels, they saw major lifts in time on site, conversion, and average order value. The numbers were great to see but Sasha Becker, Director of E-commerce at Urban Barn, knows the reason they built this strategy was, in the end, to align with their mission — inspiring others.
"Our end goal is to create beautiful spaces that people can come home to and feel good in," said Becker.
To say they did that would be an understatement. The strategy has already led to a 270% lift in time on site, a 59% lift in conversion rate, and a 29% lift in average order value. Read the full case study here to learn more.
3. Samsonite 
We've left (arguably) the best case study in social commerce til last. Sometimes all you need is a new campaign to really kick-start your social and e-commerce strategy! Just ask Samsonite.
After leveraging ratings and reviews heavily, they felt it was time to explore more ways they could improve their customer's shopping experience. Samonite's two main focuses were driving product discovery and providing content across the site to inspire their shoppers.
Sourcing the UGC and brand-owned content was never an issue for the accessory brand, though. The challenge was driving product discovery and providing consistent inspirational content from social and marketing channels.
By launching and leveraging Bazaarvoice Galleries, an on-site display of content, this solution enabled them to put beautiful, inspirational content on multiple pages rather than just on Instagram, for example.
However, they didn't just stop there.
Use campaigns to elevate your content
Not only did they implement galleries, but they also sourced relevant, new images and videos by running a campaign at the same time.
"This year, we had a really robust summer campaign which featured a new product launch, our Elevation Plus collection, at the forefront. We worked with a ton of influencers and got a lot of content added to our galleries, and I think it made for a really engaging experience, both on our own sites and through the content we distribute to our partners," said Meghan O'Keefe, Senior Digital Marketing Manager at Samsonite.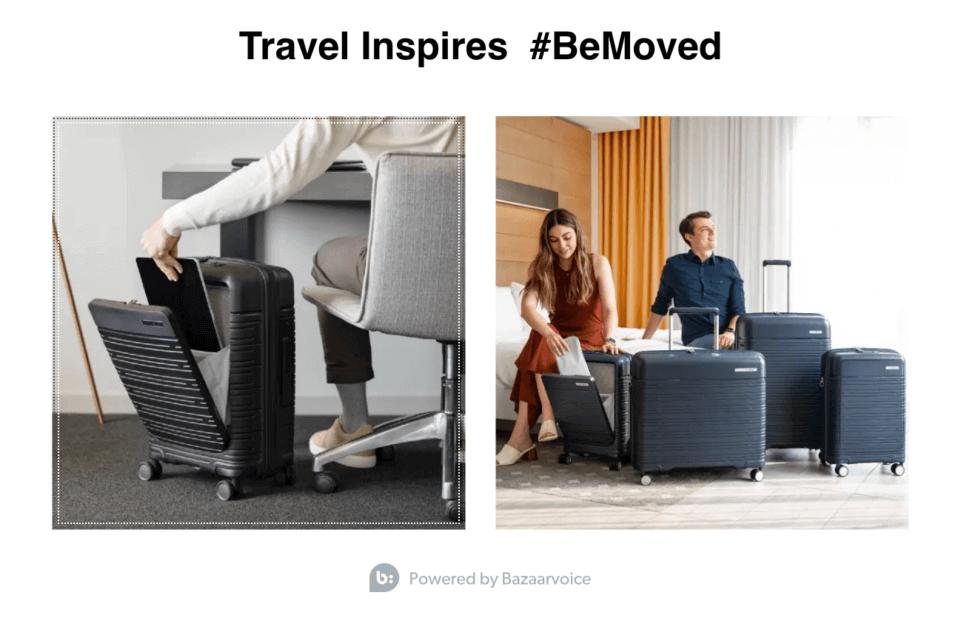 Samsonite didn't do anything out of the ordinary. They had plans to run this campaign, but they took it the next level by strategically partnering with influencers and using the #takewhatsyours to gather incredible UGC. It was a low-lift action, yet made all the difference for driving traffic and revenue.
By the campaign's end, they'd gained over 27k posts. Furthermore, Using Bazaarvoice Galleries led to:
4x higher conversion rates
5x increase in time on page
254% increase in revenue
Making it one of the most successful social commerce case studies to date. Read it in full here.
Become the next social commerce case study
There's no reason why this time next year, you aren't one of the social commerce case studies everyone is talking about.
As the social media landscape changes year after year, brands must evolve and act accordingly. Responding to the customer's needs is the only way to stay relevant and continue seeing a lift in engagement, trust, and revenue.
Yet, trends come and go as quickly as you can say "supercalifragilisticexpialidocious" nowadays. Social media and e-commerce managers are constantly having to keep the pulse on what's performing and what's not, which is no easy task. But, regardless of if TikTok or Instagram is winning this week and not the next, UGC will continue performing well for brands.
Global social commerce sales are expected to reach $1.3 billion this year. So take a note from these three brand case studies and rethink your social commerce strategy. Is UGC a part of your conversations? Because it should be. And if it isn't, get in touch with us and learn how the #1 in UGC according to G2 can help you get started.
Request a demo