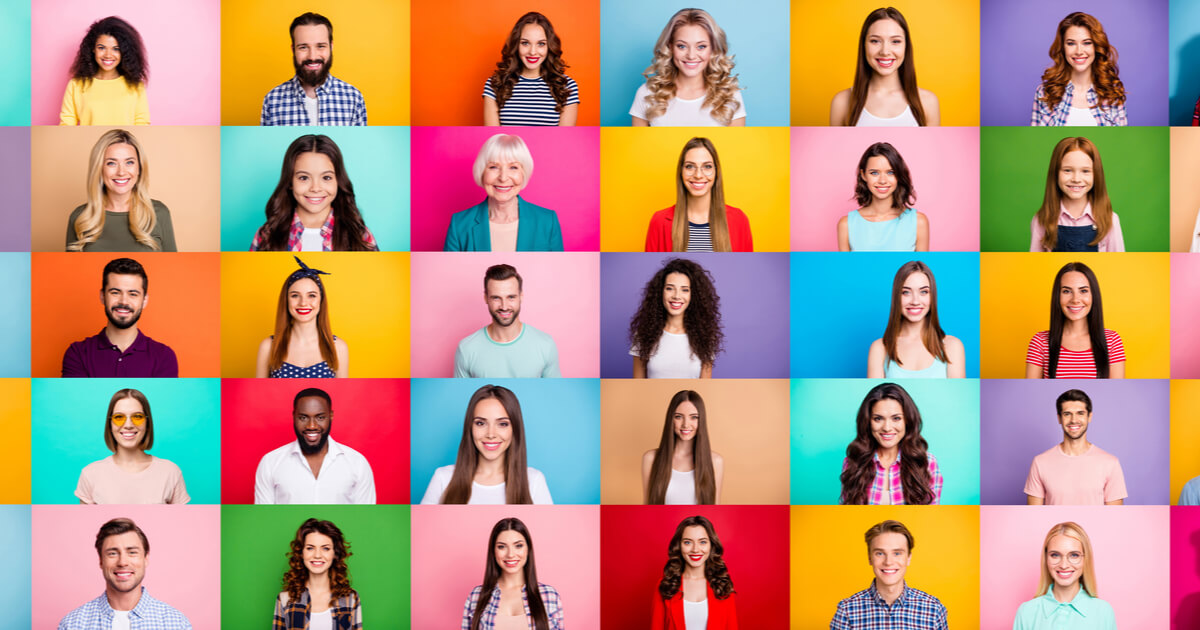 Welcome to our short but comprehensive guide on how to launch a personalized marketing strategy. (A successful one at that). Today, 80% of consumers are more likely to make a purchase when brands offer a personalized experience. So it's essential you start thinking about personalization.
Sure, maybe you can sit back and keep targeting that other 20%. But with a few easy tweaks to your strategy, you can easily capture that other 80%. And that means more leads. Which means more sales. Which means more profit. And who doesn't want that?
This guide will leverage the growing personalized marketing trend, and highlight the top tactics that you should use for successful personalization campaigns.
Chapters:
---
---
A lot of marketing feels like a bad date. You know, the kind where the person sitting across from you just talks about themselves and doesn't ask you any questions to actually get to know you. By contrast, personalized marketing is like the person who wants to connect, and woo you with a conversation about your interests.
Personalized marketing gets the second date — or in this case, clicks and conversions.
Why's that? Because personalized marketing is all about tailoring your campaigns to provide a customized experience for your e-commerce site visitors. And in the modern market, the majority of customers expect it, which means brands that design the same messaging for all their customers are so last season.
Discover what personalized marketing means, why you should be doing it, and how to do it effectively. It starts with gaining knowledge about your customers and using it to provide them with an exceptional shopping experience.
What is personalized marketing?
Personalized marketing uses information about your customers to create individualized, relevant messages and offers. For e-commerce businesses, this data-driven approach matches consumer demographics and behaviors with tailored website and marketing content.
There's many applications of personalized marketing, from geo-sensitive push notifications that send discounts when you're near a coffee shop, to abandoned cart emails that remind you of products you looked at but didn't buy, to product recommendations based on order history. To name a few.
And personalized marketing is growing at a rapid pace. A recent Statista survey revealed that 33% of United States and United Kingdom marketers devote over half of their online marketing budgets to personalization projects and initiatives. The report predicts this trend will continue, driven by advancements in technology, data, and analytics that make personalization more widely available.
Why is personalized marketing important?
Personalized marketing allows you to gain extensive knowledge about your products and customers. You can learn what products, services, features, and messaging attracts customers and leads, then adapt your marketing and product strategy accordingly. Customers receive marketing materials they actually want and make them feel connected to your brand. This leads to purchases in the short term and brand loyalty and customer retention in the long term.
This valuable information lets you focus on what works and scrap what doesn't. If you only have blanket messaging and offers on your website and in campaigns, you're missing out on opportunities to target visitors with effective content. Personalization can increase revenues by 5–15%, lower acquisition costs by up to 50%, and increase the efficiency of marketing spend by 10–30%.
Increasing online privacy regulations makes user activity more secure and protected, but targeted marketing — like personalization — more challenging. The restrictions prohibit third-party data tracking that has historically helped marketers target campaigns to their website visitors.
This is why it's extra important to know how to implement personalized marketing in the wake of new obstacles and a changing marketplace. Without the third-party tracking data that gives a broad view of users' search behavior on various websites, marketers will need to rely on their own data and create campaigns based on that to reach their customers.
How to build a personalized marketing strategy
The basis of personalization is having comprehensive and organized data about the people you're trying to target.
Once you've assembled all your relevant data, you can use it to segment customers based on preferences, demographics, or order history. Then, you can identify the primary channels where customers engage in order to focus your distribution. Either your website, email, social media, live chat, or a combination.
Gather customer data and insights
Collect all the pertinent information on your customers that will be useful in serving them personalized content. This includes demographic data, like gender, age group, location, and income level. Another big piece of the puzzle is shopping behavior, like purchase history and spending habits. With the advent of third-party tracking restrictions, this means relying heavily on first-party data.
There's different routes you can take to collect these insights, which require varying levels of oversight. Customer data platforms (CDP) are a primary resource for aggregating data from across multiple customer touchpoints. CDPs record when a customer visits your e-commerce website, is shown an ad, or opens a promotional email. And then how the customer interacts with each. CDPs then combine all this information into a single, data-rich customer profile. A good example is our Bazaarvoice homepage. It appears slightly different depending on whether you're a social media manager or e-commerce manager. Each page is tailored slightly differently to meet each audience.
A personalization engine is similar to a CDP but with AI and machine learning that can assist in designing data-based, targeted campaigns.
Individual data sources also offer insights into your customers. These include social media and SEO management software, e-commerce and retail point of sale (POS) systems, and Google Analytics. These platforms will give you insights on customers who visit your website, engage with your brand on social media, and purchase your products or services.
Create customer segments
Next, you can create customer segments based on your data. Look for demographic and behavioral patterns in the data to determine how to segment your audience. Personalization engines and CDPs can combine and organize this data for you, or it can be done manually.
Some examples of customer segments to use for personalized marketing include age groups, occupations, spending amount tiers, product interest categories, and date of the most recent purchase. Once you have your different customer segments set up, tailor your messaging and offers according to the qualities and characteristics of each segment.
Segmentation is a planning tool for personalized marketing. To personalize content, you need to take it a step further. Personalized marketing takes customer segments and then individualizes content for the members of that segment. For example, a segment could be a group of customers who regularly purchase higher-priced items. To create personalized content for a customer in that segment, you could send an email with product recommendations for luxury items in their size.
Personalized marketing examples
Collecting and organizing customer data is only half the battle. The next step is putting that data to use with different types of personalized marketing tactics and campaigns.
Email marketing
Email is the top digital channel used for personalized marketing because it's fairly easy to create customized email content for individual recipients. For starters, consumers have been getting promotional emails with their name in the subject line for years.
There's multiple different types of email marketing campaigns that brands can personalize. Post-interaction emails are the perfect opportunity to personalize content. They're a direct response to a customer's action, whether that's a website visit, a cart abandonment, or a purchase.
Other types of emails, including product feature announcements, out of stock emails, newsletters, and special offers, can all be personalized. The most basic method is to simply include the customer's name in the subject line or body of the email. Emails with personalized subject lines improve open rates by 26%, but this can also come off as heavy-handed. Product recommendations based on the customer's preferences and order history are a more advanced way to appeal to the customer's personal interests.
Enhance these emails with customer reviews and visual user-generated content (UGC) of recommended products. UGC provides consumers with the social proof they need to learn more about products, and ultimately the confidence to make a purchase. You can go the extra mile and personalize the UGC itself. Example: If an email is going to someone in an older age bracket, include reviews or a photo created by someone close to their age that corresponds with the brand or product.
The way in which you collect UGC also plays an important role in personalization. One of the top recommended personalization campaigns is to send emails asking customers to review a recently purchased product. You can then use that UGC to display on your website, giving shoppers more details and insights from verified customers who have first-hand experience with products.
In this email example from Hulu, the streaming platform does a great job of using customer data to create a personalized campaign. It uses the customer's demographic information (their date of birth) and purchase history. In this case, the customer was a previous subscriber who hadn't renewed their subscription. So, Hulu offers them a birthday gift in the form of a one-month free trial with the goal of winning back the customer.
Website or app optimization
For e-commerce companies, your website or app is the ideal space for personalization. This is where you can deliver relevant calls to action (CTAs) for further browsing and exploration. Things like product recommendations of products similar to what's in the shopper's cart, or based on order history. Some examples are "people also bought," "you might also like," "finish the look," and "don't forget to accessorize."
Enabling your website search feature to produce relevant results and recommendations is another important aspect of website personalization. For example, if a website visitor searches for a black dress, everything that fits "black" + "dress" should populate. And if you don't carry a black dress, provide them with alternatives that closely match. That could be a navy dress or a grey dress, for example. If a search term is misspelled — like "balck dress"— your technology should be able to understand that and produce results instead of no results.
Special offers tailored to different types of customers is an enticing website personalization tactic. Offer promo codes to first-time customers to use on their first order. Increase basket sizes by offering discounts on products or free samples that align with customers' repeat purchases or interests.
Customized content is another way to provide a personalized experience for each website visitor. Create dedicated landing pages to include in emails that highlight personalized product updates and recommendations. Another way is to include the customer's name and order history when they visit your website.
Netflix is an expert in the art of personalized marketing, particularly with its in-app recommendations. The company uses its subscribers' viewing behaviors to create TV and movie categories based on their unique tastes. Examples of this in action are its "Because You Watched" and "Gems for You" lists.
Spotify does the work for you and curates recommendations into instantly consumable playlists. Some of its personalized playlists based on listener data include daily mixes, genre mixes, top artists mixes, Discover Weekly, and Release Radar. The company's highly anticipated annual Spotify Wrapped is a shining example of personalization in action. With this feature, they literally create a neatly packaged overview of each individual listener's data and use it to make fun, shareable content and custom playlists.
Augmented reality
The use of augmented reality (AR) is a growing marketing trend that enables real-time personalization. The number of mobile AR users in 2021 will surpass 800 million and is expected to reach 1.73 billion by 2024. Some customers using the AR platform Adloid reported seeing up to a 200% increase in sales conversions.
AR is an example of advanced personalized marketing, where customers can see products superimposed on their own bodies, in their living spaces, or in other real-life settings. Some top retail and e-commerce industries that have quickly adopted AR include automotive, beauty, home goods and decor, and apparel.
On its website, L'Oreal's Live Try On gives shoppers the opportunity to virtually apply its products from wherever they are using their mobile or desktop device.


Target's See It in Your Space feature is a great way to see how furniture and other products look in your home or office. Customers can accurately visualize these products and if they fit where they live and work.
Similarly, Bazaarvoice customer Home Depot's Project Color app feature lets you test out and match paint colors in your home. This eliminates the need to go to the store to bring home samples and, possibly later, make a purchase. Shoppers can instantly see how different paint colors look and make a purchase all in the same place at the same time.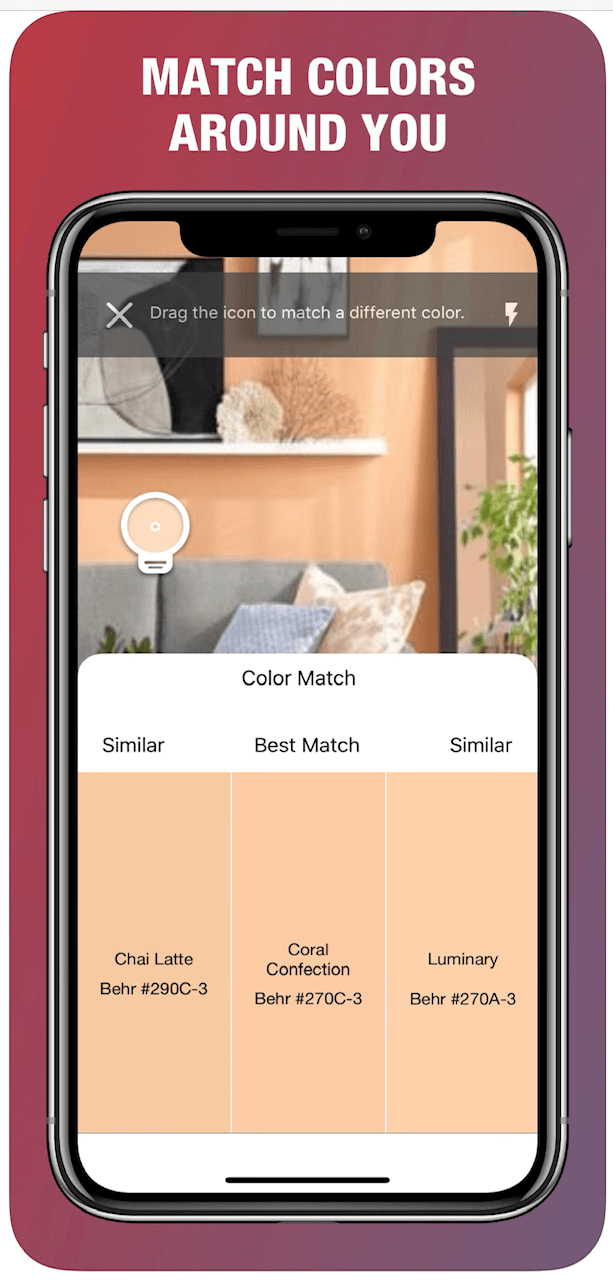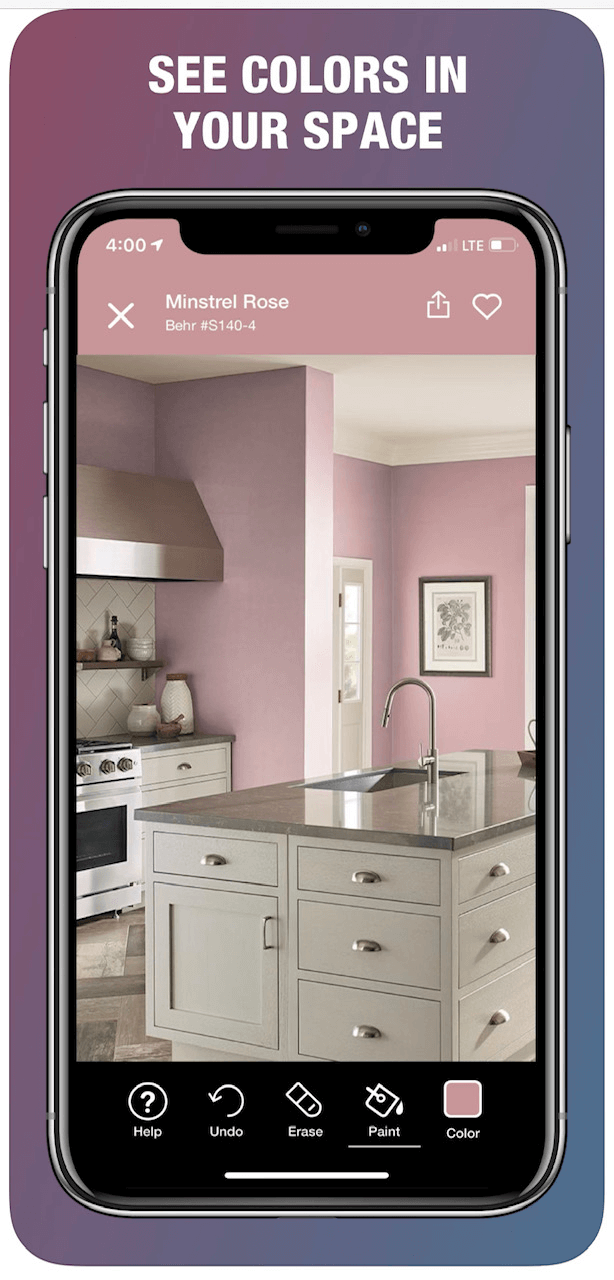 Saying sorry
Elton John famously sang, "Sorry seems to be the hardest word." (Or Blue famously sang it, depending on the era you grew up in. Both are bangers). Either way, apologies can be tough. Not just for people, for brands too. But it really doesn't have to be! They're the perfect opportunity to use personalization to turn a negative shopper experience into a positive one. 45% of consumers actually consider a brand apology to be the "coolest" personalization tactic they've seen.
Whether apologizing for an item being out-of-stock or following up on an abandoned shopping cart, there's often a reason a brand needs to apologize. So if you have to do it, do it properly. Take this tailored example from ZocDoc. Not only does it provide a form of compensation to entice the customer to stay with the brand, it also uses the opportunity to gain customer feedback. This feedback can then be used to improve the service going forward, making sure it doesn't happen again.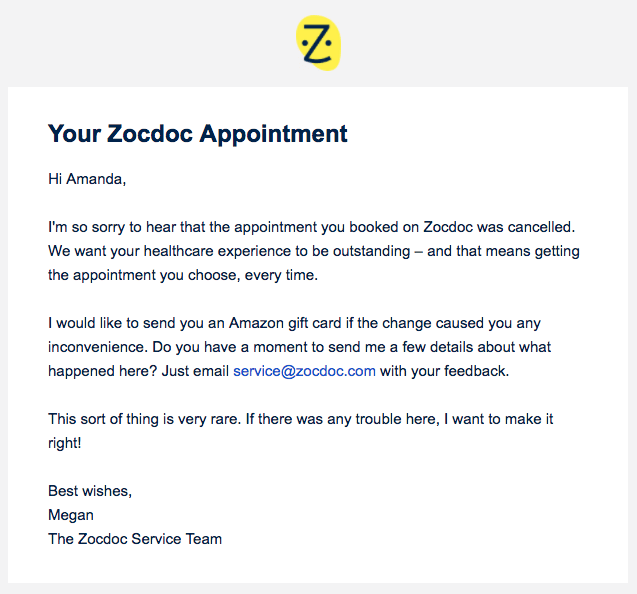 Product sampling
Launching a targeted sampling campaign creates a personalized experience for customers because you are sending products directly to them to try out for themselves. To maximize the personalization of each campaign, tailor the samples according to the individual customer.
For example, you can reward customers you consider high value because of their repeat business with pre-release samples of new products. You can target customers who have interests in specific product types with samples of new or similar products. You can include samples of relevant products along with order shipments.
With product sampling, not only do customers get a free gift based on their interests or customer history, but samples often create impactful UGC for brands.
In exchange for product samples, brands can ask recipients for feedback in the form of an online survey or a review, making sampling another valuable data-gathering tactic.
Conversational commerce
I've left the best til last. Knowing how to win at conversational commerce is a business necessity. Conversational commerce uses messaging apps and voice-activated technology to sell products and services, with help from artificial intelligence. Think of it as an online version of talking to a sales assistant in a store. Whether shopping bots that aid a customer through the buyer journey, or customizable chatbots for customer inquiries, there's a multitude of conversational commerce delivery methods. And each one provides a different personalization in it's own right.
Take this example from our own Bazaarvoice website. You'll have seen an iteration of it pop up in the bottom corner. Through some simple tweaking, our own lovely chatbot (Bazaarbot!) differs in messaging depending on who visits the site.
Let's say a user has tried out our marketing ROI calculator tool. On their next site visit, our bot will encourage those with an ROI calculation to get in touch. As demonstrated on the right.
I toyed with whether I should use this example. It almost feels like spilling state secrets or insider trading. But you know what, it's one of the multiple, successful customizations on our website. And you have to lead by example!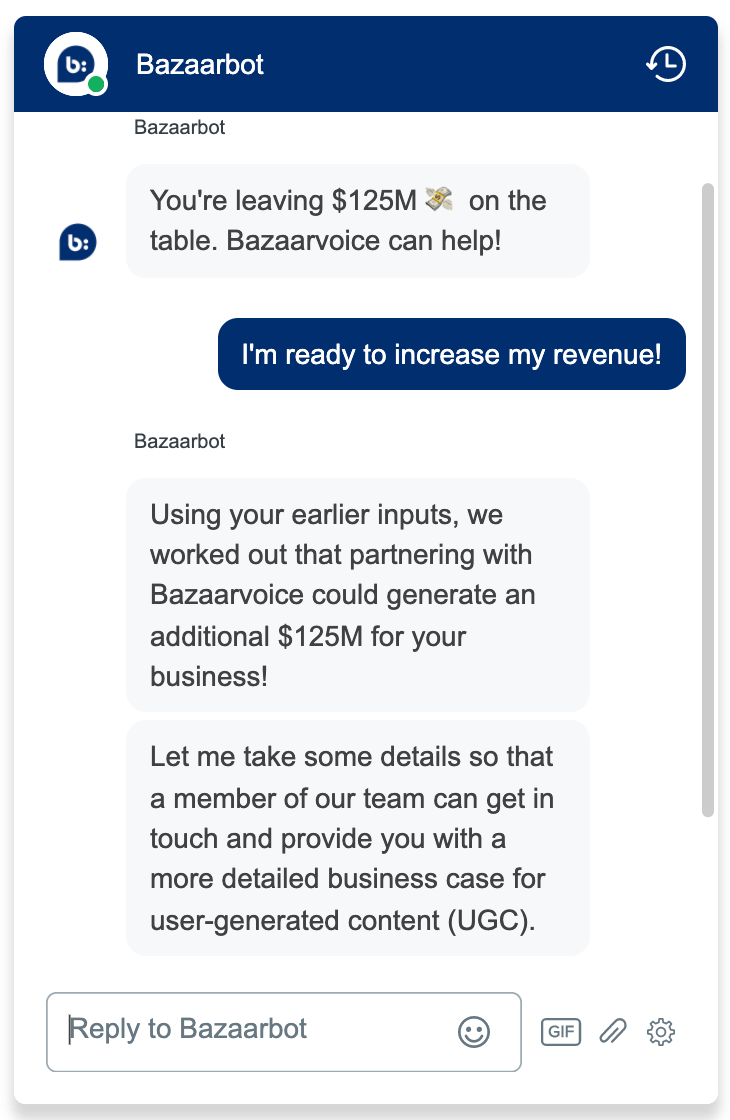 Start personalizing your marketing now
Personalized marketing is a proven way to win over customers, and it's surprisingly simple to implement. You already have the resources to do it. As it is, you can start personalizing with the data you already have and refine your strategy through more sophisticated collection and segmentation. Over time, you'll increasingly notice the impact it has. And your bottom line will thank you for it.