Instagram is one of the best platforms for social commerce. It has over 2 billion monthly active users, lets brands showcase their products in pictures and videos, and offers many learning resources to show businesses how to use the platform.
Despite such an enabling environment for growing brand awareness and driving up sales, many businesses still struggle to convert customers on the app. Paid ads and engaging content may get attention, but when people have to click out of Instagram or take too many actions to make a purchase, they lose interest quickly. Enter Like2Buy.
What is Like2Buy?
Like2Buy is a social shopping tool that helps businesses turn their Instagram pictures and videos into informative, directional, or shoppable posts. Acquired by Bazaarvoice from Curalate in 2020 (probably the only good thing to happen that year), it was the first link-in-bio solution on the market and it's still the best.
Read on to learn how to leverage this feature to get more customers from Instagram.
How Like2Buy works
Like2Buy is a link-in-bio tool that enhances one hyperlink URL to connect your Instagram photos and videos to specific product pages (or any other URL). It forms a key part of Bazaarvoice's Social Media Management product.
A Like2Buy page incorporates the same product images and videos from your Instagram profile so users don't feel like they are leaving the app when they click on it. The transition from shoppers liking an Instagram post to actually buying a product from your online store is a seamless buying process.
Like2Buy is a highly customizable link-in-bio solution as it lets you collect visitors' emails, display custom banners, add featured images, and direct traffic to any landing page you want. If your Instagram account isn't approved for in-app shopping, it also serves as a perfect alternative for converting buyers through your product photos and videos.
Tagging and publishing products
To use the tool, navigate to your Like2Buy moderation page within Bazaarvoice.
Next, tap "Tag Products" on any Instagram post within your Moderation queue.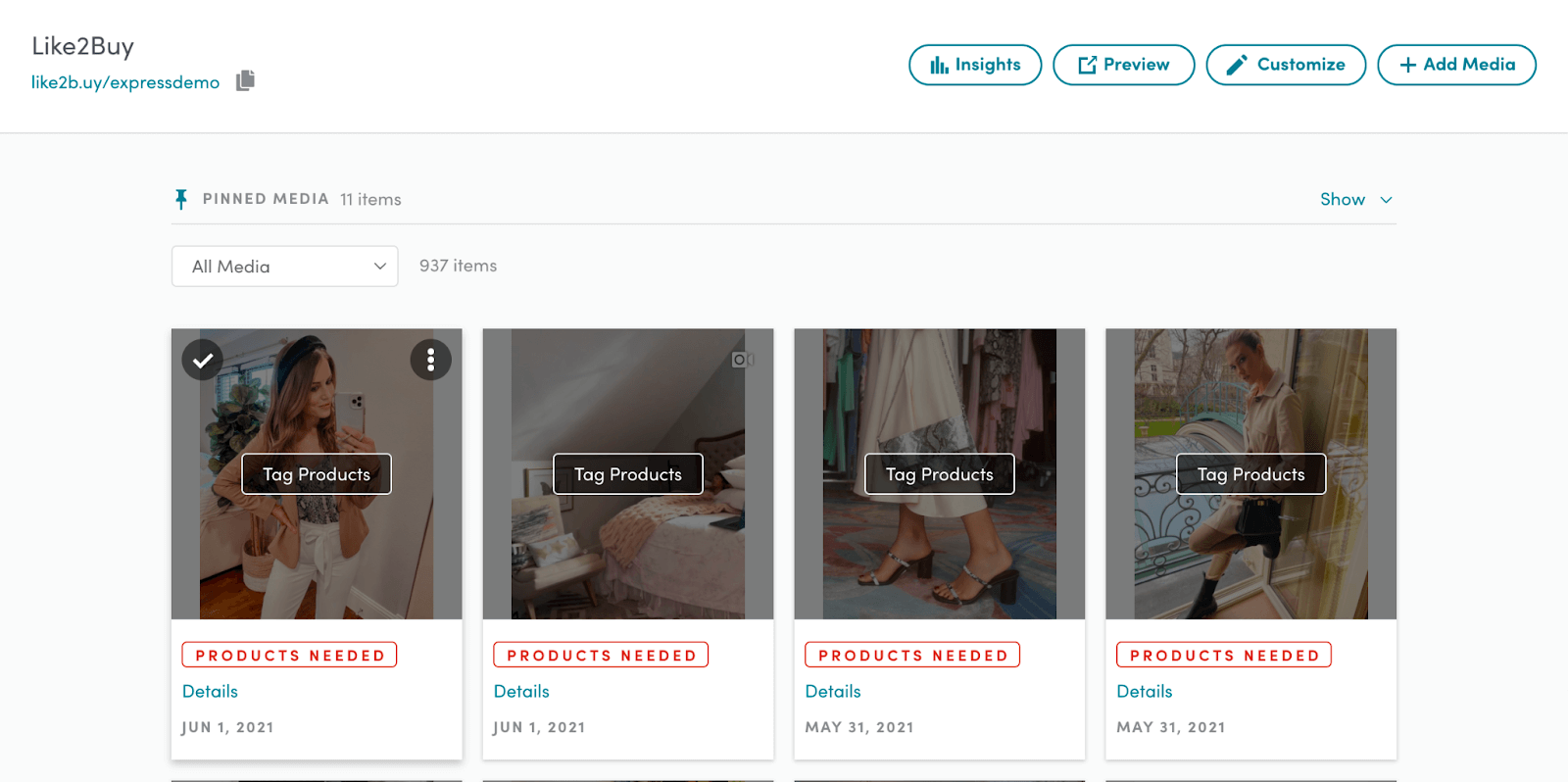 Then tag your image or video with a product by adding the product page URL directly or searching for the item name or SKU number.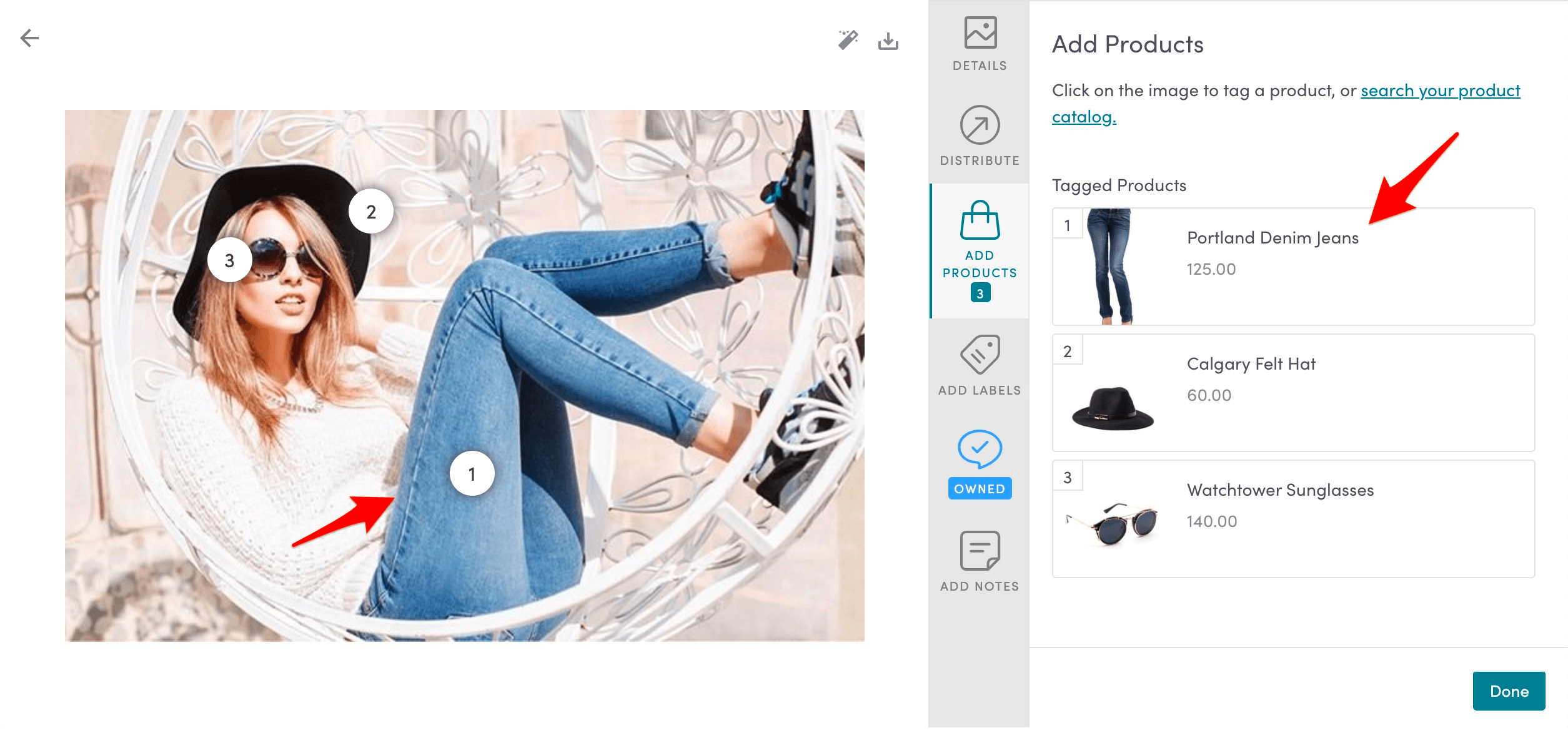 Once you've successfully tagged your desired products, they will be marked as "Published" and automatically displayed on your Like2Buy page.

Featuring and deleting items
If you want to feature an old image or video at the top of your Like2Buy page, simply tap on the three dots on any post and click "Pin to Top." You can also delete any unwanted items or remove it from the top of your Like2Buy page as needed.
Optimizing Instagram CTAs and other techniques to improve your click-through rate
Once your Like2Buy page is ready, it's time to copy and paste the link into your Instagram bio so users can view, like, and buy displayed items seamlessly. But first, you need to develop a clear CTA to inform your Instagram audience and prompt them to click the link.
These best practices will help you write a compelling CTA and drive traffic to your Like2Buy page:
Clarity: Spark curiosity by highlighting current product offerings and features. For example, "Shop below ⬇️" "Shop our Feed!"
Conciseness: The Instagram bio can't take more than 150 characters, so keep your message short and straightforward. (See example above)
Using active words: These go a long way in inspiring shoppers to take action — terms like "follow," "buy," "click," "share," and more
Besides adding a CTA in your bio directing shoppers to your Like2Buy site, you can drive traffic to the page in the following ways.
Captions: Once you've added an Instagram image or video to your Like2Buy page, type a clear CTA in the caption to prompt and guide customers to your bio link. So, once a user sees an attractive item, they'll easily and instantly find instructions on how to purchase it
Location Tags: Instead of using the location tags on your posts to display product codes or an actual place, input your Like2Buy link. This strategy will make it faster for users to just tap on the location tag to seamlessly move to a page containing all your shoppable Instagram photos and videos
Stories and page highlights: You can also post your Like2Buy link to your Instagram story and add it to your page highlights so customers can discover and click it across various touchpoints
Benefits of Like2Buy for brands on Instagram
Like2Buy is to e-commerce brands and retailers what Link.tree is to Instagram creators — a way to show all your relevant offerings on one page and potentially monetize your audience. (Though creators can also use Like2Buy, FYI).
Some of the top benefits of using Like2Buy include:
1. Converts page engagement to purchases faster
If your Instagram bio link gets a ton of clicks but little to no conversions, our Like2Buy solution is for you. Since customers can quickly view and buy multiple products through your Like2Buy link, they don't need to leave Instagram to explore your online store on a new web browser.
2. Improves the purchasing experience for your customers
When users want to search for a product they like from your Instagram page, they tend to open a different browser. Adding Like2Buy to your Instagram bio helps shoppers instantly find exactly what they're looking for in one click — saving them time and enhancing their brand experience. Once on your Like2Buy page, customers can then select photos of their desired product(s) from your Instagram feed — and get redirected to the appropriate product page.
3. Simplifies the inventory update process
With Like2Buy, you can easily update shoppers on new products or let them know about a restocked item. Simply make an Instagram post for the item and feature the product photo at the top of your Like2Buy page, and voila, everyone knows it's back in stock! Or, you can scroll down to a past post and feature it instead of posting a new photo or video.
You can also add a new image to your Like2Buy without ever having to post it on Instagram — upload your own announcement graphic, product image, promotional video, or other content straight to Like2Buy within the Social Commerce platform. That way, you don't have to create a brand new social post that may feel out of place with your current Feed
4. Drives more store traffic and revenue than average mobile sessions
We've found that 59% of Like2Buy storefront visits convert into e-commerce sessions, and referred visitors spend more time browsing on-site and viewing more pages. These visitors also have greater order values than the average mobile consumer who accesses your online store directly from a browser.
The kinds of content that perform best with Like2Buy
Like2Buy displays content from single Instagram photos and videos exactly as they appear on your profile while it only shows the first image of a tagged carousel post. But, the best kind of content to maximize Like2Buy and drive more conversions for your e-commerce business is user-generated content (UGC) — product photos and videos from everyday customers or established brand influencers.
How to measure the success of your Like2Buy campaigns
You can easily measure the success of your Like2Buy campaigns by exploring the tool's analytics dashboard. At the top of this page, you get access to metrics like visits, clickthroughs, clickthrough rate (CTR), transactions, revenue and conversion rate.
The dashboard also displays your top performing posts and emails acquired via your Like2Buy link. Learn more about the Like2Buy analytics dashboard.
Brands that are winning with Like2Buy
Still unsure of your strategy? Get inspiration for your own Like2Buy campaigns by studying the success stories of other brands.
1. Oliver Bonas
Oliver Bonas used Bazaarvoice Like2Buy to turn their Instagram photos and videos into shoppable posts and improve their shopper experience.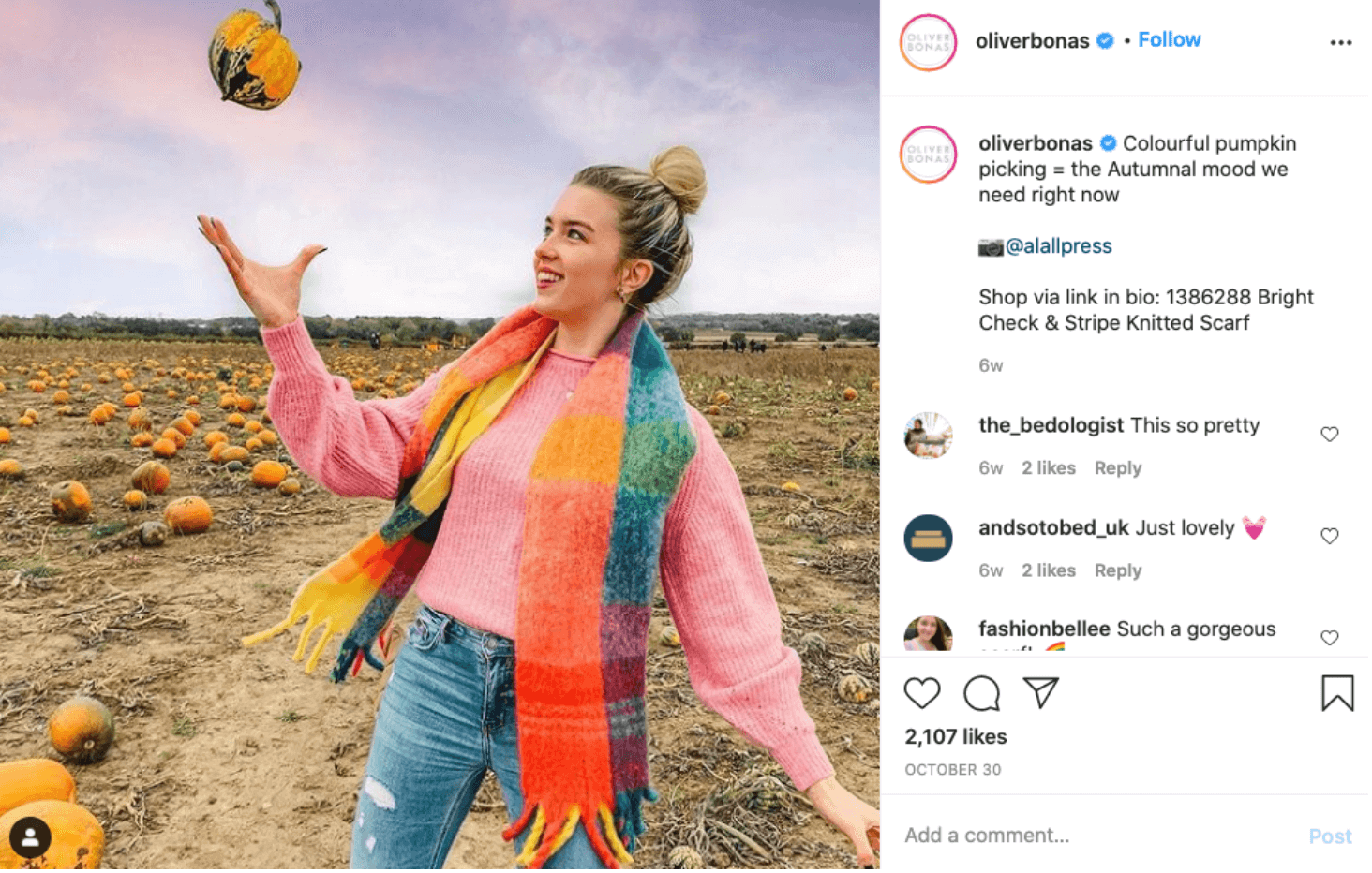 The feature enabled Oliver Bonas to get more engagement and drive stronger conversions with their posts, and they now have a set of UGC assets to use on Instagram every week.
2. Iconic London
Iconic London uses Like2Buy to create a seamless shopping experience for their customers, encouraging them to engage with their UGC, spend more time on the brand's online store, and buy more items.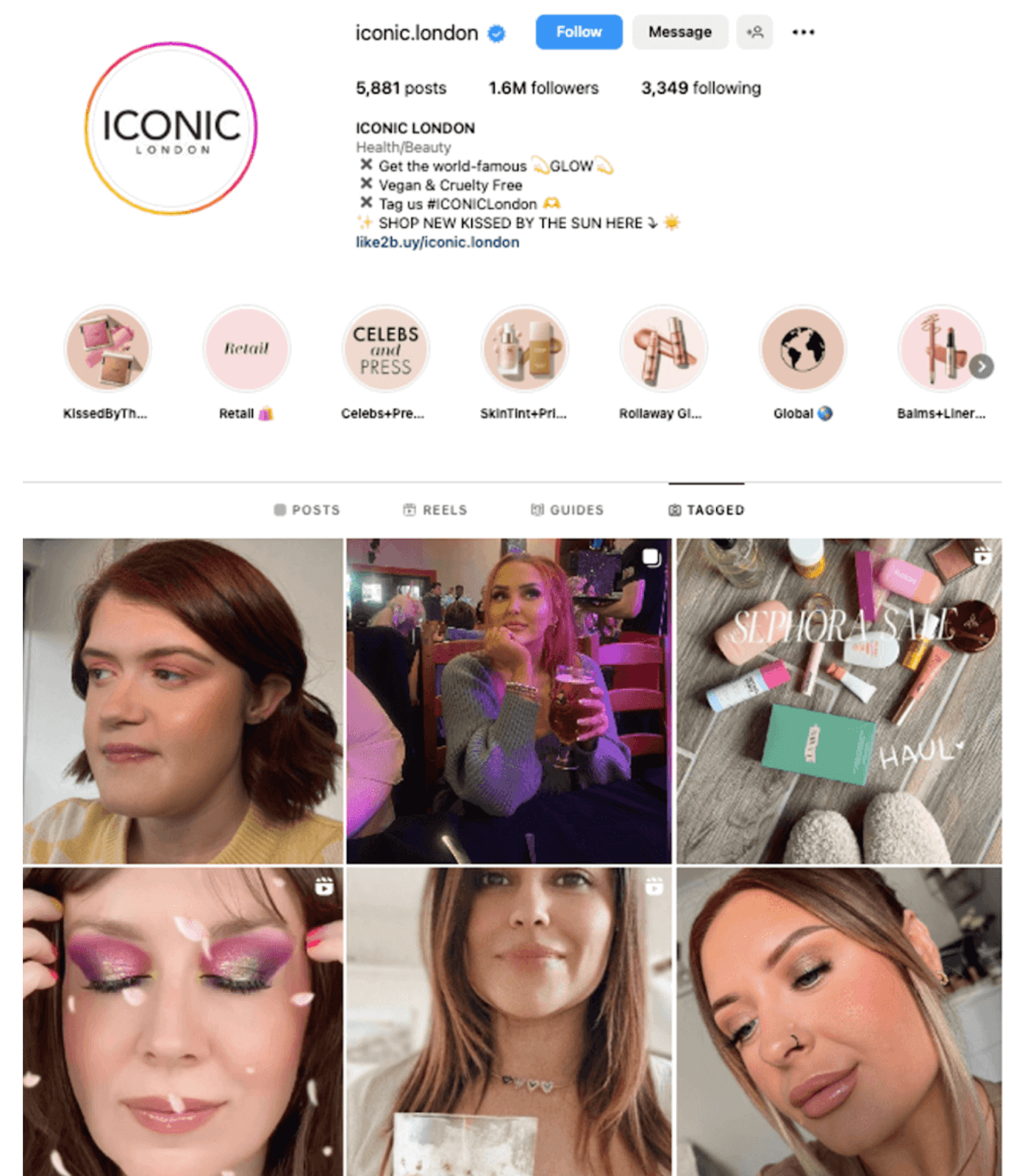 Like2Buy was especially helpful for boosting Iconic London's revenue when Apple's iOS update led to a slight dip in their Instagram income. According to Lizzie Newell, Head of Marketing, Social, and Campaigns at Iconic London, "Like2Buy has been amazing for us. We plugged it in at a time where we saw Instagram revenue starting to decline slightly due to digital landscape changes, and it more than compensated for that, bringing us back up again, which was really exciting to see."
Switching on Like2Buy has helped contribute to an 11% increase in average order value for Iconic London.
Turn your Instagram account into a storefront with Bazaarvoice Like2Buy
Whether you've just started using Bazaarvoice's Social Media Management product or want to leverage it even better, Like2Buy is one feature you should definitely try or explore further. It helps you drive e-commerce store traffic and revenue with your scroll-stopping photos and videos on Instagram — and will be launching on TikTok soon!
Ready to up your social shopping game and turn Instagram to a gift that keeps on giving?
Request a demo