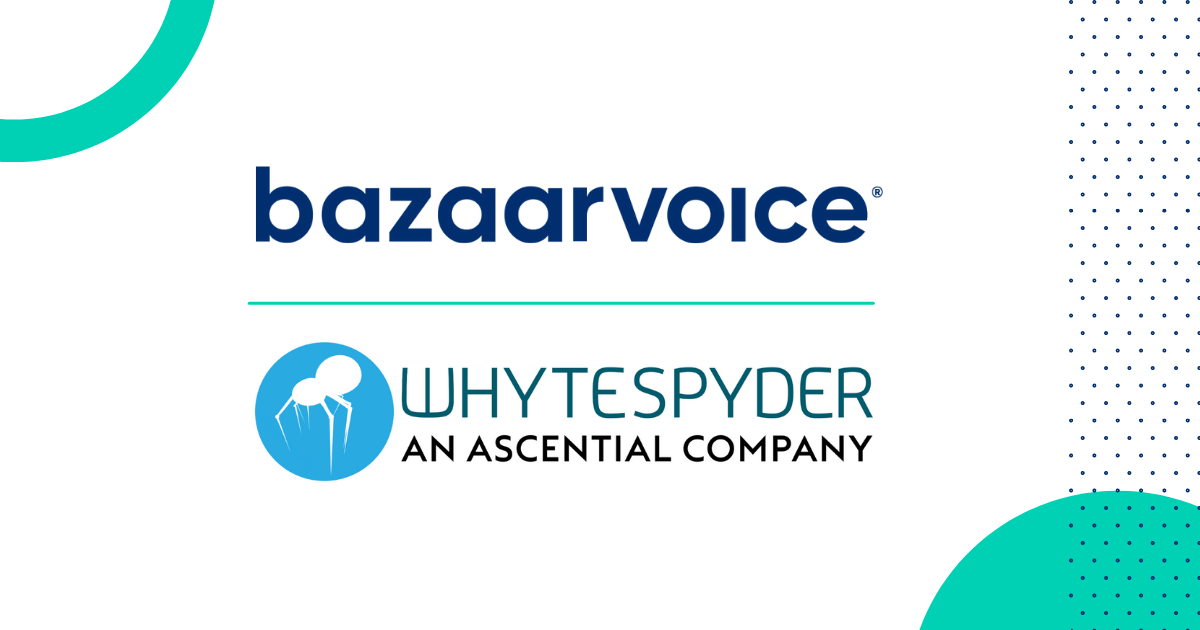 Bazaarvoice is thrilled to announce the addition of another best-in-class partner to our global partner program — a warm, warm welcome to WhyteSpyder! Together, we're going to create smarter shopper experiences for customers and work in tandem to accelerate brand growth.
Our team recently sat down for a conversation with a thought leader from the WhyteSpyder team. Here's what they said!
---
1. First off, can you tell readers your name, role at WhyteSpyder and how you got involved in the organization?
And also, something you're proud of but never get the chance to brag about?
My name is Scott Benedict, and I'm the Vice President of Partnerships for WhyteSpyder. While I've been employed at the company for just a few months, I've been a friend of (and a fan of) WhyteSpyder for many years. I actually first learned about WhyteSpyder at an industry event that I was invited to by a friend at Bazaarvoice!
I was responsible for the UGC [user-generated content] program at SamsClub.com from 2011 to 2014, and had the opportunity to work with and learn from the team at Bazaarvoice during that time.
2. For those who may not be familiar, tell us about WhyteSpyder
Our company was founded in 2010 and is based in Northwest Arkansas, because we believed there was an opportunity to serve the Walmart and Sam'sClub supplier community as they worked to grow and optimize their digital business performance with the world's largest retailer.
Today our company utilizes our powerful proprietary SaaS platform SkuNinja, along with the Walmart experts on our staff to help consumer brands, third-party sellers, and agencies to optimize their content, organic search relevancy, and paid search performance on Walmart.com.
In late 2021, we joined the Ascential Digital Commerce group, which allows us to bring the combined expertise of our sister firms with complementary skills and capabilities to help our clients win online across a number of retail platforms.
3. How did the SkuNinja platform come about and how has it evolved over the years?
SKU Ninja was conceived of as a "practitioner's tool." In other words, it was developed to not only analyze and assess performance opportunities on a client's product detail page (PDP), but enable the user to fix problems with content, imagery, and keywords. We also host rich media modules on the platform.
Although SKU Ninja was originally developed for internal users, we found that it could also be a powerful tool for our clients to manage their own PDPs if they choose.
4. E-commerce has gotten very competitive, how does WhyteSpyder give customers a competitive edge in the marketplace?
The retail market broadly has certainly evolved a great deal during the COVID-19 pandemic, and consumer shopping trends have accelerated toward online and omnichannel shopping experiences far faster than trends would have indicated prior to the Spring of 2020. As the pandemic subsides, omnichannel shopping has moved mainstream, particularly at Walmart.
Now, brands that want to win at Walmart have had to adapt their business strategies to make digital experiences and online marketing more effective to drive their business forward. WhyteSpyder offers our clients the tools, technology, and expertise that is proven to help brands win within Walmart's unique omnichannel platform, offering our clients a competitive advantage that other firms simply can't match.
5. What is the significance of this partnership?
WhyteSpyder and Bazaarvoice offer very complementary services to our clients and we're both committed to enabling best-in-class consumer shopping experiences. We both provide support for elements of the PDP that help consumers make smart and informed purchase decisions while offering our clients and retail partners greater organic search rankings, and ultimately higher purchase conversions.
In short, we both improve the shopping experience for consumers as well as the business results of our clients and our retail partners.
We're so excited for this partnership and we look forward to creating smarter shopping experiences together. Learn more about this exciting partnership here.
---
We're better together. Interested in becoming a Bazaarvoice partner? Apply now!