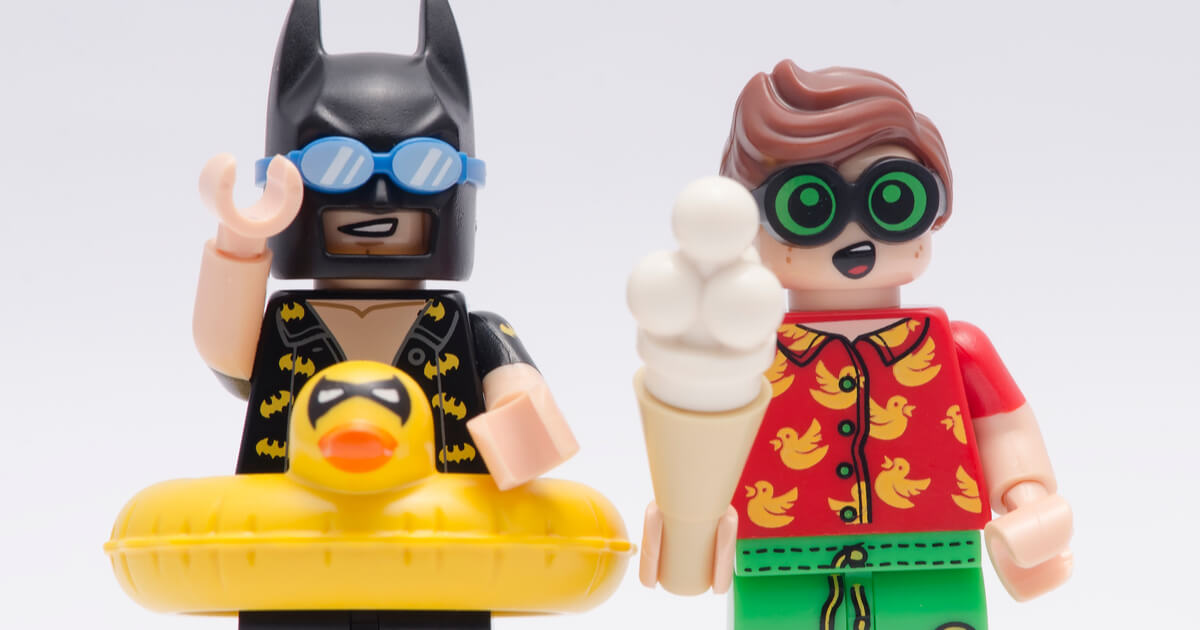 Batman and Robin, Bert and Ernie, Ilana and Abbi, Oprah and Gayle, me and well-written blog posts. What do these duos have in common? They're iconic because of the way they complement and support each other, while winning over their audience. In digital marketing, the dynamic duo currently taking the world by storm is content and commerce — a.k.a. shoppable content.
An ever-evolving trend, it's more important than ever to stay on top of this e-commerce behemoth. Here's how.
Chapters:
---
---
Shoppable content was a new concept a few years ago, but in internet years that might as well be a decade. According to a survey of 250 business execs, 73% of businesses currently sell products and services on social media platforms, which are inherently content-driven. So, there's a good chance your brand is already practicing this marketing tactic (or should be 👀).
As with everything else in the rapidly evolving digital marketplace, you need to continuously innovate if you want to compete. Leaders in the shoppable content space utilize the latest platforms and formats available to them. And in a smarter way than their competition. Whether you're just getting started with shoppable content or you've been doing it from the start, there's plenty to learn about at the intersection of content and commerce.
What is shoppable content?
Shoppable content is a digital image, video, article, catalog, or social media post that consumers can purchase from directly, or click through to purchase on the product page.
If you're behind the shoppable content curve, first of all: it's never too late to catch up. And even if your brand's already producing shoppable content, you should still learn how the technology is evolving.
Let's start by explaining the concept.
Shoppable content is the foundation of social commerce — the selling of products and services on social media platforms. Increasingly, brands are extending their e-commerce business past their websites to their social media channels. Accenture reports that social commerce sales will more than double by 2025, growing, three times as fast as traditional e-commerce.
They predict that millennials and Gen Z will contribute the majority of that growth.
Social media is literally built for content, discovery, and exploration. So it's a perfect fit for consumers to find products that appeal to them, represented by images, videos, testimonials, and descriptions.
But social media isn't the only space for shoppable content. That's the beauty of this conversion magnet. With the right tools (shameless plug), you can place that content on your website, partner sites, and even email. And in this stage of the game, there's more types of content you can enable for shopping than when it first broke onto the scene.
Now, shoppable content has expanded beyond static images in social media feeds and blog posts linked to product pages. We know that works and produces significant results, so instead here's a look at the latest advancements that brands and retailers can explore and use to innovate.
Embrace emerging platforms for shoppable content
Some major social media platforms are just beginning to enable social commerce, even though they've been around for a while. If your brand already has a presence on these platforms, you're well-positioned to start testing shoppable content on them. If you're not already on these channels, now is your chance to arrive prepared.
TikTok
TikTok is one of the fastest-growing social platforms, and it reached 1 billion users in almost half the time that it took Facebook, Instagram, and YouTube. As it continues to roll out more shopping features, this is a channel that e-commerce brands will want to pay attention to.
Millions of active users around the world burn through hours of their day scrolling TikTok. Videos of people dancing, cooking, goofing off, doing voiceovers, putting on makeup, and basically just living their lives. This makes it the perfect environment for customers to discover brands and products they're drawn to in a casual, organic way. There's even a hashtag dedicated to this very activity: #TikTokMadeMeBuyIt, which has billions of views.
TikTok Shopping, a suite of in-app shopping solutions for retail and e-commerce brands, is in its early stages. It has not been widely released as of early 2022 but is available to merchants using Shopify. Similar to Pinterest and Instagram, brands with a TikTok for Business account can link their Shopify product catalog, which will appear in a Shopping tab on their TikTok profile.
Additional partnerships with other e-commerce providers like Square, Wix, Ecwid, and OpenCart are in progress.
Many early TikTok Shopping adopters reflect the most popular content categories, such as beauty and skincare. For example, after Glow Beauty experienced a 600% spike in sales from a viral TikTok post and received a ton of first-time customer traffic from TikTok, they were eager to join the TikTok Shopping beta program.
Twitter
Twitter is joining the social commerce trend and is currently testing and piloting several different shopping features. They include:
A Shop Module where users can purchase from business profiles
Shop button linked with product-based tweets that adds items to an in-app cart
Live Shopping and a Twitter Shopping Manager for merchants
Twitter's commerce tools are only available to a limited number of brands, as of early 2022. But keep an eye on them as the next big platform to offer shoppable content.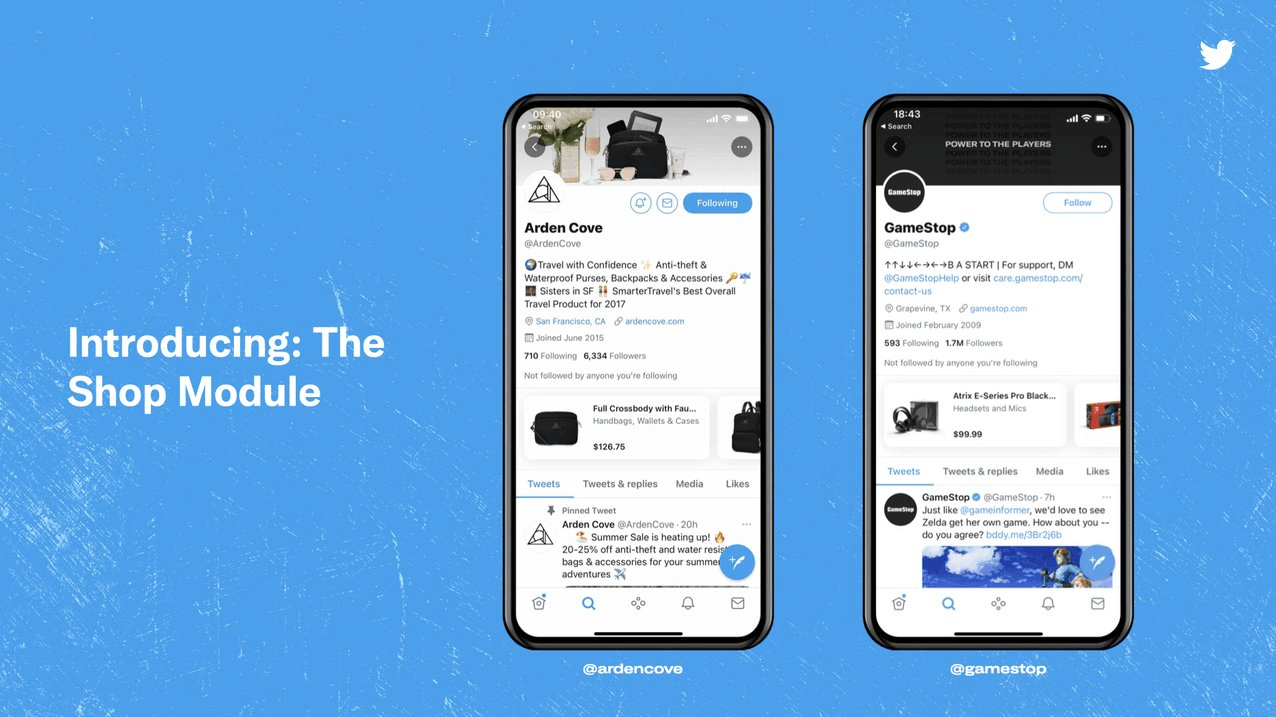 Be prepared for when Twitter expands access to shopping features to more brands by optimizing your Twitter marketing strategy now. Take the advice of successful brands on Twitter by coming up with a brand voice that works for the platform and refining your audience targeting.
Snapchat
Snapchat is another social platform to launch in-app shopping in the past year. With Snapchat's Public Profiles for Businesses, brands can enable a Shop section of their profile where they can upload products for sale.
With Snapchat's Verishop collaboration, users can search for items according to their mood — a fun and inventive way for shoppers to explore outfits, makeup, and more. The category themes include mid-century modern, high glam, and free-spirited. This approach is Snapchat's way of translating the in-person shopping experience for the digital audience.
The key to leveraging Snapchat for shoppable content is to embrace all the features that differentiate the app from its towering competitors. This means creating Snapchat-friendly content using interactive Lenses, artistic Filters, and creative Stories that show tutorials and provide an inside look into your brand. Then, you can complement that content by adding all the products that inspired it in your Snapchat Shop.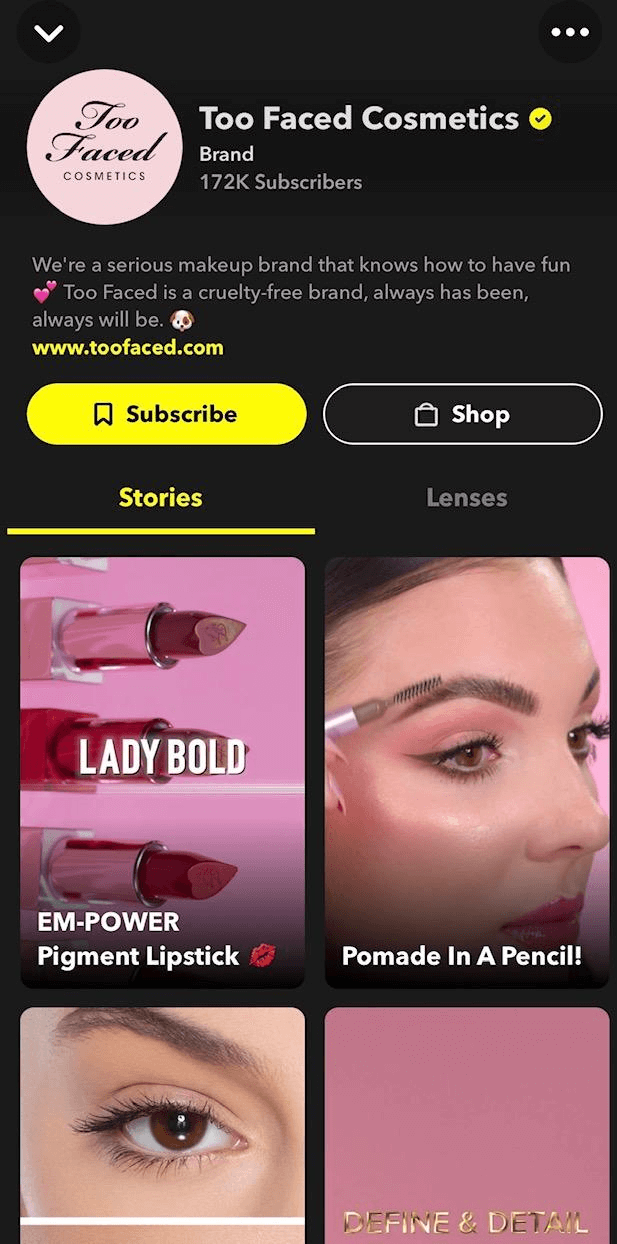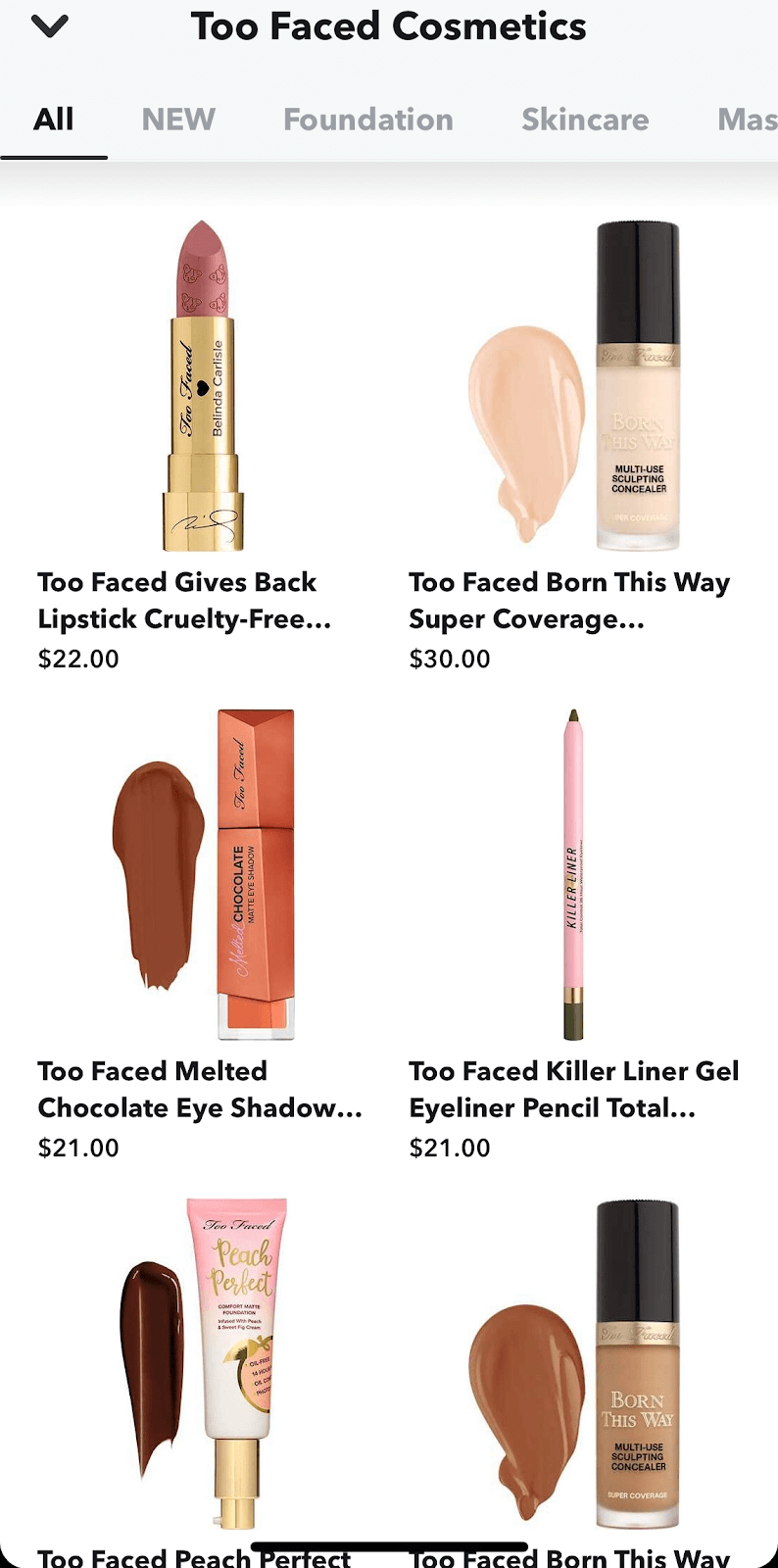 Leverage new social commerce features on established platforms
As social commerce continues to grow, so do the opportunities for more shoppable content on the first platforms to offer it. Your audience is already on these platforms to discover products and shop. 70% of the 7.5 million-member Influenster community say they search for products on legacy social platforms like Instagram and Facebook. Make sure your brand meets them where they are with the content they're looking for.
Shoppable Instagram Reels
Instagram was already a social commerce giant. In the past year, Instagram added shopping functionality to Reels too. This move came soon after TikTok's Shopify partnership announcement as a way to compete with their short-form video rival. Brands and creators that have Instagram Shopping set up can add product tags to their Reels. Then, anyone viewing a Reel with tagged products can tap to learn more. By enabling Instagram Checkout, they can even add-to-cart or buy from within the app.
Reels are a valuable feature for brands that want to level up their social commerce game, and their overall Instagram presence. In addition to displaying Reels within your feed/profile, Instagram may also feature Reels in the Reels tab of the Explore page. And creator partners can also tag your products in their Reels. This last perk presents brands with another way to make the most out of their influencer partnerships.
Brands can use Reels to demo products and show their fun and creative side. Use the music in Reels to your advantage: bust out your best dancing, acting, and performance skills; tell a story and use props and anything else your imagination can concoct.
Facebook Shops
In 2020, Facebook launched Facebook Shops, a way for businesses to have an online storefront on Facebook and Instagram by uploading their product catalog. In 2021, Facebook expanded Shops' promotion to Facebook Marketing and WhatsApp. More recently, Meta (Facebook's parent company) announced they would further extend Shops content to other corners of their platform, including Facebook Groups and News Feeds.
Within Groups, Facebook will recommend relevant products based on the topics and discussions within those communities. On WhatsApp, businesses on Facebook can showcase their entire Shops catalog, and users can interact directly with merchants to ask questions and get more information about products.
Pinterest Shopping
Pinterest has supported and encouraged shoppable content for a while now, making Pins shoppable and allowing brands to upload their product catalogs to sell on Pinterest. Those products can link to their corresponding pages on e-commerce sites or, for U.S.-based businesses, are available to purchase directly in iOS and Android Pinterest apps.
Their newest social commerce feature is Shopping Lists, where all the Product Pins saved by users are stored in one place. Pinners who have Shopping Lists will be notified any time there's an update or price drop on their saved items. According to Pinterest data from May 2021, Pinners are 7x more likely to buy products they've saved.
Make sure you're primed for shoppable content on Pinterest. Apply to be a verified merchant to increase your brand trust and credibility, post a variety of media types, and create content that appeals to the latest trending interests in beauty, food, fashion, home decor, travel, and other categories.
Start livestreaming
Livestreams are the new infomercials. Except younger, cooler, and better connected. Livestream shopping first exploded in Asia, and the trend is traveling quickly to other parts of the world. Since other major markets like the U.S. are still figuring it out, this is a great time to get in on it early. The U.S. livestream shopping market is expected to grow from $11 billion to $25 billion by 2023. Woof.
Facebook, Instagram, and TikTok currently dominate the livestreaming sector of social media. YouTube, which seems like a natural fit, also has plans in the works to offer livestream shopping.
One brand to experience the power of live shopping on Instagram is Clinique. For a livestream event, the makeup brand offered Instagram-exclusive makeup kits, including a very limited, in-demand product. This repurposed product launch accounted for 85% of orders placed through Instagram and Facebook during, and right after, the livestream. This was a 7x faster product launch than what's usual for Clinique.
Social media livestreams offer brands the opportunity to leverage partnerships with influencers who have large followings. For example, after seeing more success than anticipated with their first TikTok shopping livestream, Walmart partnered with TikTok creator Gabby Morrison, who has millions of followers, to host another livestream.
Livestream beyond social
Social platforms aren't the only way to host livestreams. The Canadian footwear brand Aldo debuted livestream shopping on their website that achieved great success, including 17,000 pageviews, a 12-minute average time on site, and a 308% engagement rate. Aldo recruited two exciting co-hosts — a celebrity stylist and an L.A. entertainer — for the live shopping event. Attendees could shop the 2021 spring collection right within the livestream.
Adweek reports that more retailers will be following Aldo's example and hosting livestreams on their own websites, with the help of new tech and startups "that have cropped up to provide the infrastructure for these efforts."
To do livestreaming right, first you need a likable, knowledgeable, and relatable host. They need to be able to speak authoritatively about products and quickly and thoroughly answer questions submitted by viewers during the livestream. Cross-promoting livestreams on other channels is also key, as are exclusive incentives for livestream attendees, like discounts and bonus offers.
Distinguish your shoppable content with augmented reality
Using a digital camera, AR technology can "yes-and" reality by adding images, sounds, and animation to what appears in real time. This is one of the most innovative and cutting-edge ways brands can set their shoppable content apart.
AR marketing is particularly effective for beauty and apparel brands, and many have seen success in offering virtual try-ons. L'Oreal and Meta have combined forces with AR tech providers to bring virtual try-ons to Instagram.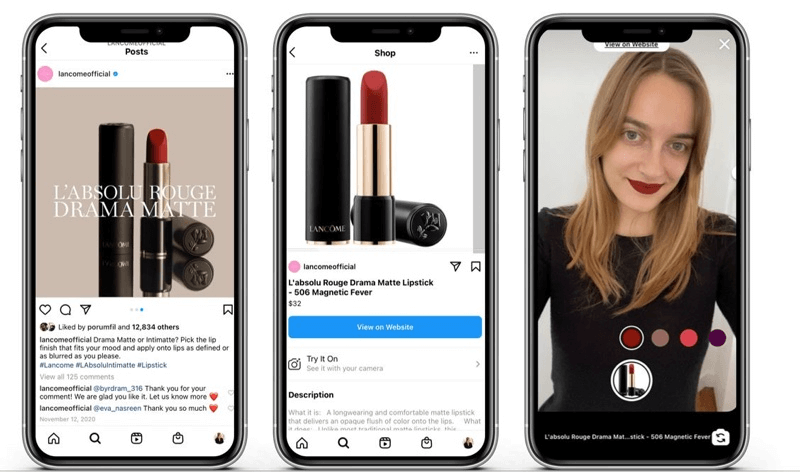 Snapchat is going all-in on AR. The app is leveraging their trademark filters — dubbed Lenses — that can give you animal ears or turn you into an anime character to carve their niche in shoppable content. Elevating their social commerce capabilities with AR features is how they'll continue to compete with TikTok, Instagram, and Facebook, which have much bigger audiences.
In an interview with Bloomberg, Jeremi Gorman, chief business officer of Snap, said that AR's ability to "change consumer habits" coupled with the "acceleration of e-commerce" is a winning combination. She references Snapchat's partnerships with Ulta Beauty and Mac for virtual makeup try-ons, which is a more appealing — and sanitary — alternative to trying on the same thing other people used before you in a physical setting. Snapchat also hopes to prove that virtual try-ons reduce product returns as more brands implement the tactic.
Gorman says Snapchat's focus on AR presents brands with realistic and valuable business use cases. She points to the scan feature of Snapchat that can process an image of a plant, animal, or food, for example, and produce relevant information and product recommendations.
Brands can also invest in proprietary AR, like Home Depot's Project Color app to test paint colors. Or there's Target's See It In Your Space tool to visualize home furniture and decor.
How to add shoppable content to your e-commerce site
Shoppable content can go way beyond the add-to-cart and buy now buttons on your e-commerce website. Step it up with shoppable content on your blog, product pages, and anywhere else that makes sense.
Longform blog content is essential for improving SEO performance, but you can further optimize that content for conversions by adding shoppable images, multimedia, and customer reviews. This will provide a more realistic representation of your products and give shoppers the ability to add-to-cart or buy now with one click.
With Bazaarvoice Galleries, you can upgrade your home page, product pages, or separate gallery pages with beautiful shoppable image and video displays of your products sourced from influencers, shoppers on social media, and your own content.
By bringing user-generated content (UGC) from social media to shoppable website galleries, apparel brand Quiz increased time on site by 276%, average order value by 23%, and conversion rates by 154%.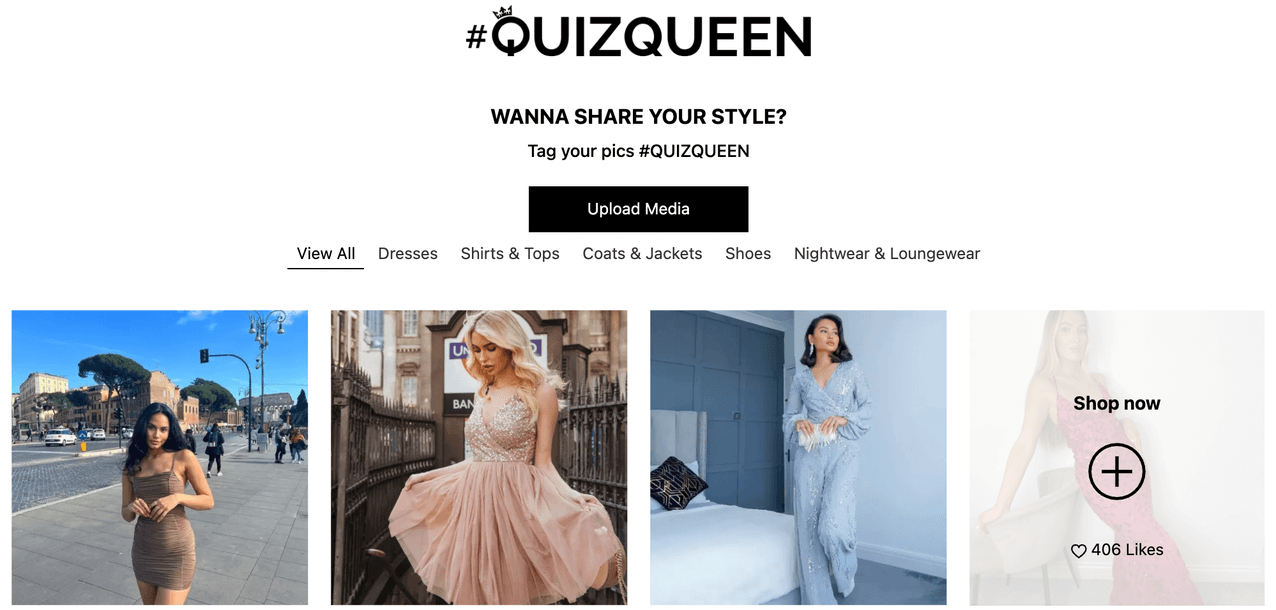 Customize and curate your shoppable content
It's not enough just to tag your content with products on your social channels and call it a day. Give that content a fighting chance by planning it strategically.
Carefully select which products you want to showcase in shoppable posts and catalogs. Focus on lower-priced items, or at least offer a range of prices, as shoppers are more likely to make smaller in-app purchases and take more time to research higher-priced items.
You can group your products together in categories on Facebook and Instagram Shops. Curate your product collections based on the types of products that are driving sales and social engagement, as well as what aligns with your product marketing strategy. If certain products aren't selling that well in-store or on your e-commerce site, try selling them on social platforms.
You can also organize collections based on what's in season, what's trending, new products, and sales you're promoting.
A proven way to increase engagement, reach, and conversions is to leverage UGC. Whether it's content on your social media or website, UGC will go the extra mile because it's created by your customers, many of whom have become brand advocates. They're sharing their experiences with your brand because it makes them happy or proud.
Repurpose the best images and videos created by your customers, turning them into shoppable content. Repost it (with permission) on your social media accounts and website.
Test and measure your shoppable content
There's many types of shoppable content and many platforms on which to distribute it. But that doesn't mean you have to use every single one. Create different forms and try different channels until you find which delivers you the most value.
Measure the performance of your shoppable content based on your goals. What's driving the most conversions, attracting the most new customers, and bringing higher average order values? There's an easy way to find out.
---
You can check out the rest of our Long Read content here for more social commerce marketing strategies, tips, and insights.