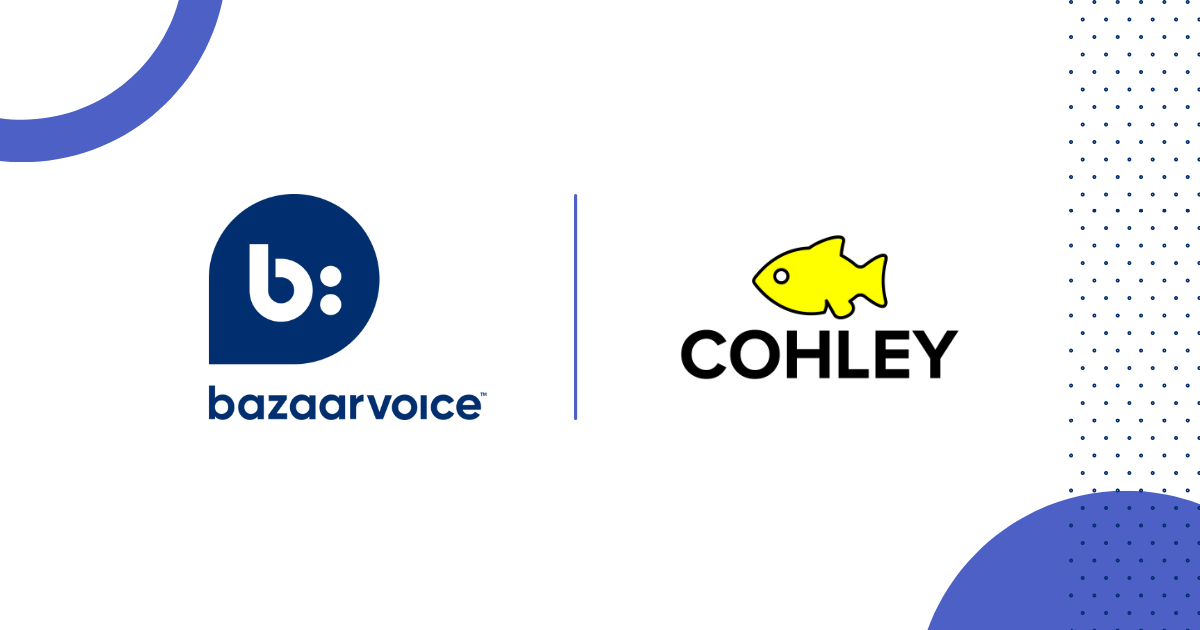 Bazaarvoice is thrilled to announce the addition of another best-in-class partner to our global partner program – a warm welcome to Cohley! This exciting partnership will enable brands to seamlessly syndicate authentic user-generated content to over 1,750 retailers in the Bazaarvoice Network.
Our team recently sat down for a conversation with a thought leader from the Cohley team. Here's what they said!
---
First off, can you tell readers your name, role at Cohley and how you got involved in the organization? And also, something you're proud of but never get the chance to brag about
My name is Casey Murray. I'm the Director of Partnerships at Cohley. I first learned about Cohley after being introduced to the co-founders, Tom Logan and Erik Graber, in February of 2020. From our first conversation, I was brought in on the mission to change the way brands generate and test content to help grow their businesses. I officially joined the Cohley team in January of 2021 to build up the partnerships function.
Something I'm proud of but don't get the chance to brag about… I'm not much of the bragging type, but I wrote an album during lockdown via virtual collaborations with other musicians. Will it be released? TBD.
For those who may not be familiar, tell us about Cohley
Cohley is a content generation and testing platform built for marketers looking to establish an authentic connection with both targeted new consumers and loyal customers. In today's marketing environment, marketers need more content than ever, and even more data to back their decisions about how/when it's used.
Cohley is changing the way that brands and agencies have traditionally generated and tested content. We connect them with a diverse and vast network of creators, photographers, videographers, and product reviewers to fulfill each and every marketing channel's ever-growing content needs. Whether the goal is to improve conversion rates on e-commerce sites, click through rates in email or SMS, or improve engagement in ads and social — Cohley has you covered with its content generation and testing capabilities.
How do you think user-generated content helps brands be competitive in today's digital first landscape?
Today's consumer demands authentic and relatable content, from real people, to establish trust in a brand and its products. First-time and life-long shoppers, they all rely on UGC [user-generated content] to make a more informed purchasing decision. UGC needs to be present in the start, middle, and end of their buyer's journey to establish desired connections and conversions. Brands that actively generate, monitor, display, and test UGC in key marketing channels (website, ads, email, SMS, Social) will always have a leg up on their competition.
Why did you decide to partner with Bazaarvoice?
After countless integration requests from mutual customers it was an absolute no-brainer! Bazaarvoice has been a pioneer and trailblazer for nearly two decades.
We're so pumped to integrate and officially partner with Bazaarvoice to activate our mutual customers' content to their site and associated retailer sites through the Bazaarvoice Network.
What does this partnership with Bazaarvoice mean to your business?
By establishing an integration partnership, our mutual customers can generate custom content (product reviews and visual UGC) at scale, and seamlessly send them to the Bazaarvoice Network to be displayed where their shoppers shop.
Cohley and our hundreds of customers know that content generation and activation is a never ending process. This integration partnership will be paramount for merchants looking to drive traffic, conversion, and sales, and make more informed content decisions
We're so excited for this partnership and we look forward to creating smarter shopping experiences together. Learn more here.
---
We're better together. Interested in becoming a Bazaarvoice partner? Apply now.