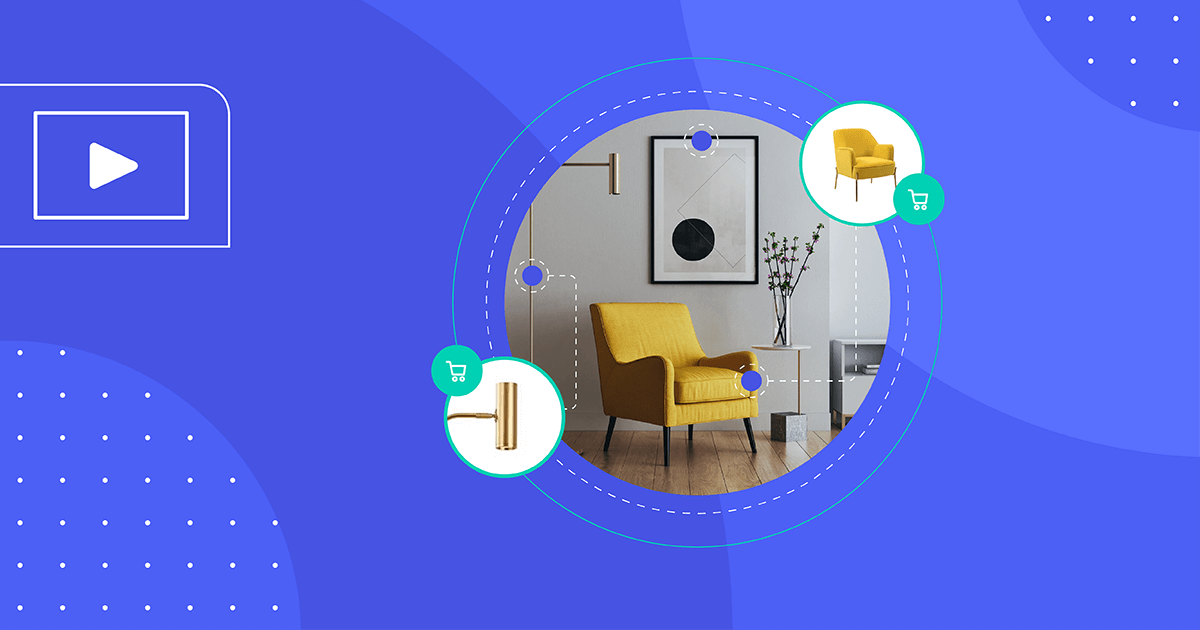 The social commerce renaissance continues. Global daily time spent on social networking continues to tick up: the endless scrolling, constantly hitting refresh, living vicariously through all of our friends as we wonder how they can afford to travel so much, etc.
One nice side effect to this, though — aside from the constant influx of quality memes — is the sustained rise of social commerce. You saw your friend wearing that dress in Italy and now you want to wear that same dress so you can pretend you're in Italy instead of just at brunch.
Given that social commerce sales in the U.S. alone are expected to reach $145 billion by 2028, it's time to start your social commerce strategy or risk being left behind in the middle ages of brand strategy.
Using the latest research and our unique insights, we've put together everything you need to know about the state of social commerce today.
Chapters:
---
---
A lot of things in life get planned around shopping: weekends, vacations, back-to-school prep, and holidays, to name a few. We wander around shopping districts, malls, and neighborhood markets to window shop and find our next favorite thing.
While shopping can be a chore, it can also be an adventure — one that has a strong social component. We ask salespeople and our shopping companions for their opinions on a daring pair of sunglasses, the right shade of paint for the living room, or a gift for someone who's difficult to shop for. Those aren't the only places we discover products anymore, however.
70% of shoppers discover products on Facebook and Instagram

According to our research
"Pandemic-inspired shopping behaviors are sticking around", according to our Shopper Experience Index. In response, brands continue to turn to social commerce to bring the fun of shopping onto digital platforms. Scrolling is the new window shopping, and it gives brands a new place to experiment to surprise and delight their customers.
For the right strategy, you need to tap into the best available data. Bazaarvoice is fortunate to have a mix of behavioral data, research, and consumer insights sourced from the more than 7.5 million-strong community of shoppers on the Influenster App. What do they have to say about the state of things?
Of those surveyed most recently, "50% agree or strongly agree that social media plays an active role in influencing the products that they choose to buy (only 24% disagree!)", and "one in two shoppers have bought via social media in the past year".
As social commerce increases, brands are experimenting with new ways to present content across social and expanding to new channels. Certain categories of shopping continue to shift from in-store to online.
But before we delve any deeper, what actually is social commerce?
What is social commerce?
Social commerce is the buying and selling of products and services through shoppable content on social media and everywhere social media reaches.
With social commerce, users can shop directly through images and videos that showcase products without ever leaving the source. Let's say you're scrolling through Instagram, and you see an ad in which a model or influencer is wearing a new dress and accessories. You can tap on any of the displayed items for sale and be sent directly to the checkout page without ever leaving the app. The experience looks like this:
But social commerce doesn't just influencers shoppers in-app. Or even on social media at all. Social commerce now influencers shoppers everywhere it's displayed, at any touchpoint on the buying journey — on product pages, in emails, and even in-store.
The goal of social commerce is for brands to reach new audiences and let them make purchases with minimal friction. This, in turn, increases add-to-cart rate, sales, and engagement on social platforms and wherever social content lives.
Eight out of 10 respondents to our Shopper Experience Index have increased their time on social over the last year — and that has affected their shopping habits. "Three in four say their shopping behavior has been very influenced by social media".
Discovery is still the main drive: "65% use it for inspiration, 61% shop when they stumble across something mid-feed, and 60% shop directly from recommendations or links from influencers".
Why social commerce works
Two words: social proof. Social proof is the concept of using the decisions our peers have already made to make our own decisions.
For example, if you're walking downtown in a city and see a busy restaurant, you're likely to believe they serve great food. It wouldn't be full otherwise, right? Or maybe you're mindlessly scrolling through Instagram, and you see someone wearing a nice shirt. They look great. You decide you want to look great in this shirt, too. You buy it.
And there's the primary benefit of social commerce: it exposes brands to new customers and customers to new brands in a casual, engaging setting (that digital window shopping). Shoppers can explore products without even intending to shop in the first place.
Social commerce reaches consumers on the platforms they already use instead of waiting for consumers to seek them out, enhancing the customer experience. It's particularly effective on Instagram because, "you don't begin your journey with a search, you begin with a scroll," says Curalate co-founder Apu Gupta.
This is the kind of online shopping experience consumers crave — one out of two shoppers are buying on social networks regularly, and it doesn't show any signs of slowing down. Statista estimates that 2023 sales via social media platforms globally will add up to nearly $1.3 billion.
Extending the reach of social commerce
While social commerce starts on social media platforms, it doesn't have to end there. Brands can take the concept a step further by syndicating shoppable social media posts to other channels, including product pages, blogs, and email newsletters. This offers more opportunities for customers to discover the engaging content that's shared and created within brands' social communities. Bringing social content to e-commerce has resulted in:
The key is making everything as frictionless as possible. 54% of shoppers say they'd be more likely to buy a product on social media if they could click the post and get product info directly there.
Bazaarvoice's social commerce tools are what make it possible for brands to distribute their shoppable social content on other sales channels, lowering friction across the brand experience. These tools can convert any image or video into one or multiple product pages.
With this function, shoppers can hover over any of the products featured in a social post to learn more about them and click through to purchase. Brands can then use this media to post on various different channels.
Case study: River Island
International apparel brand River Island used the Bazaarvoice Galleries tool to share user-generated content (UGC) from social channels on its website, resulting in a 184% conversion lift and a 45% average order value increase.
River Island was able to accumulate a ton of quality UGC by encouraging its customers to post their purchases using branded hashtags and tagging River Island on social media. Then, it turned that UGC into shoppable images to display on its website, including its homepage, product pages, and a full-page gallery.
River Island then took its social commerce campaign a step further, integrating a wish list feature that enabled shoppers to save items without interrupting their browsing.
How to leverage social commerce
Boost your own brand's social commerce strategy with these tactics to simultaneously attract customers and drive social conversions.
Make social shoppable
The first step in social commerce is to convert social content that features your brand's products into shoppable images and videos. The top social commerce platforms are Instagram, Facebook, Pinterest, and TikTok. The newest platform in the space, TikTok, "will gain 9.6 million social buyers in 2023, more than the net increase of Facebook, Instagram, and Pinterest combined", per eMarketer's recent report.
Here's a quick overview of how social shopping works on each platform.
According to Pinterest, shoppers are willing to spend "80% more per month" on their platform compared to other social commerce platforms.
And while these four might be the top platforms shoppers turn to, they aren't the only ones! Snapchat and YouTube both have their own place in the realm of social shopping.
Snapchat partnered with IPG MAGNA to conduct their own research on The Future of Social Commerce, surveying around 8,000 consumers across four different markets (the UK, Germany, the US, and Saudi Arabia). Their findings bolster other social commerce research – social media is key for product discovery, shoppers turn to their networks to aid in discovery, and social makes shopping easier and more convenient.
What Snapchat adds to the discussion is the potential around augmented reality (AR) in shopping. According to their research, "2 out of 3 consumers said they would be even less likely to shop in-store if they got to virtually experience the product before purchasing it." Regular Snapchatters were especially enthusiastic about this option.
Snapchat: This year Snapchat launched AR Enterprise Services (ARES) to help brands take advantage of AR and AI shopping options. This is in addition to their Shopping Suite, which allows consumers to virtually try-on products in real time and offers tools like a Fit Finder
YouTube: YouTube refocused its efforts on creators this year, discontinuing its beta program for creators to earn money by tagging products from third-party brands in videos with shoppable links, instead rolling out its affiliate program to all creators
The focus on creator-curated products is significant, since eMarketer's Insider Intelligence reported that, "a quarter of US consumers start their search on YouTube when shopping online, more than on Instagram or TikTok, per Jungle Scout."
Engage with shoppers
The point of social commerce is to facilitate a shopping experience in a space where people are already connecting and interacting. It's not enough just to upload your product catalog and post shoppable content. You should work to enhance the digital shopping experience by engaging your current and potential audience in fun, dynamic ways.
Social media users love new app features and the brands that know how to use them in interesting ways. Brands can easily engage with fans by playing with Instagram Polls, Reels, Stories, and Questions in their content strategy to captivate and entice followers. These are fun ways to get followers to interact with content while simultaneously getting feedback about products. Livestream shopping is another exciting new addition to social commerce platforms, including Instagram, Facebook, Pinterest, and TikTok.
With Bazaarvoice's Like2Buy feature, brands can contact shoppers who clicked the "link in bio" button but didn't convert. This way, you can engage them after they've browsed your Instagram Shop with a thoughtful retargeting strategy. With this tool, brands can go a step further and create a lookalike audience based on their most engaged followers. That's a surefire way to grow your customer base!
Focus on social content, not just platforms
Social commerce isn't just limited to social media, contrary to its most common definition. Sales from social media only account for 4.4% of all e-commerce sales in the U.S., but its influence reaches beyond the confines of our feeds.
Brands can and should use the content created within their social media networks on their other sales channels, like e-commerce websites, emails, blog posts, and third-party retail sites. Tools like Bazaarvoice Galleries feed social content in beautiful displays on home pages, product pages, dedicated gallery pages, or anywhere else on a brand's website.
By bringing photos and videos from social to website visitors and email subscribers, brands can share the social commerce experience with a wider audience and reduce friction across the brand experience. As a bonus, this repurposed content lets your team work smarter — saving the time and resources required to create fresh content for multiple channels.
Let users create your content
What's the secret to social commerce success? User-generated content, or UGC. Leverage UGC to attract shoppers with realistic, inspiring representations of your brand and products. While social commerce doesn't always have to include UGC, it's a powerful approach.
UGC is what makes social commerce more social, interactive, and authentic than traditional advertising. It also lends the authority of social proof: your real-life customers become the face of the brand and provide free marketing material out of genuine enthusiasm for your products.
UGC creates organic engagement when the user tags a brand, uses a branded hashtag, posts comments, engages with a poll, etc. Then the brand can reciprocate with a repost, which it can use to sell products and syndicate on its website.
You don't have to wait around for customers to post glowing content about your brand on Instagram either — you can proactively work with social media influencers. According to our recent Influenster survey, 60% of respondents said they shop from influencer recommendations. How often?
69% sometimes
18% all the time
Only 13% rarely
And if you're wondering what kind of influencers those surveyed say they shop from, the breakdown is pretty fascinating:
35% from people they consider "subject-matter experts"
25% from family and friends' recommendations
23% from social media stars
13% from none of them
And only 5% from celebrities
There's a reason more and more brands are leveraging influencer marketing and even increasing their budgets for it. Influencer Marketing Hub found that 67% of those respondents that budget for influencer marketing intend to increase their influencer marketing budget over 2023 in its benchmark report.
Tapping into the reach of the right influencer or influencers and their highly engaged communities can bring a good return on investment, especially compared to what it might cost to reach the same audience via traditional advertising on the same platform.
Pro tip: Calculate the impact UGC can have on your ROI right here.
Which platforms should your brand concentrate on? Based on Influencer Marketing Hub's 2023 Benchmark Report, TikTok is now the most popular platform for influencer marketing (56%), with Instagram right on its heels (51%) and Facebook (42%) and YouTube (38%) following.
Find success with sampling
While influencers are more often paid directly now than through product samples, around a third of brands still do the latter. This works in favor of brands since the smaller influencers require less compensation but have higher engagement rates.
Sampling programs streamlines the process of getting brand products into the hands of eager influencers. They then return the favor by producing valuable content.
Beyond visual media, reviews are another powerful form of UGC to implement in social commerce strategies. The likelihood of a shopper purchasing a product with five reviews increases by 270% than one without any reviews. Post reviews alongside social commerce content to boost your impact even further on your social media, emails, or website or by tagging or linking the corresponding products so followers can purchase instantly.
Boost social commerce marketing with ads
Promoting UGC with some advertising dollars can catapult your social commerce efforts. Paid ads that incorporate UGC get high conversions, and based on Instagram and Facebook's algorithm, ads with high engagement like UGC get more exposure. Parachute, a bedding e-commerce company, increased its click-through rate by 35% and lowered its cost-per-click rate by 60% with UGC advertising.
Instagram lets you turn any post into an ad and choose your target audience by promoting it. The more advanced Ads Manager enables you to create ads across platforms and apps, including Facebook, Instagram, and Messenger, for mobile or desktop.
Pinterest has robust advertising capabilities, so you can promote image, product, and video Pins with direct links to checkout pages. TikTok offers a variety of advertising options, starting with the more standard in-feed ads and video shopping ads common on other platforms. TikTok also offers more tailored options, like the Creator Marketplace, which can match brands with the right creator to collaborate with, or the Creative Exchange, which provides end-to-end professional creative support.
You can handily monitor your return on investment, too, since each ad platform also includes analytics for thorough performance tracking.
Use customer behavior insights
Conducting regular reporting using customer insights gives companies and brands a competitive advantage. Be sure you're routinely analyzing engagement metrics, feedback, and reviews from shoppers to optimize the social commerce experience you're providing.
For those wanting to go even further, Social Analytics allows brands to to understand what their shoppers find most engaging, from visual themes to specific content types.
Discovering what consumers are saying and how they feel about products can inform and improve product descriptions and messaging for social commerce content. Digging into the popularity of products based on views, conversions, and reviews can determine which products to focus on for your social commerce strategy.
From a top-level standpoint, these insights can also help brands tweak the products themselves and develop new ones.
Social commerce brand examples
See it in action: these social commerce brand examples show how to combine UGC with social commerce to make shoppable posts that drive conversions.
MAM
During the pandemic, MAM UK found themselves with the same challenge facing many brands: creating an integrated shopping experience for their customers that brought everything brick-and-mortar online. Then as the pandemic wore on, translating back to a more intertwined dual experience. Today, many customers do their research online before buying offline (ROBO) giving UGC increased power in the shopping experience.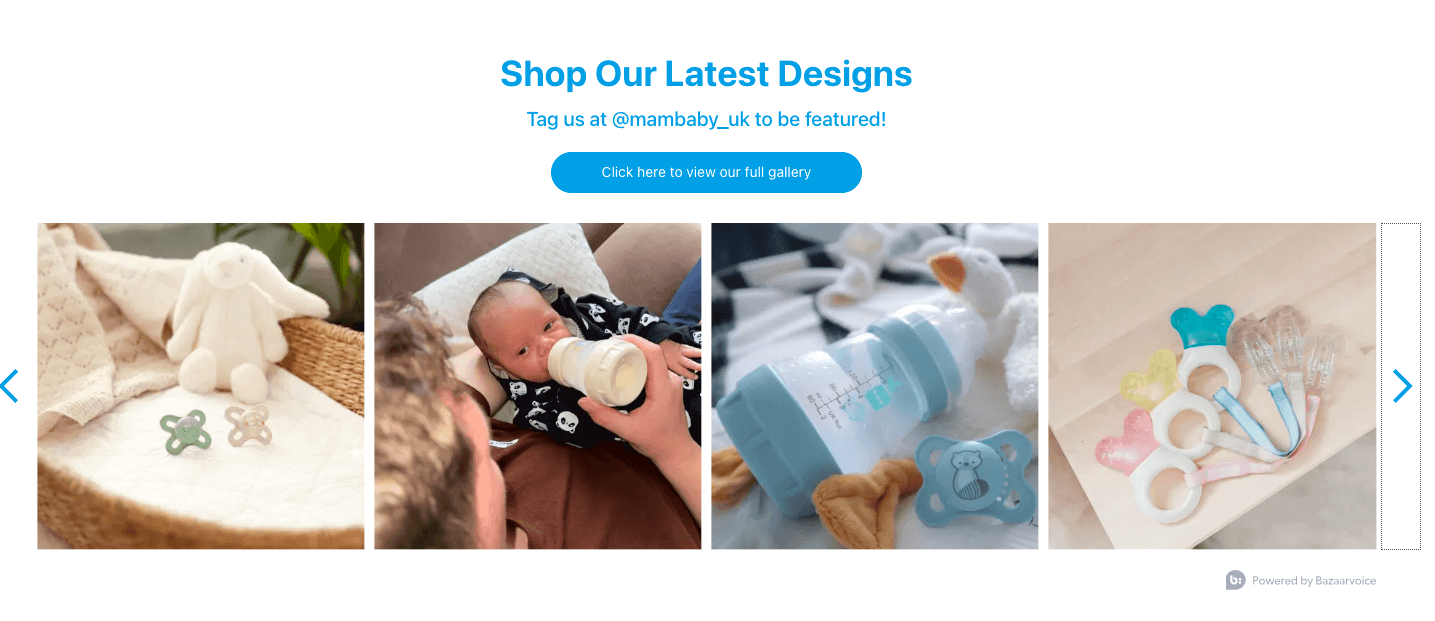 MAM implemented Bazaarvoice Social Commerce with Galleries and Like2Buy — and that social proof ultimately doubled their traffic and conversion rates. In hard numbers, that turned out to be a 108% increase in conversion rate and a 58% increase in average order value. Using Like2Buy alone drove site visits up by 157% and generated an extra £96k in yearly revenue.
All of this proved the power of UGC in the social shopping experience for these premium baby products.
Villeroy & Boch
A lot of lifestyle brands share the challenge of wanting to show off how their products will actually look inside of consumer homes and how they will realistically be used. UGC is an impactful, authentic way to do this that audiences connect with more than polished campaigns.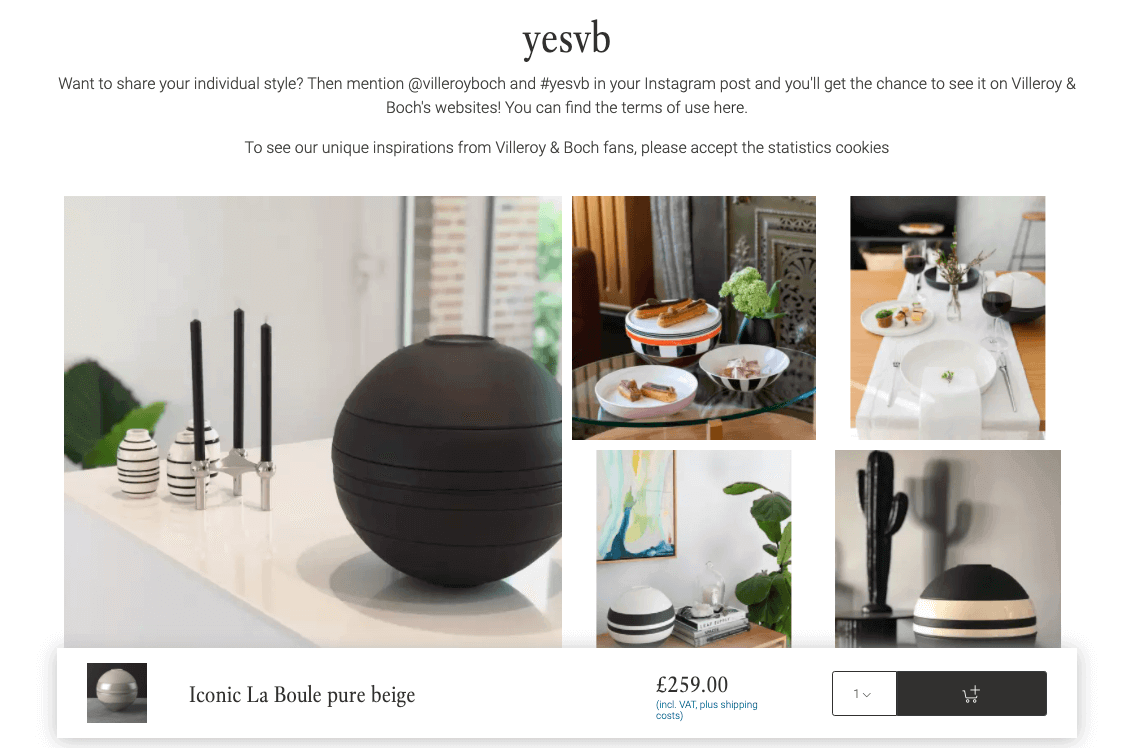 With an abundance of UGC shared by consumers across social that they were already capturing, Villeroy & Boch moved to integrate it into their online store. Bazaarvoice Galleries allowed them to highlight this content across newsletters and hompages in a way that showcased how consumers were using and styling their ceramic goods.
This ultimately led to a 275% increase in conversion rate among users who engaged with UGC!
Rael
Personal-care and beauty brand Rael galvanized its target audience to spread UGC far and wide across social media with sample products from a new skincare line. It sent product samples to Bazaarvoice's Influenster community to generate reviews and social content to support new product launches. The campaign resulted in 3,000 customer reviews and 9.8 million impressions from thousands of social posts, shares, likes, and comments.
The responses from the sample recipients also gave Rael instrumental insight into its marketing strategy. It identified a product it previously underestimated, which generated lots of positive reviews, and on that basis, it made it a focus of its future marketing.
Rael is now also equipped with a bank of UGC from a sampling campaign to repurpose across its marketing channels.
DSW
One challenge major shoe retailer DSW faces is showing how its products look in the real world when customers can't physically try them on — a common problem in e-commerce. The solution is where UGC comes in.
To procure a large volume of quality UGC, DSW launched a hashtag campaign prompting its audience to tag how they wear their DSW fashions with #MyDSW. Showcasing this content on its website and social media resulted in a 2x conversion lift.
Getting started with social commerce
What traditional e-commerce lacks in the shopping experience, social commerce makes up for in spades. Shoppers are the stars of social commerce marketing and inspire other real people to make enthusiastic, confident purchases.
Here's our best advice for getting started with social commerce:
Turn social media channels into virtual storefronts. Upload product catalogs to Instagram, Facebook, Pinterest — and have some fun experimenting with how you present your products on TikTok!
Leverage UGC to get the most mileage from social commerce content. Create shoppable media using content from followers and influencers
Social commerce extends beyond social media. Spread shoppable social content to as many marketing channels as possible, including your website pages and email campaigns
Listen to how consumers are responding to social commerce. Insights from social interactions and reviews can help you develop strategies and products
Put the social in social commerce. Use shoppable social media content to engage with followers by reposting their content, encouraging questions and comments, using interactive app features, and retargeting potential customers
Don't forget TikTok. If your brand isn't already on TikTok, now's the time! It's quickly grown to be the most popular channel for influencer marketing and is outpacing its predecessors for social commerce, too
Before all of that though, the first step is finding the right social commerce provider to work with. You don't have to go it alone. The right provider will save you time, stress, and money. Below are some example questions to help you vet providers:
These are just a select view of the questions we recommend asking but you can find more here. Or if you've already started with social commerce and want to streamline your efforts, Bazaarvoice's social publishing tools make social commerce easy. Brands and retailers can schedule and track content all in one place for efficient, streamlined execution that gives you everything you need to win on social.
Request a demo