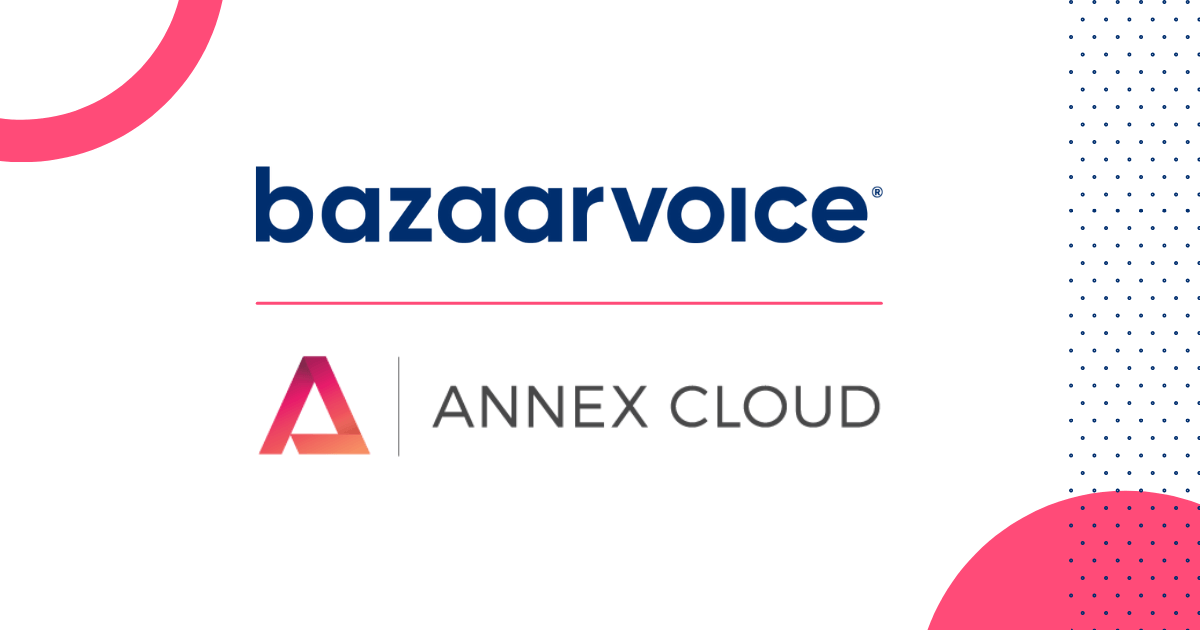 Bazaarvoice is thrilled to announce the addition of another best-in-class partner to our global partner program – a warm welcome to Annex Cloud! Together we're going to create smarter shopper experiences and accelerate brand growth.
Our team recently sat down for a conversation with a thought leader from the Annex Cloud team. Here's what he said!
---
First off, can you tell readers your name, role at Annex Cloud and how you got involved in the organization? And also, something you're proud of but never get the chance to brag about.
My name is Al Lalani, Co-founder and CEO. After realizing that a brand's social customers are often their best customers, I co-founded Annex Cloud in 2011, starting in the social space knowing brands needed to be engaging customers where they are to be successful.
Over the years, with our commitment to over delivering for customers, we added more and more traditional loyalty components. The result is the Loyalty Experience Platform™, the most modular and feature-rich solution available today.
I can't say enough about our amazing team. Our success is really a direct result of our people, their passion, and their hyper-vigilance around our customers and their unique needs.
For those that are not familiar, tell us about Annex Cloud
For over 10 years, Annex Cloud has been the worldwide leader in technology and service solutions that transform customer loyalty experiences for organizations, extending valued customer engagements, ultimately making beloved brands.
Annex Cloud's Loyalty Experience Platform™ collects first-party data at scale to build a unified 360-degree customer profile that allows brands to create unique, timely, relevant experiences across every touchpoint. In turn, keeping customers engaged across the entire journey.
In such a competitive marketplace, why is customer loyalty important?
As brands have shifted to an online presence faster than ever before, knowing and rewarding your most loyal customers is essential to an effective digital marketing strategy. Loyalty is now an integral part of a brand's growth strategy. Loyalty programs are proven to increase average order value, repeat purchase rate, customer lifetime value — even new customer acquisition.
Loyal customers are highly engaged, write in-depth reviews, and more frequently post content that improves trust and increases conversions.
What is the significance of this partnership?
Partnering with Bazaarvoice will allow brands to build true value-based relationships with their customers, to deliver unique, relevant experiences that build advocacy. Loyal customers post higher-caliber reviews, share more content, and refer others more often. So proactively rewarding them for these actions gives other customers valuable insights, while simultaneously building a powerful advocacy engine that drives higher conversions.
This partnership will provide Bazaarvoice clients with a seamless, omnichannel solution for giving consumers the social proof they need, and at the same time deliver unique one-to-one shopper experiences that build lasting customer bonds and drive growth.
How will the joint solution work?
The partnership combines Annex Cloud's best-in-class loyalty software with Bazaarvoice's industry-leading user-generated content (UGC) solutions. This combination enables brands to engage customers across the entire lifecycle, generate and amplify more conversion-boosting content, and reward loyal customers for sharing their reviews, answers, and recommendations to accelerate growth.
The Loyalty platform is integrated with Bazaarvoice Ratings & Reviews, Visual & Social Content, Questions & Answers, Social Commerce, and Sampling tools. Brands can now influence buying behaviors and engagement with incentives. All loyalty data is passed bi-directionally to the various conversion tools.
Additional modules can be added to your loyalty solution, including Refer-a-Friend, Influencer Marketing, Coupons & Vouchers, Gift Cards, Gamification, and Contests & Sweepstakes.
We're so excited for this partnership and we look forward to creating impactful UGC experiences together and establishing brands beloved by the world over. Learn more here.
---
We're better together. Interested in becoming a Bazaarvoice partner? Apply now.