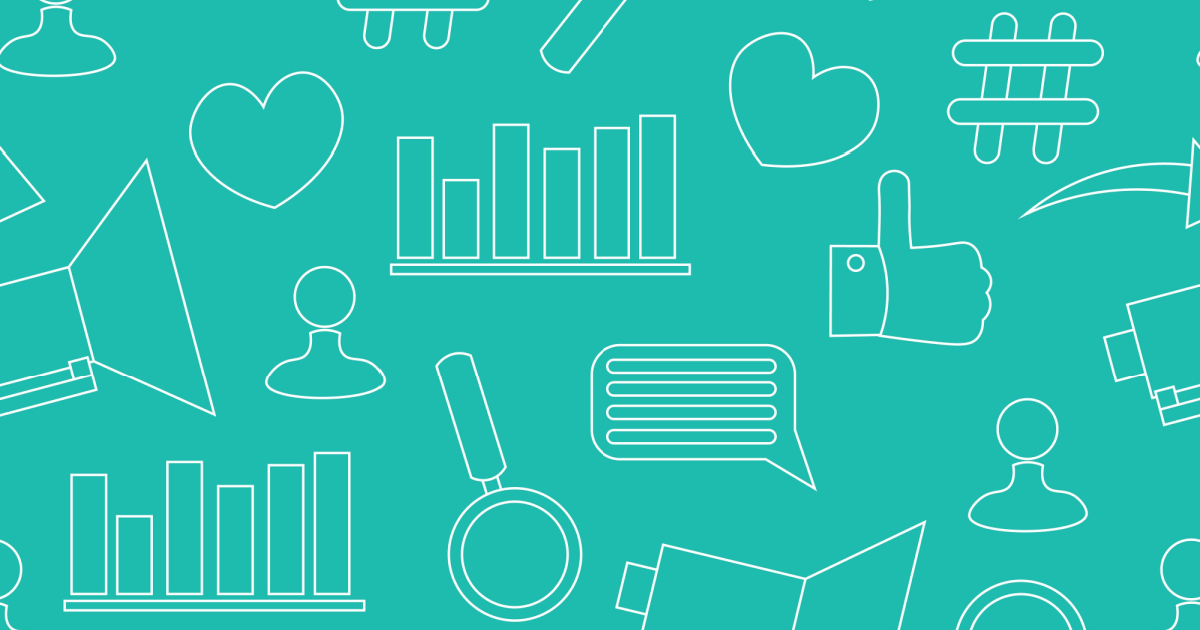 Social sells. But if you're not measuring and optimizing your performance, you won't improve your social ROI. That's why we've put together this comprehensive guide to understanding and optimizing your social media conversion rate. Here's everything you need to know.
Chapters:
---
---
The hottest lipstick, the newest viral brand, that must-have productivity app — social media has a unique way of building hype around products, turning them into trends, and driving customer demand.
Product discovery via social media is the modern, digital version of word-of-mouth recommendations from friends and family, thanks to its community-building and experience-sharing nature. Our Shopper Experience Index shows that social media platforms like Facebook, Instagram, and TikTok have inspired 69% of shoppers to make a purchase. But how do you calculate and leverage social media's impact on your business?
Understanding, measuring, and boosting social media conversion rates optimize your social strategy and widen your reach while building meaningful, long-term relationships with customers.
What is social media conversion rate?
Social media conversion rate is a combination of interactions and actions. Interactions might be someone clicking on an Instagram paid ad or watching a branded TikTok. These interactions ideally lead to actions, such as a product purchase or a signup for a demo of your service. When a potential customer completes both an interaction and an action, you get social media conversion.
The social media conversion rate is the percentage of your audience that completes the entire social media conversion process based on the individual benchmarks built into your social strategy. If your goal is more demo signups for a new product, you can calculate the number of conversions as the percentage of people who click on a corresponding ad and register on your website.
How to measure conversion rate on social media
Average conversion rates differ based on the type of social platform, audience size, and industry, making it difficult to define what a good conversion rate actually is. Most sources recommend a rate between 2% and 5% to really see value from your social ad campaigns.
Using the action/interaction definition of social media conversions, you can calculate the basic social media conversion rate formula as:
Total number of actions / Total number of interactions x 100
If a recent Instagram campaign had a total of 100,000 clicks (interactions) and 10,000 product purchases (actions), your conversion rate would be 10%. But actual average conversion rates don't always align with the ideal figures. For example, the average conversion rate for Instagram is 1%, with larger brands (1 million+ followers) scoring lower than small brands with less than 10,000 followers.
According to BusinessDIT, average conversion rates for major social platforms fall between 0.54% and 9.21%. Conversion rate broken down by each individual major platform looks like:
Facebook (9.21%)
TikTok at (3.4%)
LinkedIn (2.35%)
Snapchat (1.8%)
YouTube (1.4%)
Instagram (1.08%)
Twitter (0.77%)
Pinterest (0.54%)
That being said, you don't necessarily need to abandon a low benchmark social channel if it's a key part of your digital shelf. Depending on your product mix and target audience, you might have more success striving for higher conversion rates on these channels than trying to acquire new customers through a platform that doesn't fit your brand.
Measuring the effect of your social media strategy starts with tracking key metrics and comparing them against your company-defined benchmarks.
Benefits of social media conversion rate optimization
In addition to increased sales and revenue, conversion rate optimization (CRO) impacts other elements of your overall business strategy.
Social strategy: identify which content performs well, what your audience prefers, and how to entice your shoppers to click through
Customer experience: ensure helpful, valuable content is at the forefront of your brand and create streamlined pathways for social media users to move to the checkout page on your e-commerce site
Digital shelf expansion: monitor where your audience finds the most value and which platforms might need an expanded strategy or a refresh
Brand awareness: make high-performing content the center of your social media strategy to ensure it remains memorable to your audience
Audience engagement: create connections and build relationships with your audience through high-quality, preferred content
Customer acquisition: find new audience segments by experimenting with optimization strategies and grow your customer base
Organizational silos often prevent commerce and social media marketing teams from collaborating due to differing KPIs, but focusing on social media conversions allows these teams to work together to maximize ROI.
This joint effort leads to additional benefits like building high-converting omnichannel shopping experiences, standardizing content across the customer journey, and connecting social media efforts to revenue.
14 ways to optimize your social media conversion rate
Optimizing your social media marketing rate across channels will help you increase brand awareness, build stronger relationships with customers, and boost your social media ROI.
1. Know your ideal target audience
When you understand the type of content your audience prefers, you build stronger connections, increase engagement, and boost your odds of conversion. One way to do this is through a customer sentiment analysis, which you can do by analyzing social media comments or through targeted email surveys.
Say you're a cosmetics brand that often posts branded images of products, but you notice that a how-to video is performing extremely well. If the comments indicate that your consumers love the video format — helpful content that shows the product in action — you can adjust your social strategy to include more of what the audience wants.
Not only does this increase customer satisfaction and engagement, but it can also increase your chances of converting your audience into loyal customers.
2. Establish authenticity with user-generated content
Authentic marketing forgoes traditional techniques in favor of creating transparent, genuine content that aims to build relationships and provide added value for shoppers. User-generated content (UGC) consists of photos, videos, ratings, and reviews created by real customers. It resonates with shoppers because it's relatable, real, and oftentimes less polished than branded content.
Forrester's Total Economic Impact™ study showed that UGC is a powerful tool for brands, with visual and social content contributing to a 200% improvement in conversion rates. The study found the brands that leverage UGC across their digital channels experience increased conversions because authentic content shows products in action, proving that they live up to customer expectations.
Beauty brand Iconic London put UGC front and center, adding customer-submitted photos to their product and landing pages. Within a year, the brand saw a 126% conversion rate lift, along with increased average order value and time on site. Shoppers spent more time exploring products and purchasing more often, thanks to the authentic power of UGC.
3. Improve your content supply chain
A content supply chain boosts engagement and conversions by diversifying your content mix. It ensures you have a balanced variety of branded and organic content available in different formats across your digital shelf to attract and engage your audience.
Improving your content supply chain means understanding what your audience wants, delivering fresh and exciting content, offering value-added content like ratings and reviews, and embracing authentic UGC.
Looking for more ways to diversify your content mix? Our recent masterclass on crafting the optimal channel mix for commerce reveals additional ways to maximize your impact. Bazaarvoice's Chief Marketing Officer, Zarina Standford, shares insights from a recent report that surveyed 400 top-tier brands and retailers from six different countries.
4. Optimize product pages with UGC
Social galleries refresh outdated product pages to highlight what customers really want — UGC. 62% of shoppers claim they're more likely to convert if the brand features customer photos and videos of their products. Featuring a UGC gallery on your product pages adds information, shows the product in action, and increases shopper confidence.
While including visual UGC from social media accelerates conversions, it also encourages shoppers to try the product and submit their own photos and videos, creating a constant loop of incoming high-quality content that can be repurposed across your digital shelf.
5. Boost your social content
Social content that no one sees delivers zero value. Optimizing your content makes it more likely to get pushed through by the algorithm. Every platform prioritizes different elements, but in general, you should:
Use hashtags where available to widen your campaign reach
Ensure photos and videos are high quality, even for casual, behind-the-scenes content
Create a regular posting schedule to keep your brand top of mind
Get creative with your calls-to-action (CTAs) to entice your audience to click through
Use product tags in every post to simplify product identification and make it easier for customers to locate products on your site
Leverage user-generated videos when posting Instagram Reels and TikToks to build authenticity and connect with viewers
It's also important to familiarize yourself with how specific platforms structure their algorithms. TikTok offers a guide on how content ends up on the For You page, while Instagram offers a deep dive into how their algorithm works.
6. Syndicate content across marketing channels 
Imagine a product page featuring a branded image and basic information about the product. Now imagine one that contains hundreds of customer reviews, visual UGC, and star ratings to create a clear image of the product. Which one sounds more enticing? (It's not supposed to be a trick question.)
It's no surprise that shoppers prefer product pages that feature UGC, like customer images and detailed reviews. After all, the biggest downside of online shopping is often a lack of information.

Retail syndication addresses the problem by incorporating social content onto pages across your website, like landing pages and product descriptions. Syndication also combs through all of your reviews on different retailer websites and aggregates them on your product description pages to deliver the most value to your customers.
When luggage brand Samsonite added Bazaarvoice Galleries to their product pages, they found that customers spent 5x longer on pages and converted 4x more often.
7. Streamline the shopping process
54% of shoppers are more likely to purchase a product through a social ad if they can click the post to get product information directly. Streamlining the purchasing process creates an easier roadmap for shoppers and increases the chances of converting them into buyers.
This is where social commerce tools, like Like2Buy, really make a difference. Like2Buy transforms social content into shoppable posts, making it more convenient for customers to purchase your products. Product tags on shoppable posts lead customers straight to product description pages, where they can get more information and check out in one seamless journey.
8. Stay memorable with brand storytelling
Brand storytelling boosts ad memorability, keeping your brand at the forefront of your audience's minds and ensuring they come back for more content. When done right, it also helps build connections with the audience, convey your brand values, and form communities where your audience feels comfortable sharing their stories and experiences with your products.
Outdoor gear brand Yeti was the standout superstar at Bazaarvoice's 2023 Summit Social. The audience loved Yeti's unique take on storytelling, fusing their products into cinematic YouTube videos, short customer stories, and on-site UGC. Brand storytelling helped fans relate to, connect with, and remember Yeti's brand, making them more likely to follow Yeti on social media and engage with new content.
9. Explore social trends 
Trendjacking is a fun (and powerful!) way to get your content across to more viewers while remaining authentic. Social media offers a never-ending supply of new trends, like a catchy audio, for brands to experiment with. Successful trendjacking means getting creative with your approach in order to hop on a trend while remaining true to your brand.
Duolingo has taken TikTok by storm with their approach to trendjacking — often using humor, relatability, and whimsy to entertain viewers and build relationships. The language learning app jumps on almost every trend, even ones that have nothing to do with language learning. But it works, because the common denominator is Duo — the company's hilarious mascot.
Fans flock to see more of Duo, driving up engagement in the comments and boosting views to promote the video to the For You page.
10. Win over audiences with humor
Several surveys show that humor is the best way to connect with your audience. According to The Happiness Report, 90% of shoppers remember funny ads, and 72% would actually choose a brand that uses humor over their competition.
Irony, satire, witty puns, popular social trends, and funny images are easy ways to incorporate a bit of whimsy and fun into your marketing strategy, especially on platforms that wholly embrace humor — like TikTok.
Footwear brand Crocs encapsulates the idea of not taking yourself too seriously. They regularly feature humorous content on their social channels, and their audience's engagement shows they've got a solid strategy. Fans of Crocs love the lighthearted approach to their marketing efforts, demonstrating that humor is a key element in winning over your audience.
11. Build partnerships with content creators 
There was a time when celebrities ruled product placements and brand sponsorships on social media. But the influencer landscape looks pretty different today. Audiences no longer place unwavering trust in celebrity influencers, instead preferring to follow recommendations from everyday social media users.
Working with content creators is a key social strategy because it provides a more intimate look at your products or services in order to build strong relationships and win customer loyalty.
Say a shopper searches for a new perfume to try but only comes across branded shots of beautiful bottles with vague descriptions like hints of amber and smoky vanilla. This type of content doesn't provide enough context and information to make a decision. But a deep-dive perfume review video from a UGC creator unboxing, testing, and rating the product will.
Working with influencers and other content creators is something global brands like Neutrogena have leveraged across different social platforms to provide valuable insights for their audience, while building trust and community. Neutrogena regularly features nano- and micro-influencers, as well as UGC creators and brand ambassadors, to drive engagement.
12. Launch sampling with everyday consumers 
Take a page out of Costco's playbook and drive conversions with product sampling. Product sampling marketing converts audiences into loyal customers by making your brand more memorable, allowing shoppers to test products in a low-risk environment, and creating a feeling of reciprocity.
To maximize your ROI, invest in a managed sampling campaign with a trusted platform. Bazaarvoice takes care of every single step of the process to ensure your product samples are sent to key audience segments and the resulting UGC is high-quality and ready to use across your social channels.
Petco partnered with Bazaarvoice to launch a sampling campaign to increase awareness and boost conversions for two of their brands. Their Spotted Sampling campaign had a 90% response rate and led to a 28% increase in conversions, as well as a 48% rise in revenue per visit and a 15% boost in average order value.
They also saw a huge uplift in review volume and SEO traffic from a single, easy-to-launch sampling campaign.
13. Drive engagement with competitions
Competitions are a fun, effective way to increase customer engagement — who doesn't love free products? Competitions also bring in an element of gamification marketing, which is a highly engaging, highly converting way to draw in audiences. A few ideas include:
Start a hashtag campaign asking your audience to submit their best product photos and videos for a chance to win products or a gift card
Offer a prize for sharing, liking, and reposting a photo or video
Partner with another brand to create a joint campaign with incentives like free products or services
UK-based wine brand Hardys partnered with Learning with Experts to run a reviews-based campaign. Shoppers who purchased bottles with a special neck flag received a code to register for a Learning with Experts class of their choice after leaving a review of their purchase. The campaign was a success, with over 1,700 reviews gathered for 15 products, which led to a 2,300% lift in overall review volume. The brand then used these reviews across their marketing campaigns and digital channels to boost conversion rates.
14. Leverage AI to predict conversion rates
The robots are coming, so it's time to get on board. Marketing and social media teams can leverage digital tools like generative artificial intelligence (AI) to personalize content, analyze strategies, and predict conversion rates. Predictive analytics uses customer data and statistics to model predictions about things like rising trends, campaign success rates, social media posting schedules, and even the potential benefits of working with different influencers.
You can use an Insights and Reports tool to deliver an in-depth look into how your content and customers interact, with actionable recommendations to reach your business goals. Features like category benchmarks, trending data, and performance metrics ensure you have access to all the data you need to predict how a new social campaign will impact conversions.
Boost your social media conversion rate with Bazaarvoice
Social sells. But without an effective method of tracking, measuring, and optimizing your performance, it won't add value where it matters most — your bottom line. Social media conversion rates quantify your impact and steer your digital marketing strategy to ensure you're maximizing your social media ROI.
Bazaarvoice's Social Commerce analytics make defining and proving social ROI easy by creating an all-in-one social media data source. Use it to measure performance across your social channels and e-commerce displays, identify top-performing content and partnerships, and easily export data to share ROI with different teams.
Explore the Bazaarvoice platform now to see how it can help your brand increase conversion rates, maximize ROI, build relationships with customers, and win on social. Or get in touch directly below to get started.
Request a demo