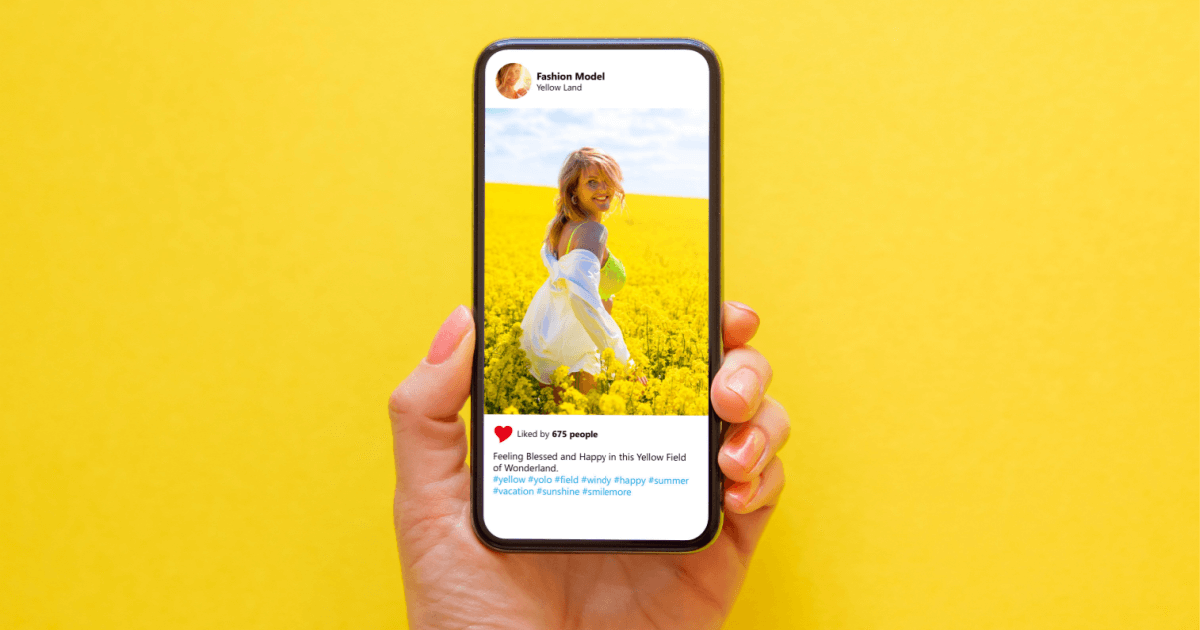 These 10 examples of social commerce are from our "Social Superstars" presentation from the Bazaarvoice Summit. You can opt to watch the on-demand version here. Otherwise read on to find out more.
---
---
We're three months into the year. New Years' resolutions have passed, cold skies are now breaking into Spring, and we need a creative pep in our step. We could benefit from new inspiration, and we bet you could, too.
Over the past year, we've seen brands and retailers around the globe seriously show up and show out this year with their social commerce strategies. They're not only geniuses on social channels themselves, but are also creative in the way they take advantage of social commerce — the concept of streamlining shopping directly on social platforms, as well as on-site with the power of social user-generated content (UGC).
Social commerce sales are estimated to reach $1.3 billion this year, growing with incredible velocity. Brands are tapping into it like never before. But with it's also been a year of social platform changes. TikTok imitating BeReal with TikTok Now, Instagram imitating TikTok by elevating Reels more than ever, Live Shopping features added and deprecated, and much, much more
It's hard to keep up. And due to that, creators, brands, and retailers have been adapting quicker than ever to formulate relevant strategies to engage shoppers' shortening attention spans.
We at Bazaarvoice have seen some of the coolest TikTok, Instagram, and YouTube campaigns, on-site brand activations, and creative UGC-collection strategies emerge in the past year. So it was understandably difficult to choose just 10 to highlight.
But we did choose.
Our top 10 favorite social commerce examples
At our recent Bazaarvoice Summit event, we recognized 10 best-in-class brands as total Social Superstars, highlighting their compelling and effective examples of social commerce strategies.
From social to site, these brands are taking center stage and rocking campaigns that boost awareness, engagement, and conversion with the power of UGC:
We're thrilled to feature all 10 brand examples in writing here, but if you're a more auditory learner, check out the on-demand recording. Sit back, grab some popcorn, and get ready to be inspired.
1. Best apparel UGC strategy – Converse
Converse formulated a nearly perfect social commerce strategy with the help of creator partnerships, user-generated content (UGC), and engaging professional imagery.
The brand dove headfirst into their creator partnership strategy with their "Style Series." They asked six cool creatives how they styled Chucks their own way, and let all of us enjoy the spoils of their creative ingenuity on the Style Series site, where pictures and videos elaborate on four key style tips.
On this landing page, which acts almost as a virtual inspirational catalog, we're invited to stay awhile, get inspired, and explore beautiful UGC. This strategy artfully mixes static imagery with video and GIF, as well as professional photography mixed with more casual iPhone snaps.
We love how in every element, Converse provides a clear button (that little star logo) to see the featured apparel product and buy it ourselves. It's not just a beautiful site experience, but also a seamlessly shoppable one.
2. Best team collaboration — Samsonite
A key element of a brand's social commerce success is how synergistic their e-commerce and social media teams are internally. Siloed teams often make for disjointed strategies, which our recent channel mix study backs up. But for Samsonite, cross-team collaboration is one of their greatest strengths.
In the past year, Samsonite has launched killer social campaigns garnering ample engagement, and started to showcase inspirational social content across their entire site, and continue to do more and more into 2023. They're really on a roll.
This past Summer, they launched a creative contest called "Take What's Yours," where Instagram users were encouraged to take their rightful PTO, and prompted to leave their funniest OOO email message in the comments.
The campaign garnered over 500 comments on just one post. The next day, the brand posted their top three favorite messages and let the public vote via Instagram comments. The winner received a cash prize plus free luggage, so the stakes were high. This was a highly effective way to increase their engagement on Instagram and reward their fans at the same time.
Further, Samsonite capitalizes on the ever-relatable #TikTokMadeMeBuyIt hashtag by bringing TikTok UGC and influencer content to their site in a gallery. Shoppers can sift through videos to see how others use their favorite luggage, give pro tips for packing, and recommend accessories, and then easily purchase what's featured in the video by clicking into product tags.
By bringing social shopping to their website, Samsonite is really going places… Learn more about how this prime example of social commerce led to a 4x higher conversion rate on site.
3. Most innovative display — Ralph Lauren
One of the beauties of social commerce is the ability to innovate, as this example from RalphLauren demonstrates.
Ralph Lauren launched a book called "Ralph Lauren's Polo Shirt," composed of personal stories of people around the world who wear, love, and connect with the classic shirt. On-site, they promoted the launch with an interactive activation highlighting powerful UGC and fans' stories.
On one side of the activation, you're invited to discover the stories hand-picked by the brand's team. These incorporate professional photography and videography, and highlight incredibly unique and even moving accounts of how Polo shirts integrate into peoples' lives around the world.
Of course, at the end of it, you have an opportunity to purchase the hefty book containing these stories.
On the other side, you can "join the conversation" by seeing how everyday fans share their own perspectives and images on Instagram with the hashtag #MyPoloShirtStory. This was a great move to increase UGC submission on social from people like you and me, who have grown up with this brand and want to share our #ootds.
This is a pristine example of storytelling across social and site, elevating the voices of your community, and making a gorgeous and engaging on-site display.
4. Creative retail strategy — SpaceNK
British luxury beauty retailer SpaceNK truly understands how UGC impacts shoppers' decisions. One of their expertly cool on-site activations lives on product display pages. While perusing a product, you have the option to toggle on a gallery of user-generated Instagram Reels and images to "see the product in action."
Now, you're able to not only see typical product details like the colors and size and price, but how it looks on real people. Complimentary products are also tagged in this gallery for easy bundling.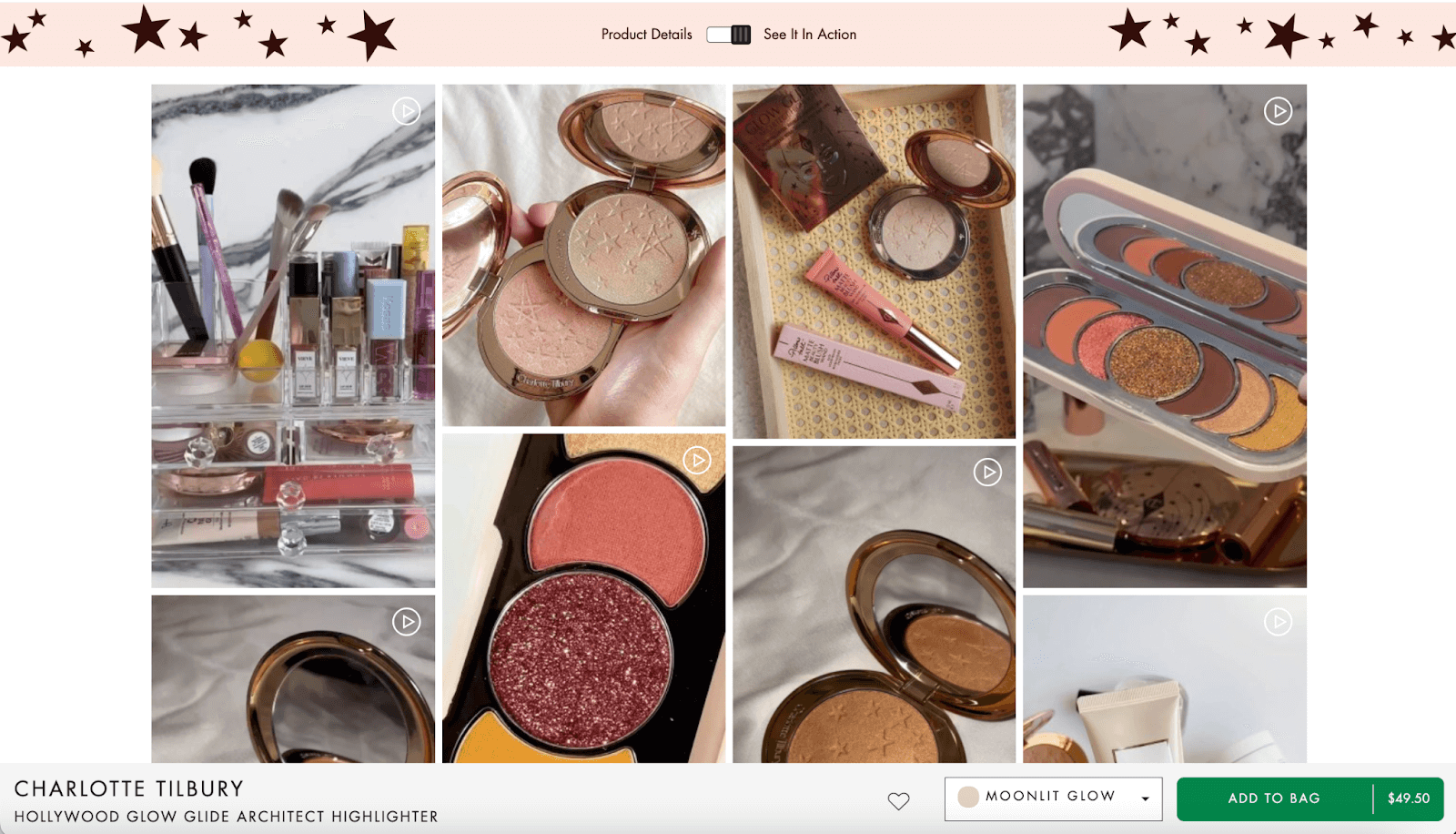 Just added that highlighter to my bag!
Additionally, SpaceNK makes sure that they display UGC for all brands and products in a full-page gallery, where they invite us to tag them on Instagram to be featured. In this example, there's a plethora of Drunk Elephant content, as they just did a Drunk Elephant brand takeover of the site – a playful collab and excellent way to generate even more UGC for specific product lines or brands at retail.
Are you a social media manager at a retailer in need of more inspo? Check out our guide on how to build a social media strategy for retail.
5. Multichannel UGC strategy — oVertone
oVertone masterfully leverages the influence that everyday creators have over buying decisions by making it their entire Instagram strategy, and showcasing it on every inch of their e-commerce site.
Even their brand-owned content, like the below Instagram Reel, almost exclusively features UGC images, videos, and reviews. This example of social commerce is so convincing that I dyed my hair bright orange using oVertone.
When you explore their site, you're faced with UGC at every moment — the homepage, category pages, and product display pages (PDPs).
Let's imagine you're a shopper in need of a pink hairstyle ASAP. You might find your way to the pink dyes category page to see what's available, from pastels, brights, or something in between for brunettes. On that category page, you'll see user-generated images of people sporting various rosy dyes. Maybe you're charmed by a vibrant shade featured in one image. When you click on the vibrant pink product tag, you're led to its corresponding PDP, where you can now view only examples of vibrant pink hair.
This gives you an incredibly clear window into how this particular pink product works, more than just ratings and reviews, or brand-owned imagery, can do alone.
6. Most inspirational UGC — EF Ultimate Break
Over the past few years, few subjects in the industry have been emphasized more than brand communities. As a brand, connecting with your community is a necessity to achieving success on social media, and success across all channels really. EF Ultimate has done this beautifully.
The travel brand expertly navigates connecting with, and activating, their community on Instagram and TikTok. With year-round trips running to the most beautiful spots in the world, they collect a wealth of beautiful and inspirational UGC. And to make this content go the extra mile for them, EF Ultimate doesn't just keep it on their social feeds, but they bring it to their site – ALL over their site.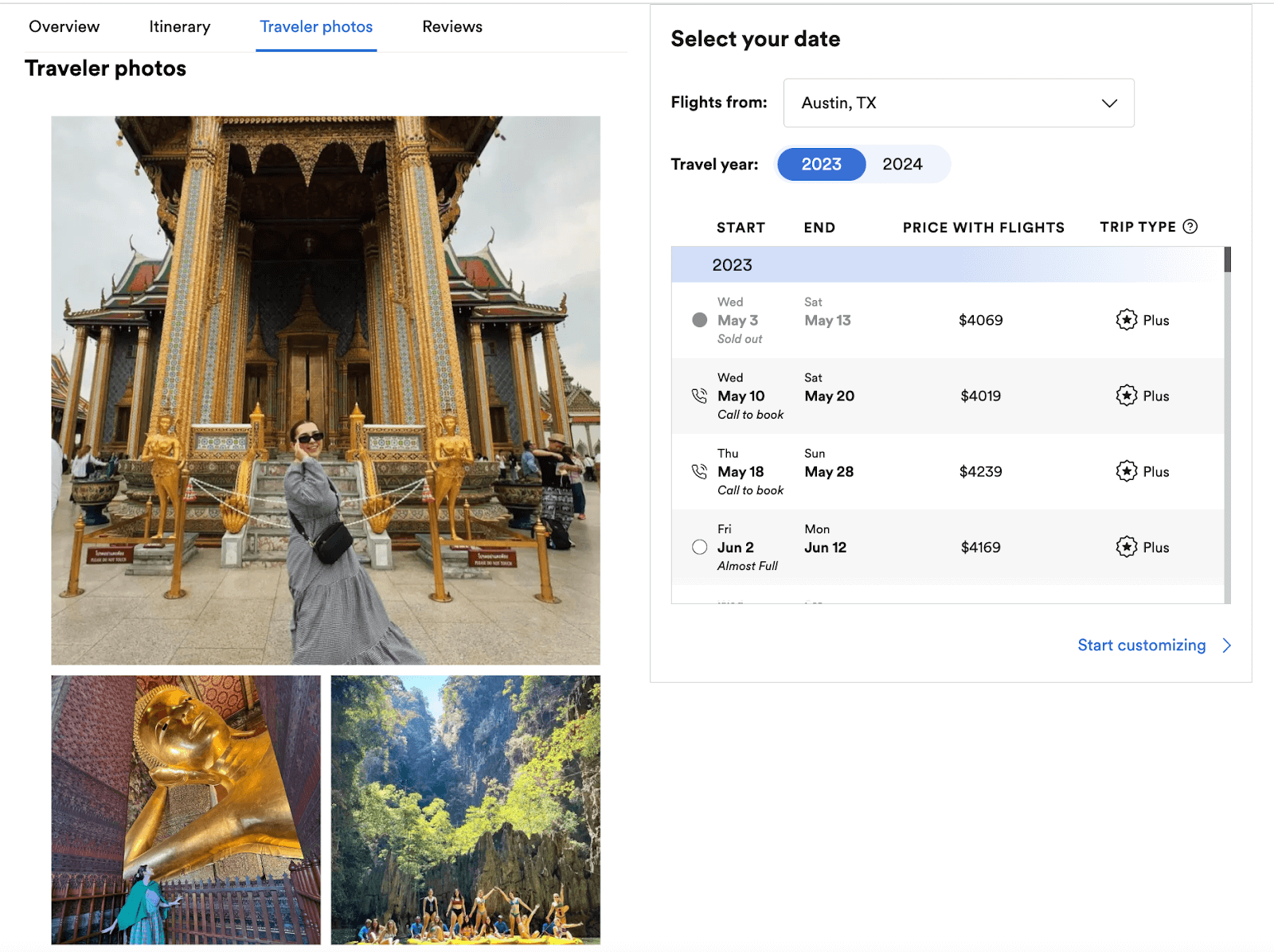 While browsing for your next vacation, you're met with real-life examples of experiences and sights on the trip information pages, category pages, and even a full-page Gallery of TikTok content. This helps you choose the best trip for you, and also conveniently serves as inspiration for the poses you're gonna hit when your partner is taking pics for the 'Gram.
Taking community engagement a step further, they have a unique Ambassadors Program. They encourage travel-obsessed "social media mavens" to apply, with public social accounts being a prerequisite. Once you're accepted and get 15 friends to sign up with your promo code, you get an entire trip for FREE.
The program spreads the word about the brand near and far via social channels, and produces a myriad of inspirational content from resulting vacations as a convenient side effect.
7. Best social shopping UX — Zales
Zales is a prime social commerce example of a brand that mixes brand-owned, polished content with authentic, organic UGC in a unified, seamless shopping experience. We love how these two content types are synergistically combined in their on-site "Style Studio," which consists of lookbooks and gift guides to consult curious shoppers on the latest jewelry trends.
What makes these more special than your average lookbooks, though, is that Zales uses our tool called Bazaarvoice Reveal that makes images interactive and shoppable.
When you hover over an image, shop tag icons appear. When clicked, you're presented with the exact product featured in the image. From there, all you have to do is click the CTA below it and go straight to the PDP to learn more.
This makes website purchases seamless, especially for those who are early in their shopping journey while exploring the Style Studio.
While these shoppable lookbooks involve professional photography, Zales does display authentic UGC in product galleries on their Style Studio, as well. It's a perfect mix of that styled look and that more organic look to give us a full picture of these products.
8. Best brand storytelling — YETI
Yeti is one of the greatest brand storytellers and community builders around. The brand's ethos is all about getting in the wild, adventuring, and learning from others who do amazing things. They bring this to life with the "Stories" section of their website.
It's filled to the brim with UGC from the hashtag #builtforthewild, brand-made videography of fascinating stories around the globe, short cinematic pieces from their Youtube series "YETI Presents," and even fan-submitted "survival stories."
The above survival story shows simply how a YETI cooler is truly built for the wild, surviving a boat fire with the ice still in-tact inside. Impressive! This content is creative, compelling, sometimes funny, and definitely inspiring.
YETI's strategy shows how getting out there with your community is powerful. Not just virtually on TikTok or at marketing events, but in the snow of the Alaskan range, or in the waves with world-class surfers, sharing these experiences and inspiring everyone along the way.
It's not brand storytelling just to encourage a purchase, but to showcase what their brand truly stands for. And it works for them really, really well.
9. Creative video strategy — KitchenAid
With over 1 billion users and the highest engagement rate of any social platform, TikTok is dominating the social commerce sphere. Realizing this, KitchenAid cooked up (pun intended) quality video UGC with their #MadeWithKitchenAid campaign, asking amateur and professional chefs alike to share their recipes they made with KitchenAid products.
At the time of writing, the hashtag has garnered 25 milion views on TikTok. To get that social proof power in front of shoppers, their team compiled some of the best videos into an interactive "cookbook" on their website.
Arranged in a gallery, you can click on filters to find recipes with specific products, like a standing mixer. From there, you can view any video and see the tagged products featured in their recipe how-to. This approach not only helps their audience find recipes on TikTok, but find and shop them on their website too – a winning social commerce example.
As if that wasn't enough, KitchenAid also launched a YouTube series with intros to various products as a way of further assisting their beginner kitchen DIY-er audience. They then used Bazaarvoice Showroom to make the videos instantly shoppable.
When you click on a Bazaarvoice Showroom link in their YouTube video description, you're taken directly to a virtual storefront with the product they featured, as well as inspirational UGC, and related products you may be interested in.
KitchenAid has inspired us all with their synergy between social and on-site shopping.
10. Best social collaborations — Zenni Optical
Zenni is the top of the pack when it comes to Instagram collabs. Within just one week this year, they posted a:
When we say Zenni is a collaborator, we mean it. And they get so much engagement from it.
Plus, they make it easy for anyone seeing those posts on Instagram to shop the products within them with a link we call Like2Buy. When you click into any image within their Like2Buy, you'll go straight to the corresponding PDP or other relevant location on site.
Not only does Zenni appeal to their various fanbases through collaborations with influencers, artists, athletes, and more, but they artfully expand the lifespan of content from those collabs on-site. You'll find Galleries on their PDPs and "Trend Shop" style guide page, showcasing how everyday people sport the latest trends, from clear glasses, to aviators, to oversized looks.
It's easy to see Zenni's vision here.
Turn these social commerce examples into sales
Through these 10 best-in-class examples of social commerce strategies, we've learned a few things:
Social UGC shouldn't just stay on social channels, let it shine on-site
Mix UGC with brand-owned content and get the best of both worlds
Collaboration with your community is key, elevate their stories to the forefront
As you move through the year with a newly inspired lens on your social and e-commerce strategy, keep these examples in mind. Brands like yours will prove to be even more innovative and creative in 2023 beyond, and we'll be here with our suite of software tools and social experts to help.
Request a demo