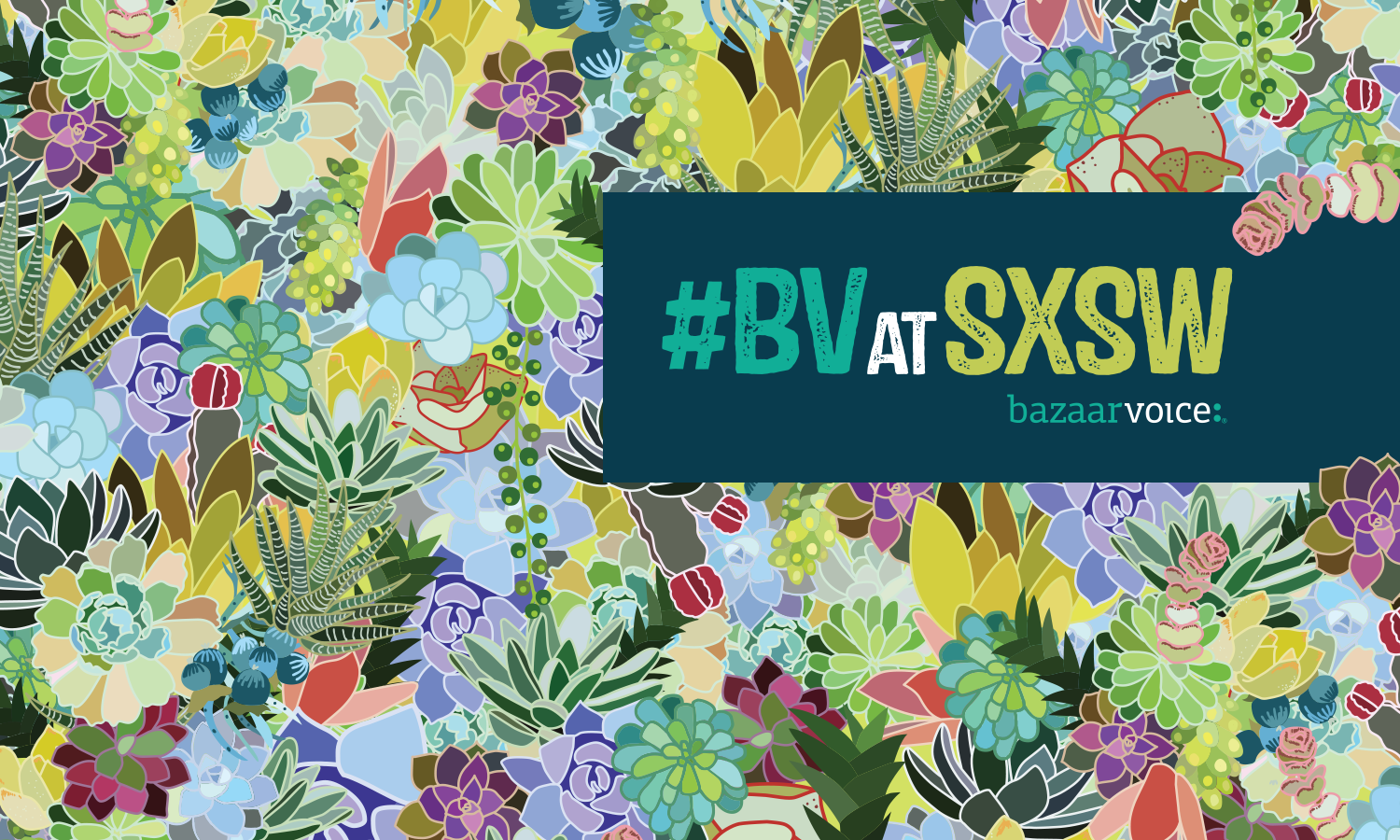 We're still buzzing from the amazing day that was #BVatSXSW on Saturday. Three lively panel discussions, authentic Austin eats, and, of course, Ja Rule. We loved seeing everyone in the audience and reading your live tweets and reactions on social media — thanks so much for being with us. But since our panels and event weren't the only things going on during SXSW this weekend, we asked our team to see what else people were talking about and share their learnings from Interactive. Here's part one of our SXSW Interactive recap with the top three themes we heard from the weekend.
1. Tech + retail — we're still figuring it out.
As a software and advertising solutions company for brands and retailers, Bazaarvoice sits at the intersection of retail and technology. We're always watching how companies in our space are embracing or falling prey to technology. During one panel at #BVatSXSW, Oen Hammonds of IBM Design spoke about the challenges of transforming a 100-year-old IBM: "We have to do continuous training to keep experts (who have been with the company a long time) innovating and growing with the industry." What's the consensus? We've come a long way, but we still have a ways to go.
"Innovation in e-Commerce has been focused on optimization and making shopping more efficient. Example: Amazon's supply chain. Some of this has come at the expense of the e-Commerce customer experience. There are still significant friction points that pose hurdles to delighting customers."
– Jake Swenson, Vice President, Product Marketing, at Shop Shifting: How Tech is Changing Commerce
"There's been lots of talk about getting the friction out of mobile and e-Commerce. Mobile commerce on social platforms is a huge opportunity brands have yet to figure out. The next step is to get consumers to go from a point of discovery to a point of purchase with only a few clicks in a matter of minutes."
– Kerry Brunelle, Social Media Strategist, at Shopping & Sacred Social Space
"When thinking of the store and shopping of the future, never add more technology for technology's sake. Always think of the shopper and their end experience — is it seamless? When considering a new feature, is there a need for it, and does it make sense?"
– Caitlin McCulloch, Marketing Manager, Advertising, at Content is Still King: A New Narrative Calls
"Gary Vaynerchuk's big theme this year is finding media value based on where people's attention lies. Multiple times, he mentioned that Facebook ads and video are extremely undervalued: "CPMs of about $5 – $8 right now, but will be $50 – $80 in a few years". Now is the time to take advantage of that because Facebook is what sucks up most people's attention. For the same reason, brands should abandon more traditional forms of advertising in favor of embracing technology. He pointed to billboards, which are overpriced and ineffective, mostly because everyone's head is buried in their phones while driving."
– Larson Banilower & Matt Sharon, Agency Partnerships Directors, at Live Q&A at SXSW: #AskGaryVee with Gary Vaynerchuk
"Our client Kendra Scott is trying to bring the store experience online, Modcloth is trying to bring the online experience to stores, and Bailey Group has launched both channels (plus wholesale) all at the same time. All three use a mixture of outsourced and in-house development. Matt Kaness, CEO of Modcloth, described retail as 'dead' in the traditional sense. They all see Instagram as their primary social platform, then Facebook, and are all keeping a watchful eye on the rise of Snapchat."
– Sara Spivey, Chief Marketing Officer, at Technology: Fashion's New BFF
2. If content is king, authenticity is the crown. 
Of course, authenticity is at the heart of our business — it's one of our core values. So, it was reassuring to hear thought leaders from many sessions, including our own, restate the importance of authentic content in marketing and advertising. From Yuyu Chen at Digiday to Carol Milliron at She Speaks and Ja Rule, our panelists at #BVatSXSW stressed the idea that companies must stop talking at consumers and start talking with them. And many others agreed.
"Mike McKenna and Jon Keegan discussed Keegan's Blue Feed Red Feed project in the Wall Street Journal that revealed that your Facebook feed tends to reflect your political and social views, which can create "echo chambers" and confusion around real vs. fake news. The key takeaway was that authentic information grounded in facts will always prevail and resonate with readers."
– Alison Kwong, North America Public Relations Manager, at "Which Truth Do You Like Best?": The Dangers of Curated Content
"The panel focused on how brands can flourish in the sacred spaces of social feeds without annoying users or appearing inauthentic. Steve Patrizi of imgur said that for brands to succeed, they must understand the culture of each space and give more than they take in terms of value."
– Kerry Brunelle, Social Media Strategist, at Shopping & Sacred Social Space
"Audience is key with new content and should be considered when working with an influencer. Lots of followers are great, but reaching the right demographic of followers is more important. Sometimes a wider net of influencers with smaller audiences is the way to go instead of a single mass influencer. Micro-influencers can be more effective, especially in regional campaigns, because your audience connects more immediately with someone they know and perceives the content as more personal to them."
– Caitlin McCulloch, Marketing Manager, Advertising, at Content is Still King: A New Narrative Calls
"Our client ELF Cosmetics wanted to change their influencer strategy, so they brought together 50 of their biggest customers to surprise and delight them with a weekend-long event. It wasn't about trying to find the biggest influencer but about building relationships with their consumers. For influencers, they want to find a brand that is genuine and to truly believe in a brand that they're going to recommend. ELF ended up establishing themselves as a brand that wants to build a community of our customers and remain in touch with them."
– Chesen Schwethelm, Managing Director, Enterprise East, at Enthusiasm vs. Influence: The Power of Community
3. Tech continues to struggle with diversity. 
The issue of gender diversity in the technology industry is no longer the elephant in the room, but that doesn't mean it has been solved. When asked about companies that may champion inclusion in their advertising but don't practice it behind the scenes, Richard Guest of Tribal Worldwide told the audience at #BVatSXSW: "You can't hide things anymore. Brands have to live up to their own messaging and have an obligation to do so." Unfortunately, though the diversity issue has been brought to light for some time now, sessions this weekend showed that many of the good ideas around diversity have yet to be put into practice.
"Recently maligned Uber was oft-used as an example — their recent sexist culture exposure has forced CEO Travis Kalanick to bring in an 'adult' COO and could be what brings them down. Venture capital is dysfunctional and has created this culture in tech that focuses on investors over employees, community, and customers. Not only is diversity in tech the right thing to do, but it's a smart investment. On the future? Dan Lyons was pessimistic about the current incumbent companies but hopeful about the ones that have yet to be started."
– Summer Daoud, Director, Product Marketing, at Disrupted: Ending Bro Culture and Bias in Startup-Land
"The Female Quotient is a group committed to equality in the workplace, and they hosted The Girls' Lounge, which featured an impressive lineup of smart, empowering, inspirational women. I listened to panels with speakers from Cosmopolitan, Seventeen, Twitter, Yahoo, and my personal favorite, former assistant and chief of staff to the Obamas, Tina Tchen. Common themes discussed were about the power of using collective voices to amplify and build awareness around and amplify important causes. Additionally, all of the panels focused on workplace equality, embracing diversity and individuality, and encouraging young women to discuss taboo topics like money, image, happiness, and sex. I found this lounge — from the look-and-feel to its panels — to be particularly refreshing."
– Alison Kwong, North America Public Relations Manager, at The Girls' Lounge @ SXSW
"In a follow up to last year's Elephant in the Valley SXSW Keynote, the Elephant on Madison Avenue study and session discussed sexual harassment and gender bias in the advertising industry and how it compares to tech. A theme of the study: 'I don't belong.' And this change starts with hiring. Data shows that we hire men for potential and women for what they've already accomplished. It will take conscious, deliberate, and sometimes precarious choices to make a shift towards gender balance, and that starts with leadership and hiring practices."
– Chesen Schwethelm, Managing Director, Enterprise East, at Elephant on Madison Avenue
"Cory Booker changed my life this morning. It was a great way to kick off SXSW with an inspirational gathering where the New Jersey Senator shared stories of hope and love. He spoke from the heart and reminded us very simply that, 'We are called to love each other. We have an obligation to each other that includes a sacred vow.'"
– Stella Araya-Weil, Vice President, Global Holdings, at Interactive Opening Speaker: Cory Booker
We're only half way through SXSW 2017 and can't wait to see what the next few days have in store for us here in Austin. Stay tuned for part two of our Interactive recap coming later this week. In the meantime, keep up with us in real time by following the hashtag #BVatSXSW on social media.