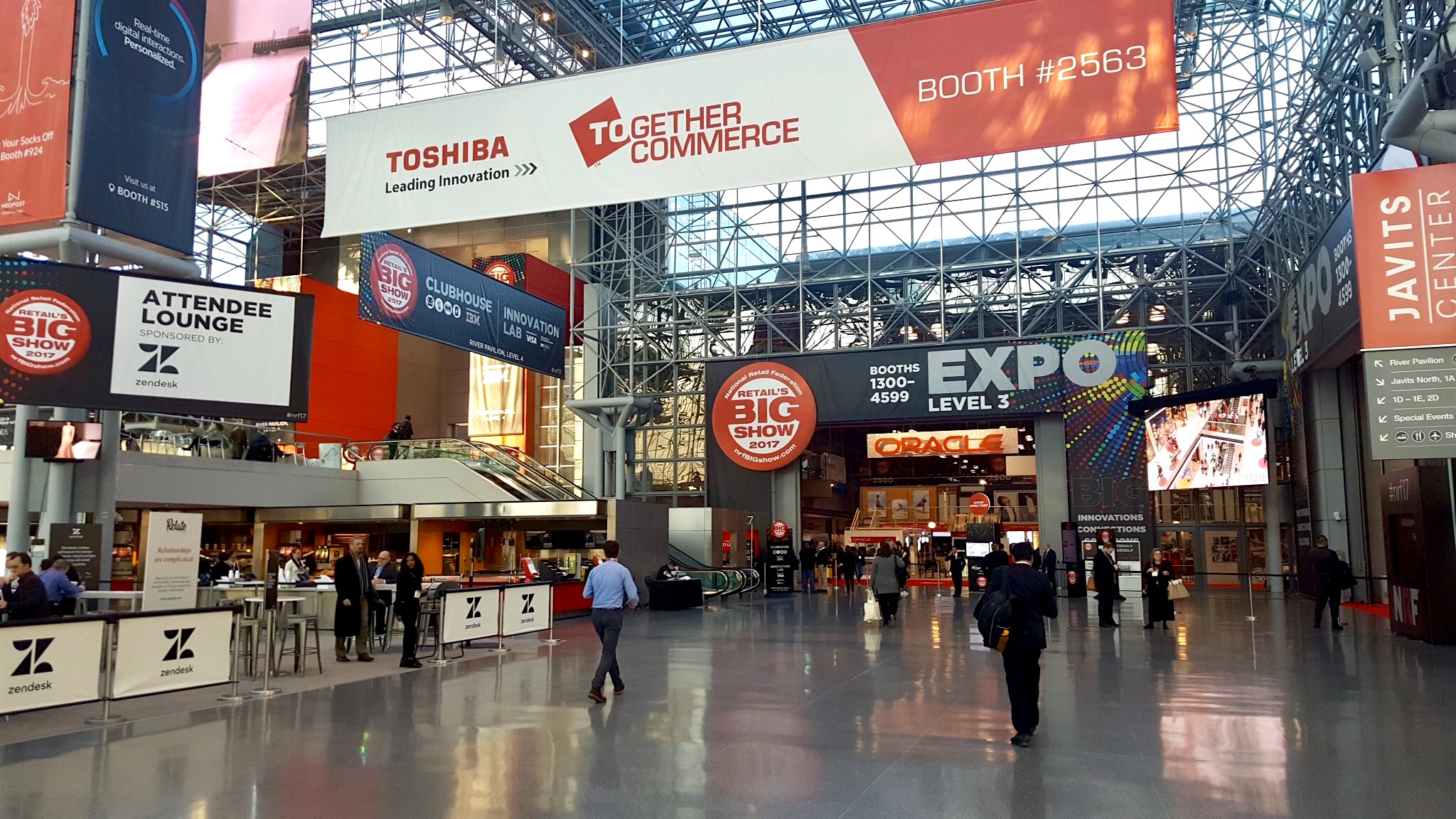 With the increasing domination of online shopping and the recent news of major retailer store closures, it is no secret that many questions surround the retail industry as we head into 2017. The National Retail Federation's Big Show convened this week in New York City, and many of the biggest brands and leaders in retail were in one place to address the challenges facing the industry and the innovation that will keep it moving forward. Here's our recap of the most critical three themes for brands and retailers that emerged over the course of NRF 2017. 
Digital meets brick & mortar
We've written a lot about the pressure mounting against brick and mortar stores, due to the rise of online retail. Many retailers are bringing digital experiences into stores in an effort to provide a differentiated experience from online shopping, while maintaining the value-added benefits of a digital experience.
John Hazen, SVP of Direct-to-Consumer & Omnichannel at True Religion, said it best during his session: consumers don't have to get off the couch or leave their homes to purchase what they need, so when a shopper comes into a store, retailers should strive to maximize their time and experience. These are the people who like to shop, so the longer they linger, the more likely they are to convert. True Religion is experimenting with digital signage in their window displays as a way to "slow customers down and engage them in the shopping experience."
In-store technology will enhance the shopping experience for both consumers and store associates. In addition to the digital signage, True Religion has implemented endless aisle kiosks for associates to search for any and all products and has started using the "digital black book", a CRM tool for associates that has customers' prior purchase history and personal style preferences. Also at NRF this week, Intel announced their Responsive Retail Platform. In simple terms, this platform helps connect all the devices and data in the store to enable greater insight for associates — like foot-traffic heat maps and inventory stock issues. By incorporating various technologies in their stores, retailers hope to better support the customer experience and put the physical store on more equal footing with e-commerce.
The future of advertising
Decreased attention spans, new chat and voice interfaces, artificial intelligence, and ad blocking were key factors shaping the conversation around the future of advertising. It can be hard to predict the future of an industry, particularly one that is so tied to rapidly advancing technology. The founder and presidents of PSFK, a leading retail think tank, organized the industry's trends across four dimensions: content, context, community, and collaboration.
Content: They foresee a continued shift to more branded/brand-led content that is woven into the consumer experience.
Retailer doing it well: Wayfair recently premiered its lifestyle/home improvement series on Lifetime, whereby every product in the show can be bought on the Wayfair site.
Context: It's all about providing experiences that are relevant to the situation and location of the consumer.
Brand doing it well: Nike is doing this in a unique way with their strategy on The Weather Channel app; if the consumer is in a wet environment, they are targeted with advertising that features wet-weather gear.
Community: Fan-driven, not brand-driven.
Brands doing it well: Netflix's brilliant use of Snapcodes to unlock Gilmore Girls' geofilters and KLM airline's Layover with a Local app that connected travelers with layovers to local tour guides are two recent examples of brands eschewing traditional advertising for tactics that build community.
Collaboration: Social media continues to give businesses the opportunity to collaborate with and learn from their customers. Younger generations want to actively participate in a brand's story. What's next in collaboration? A new level of personalization — when consumers can work directly with a brand to create their own uniquely designed products.
Brand doing it well: YouTube opened physical locations across the globe to offer workshops and events to support and connect with burgeoning online storytellers.
Today's consumers are inundated with branded content and advertising from hundreds of companies, and they can opt out, block, or cut ties whenever they please. Therefore, it is imperative for brands to pay attention to what their customers want to stay relevant, break through the noise, and build positive relationships.
Authenticity
Perhaps the theme from NRF that hit closest to home was authenticity. At Bazaarvoice, authenticity is one of our company core values, and from guaranteeing authentic reviews to fostering authentic relationships between our clients and their customers, it is at the core of our business.
Authenticity, as it was used in the majority of the NRF sessions, revolved around the central truth that if a company's only intention is to sell people a product and make money, consumers will sniff it out and reject it. From IKEA to Food52 and The Honest Company, major retailers agreed on the importance of building a genuine connection with customers, one based on more than a transaction.
In a favorite session on Storyselling, Amanda Hesser, co-founder and CEO of Food52 said, "In today's market, having people care about what you are and what you stand for as a brand really matters." The question then becomes, how do you create the kind of content that embraces who you are as a brand, while retaining the authenticity that is so critical to connecting with customers? Enter consumer-generated content. Troy Collins, CEO of Endource Limited, boiled it down: let your customers do the talking for you. Brand advocates (and the reviews, photos, and media content they produce) allow companies to trust their products and the people who love them to tell an authentic brand story at scale that could not be easily achieved otherwise.
If content is created not with the intention to sell but rather to build a relationship, then consumers perceive they have been given something of value. And even if they do not make an immediate purchase, they will most likely return at some point in the future to benefit from that value exchange again. This is how you go about winning in the market place.
With the retail space evolving rapidly to meet the age of the consumer one thing is clear: nobody's figured it all out yet. Those brands willing to fall forward and try things on the cutting edge of creating personalized, authentic experiences, will be rewarded for their efforts. But to many, it's not about the money anymore. There's a higher calling, one of turning brands into powerful change agents to improve people's lives, and that is something we can all get behind.