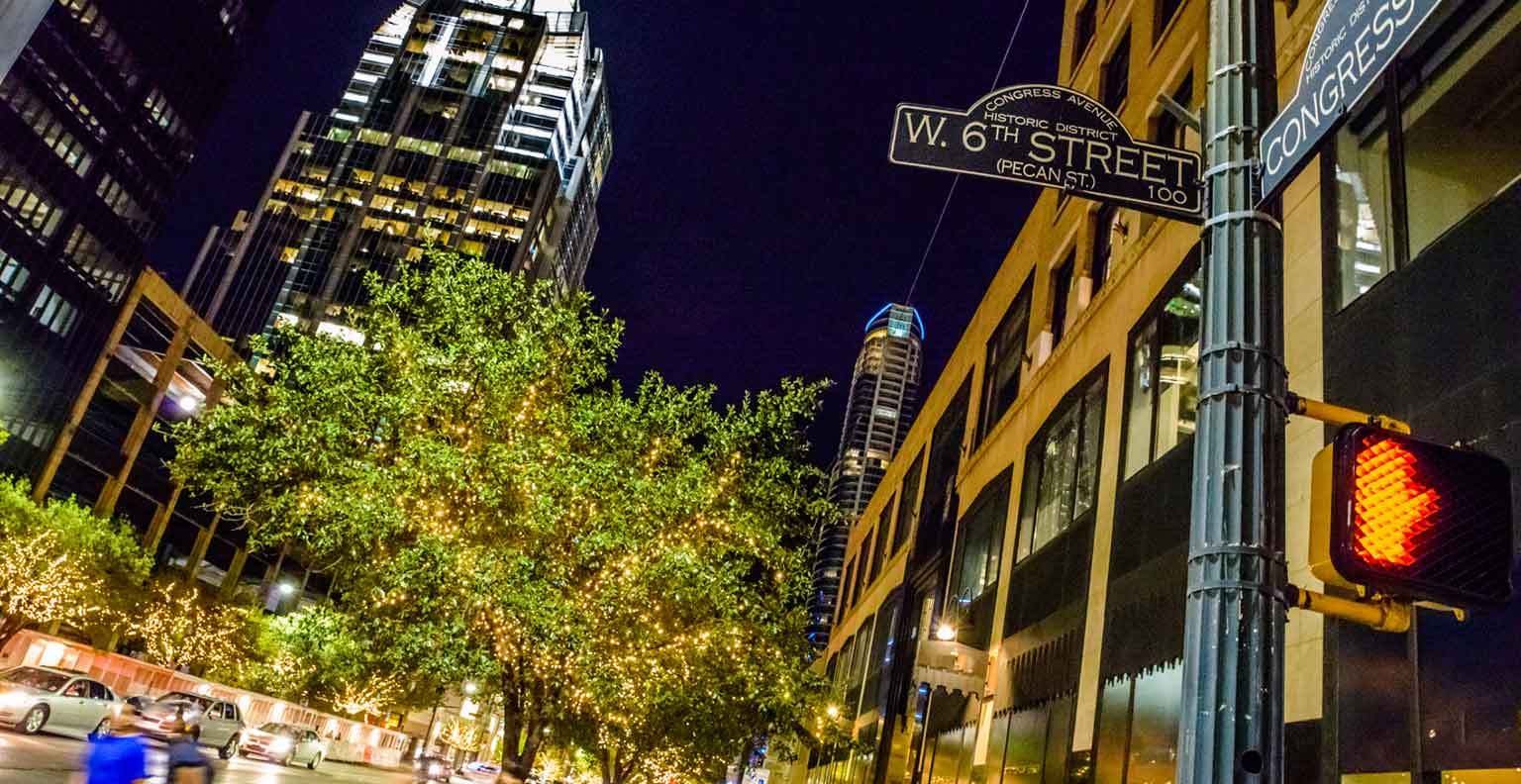 That moment when South by Southwest is over and you realize you still get to live in Austin. Ahhhh. Fortunately Bazaarvoice is headquartered in this booming town, and I love playing host during these ten days of interactive, music, and film. No, not just to the array of couch crashers, but to our clients and partners who come from all over the world to participate in this event.
In the past, the biggest splash came from the tech companies like us, building their brands and throwing parties for clients. In recent years, however, we've seen the flip to consumer brands—not only attending for thought leadership, but also for marketing to other marketers.
Experiential marketing, also known as brand activation, leverages influencers to generate buzz about their brands through an interactive experience. With 50K+ techies glued to their phones during SXSW, you couldn't pick a better place to make a splash. But it takes more than just a hashtag to get them tweeting. Four strategies helped our clients break through the noise while staying true to their brands. Spoiler alert: it's not free T-shirts.
Creativity
When it comes to creativity and word of mouth, Mophie wins SXSW. I could see their agency pitching the concept: "Picture this: St. Bernards, rescuing dead phones with Mophie chargers (Mic Drop)." I mean if all they did was rescue people with dying phones who tweeted to #MophieRescue, they would be performing a huge service, and it would be a hit. However the totally gratuitous addition of St. Bernards to deliver the Mophie charger was absolutely brilliant.

While the dogs' only utility was cuteness, they didn't just choose any breed; they selected eye-catching and scarce Swiss Alps rescue dogs, making it all make sense. I saw only a few of them in the streets of downtown but plenty more in my newsfeed. I even missed a session (shhh) because I accompanied a pet food client to play with the "off-duty" puppies at the lodge-themed station, and they couldn't pull me away. My only complaint was that the St. Bernards' barrels didn't contain Whiskey.
#MophieRescue Tweets: 2659
Approx. reach: 6.3M
Placement
Dove knows their audience and also how to be at the right place at the right time. Situated just outside the Austin Convention Center, the growing line of women caught my eye. A line of people is like the offline version of having a large number of reviews, so naturally I gravitated toward it. They were promoting positive body image to women, displaying powerful stats like "Last year women sent over 5 million negative tweets about beauty and body image." To combat the negativity, they made positive tweets with #SpeakBeautiful the admission price to their experience. Once inside, women were pampered with healthy snacks from Whole Foods and hair and makeup touchups to look as beautiful as they feel.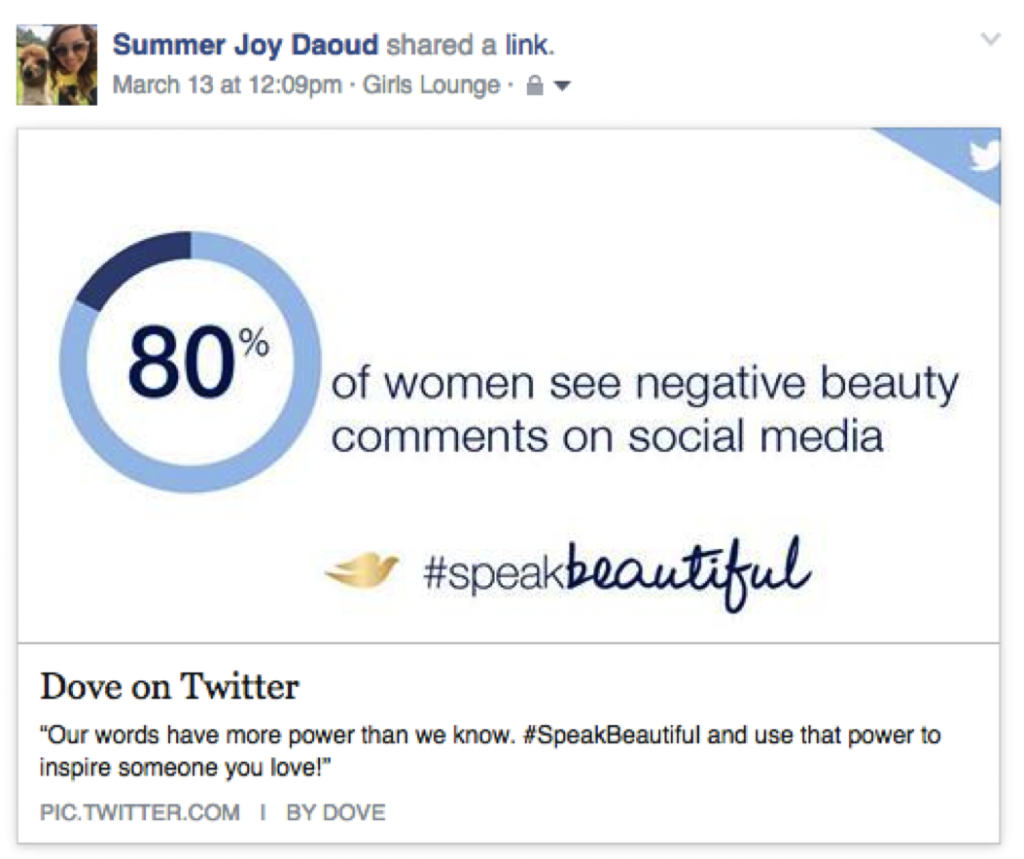 #SpeakBeautiful
Tweets: 5290
Approx. Reach: 8.6M
Surprise and Delight
Verizon Wireless knows that locals put up with a lot of #%$& during SXSW.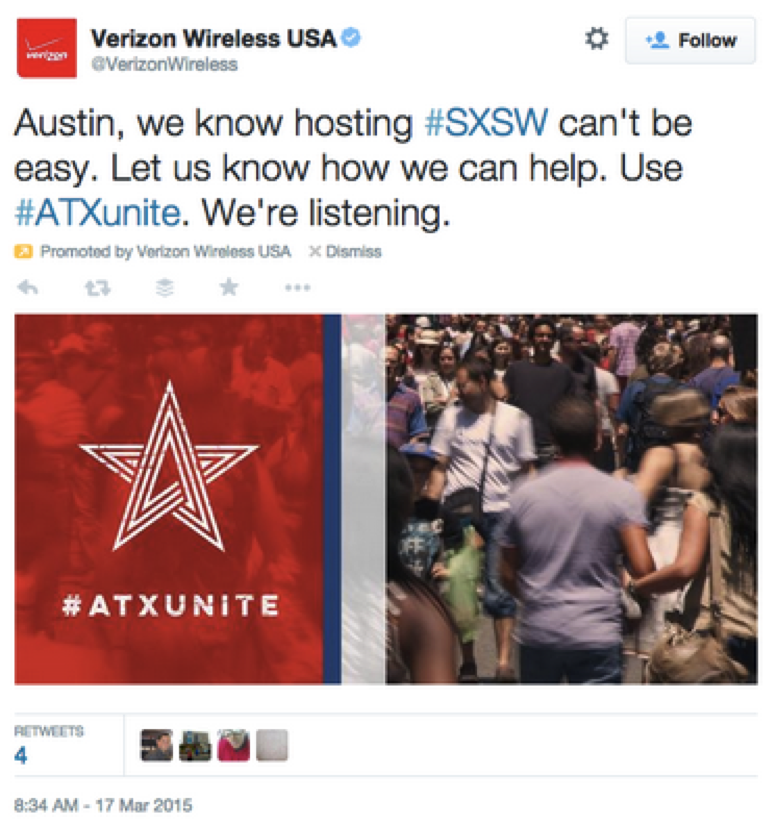 Locals who tweeted their SXSW angst using #ATXUnite were surprised and delighted with gifts like chargers, tablets, drones, (locally-based) YETI coolers, and more. Verizon also performed some one-off rescues with coffee or errands to help Austinites in need. While they didn't come walk my dog when my walker couldn't find parking, I did get to partake in an exclusive no-line free lunch at Franklin's for locals only. As you may know, Franklin's usually requires a three-hour wait at 8:00 a.m. to enjoy a grease-soaked tray of meaty goodness. What I love about this is that they weren't just handing out cell phones. They incorporated subtle yet intentional themes of "we've got you covered" and "local."  Verizon, I hear you now.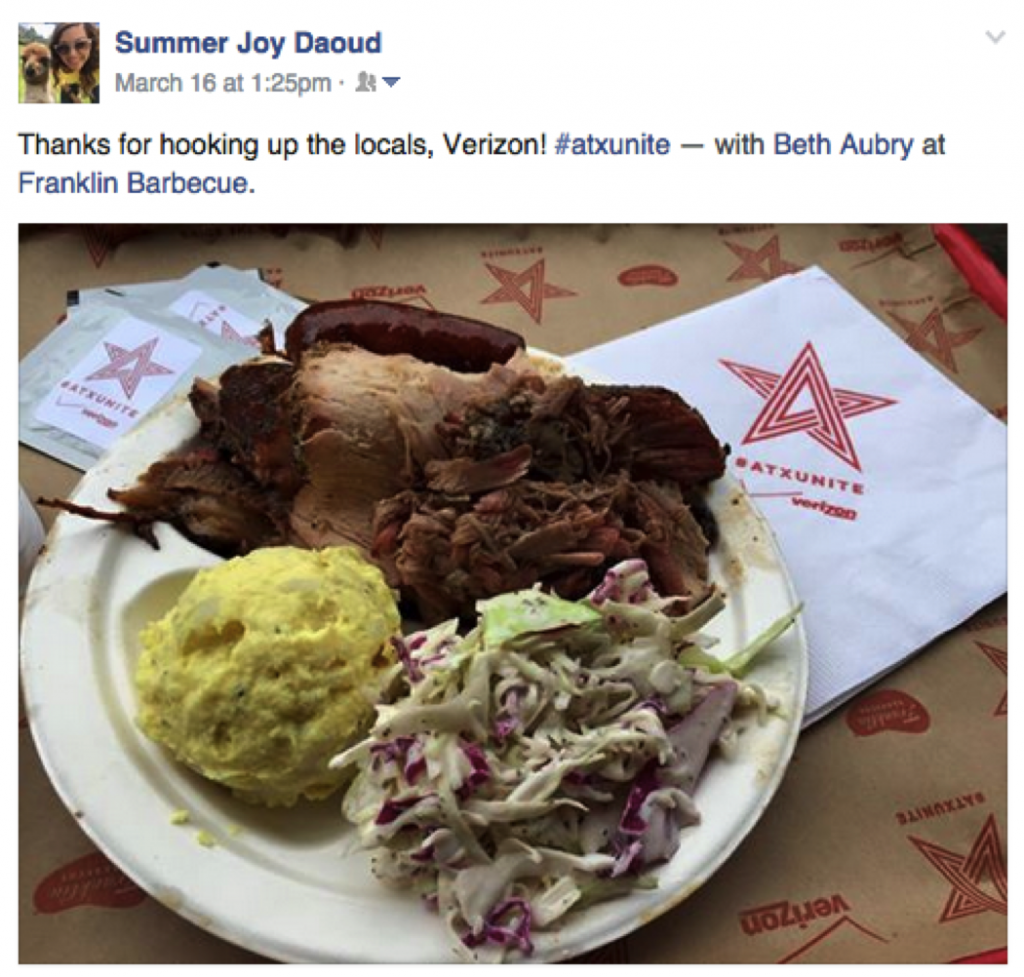 #ATXUnite
Tweets: 3428
Approx. reach: 103M
Technology
At the end of the day, this is a technology conference, so you can't go wrong letting tech nerds play with your new toys. Oculus Rift is badass. I waited last year multiple hours in the heat for a sixty-second Game of Thrones Oculus Rift experience, and it was worth every minute. Samsung stayed true to their brand, providing the chance to experience their new Samsung Gear VR headset powered by Oculus Rift. In a buzzworthy twist, you got to experience SNL as a studio audience member through this gear. While 3M may be best known for Post-its, innovation and technology are their lifeblood. In the 3M Life Lab, they combined their consumer products with art and technology to create a visually stunning experience and interactive demos, like a design-your-own tote. Both sprinkled in live music.
Brands can't break through the South by Southwest noise with traditional sampling or swag alone. Sure, everyone loves free things, but even if everyone who got a sample became a customer, it usually wouldn't cover the overhead of people, venue, and product. The marketers who can go back to their CMOs with their heads held high are the ones who reached consumers beyond Austin, through the power of earned social impressions and PR buzz. If you can't afford to create experiences at SXSW to get valuable word-of-mouth content, consider sampling your products in exchange for reviews that reach your site visitors.