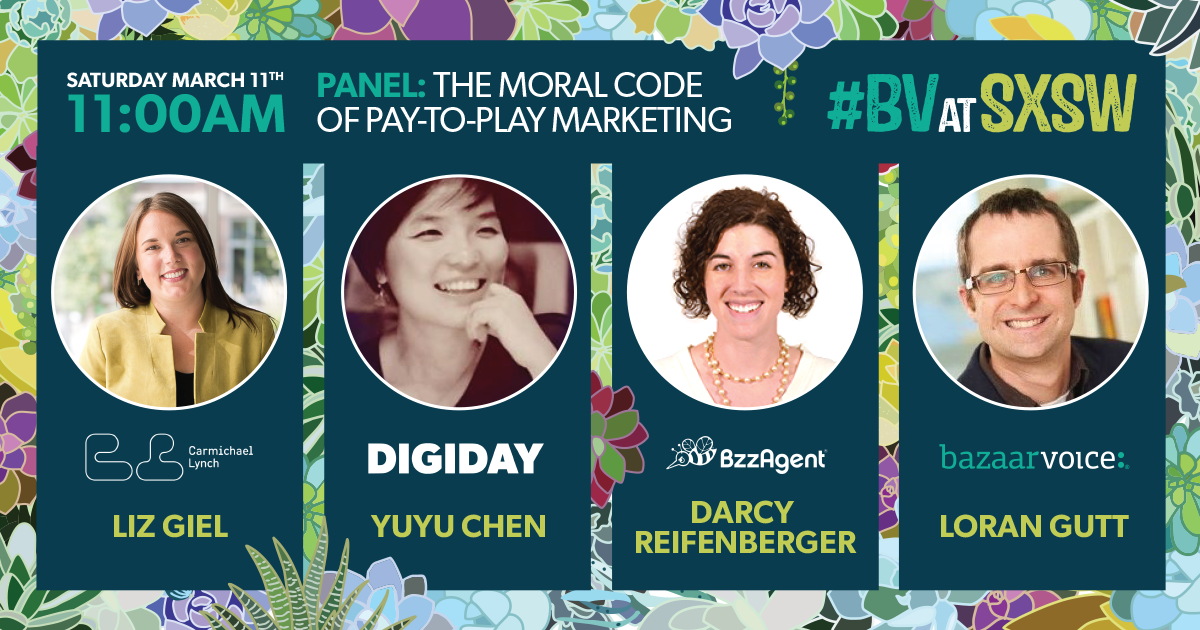 Companies used to spend their marketing and advertising dollars on print ads, billboards, and television commercials, but the modern marketing mix is much more complex and nuanced. Not only are there new media properties where advertisers can buy space – social media, podcasts, mobile apps – the type of content used in marketing has evolved as well. Over time, consumers have developed a heightened sense of distrust toward traditional advertising and brand messaging. Instead, they prefer to consult and confide in their peers or communities of likeminded individuals when making their purchase decisions. These sea changes in both the advertising landscape and consumer behavior have caused companies to adapt their strategies accordingly, and now we're seeing an influx of brands using the voices of real people in their marketing.
Using real people in your marketing can manifest itself in different ways. Some companies employ bloggers in niche industries to help tell their stories. Others partner with sampling communities to put their products in the hands of potential brand advocates in exchange for authentic testimonials and honest feedback about the product. Some major universities have even entrusted their student bodies with taking over their Snapchat accounts for extended periods of time. At Bazaarvoice, we help brands and retailers leverage ratings and reviews and visual content generated by real consumers to help lift awareness, consideration, and conversion.
Some refer to this as word-of-mouth marketing; others may call it influencer marketing or brand advocacy. No matter what you call it, this form of marketing profoundly resonates with consumers because it's more relatable and genuine. The adoption of these powerful marketing strategies is growing considerably. According to Digiday, 66% of more than 200 marketers surveyed have an influencer marketing strategy in place. Separate research reveals that marketers spent between $25,000 to $50,000 per influencer marketing campaign in 2016 and anticipate that this will likely double to $50,000 to $100,000 in 2017. With brands allocating a larger portion of their marketing budgets toward these types of campaigns, we can expect to see more product endorsements, sweepstakes and giveaways, and social media takeovers from real people populating our feeds.
The growing popularity of this marketing tactic proves that it's very effective, but it also raises an important question – does this type of sponsored content eventually erode consumer trust?
Pay-to-play marketing has always been a complicated and, at times, controversial issue. But the earned, owned, and paid media worlds have converged over the past several years, resulting in new forms of paid media like native advertising, promoted social posts, and advertorials. As a result, distinguishing between traditional advertising, organic earned media, and these subtle, more blended forms of advertising has become more difficult. For example, a study conducted by Stanford University recently revealed that nearly 80% of middle school students couldn't tell the difference between fake news and sponsored content in the form of native advertising.
Arguably the most prevalent type of pay-to-play marketing we see brands use is influencer marketing through social media. Let's use Instagram as an example. According to Chute, Instagram is the most popular influencer marketing platform because of its large user base and accessible nature. Oftentimes, marketers and advertisers struggle to reach hyper niche audience segments, but there is no shortage of established lifestyle, travel, fashion, fitness, and food Instagrammers who can help brands illustrate their stories. The tough part is striking that delicate balance between giving the influencer creative control while ensuring the content aligns with your brand's message and marketing objectives.
Furthermore, there is a lot of confusion around proper disclosure when companies pay Instagram influencers to help promote their products and to what extent. Are all social media endorsers labeling their posts with "sponsored" or "ad" hashtags? Did they draft their own comments or cut and paste copy provided by the brand? Most importantly, who's enforcing and regulating the disclosure of this type of marketing, and who's at fault when sponsorship is not clearly disclosed — the company or the influencer?
Another potential consequence of inundating consumers with too much sponsored content is eventually losing their trust. Brands and influencers must do their due diligence to be authentic and honest in their partnerships. Otherwise, they run the risk of consumers tuning out these messages in the same way we block pop-up ads and fast-forward through television commercials.
From working with social media stars to engaging sampling communities – these new marketing strategies can be uncharted waters for companies. To further explore the trends and issues affecting companies that are considering or currently using real people in their marketing, we've assembled a panel of experts representing word-of-mouth marketing, advertising, and journalism to share their unique perspectives at Bazaarvoice's #BVatSXSW event on March 11th. Our official SXSW panel "The Moral Code of Pay-to-Play Marketing" will feature Yuyu Chen, brand reporter at Digiday; Liz Giel, group planning director at advertising agency Carmichael Lynch; and Darcy Reifenberger, global product director at Bazaarvoice partner BzzAgent as our guest speakers. Join the conversation – register to reserve your spot.