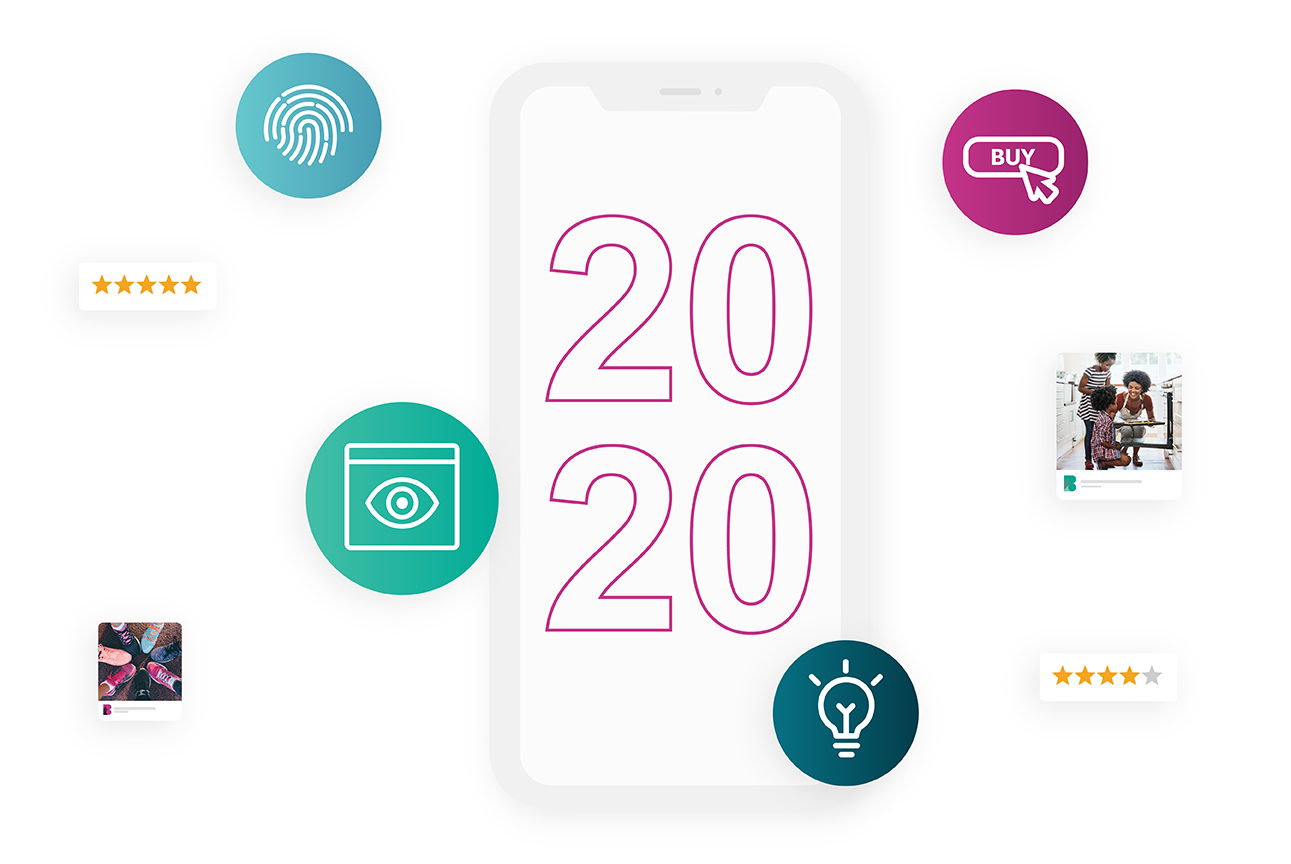 Although e-commerce is a staple of the retail landscape, the ways we use it continues to evolve – and that's not changing in 2020. From the domination of direct-to-consumer (DTC) brands, to grocery gracing the web, to buyers using buy online, pick up in store services, e-commerce is blending in to all parts of our everyday lives. As consumers continue to be digitally reliant, what kind of innovations will we see for shoppers who demand speed, convenience, and authenticity? 
Hear from our executive leadership team on what they think the e-commerce landscape will look like in 2020 and beyond: 
Consumers don't want to hear it from you; they're talking amongst themselves.
According to the 2019 Edelman Brand Trust Survey, on average, just 34% of shoppers say they trust most of the brands they buy and use. Tired of being bombarded by advertising, influencers, scandals, and scams, customers now trust each other much more than brands. And with a variety of channels to communicate with each other, they're relying on one another to learn more about brands and their products, instead of hearing it straight from the source. 
"Shoppers trust each other a lot more than they trust brands, and through user-generated content (UGC), like customer reviews, photos, and Q&A, consumers are conversing with one another to learn more about products or to (often unknowingly) be brand advocates," said Joe Rohrlich, our Chief Revenue Officer. 
Ratings and reviews are an incredibly popular way for shoppers to communicate. Almost all (98%) consumers consult product reviews before making a purchase, often finding them more influential than expert recommendations. 
"In 2020, while brands work to solve for the drop in consumer trust, they will continue to embrace content created by real people — whether that be shoppers or even their own employees — and experimenting with how they showcase it throughout the purchase journey," said Rohrlich.
Influencer marketing will change, but it's here to stay
Brands aren't the only thing consumers don't trust – influencers are also on that list. According to a Mobile Marketer study, only 29% of shoppers said they have made a purchase based off of an influencer's post. Consumers know that influencers are being paid to praise brands and have doubts that they're actually using the products (such as flat tummy tea!). 
In response, the FTC has cracked down on the marketing tactic, requiring influencers to clearly mark posts that they're being paid for and to obviously state they're being paid by a brand. But even with these regulations, shoppers are still suspicious. 
"Regardless of how shoppers report to feel about influencer content, if brands are seeing a strong ROI when investing with influencers, they will continue to do so," said Sophie Light-Wilkinson, our Vice President of Marketing in EMEA. "Budgets will follow what consumers are responding to. The thing that brands will change is their transparency and education around their influencer marketing to make sure they are providing consumers with the authentic content they crave." 
Going forward, bending to the calls of authenticity from consumers, brands will influencer marketing will likely shift from celebrities and super-influencers to micro-influencers. 
Online shopping is now a social event 
Consumers relying on other consumers' opinions have led to a rise in shopping-focused communities — both those that are managed by brands and those that are independent platforms. From Lego Ideas to the Sephora beauty community to Influenster, a company we acquired this past year, consumers are coming together in niche groups to share their thoughts about products they've tried and to discover products they'll love. 
"Once a solitary practice, e-commerce has now become incredibly social, as user-generated content such as ratings and reviews and consumer photos have become an essential asset in the modern consumers' shopping journey," said Elizabeth Scherle, Co-Founder and President at Influenster. "Shoppers are now constantly seeking out the recommendations of their peers and want to see how a product looks in the hands (or on the body) of someone like them — we've found that 68% of consumers want to see products in a real life context and a third of consumers consider reviews with photos as more credible." 
These communities aren't just useful for shoppers — brands can learn a ton from what their consumers are sharing as well. By facilitating and engaging in customers' conversations, businesses can glean valuable insights about consumer preferences and behavior. Rohrlich thinks "we will see more brands innovating with ways to connect their shoppers to each other, perhaps through new models for brand communities (like LEGO's Idea's community), loyalty programs, and events (like Lululemon's in-store workout classes)."
Amazon isn't the only sheriff in town
Although it certainly isn't going away, the grip Amazon has on the e-commerce market is loosening. Brands such as Nike and Birkenstock are departing from the platform, while DTC powerhouses such as Glossier and Bonobos have proved they never needed the platform in the first place. Retailers such as Walmart and Target are also proving themselves to be worthy competitors, especially in the grocery vertical. 
"After many years of U.S. retailers losing wallet share to Amazon, mainstream U.S. retailers have finally surged past Amazon and are growing e-commerce at a faster pace, with faster  2019 growth for e-commerce at Walmart, Target, Home Depot, Lowes, and a long list of others," said Loran Gutt, our Vice President of Corporate Development. "These retailers are finally leveraging their assets – existing stores, distribution centers, payment tools and cards, loyalty programs, and apps people really download and use. Innovations at-scale in the store pickup and local delivery experience are paramount to continuing to grow in this area."
Even as the retail giant continues to loom large, no one is throwing in the towel. In 2020, brands will work hard to differentiate themselves and use Amazon's weaknesses — like lack of a strong physical presence and declining consumer trust  — to their advantage. Especially in the grocery space, large retailers see an avenue to win. 
E-commerce is embracing video 
While livestreaming certainly is used in the US and Europe — we can watch gamers play on Twitch streams or ask celebrities questions on Instagram live — other markets like China have widely adopted it in the e-commerce space. An essential part of the discovery journey, livestreaming is the "go-to" option for Chinese consumers when seeking out new products and deciding what to buy. In fact, their livestreaming market reached $4.4 billion in 2018 on 32% year-on-year growth, according to a report by Deloitte. 
"I really am looking forward to the continued evolution of the video review, particularly livestream shopping," said Lucas Tieleman, our Senior Vice President of Product Management. "Seeing explosive growth in Asia but yet to catch on in the US, livestream shopping combines traditional home shopping services like QVC with influencer marketing. The live streams can be anything from a fashion show to celebrities reviewing their favorite product and often include special promotions lasting until the end of the video to create a sense of urgency with viewers. While watching real time, shoppers can comment and ask questions to the streamer about the products to help quickly inform their purchase." 
With the explosive popularity this type of content is seeing in Asia, there is no doubt it will make its way to the US sooner rather than later. The question remains though, will an already-existing streaming brand take the dive into this space? Or will an entirely new platform emerge?
___________________________________________________________________________________________
These predictions speak to the e-commerce trends that will shape the retail landscape in 2020 and beyond. Getting ahead of this year's trends will help your business stand out amongst other brands and retailers in your industry. To learn more about the trends we're keeping an eye on and how to enable your e-commerce business to have a successful 2020, download our 2020 e-commerce trends webinar.