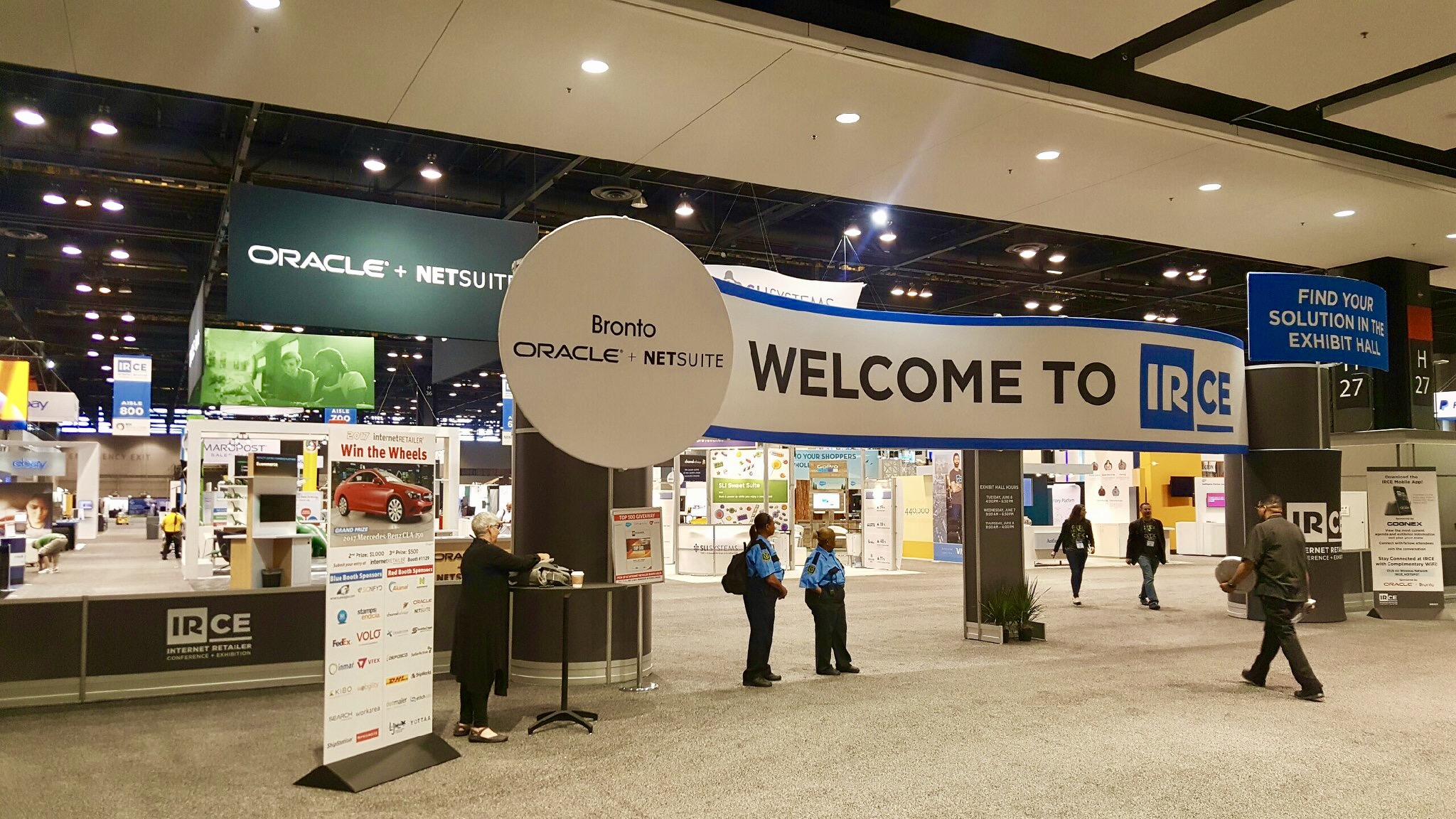 Internet Retailer Conference + Exhibition 2017, the biggest e-commerce conference in the world, wrapped up last week, with 130 sessions worth of inspiring content being delivered to a hungry audience of over 10,000 people. There was a sense of urgency and excitement in the air that even the 250,000 sq. ft. McCormick Place exhibit hall couldn't contain. And this should come as no surprise. With predictions for 8-12% e-commerce growth in 2017, up to 3 times higher than the growth rate for the broader retail industry, the time is now to capture and win an evolving consumer.
Explicitly or implicitly, there was one theme that seemed to tower over all the others: Consumer Experience. How do you compete with Amazon? How do you keep people coming back to your site repeatedly? You guessed it, give them an experience they can't get enough of. Here are three keys to consumer experience success from IRCE 2017.
1. Deliver "experiential retail" through mobile.  
Mary Beth Laughton, SVP of Digital at Bazaarvoice client Sephora, absolutely knocked this one out of the park. What makes Sephora's approach to mobile so special? In Mary Beth's words, "We go beyond mobile commerce and have created an experience that empowers shoppers to learn, be inspired, and play." Their mobile app is the perfect example of these experiential retail concepts. Inside, you will find Sephora's Virtual Artist, an augmented reality feature that allows shoppers to experiment with different makeup styles on their own face, seamlessly transitioning to product pages where you can read consumer reviews and gain the confidence to buy. Sephora's Beauty Talk and Beauty Board enable you to ask questions and be inspired by photo content in a vibrant online community. You almost can't help but play in such a thoughtful app, and Sephora deserves the success they are seeing as a result of their mobile efforts. Take note, this is how mobile is done right.
2. Use consumer feedback to improve product page content.
Michael Shady, Senior Director of Web Operations at The Home Depot, has recognized that consumer feedback can inform their content creation. Michael used consumer feedback from Bazaarvoice Questions and Answers to reveal several key gaps in content for one of their bestselling grills. First, they realized there was no picture of the built-in thermometer, a selling point that in-store customers can see with ease. They took care of this by adding another product picture that showcased the thermometer, front and center. Secondly, a consumer question regarding the size of the grill, made them realize that they needed an easier way to show shoppers the grill's size online. What is a size reference that at-home grill masters would recognize? The answer: hamburgers. And thus, their hamburger sizing, seen below, was born.
Home Depot recently topped analyst estimates for Q1, in a time when the retail industry has largely seen downward pressure. Michael's presentation showcased some of attention to detail that sets their strategy apart and can be summed up when he says, "You must be the best answer consumers find, and they will choose you for their purchase decision."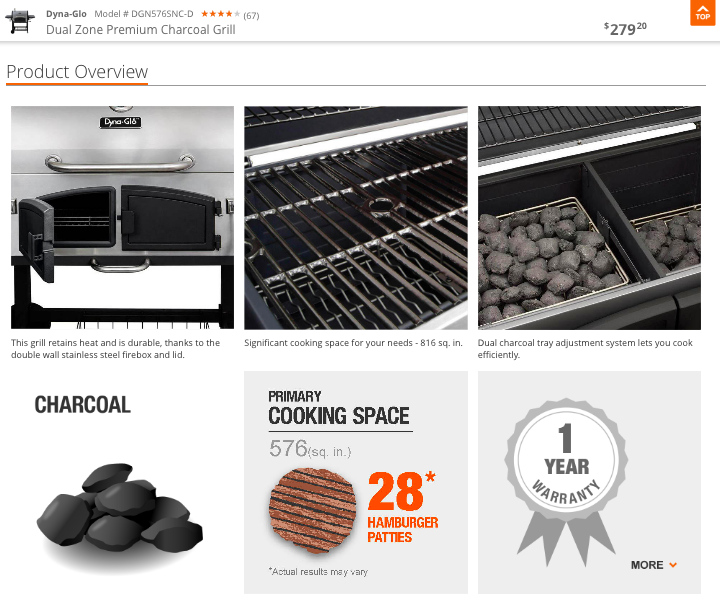 3. Personalized content wins customers.
Many brands and retailers alike are effectively data islands. Meaning, information about their shoppers can only be collected when the shoppers interact with the company's owned experience. Once they leave the four walls of the website, they become invisible, and the data collection stops. To solve for limited visibility into shopper behavior, many in the retail industry have looked to a combination of their qualitative and quantitative data to inform personalized content experiences.
Elizabeth Cordeiro of Whereoware showcased how combining persona work with quantitative signals from web interactions has allowed for the creation of personalized email marketing campaigns that converted 33% higher for Plum and Post, a direct-to-consumer online marketplace.
Kidbox founder Miki Berardelli revealed their use of machine learning algorithms to predict future shopping behaviors in. Sometimes, it's not what consumers buy, but what they return that gives their algorithms the most information. "The goal," Miki says, "is to show shoppers 'We get you'."
Apps continue to be unbelievable sources of data that can fuel personalization. Under Armour uses data from their community of fitness consumers to inform personalized content and recommendations, while Sephora's app allows them to be able to send very personal, targeted messages to shoppers they know so much about.
Digital commerce is forcing retailers and brands to adapt to new and exciting market needs. As these retail currents affect our network of brand and retail clients, they also define our own company direction, and there are many paths companies are going down to capture this shifting market share. However, at IRCE 2017, it began to emerge that shoppers are favoring the experience over all else. As early results have proven for the winning businesses mentioned, those who embrace experiential retail, listen to their customers, and provide personalized experiences are headed in the right direction.