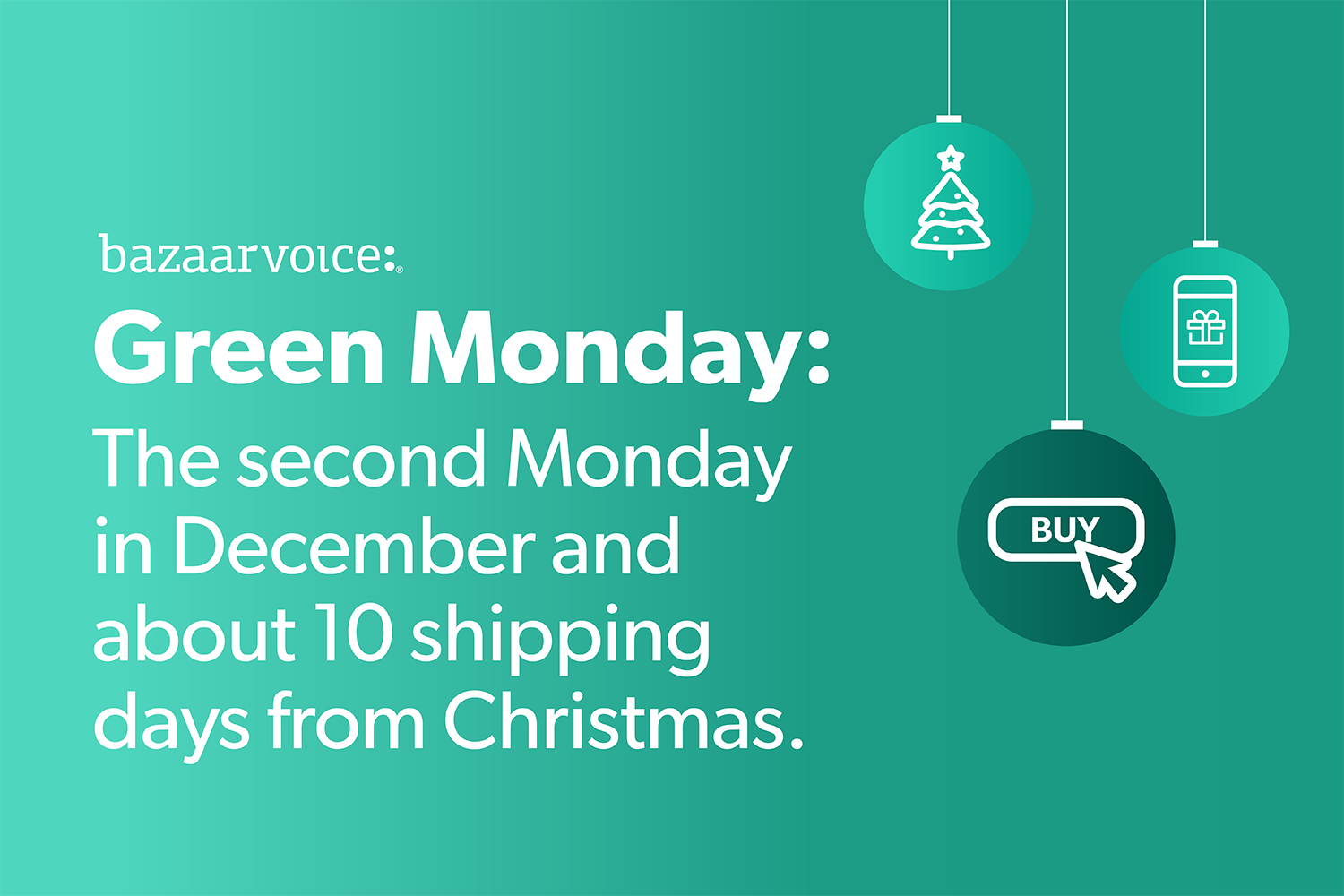 About 60% of Americans plan to do their holiday shopping online, and with only about two weeks until Christmas, Green Monday saw an even bigger spike in shopper activity this year than last. 
Coined by eBay in 2007 and named for the amount of money consumers spend on holiday shopping, Green Monday is the second Monday in December. The day falls approximately 10 business days before Christmas, so many shoppers rush to purchase holiday gifts before time runs out, prices go up, and orders have to be rush shipped. According to Bazaarvoice Network data, this was the third highest online order day during last year's holiday season, behind Black Friday and Cyber Monday.
This year, we wanted to see if this trend continued, solidifying Green Monday as a bonafide shopping holiday. Here is what we found: 
Green Monday is growing in popularity
This year's Green Monday saw an almost 18% increase in shoppers and a 12% increase in page views across our US clients Even though holiday shopping sales are starting earlier with retail events such as Black Friday in July, shoppers seem to not be able to kick their procrastination habits. Many brands and retailers have caught on to this shopping scurry, including retail giants such as Target, Macy's, and Best Buy, who all held their own sales.
Shoes dominated the day, similar to Black Friday and Cyber Monday
As they did last week, shoes dominated the most-popular products list for Green Monday. Nike Men's Air Force 1 Mid, Adidas Men's Originals Yeezy Boost 350, Adidas Yeezy Boost 350 V2 Black, and Air Jordan Men's Retro 11 all made the top five list. The only non-shoe item was the Discover it® Card, which was on last year's hottest products during Cyber Week. 
Mobile surpassed desktop, but not by much
Although mobile page views were higher than those on desktop – 55% of all page views came from a mobile device – they were lower than during Cyber Week, where they peaked on Black Friday at 63%. This could be due to more people being at work during Green Monday, shopping secretly while sitting at their desk. 

_______________________________________________________________________________
Green Monday is well on its way to being a permanent part of the retail calendar. Buying last minute holiday gifts will never go out of style, and the increasing popularity of Green Monday proves it. Time will tell whether it was one of the biggest days of this holiday season.
Holiday shopping is far from over. Looking for some more holiday shopping insights? Check out our Holiday Headquarters.