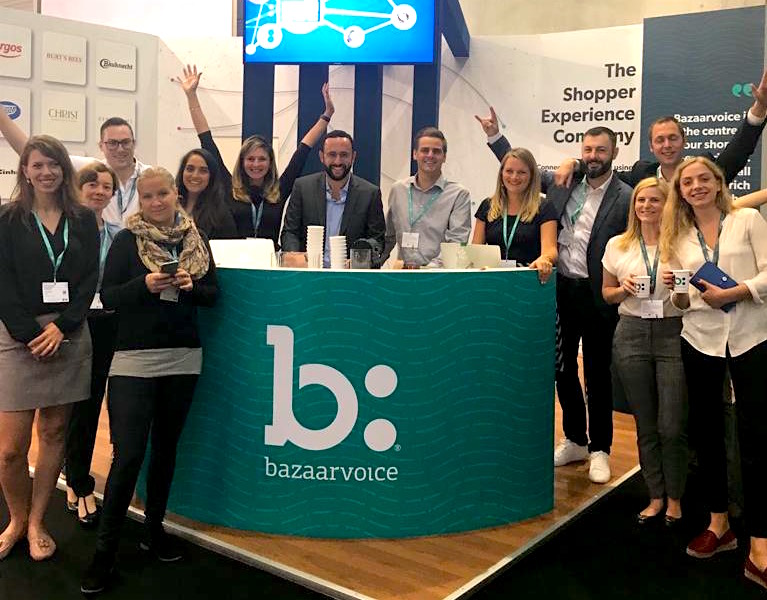 After two packed days of client meetings, speaker sessions, booth conversations, and after hours parties, Europe's largest digital marketing conference is over for another year.
Anyone following Europe's industry news or #DMEXCO18 on social mediasaw the the usual mix of snazzy stand designs, piles of branded swag, and a lot of beer. It wasn't all fun and games as there was also inspired discussion about authentic brand content, the impact of artificial intelligence and digital innovation, and the challenges facing brands of all sizes today.
Before the Bazaarvoice team headed to Cologne, we predicted our top trends to pay attention to at the event:
Brands rising to the challenge of ever shifting customer expectations

Perfecting personalised experiences

Retail renaissance



From social media, conversations at the Bazaarvoice booth, and speaker sessions, these three topics indeed dominated the conversation at this year's conference. Here is our DMEXCO 2018 recap of how these three major themes are impacting Europe's marketing and advertising leaders.
Brands rising to the challenge of ever shifting customer expectations
A major takeaway from this year's conference is that brands, retailers, and tech players acknowledge the shifting power of the consumer.
For example, Instagram has shaped how we interact with visual content by defining creativity within a perfect square. Instagram's Head of Business, Jim Squires, outlined that we're now "Living in a Vertical World". The vast majority of millennials never flip their phones widescreen even when watching video content, placing the onus on brands and social networks to adapt. While Instagram sees it's on-platform video channel IGTV meeting this shift in customer expectation, YouTube announced the launch of vertical video advertising formats during their on-stage session. While vertical video has been available to YouTube users for some time, this marks the first time that brands can take advantage of this format on the platform.
Of course, GDPR and consumer privacy were top of mind for many in attendance and was mentioned in many of the sessions. The major change to EU privacy law went into effect in May of this year, and many brands and tech companies agreed that it was too early to tell what kind of impact the regulation was having on business. What was clear is that GDPR is just the beginning; consumers are asking for more transparency around their data, and everyone is working to deliver it.
Our 2019 prediction? We will see more success stories from brands who truly listen to consumers. Those who move quickly to transform to a truly customer-centric approach will have an easier job of winning over empowered consumers.
Perfecting personalised experiences
Personalisation has been a key topic for Bazaarvoice throughout 2018 after our research showed that consumers want brands to recognise who they are, remember their past purchases, and make relevant recommendations to assist them in their path to purchase.
As we predicted, it was clear that while many companies want to be delivering personalised experiences, not many have been able to perfect it yet. For example, Vanessa Hartley, the Director of Retail at Google, summarized both the value and the challenge of personalisation in the Media Meets Commerce session:
The customer expects everything to be fast, frictionless, and immediate, and they expect a brand to work with them and assist them at all times. When a customer can count on a brand or retailer, that company will grow…how do we get that personalized, relevant experience all the time? We've got to start understanding data and media integration. For example, in Germany, the average site speed is still ten seconds to load, and more than 50% of websites are abandoned if a customer doesn't find what they need in three seconds. We've got to first get better at the basics. A bad customer experience will cost you money.
One brand setting the gold standard for personalised experiences is Spotify, who outlined how they use machine learning to personalise Spotify playlists for users on a daily basis. Spotify seems to be ahead of the curve when it comes to personalisation, but will we see more companies catch up in 2019? As Vanessa Hartley of Google said, those that can't deliver a positive, efficient customer experience will see an impact on their bottom line.
Retail renaissance
There's no doubt that the rise of social commerce, greater competition and rising consumer expectation have put huge pressure on retailers today. It was reassuring to hear from retail leaders about the strategies that have helped them succeed in this increasingly digital and demanding space.
Pieter Haas, CEO of Europe's leading consumer electronics retailer MediaMarktSaturn Retail Group, proposed that retailers need to "smartify". Pieter described how his company was striving to not only deliver a wide product range and efficient path to purchase but also support customers throughout the lifecycle of their purchase. The retailer is looking at ways to add complementary services to enhance the end-to-end customer experience, including installation, maintenance, and repairs, to make the process of researching, purchasing, and owning consumer electronics as easy and seamless as possible.
In the same session, Ron Johnson of consumer electronics retailer Enjoy summarized this theme succinctly by saying that there is no such thing as a digital retailer, only a retailer for the digital world.
Trending at DMEXCO
In 2019, we can expect that the brands, retailers, and tech companies who apply new technologies to improve the customer journey will thrive, while those who stick to old models will find greater difficulties ahead.
What trends stood out to you at DMEXCO? Is your brand planning for vertical video, prioritizing personalisation, or working to improve the full customer experience? Let us know which digital marketing trends resonated most with you by leaving us a comment or sharing with us on Twitter at @bazaarvoice.