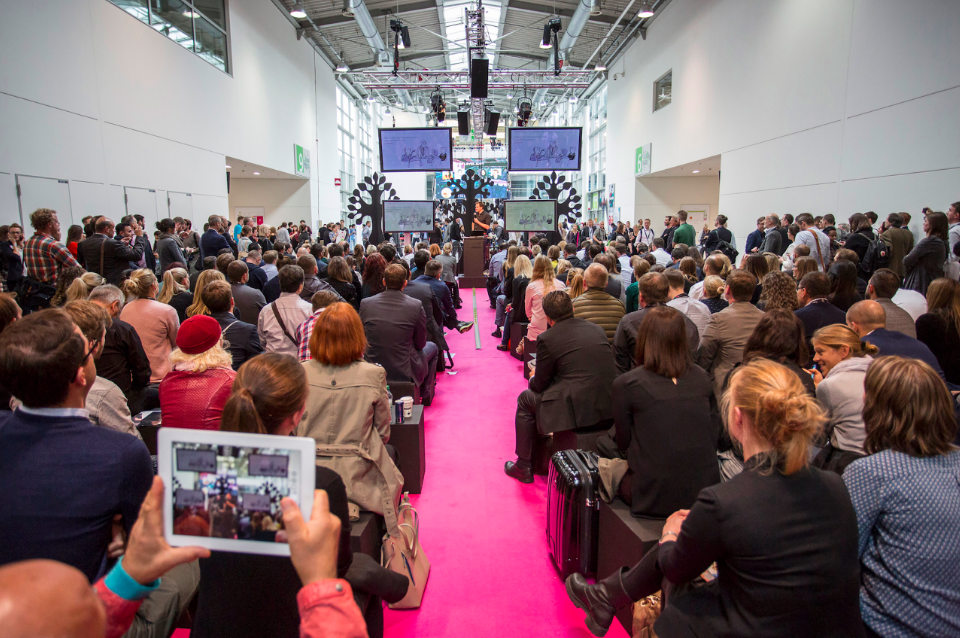 With Europe's largest digital marketing conference less than a month away, digital marketers, brand innovators, e-commerce leaders, and ad tech specialists are busy booking meetings with prospects, picking which speaker sessions to attend, and reserving places at their favourite evening parties.
With over 500 influential thought leaders, 40,000 visitors, and 1,100 exhibitors filling the two day agenda, DMEXCO 2018 has a long-standing reputation as the place where tastemakers and industry innovators set the digital marketing agenda for the year ahead. Whereas Cannes is where influencers, agencies, and creatives go to see and be seen (preferably on a yacht sipping rosé), DMEXCO is the place to be for all levels of digital marketing.
In previous years, social media chatter at the event has focused on the insightful commentary from major brands, changes in consumer behavior, and technological innovation, and 2018 looks set to follow that theme.
Here are three key industry topics we expect to dominate conversations at DMEXCO 2018.
1. Brands rising to the challenge of ever shifting customer expectations
Social media direct messaging, chatbots, and self-service Q&A tools are gaining popularity as consumers expect an instant response from brands online. Savvy brands track response rates and time to resolution in minutes, not hours or days. For younger generations, even real-time responsiveness is no longer enough; shoppers demand interactions to be both immediate and relevant, with information tailored to their individual needs.
At DMEXCO, the brands to watch and learn from are the ones who treat customers as individuals at every step of their omnichannel shopping journey, finding creative solutions to give them the content and context they need, rather than blasting them with generic marketing messages.
Sessions to look for:
2. Perfecting personalised experiences
Well-informed consumers are aware that brands collect their data, but after a year of headlines about GDPR, data breaches, and privacy law, they expect the companies who access their data to use it to deliver a shopping experience that is easier, more efficient, and tailored to their needs.
Our own research showed that shoppers want brands to recognize them, provide product recommendations based on their past purchases, and remember their purchase history. While more brands and retailers are investing in personalized experiences, like curated home pages and product recommendations, it's still a pain point within the industry. Less than 20% of shoppers said the product recommendations they see are relevant, and 38% said they won't return to an online retailer that recommends products that don't make sense for them. Many brands and retailers admit they have a long way to go to deliver efficient and personalised experiences to customers.
At DMEXCO 2018, we expect to see market leaders in the e-commerce space sharing valuable lessons about their adoption of personalization. Attendees should hope to learn best practices for providing personalised experiences that are helpful and human, while also being scalable, efficient, and automated.
Sessions to look for:
3. Retail renaissance
Mainstream news would have consumers believe that retail is dead. While it's true there are new challenges for brands and retailers to face in today's climate, there is also a wealth of opportunity for those willing to adapt.
While store closings, spiralling profit margins, and job losses make for eye catching headlines, it's not the full story. Consumer confidence is high, shoppers may have less discretionary budget but care about where they spend it, and consumers are shifting away from fast fixes in favour of quality and choosing experiences over possessions.
We're hoping for less doom and gloom at DMEXCO and more stories from companies who are tackling the challenges head on and finding new ways to deliver compelling customer experiences.
Sessions to look for:
---
What are you hoping to hear about at DMEXCO 2018? Share your predictions, tell us what sessions you plan to attend, and follow along with us during the event on Twitter at @bazaarvoice and #DMEXCO18.
Even better, come say hello to our team at Stand A010, Hall 07.1 for a lively conversation about retail trends, personalisation, and the importance of consumer-generated content. See you in September!