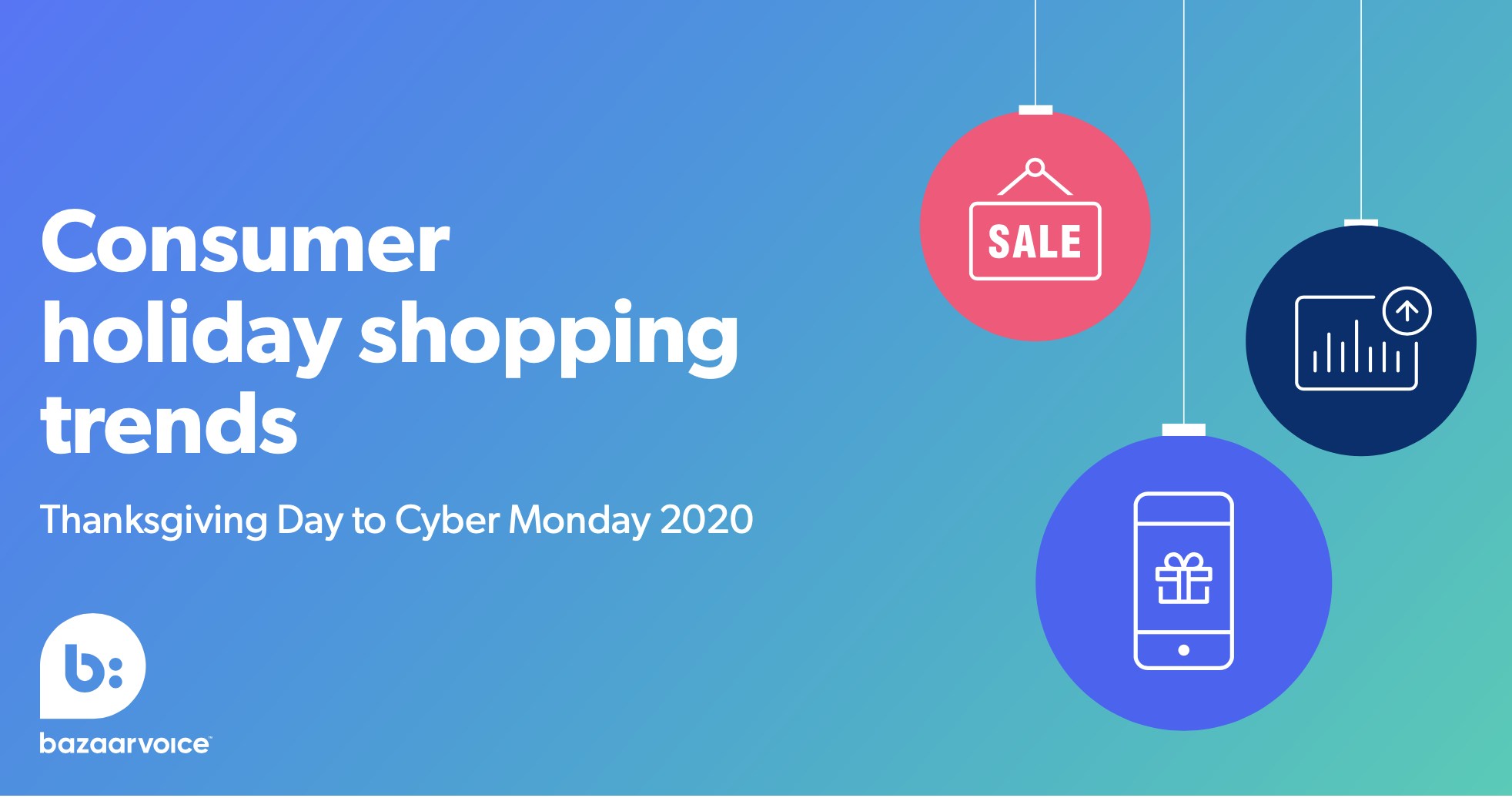 While a lot about this year's holiday season is different, there's one tradition that no one was willing to give up: Cyber Week shopping. Between turkey and pumpkin pie, Thanksgiving, Black Friday, and Cyber Monday still wet shoppers' appetites for deals on electronics and clothing and everything in between.
With even more sales moving online due to the COVID-19 pandemic, it's unsurprising that shoppers added to cart with more fervor digitally than in-person this year.
Some analysts argued that Black Friday is dead – especially with many major retailers not even opening their doors on Thanksgiving, but according to data from the Bazaarvoice Network of over 11,500 brands and retailers… this global shopping holiday is still alive and well. This year's Cyber Week (11/23-11/30) saw over a billion shoppers to our network, which is roughly 151 million more shoppers than Cyber Week in 2019. Since we started tracking this data in 2015, shopper totals are more than double what they were back then.
Here's what else we found this year:
Black Friday reigns supreme as biggest sales day
Even with sales kicking off early this holiday season, shoppers were still hyped for Black Friday. On our network, we saw the highest number of page views for the entire week around 4 p.m. on Black Friday.
Year over year, Cyber Monday had been setting itself up to overtake Black Friday in sales and popularity. But with the COVID-19 pushing the in-person portion of Black Friday largely online, Cyber Monday lost some of its appeal. Generally, you'll find different product deals on each day but this year those differences were negligible.
Shoppers like instant gratification. Why wait for a deal when it's available sooner? The sooner bought, the sooner received.
Compared to last year, Cyber Monday saw the lowest year-over-year growth for page views and shoppers.
Shoppers are buying more, more often
When Black Friday first began rising in popularity, the name of the game was scarcity. Black Friday deals happened once per year. You had to be first in line at 3 a.m. to get your hands on that doorbuster. But, with the expansion of the sales holiday to include several days and purchase platforms… some of the novelty has worn off.
The days of the week with the highest average order value were Monday and Tuesday of Cyber Week, followed by Black Friday.
Our theory? Because sales were expanded (some starting as early as Prime Day in October), shoppers started making more of their purchases earlier. And while many were eager to shop during Cyber Week, their carts were less full since they've been buying more regularly.
Speaking of sales starting earlier, Amazon Prime Day fell much closer to Cyber Week this year than it ever has. Happening October 13th and 14th due to pandemic delays, some say Prime Day was the official start of the holiday shopping season this year. Other major brands and retailers run their own sales to compete with the deals exclusive to Amazon.
With many of us at home, sitting on our phones or near a computer, there isn't much stopping us from filling our digital carts daily.
Shoppers are spending more time online before they buy
The push online after the start of the COVID-19 pandemic turned almost everyone into an online shopping aficionado. Reading reviews, parsing questions, and comparing deals became as commonplace as cruising through every aisle in a store and answering "printed receipt or email?".
Shoppers and page views on Saturday surpassed Cyber Monday's count for both. Additionally, page views and shoppers on the Monday and Tuesday before Thanksgiving saw the highest year-over-year growth out of any days in Cyber Week.
Deals have been lasting longer, which means shoppers are taking their sweet time researching. Peak UGC interaction during Cyber Week in 2019 was the minimum UGC interaction rate in 2020.
Electronics were at the top of wishlists
Cyber Week is about deals. It's no surprise that products with higher price tags are sought after on deal days. This year's most viewed product? The PlayStation 5. Released on November 12th, this product hit the shelves just in time for it to go on sale.
The other two most popular items purchased were the Xbox Series X and the New XPS 13 Laptop.
While electronics were popular items last year (the Apple iPhone 11 was a hot purchase), shoes also took many of the top spots on the most viewed products list. This year? No shoes breaking the top 100 items viewed.
Maybe it has something to do with the Zoom top phenomenon – the sale of professional tops has outpaced pants since the pandemic started in March. Maybe with conference calls happening waist up and many consumers still working from and living at home, there's no need to invest in fly kicks no one can see.
–––––––––––––––––––––––––––––––––––––––––––
While this year's Cyber Week was a bit different, it was also exponentially more successful than those of years past. Shoppers are always eager for a good sale and to find a reason to get into the holiday spirit.