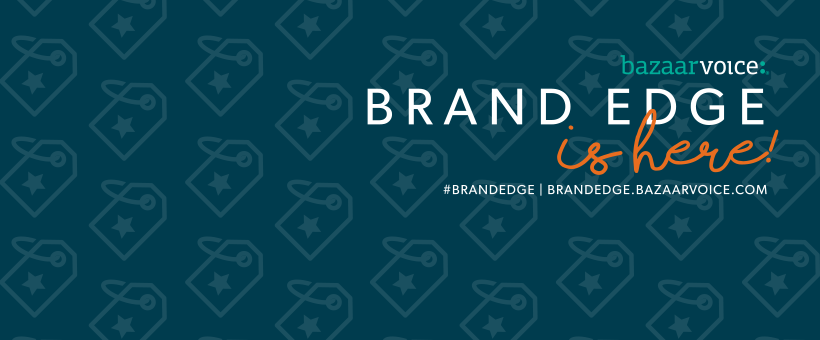 It's no secret that many brands generate the bulk of their sales through retail and marketplace channels. That being said, shoppers are bombarded with marketing messages across multiple channels and devices, and it is more difficult than ever for brands to stand out in a noisy marketplace. That's where consumer-generated content (CGC) comes in. As a brand, having CGC like ratings and reviews on your product pages is one of the best ways to build trust among shoppers and influence purchase decisions. So, how can brands get more reviews for their products on their retailers' websites? Enter Bazaarvoice Brand Edge™ — our newest solution that makes it easy for brands to collect CGC and distribute it to retailer e-commerce sites, without the need for software.
Why a new product geared towards brands? We've been at the forefront of CGC for twelve years now, and we know reviews provide value to both our retailer and brand clients. However, through talking to actual people working for brands — including brand marketers and channel sales managers — we realized there was a large segment of the brand population that we can better serve — those without e-commerce on their websites or those who heavily focus on the success of retail channel sales. These brands need an effective way to collect ratings & review content and distribute that content to retailer e-commerce sites without having to install e-commerce software on their own web sites.
To address the needs of these brands, we created Bazaarvoice Brand Edge, our first ratings and reviews solution that does not require technical implementation. This solution gives brands a simple way to collect CGC and syndicate it to retailer sites. In addition, Brand Edge pairs with Bazaarvoice sampling solutions to give brands an easy way to run product sampling campaigns and accelerate review collection.
Bazaarvoice Brand Edge was designed to meet the needs of brands of all sizes – not just the big players. With Brand Edge, companies can:
Collect lots of reviews: Find shoppers, ask for their feedback, and collect it — even before launching a new product
Get shoppers talking about your products before they hit the market: Run sampling campaigns and generate feedback from brand advocates or the Bazaarvoice sampling community
Help shoppers make decisions wherever they're shopping: Automatically distribute content to retail channel partners in the Bazaarvoice Network
Learn about your customers and what they think of your products: Listen to customer feedback, learn what they love about your products, and identify opportunities for improvement in a single dashboard
Just as we used feedback from brands to develop the product, we also used it to refine our solution. David De Nino, Director of e-Commerce at DS Laboratories, was one of our first Brand Edge customers: "Within one month of launching Brand Edge at one retail e-commerce site, we went from zero reviews to having content on every single product. In the four months after launch, we saw sales grow 235%. Getting consumer content in front of shoppers played a big role in the growth."
Now, we're excited to announce the official launch of Bazaarvoice Brand Edge, the retail channel sales solution for brands. To learn more about Brand Edge and explore the best solutions to meet your brand's needs, visit brandedge.bazaarvoice.com.