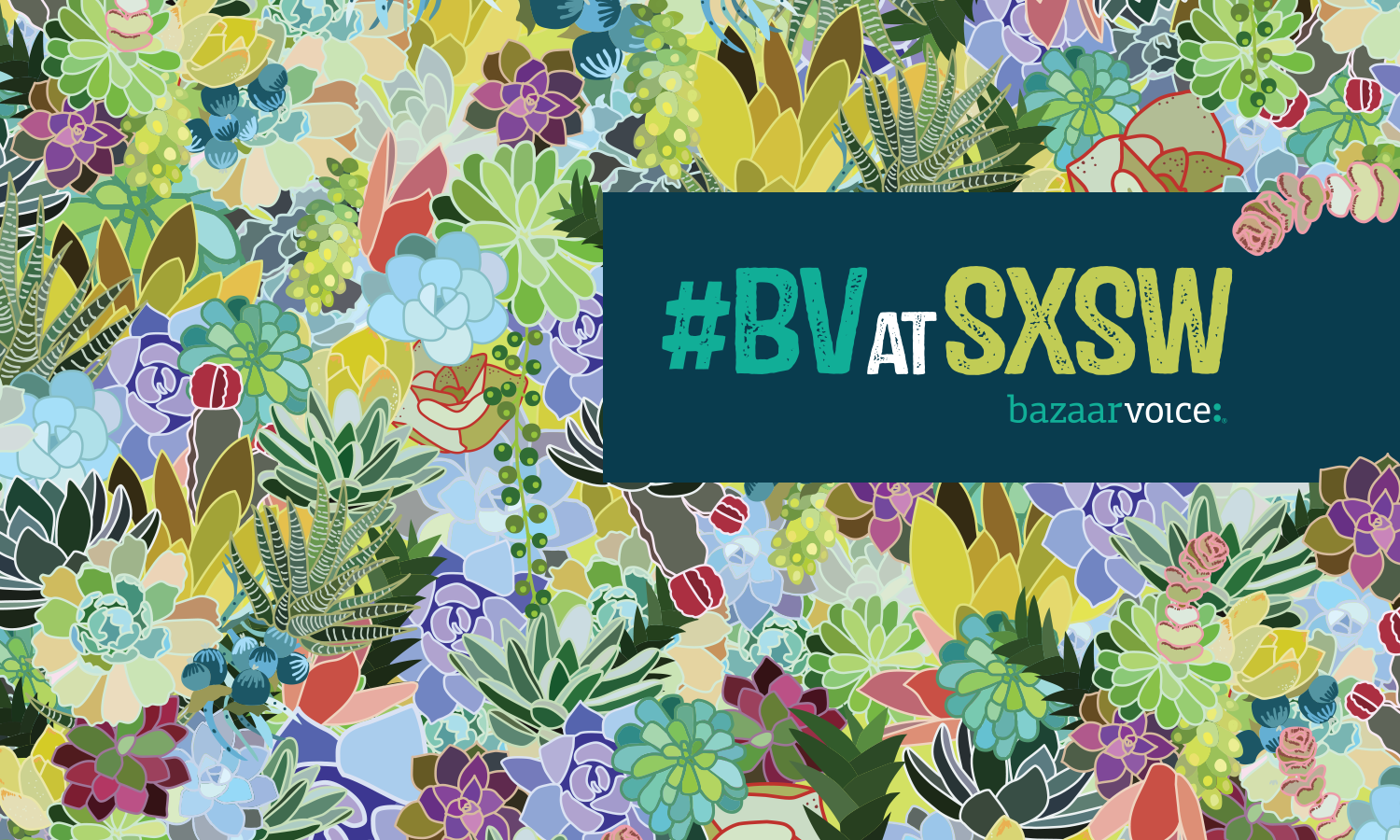 Are you ready for SXSW 2017? While we're all hands on deck at the Bazaarvoice Summit right now, we can feel SXSW Interactive right around the corner. In fact, our #BVatSXSW event is this Saturday, March 11th, and we're excited to bring you a full day of content and a bangin' performance by Ja Rule. But our event is really just the beginning. SXSW is a marathon, and you need to learn from those who have come before you to do it well. After Saturday's event, we'll have a group of BVers on the ground during Interactive — squeezing into panels, grabbing swag, and weathering party lines with the rest of you. We're sharing our essential tips to live by, items to carry, and sessions to see.
Here's the Bazaarvoice squad that will be at SXSW Interactive next week. Follow along with us on Twitter.
Andy North, VP, Corporate Brand & Communications
Aaron Bollinger, VP, Partnerships
Alden Schell, Manager, Corporate Brand Strategy
Alison Kwong, North America Public Relations Manager
Summer Daoud, Director, Product Marketing
Dan Reade, Creative Director
Chesen Schwethelm, Managing Director, Enterprise East
Caitlin McCulloch, Marketing Manager, Advertising
Brianna Byers, Associate Product Marketer
Larson Banilower, Agency Partnerships Director
Matt Sharon, Agency Partnerships Director
Brett Sanderson, Senior Advertising Product Marketing Manager
Emily Reagan, VP, Lifecycle Marketing
And me! Kerry Brunelle, Social Media Strategist 
What is your must-have item that you will keep with you at all times during SXSW (besides your badge)?
---
AN: Either your phone or laptop to take notes, tweet, etc.
AB: A flask.
AS: Comfy shoes. I ended up buying a pair of Toms in Whole Foods my first year because my feet were on fire.
AK: Cell phone and portable charger! My ID! Cash! — for food trucks, last minute transportation, and bars. Drinks are free but tip your bartenders!
SD:
A portable mobile charger is key: you can get some as swag usually, and I keep one on the charger at home, and one with me at all times.
Don't forget your business cards. I've made some great SXSW contacts and new friends along the way!
Comfy shoes and a small umbrella as this weather can change in an instant
A Google doc with events by time is a great to have on your phone if you end up with some free time. This one is worth the $10 to get access: bit.ly/wwwsheet
BB: A notepad — in case you ignore our advice, don't bring a charger, and all of your electronics die.
DR: Hand sanitizer. You cannot have enough hand sanitizer.
CS: A bottle of water, my phone with the SXSW app, backup battery charger, and an umbrella. It always rains!
ER: A buddy. It can be a really overwhelming few days, and it is nice to have a familiar face in the crowd.
KB: Caffeine. Not an item, but another must-have for me is a place to be able to sit down and work for a bit between running around. I'm keeping track of the cool lounges some of the companies downtown are hosting.
Which panel or session are you most excited to attend and why?
---
AB: The Jennifer Doudna keynote. CRISPR may prove to be one of the greatest discoveries of our era.
AK: With the growing popularity of live video like Periscope and Snapchat, I'm looking forward to the panel featuring speakers from The New York Times, Vox Media, and VICE about how social video is changing journalism and social media.
DR: The Interactive Opening Session with Cory Booker!
CM: The session on gun control — interested to see how content creation can be a way to address critical issues.
SD: Sessions are important, of course, and I'm excited to see "Uncle Joe" Biden. But brand activations can also be really interesting for marketers to see how brands bring the experience to life (and usually have some great swag).
BB: iMessage: The Next Marketing Gold Mine. iMessage is the most used app in the Apple App store — what does that mean for me as a marketer?
CS: Women's Representation: Five Steps to Win Gender Parity — because Wendy Davis is a bad ass.
BS: The Holograms and the Future of Lifestyle VR & AR session. Big time companies on the panel, and maybe Tupac will be there.
KB: The featured session by the founder of rewardStyle and LIKEtoKNOW.it. She was kind of ahead of the visual commerce trends that everyone is talking about now, and I (unfortunately for my bank account) have fallen prey to that Instagram account many times. Also hope to make it to some of the sessions in the food track.
What is your best insider tip / most critical piece of advice for those attending SXSW?
---
AN: Expect the unexpected. There will be crowds so pick your panels wisely and get there early, but don't afraid to move on if you are too far back in line. Hydrate often and don't forget to eat.
AB: Don't schedule all of your time. Serendipity is your friend.
LB: One thing that stood out to me is the crowds/lines at panel sessions. As you look through the list of panels, if YOU think something sounds like a 'must see', chances are tons of others do too, so get there early! There are huge lines for the best sessions, and they will deny you at the door if they're at capacity.
Also, you can arrive each day hungry – most of the upstart tech companies serve breakfast tacos to spark conversations with you. 🙂
MS: I echo Larson's point. He and I witnessed a near-brawl outside one popular panel as those who were denied entrance formed a mob and verbally attacked the volunteer security woman.  It was crazy.  Definitely arrive early to the exciting panels.
And for those who you who have plans to meet a partner, client, or friend somewhere during the festivities, I suggest getting their cell number in advance as plans tend to shift pretty quickly out there.
AS: For my fellow introverts — do something out of your comfort zone! Whether it's introducing yourself to a panelist that inspired you (and via Twitter doesn't count!), connecting with people sitting beside you in a session, or tagging along with a group of folks you just met to an event! There are folks that I met five years ago @ SXSW who I still keep in touch with — coming to Austin in March feels like a reunion!
If you have a platinum badge, try to check out a session or screening at one of the film venues!
First time attending? Follow Hugh Forrest on Medium. He basically invented SXSW. 🙂 Plus, he's got fantastic summaries of what to expect.
AK: Parking and traffic are a nightmare, so try to avoid driving at all costs and be prepared to walk a lot. Wear comfortable shoes and take advantage of local ride share and car sharing services like Fasten, Ride Austin, and car2go. Pedicabs will also be out in full force, so like I said, always have some cash on hand.
SD: In my experience, SXSW is 1/3 prep — RSVP to all the things, talk to your friends at companies, create your panel calendar, follow the right Twitter accounts; 1/3 who you know — friends who work for other tech companies or brands) or meet along the way (talk to people in line, next to you, etc); and 1/3 dumb luck — you might just be at the right place at the right time and stumble into something cool. Keep your eyes open and stay connected to Twitter!
BB: Update your LinkedIn profile, and try to exchange information with at least one person at each event. And don't drink too much! Follow Do512 on Twitter.
DR: Walk into places like you belong there.
CS: Make your reservations beforehand, dinners, drinks, and especially manicures! 🙂 If you wait until the conference begins, you will never get anything. 
CM: Don't forget to look up! SXSW is inherently social and a great opportunity to live tweet, live stream, and share out to the world your take on the panels and events. But, don't  forget to put your phone or computer down and be present. Focus on the human connection and experience of being at such a unique and incredible event with your peers. Have your first priority be about being present, meeting people, truly listening, and taking everything in for yourself and second be about telling your followers about it.
ER: Like Vegas, you could blow everything in one night at SXSW. Pace yourself. There are ups and downs — roll with it.
There you have it! You have all of our secrets now. But SXSW isn't something you can fully prepare for. It's the kind of festival where the best mantra is to expect the unexpected, and that's part of the fun. Join us at our #BVatSXSW event this Saturday, March 11th, and then keep up with us all next week by following the #BVatSXSW hashtag on social media. We'll see you out there.