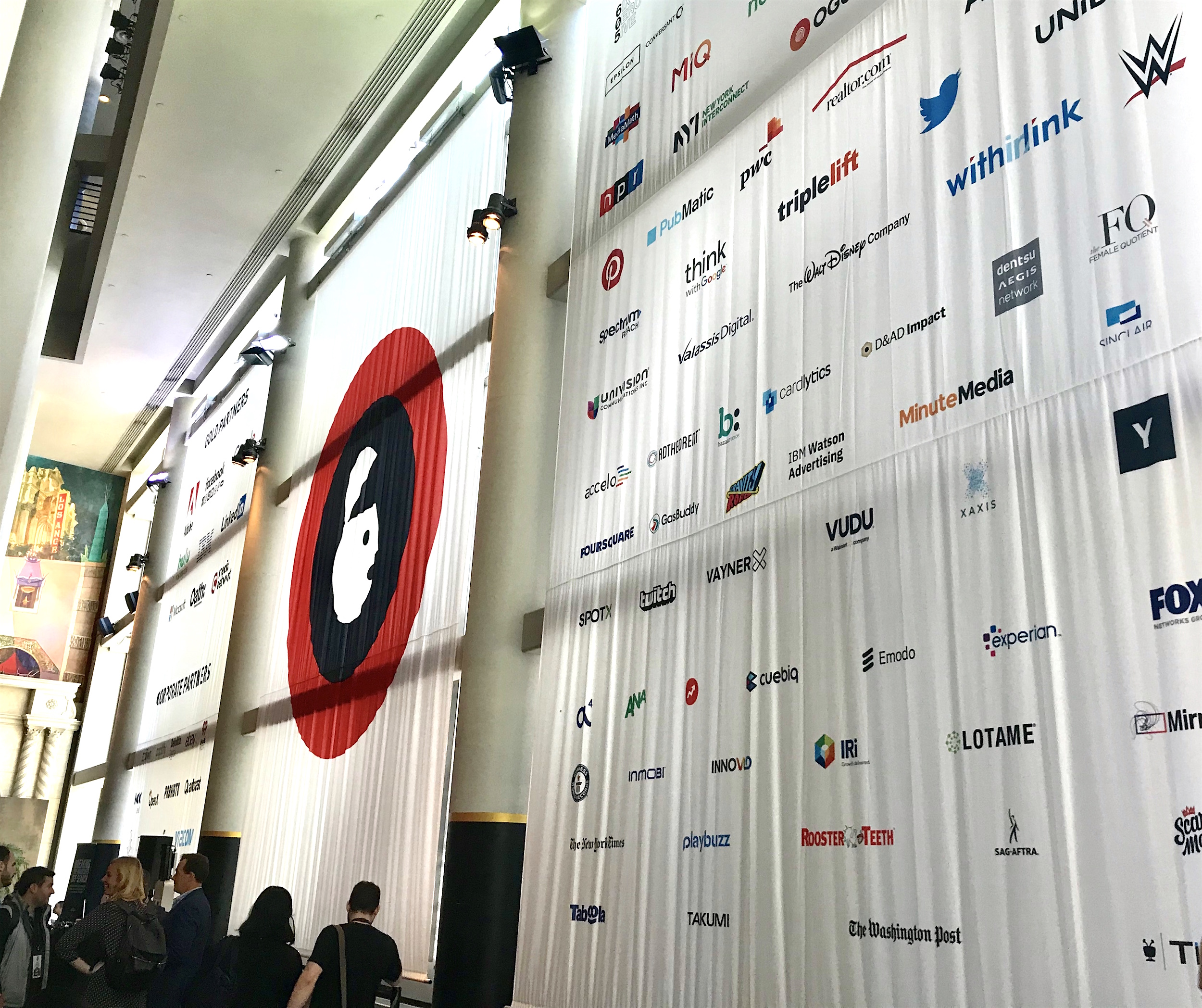 For four days last week, the Advertising Week conference drew the biggest brands, top experts, and eager marketing and advertising professionals to its New York City home base at the AMC Loews in Lincoln Square. In the past, the conference has been spread out across a dozen different venues around the city, but this year, all the action happened in one place. While this resulted in tighter quarters and longer lines, it was worth it to take in more content, see more speakers, and meet more industry peers.
While it is a great opportunity to attend panels and speaking sessions during the conference, it can be challenging to distill all of the content down into takeaways. Topics varied widely from artificial intelligence and data-inspired storytelling to the power of podcasts and recent women's movements, and that was just Monday's agenda. The Bazaarvoice team was onsite attending panels throughout the week (and mingling amongst the bar lines during our happy hour on Wednesday evening) — these were the four biggest themes we heard at this year's Advertising Week New York conference.
1. Television may be down, but it's far from out.
With the rise of smart TVs, Roku, Amazon Fire, and Google Chromecast devices and Netflix, Hulu, and Sling TV services, the way in which television and video content is consumed has changed dramatically. While these changes have been happening over the course of the last five plus years, the advertising industry has been slow to acknowledge and adjust to this shift in consumer behavior.
However, at Advertising Week, many agencies and brands were acknowledging and, more importantly, excited by the opportunities presented by connected TV (CTV) and over-the-top (OTT) content. For example, Kristi Argyilan, Senior Vice President of Media & Guest Engagement at Target, shared that her focus for 2019 was to break into television, specifically buying television ads programmatically using first-party data. Hulu, a conference sponsor, had a visible presence at the event and presented research about Hulu users, their viewing behaviors, and how brands can effectively reach them through their platform.
Advertising on television is not dead; it's just different. Television, and the advertising that goes along with it, is shifting from a 1:many model to a 1:1 model. An ad viewing experience that isn't relevant is doing a disservice to the consumer but also to the entire advertising industry. In the Future of TV Advertising panel, Todd Gordon, director of Adobe Advertising Cloud TV, said, "the industry needs to have a conversation about the viewer experience. We're exposing viewers often to commercials that aren't appropriate for them, which then leads them to choose non-commercial environments. It's urgent that we as an industry do more to think about the customer experience."
While it seems the industry is catching up with the changes in television, there are still many challenges to overcome before advertising on television (whether over CTV or not) has reached its full potential. Many expressed frustration about the challenges of placing TV buys, including consumer data gaps, fragmentation between digital and traditional TV budgets, and lack of measurement.
2. eSports and sports betting present uncharted, exciting territory for the advertising industry.
Sports and advertising have always had a strong relationship; events like the Super Bowl, the Olympics, the World Cup, and March Madness (and the athletes that play in these events) go hand-in-hand with big budget commercials and major sponsorships. This relationship has only gotten deeper as fans have gone from tuning into standalone, broadcasted live events to following players, teams, and leagues year round, thanks to social and digital media. As Gayle Troberman, CMO at iHeartMedia, put it: "Sports have become personal. You used to have to participate live, but the new forms of content have extended this. You can actively participate before, during, and after a sporting event." Given this strong bond, it is unsurprising that there were a good number of panels dedicated specifically to sports during Advertising Week. What was surprising was how often eSports and sports betting came up in these all of these sessions — clearly both topics are top of mind for brands and agencies with ties to sports.
It is estimated that eSports, broadly known as organized, multiplayer video game competitions between professional players, will generate $345 million in revenue in North America in 2018, in addition to more than half a billion dollars in revenue overseas. As a point of reference, last year's League of Legends world championship in Beijing had more than 106 million viewers, topping the viewership of the 2018 Super Bowl by 2 million. As the popularity of eSports continues to grow, so does the desire of brands to reach these fans, who are predominantly young males. During the conference, it was clear that while brands understand the exciting opportunity of eSports, some are not quite sure how to advertise to its fans, as video game players are quite different than the traditional sports fan audience they're used to reaching. In The ESports Ecosystem panel, Victor Sunden, Chief Revenue Officer for Dreamhack, stressed the importance of getting to know the nuances between different games, publishers, leagues, and players; it is imperative for marketers to understand these "tribes" and to interact with them in a way that is authentic to both the brand and the community.
Treated with a similar level of excitement was the future impact of legalized sports betting. Earlier this year, the Supreme Court struck down a law that banned sports betting, effectively allowing states to legalize it. With this news, some analysts have predicted that "sports betting could drive a $7 billion incremental U.S. ad spend in 2019." While many speakers acknowledged that legalized sports betting would have a monumental impact on the relationship between consumers, sports, and advertising, the general consensus was that it would be a slow burn.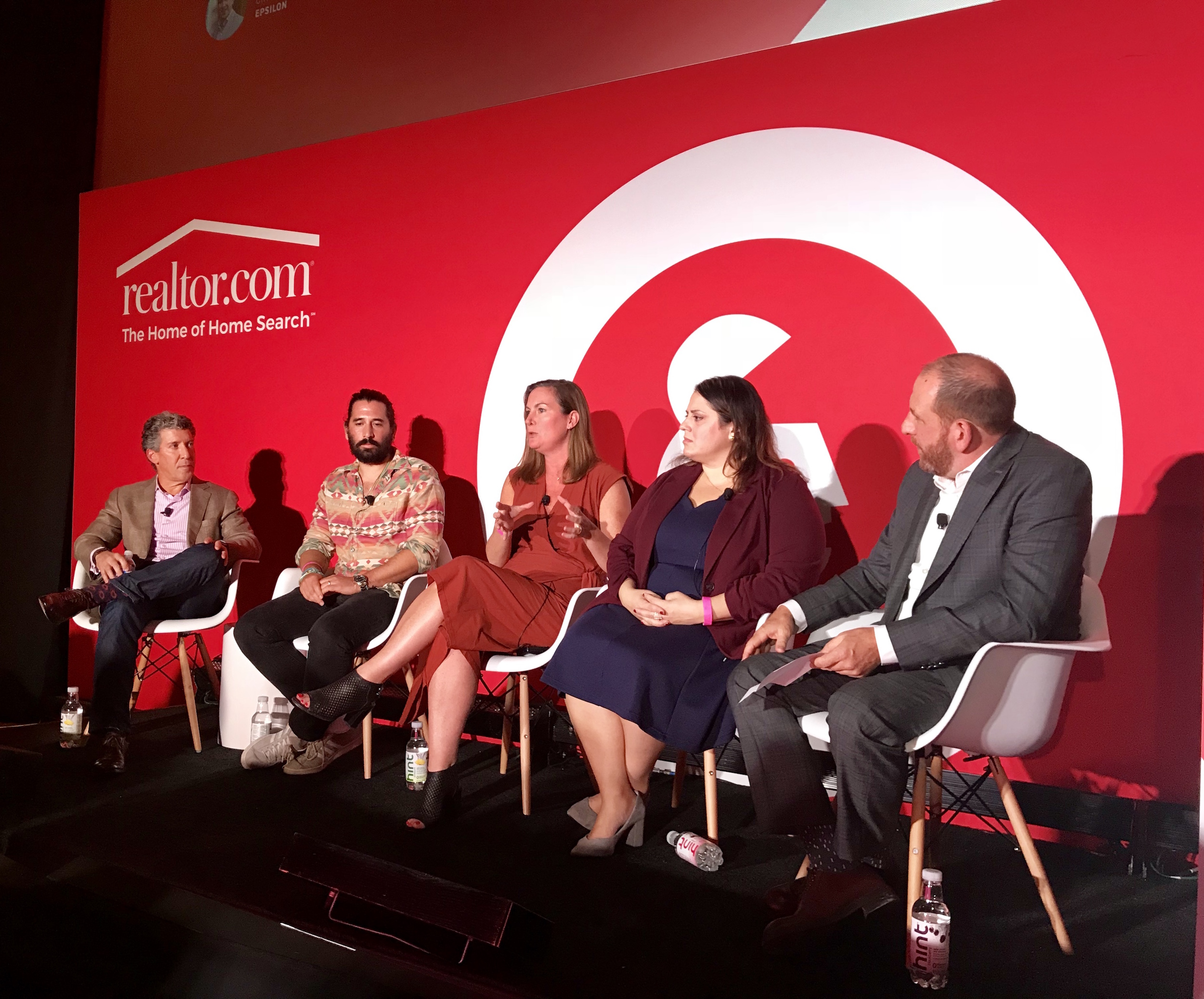 3. We are in the age of the customer. Consumers expect advertising, content, and experiences tailored to their individual preferences and shopping intent.
In The Changing Face of Data & Advertising panel, Joanna O'Connell of Forrester claimed that, "we are in the age of the customer." As has been repeated at many conferences over the last several years, consumers are more empowered and have more choices than ever before, and this has had a massive impact on how brands interact with their customers. The overall sentiment across multiple different sessions was that the traditional sales and marketing funnel that travels from awareness to conversion to advocacy is no longer relevant. With digital and mobile, consumer shopping journeys are not linear; they are complex, individual, and often unpredictable.
How does the advertising industry adjust? By using more complete, higher quality consumer data to deliver tailored content. To quote one expert in the Digital Disruption & The Impact of Quality Data session, "where scale was once king, quality has taken over." Many speakers, including those from Hulu, Spectrum, and Google, eschewed targeting solely by demographic data like age and gender, in favor of delivering advertising based on consumer shopping intent. This requires sourcing, organizing, and putting the right kinds of consumer data to work, an effort that spans brand, agency, data provider, and often a list of other parties: "There is an opportunity for better synergy between the trifecta of agency, partner, and client," acknowledged our own Senior Vice President of Global Advertising, Toby McKenna, in The Agency of the Future panel. Brands can capitalize when they are helpful, present, and relevant at the moment when a consumer is expressing intent on your product or service. As Salim Sitafalwalla, Director of Consumer and Competitive Insights at AT&T, put it: "The first key to success is to understand 'who' the customer is and to ensure everyone is aligned with this vision."
4. In today's climate, it can be riskier for brands to sit on the sidelines when it comes to taking a stand on political or cultural issues.
There was one theme from the conference was much broader than the advertising industry alone. Across a majority of the sessions our team attended, the same message was repeated: brands are expected to have a purpose, to stand for something, to have an opinion on global cultural events.
Advertising Week New York came on the heels of Nike's campaign with Colin Kaepernick and in the midst of the #metoo movement and the Kavanaugh hearings. Given these and recent important political and cultural events, it would have been strange for this theme not to come up during the conference. From Arianna Huffington to David Stern, former commissioner of the NBA, speakers affirmed that companies have a responsibility to align with a higher purpose. As Cheryl Dixon, Vice President of Communications & Public Relations at COTY, said, "Having a purpose or standing for something is now an expectation for brands and agencies. Are the company, it's leaders, and its employees willing to walk the talk?"
Understandably, companies can be unsure about or reluctant to weigh in on topics, particularly when a statement could alienate parts of their audience. In the Same Planet, Different Worlds session that focused entirely on this topic, panelists from Spotify, Diageo, and Carat offered advice for how brands can decide when and how to align with different issues. Luke Atkinson, Vice President of Smirnoff Global Content & Communications at Diageo, said, "To start, consider some human truths that sit within your audience's culture and that align with your existing core values. When deciding whether to address a certain issue, use a cultural moment rather than a political one." Spotify's Global Director of Creative Solutions, Rob Walker, stressed that "authenticity is critical for deciding what purpose or cause to support. Your brand must have an authentic perspective in the conversation to be able to tell a more human story."
Some speakers agreed that it is often a bigger risk not to align with a greater purpose than it is to do so. Choosing your brand's purpose or stand on broader issues comes down to being true to core values and to understanding your audience. As Angela Steele, the Chief Strategy Officer at Carat US, summarized, "Understand your most valuable consumers and understand what matters to them. That helps make your brand decide what issues to go out on a limb for. And be okay with the people who you might lose in the process."
---
Like most conferences, Advertising Week New York 2018 was a whirlwind, but there were clear themes that were repeated throughout the conference, regardless of brand, topic, or speaker. The topics above are top of mind for the advertising industry (and beyond) at the moment, but what will next year bring? In the industry today, a lot can change in a very short period of time. As Dan Gardner of Code & Theory said during our Agency of the Future panel, "The reality is that we don't know what the future  is. A few years ago, I could have never anticipated where we would be today. The only thing that we can say for sure is that it will change. It will be different."