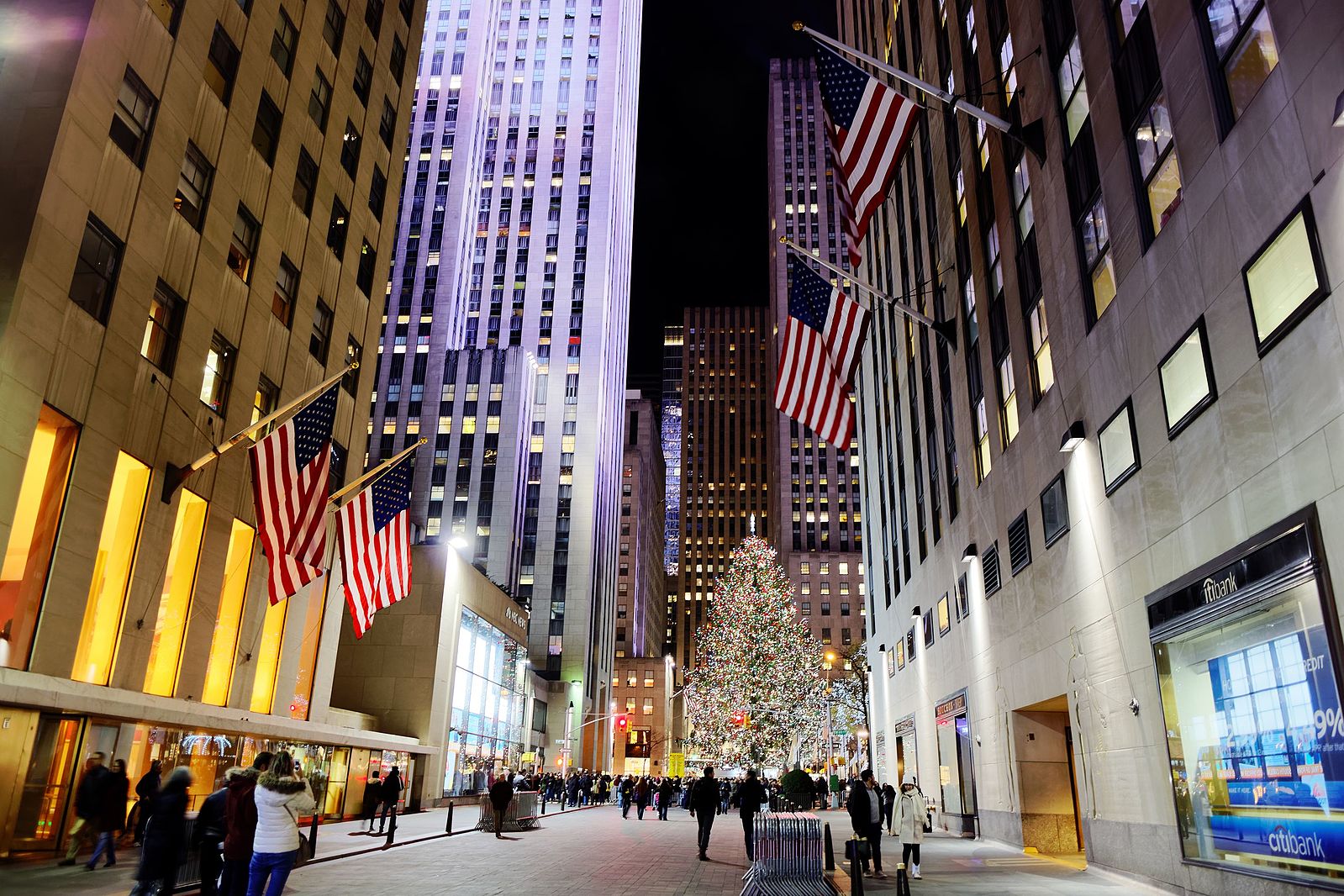 With November well underway, everyone is the retail industry is focused on the impending holiday shopping season. There's good reason for that: This year, shopper spend is expected to hit $923 billion in the 2017 holiday season, with a projected e-commerce growth rate of 16.6% over last year.
While this is all good news for brands and retailers, it also means that everyone is trying to capture the attention — and money — of shoppers over the next few months. And with the inundation of product choices every consumer faces, holiday marketing campaigns can easily get lost in the mix. So, how can smart marketers cut through the noise and reach the in-market shoppers?
To better understand how, when, and what consumers are shopping during the holidays, we took a deep look into last year's shopping data from our network of 5,000-plus brand and retailer websites. We studied page view traffic, browsing patterns, conversion rates, and trending products across seven different product categories, spanning from toys & games to pets.
Based on that research, here are our top eight insights and tips for marketers this holiday season.
---
1. Halloween, not Black Friday, kicks off the holiday shopping season. 
Many people may look at Black Friday as the official kick off of holiday shopping. While Black Friday may still be the biggest day of traffic for some product categories, the growth of e-commerce and smartphone technology means that people will begin researching, and sometimes buying, holiday gifts much earlier.
Our data in the toys and games category showed online shopping traffic jumping 260% around Halloween, and eMarketer confirmed that 1/3 of U.S. internet users say they start holiday gift shopping in October or earlier.
Tip: Prepare for a long holiday shopping season.
---
 2. Holiday shopping spikes vary by industry.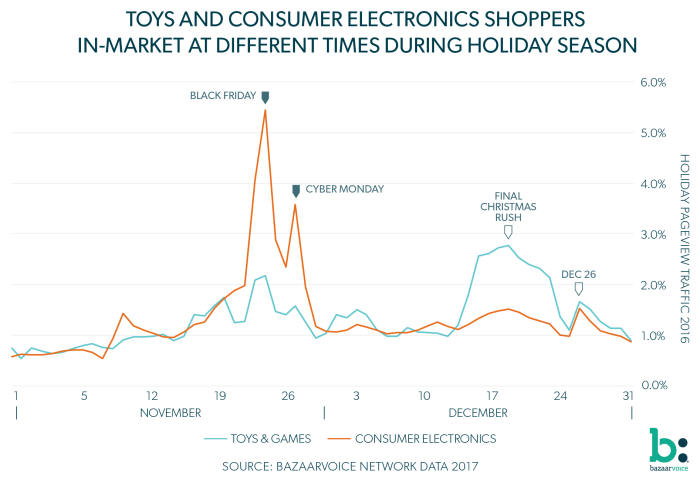 Marketers can no longer plan a one-size fits all holiday campaign. Depending on the category, shopping traffic can spike on Black Friday, right before Christmas, or even in the first week of January. For example, take a look at the chart above that compares online shopping traffic for consumer electronics and toys.
For electronics, Black Friday and Cyber Monday are king and queen with a 7X increase over typical traffic on just those two days. However, for toys and games, the major rush does not come until the week before Christmas, maxing out at 8X typical toy traffic.
Tip: Pay attention to the trends and timeline in specific industries.
---
3. Of all categories, toys & games sees the highest amount of online traffic growth — 191% — and the highest conversion increase — 4.7x higher — from the fall to winter seasons.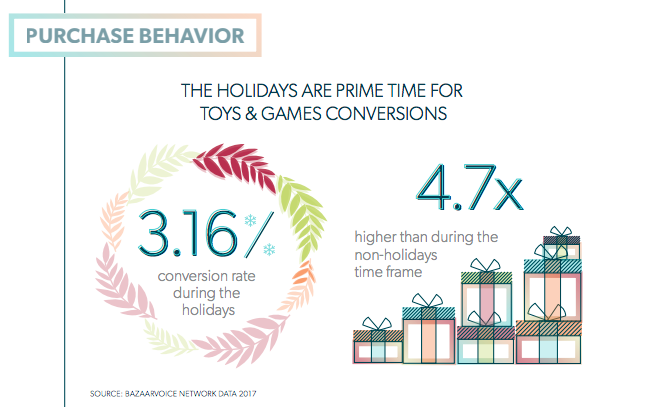 It wouldn't be the holidays without children making their lists and checking them twice, and those lists generally have a bevy of toys on them. Toys are synonymous with holiday gift giving and still continue to top holiday wish lists.
Page views spiked as early as the end of September with the Fall Toy Preview, and then continued to grow through the end of the year, with increasingly larger spikes at Halloween, Black Friday, and Cyber Monday.
The final rush the week before Christmas was much higher than Thanksgiving weekend sales, and there was a final peak on December 26th for post-Christmas sales and gift card spenders.
Tip: Brands and retailers with toy and game products should prepare for the most critical time in their year — aim to have your campaigns in-market as soon as possible (early October is best) to drive consideration during the ramp-up and continue campaigns through the end of the year to capitalize on last minute and post-Christmas shoppers.
---
4. 77% of online shoppers in the home & garden category read reviews — the largest percentage of any category.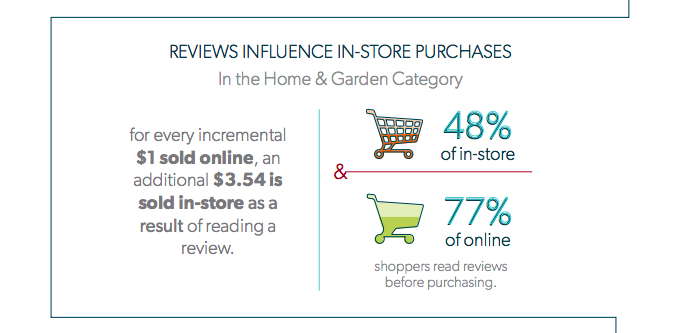 In the home & garden category, more than three quarters of online shoppers and almost half of in-store shoppers read reviews before making a purchase. The average small kitchen appliance shopper spent three days researching three different products with one product revisit across two sessions.
Specifically, shoppers may be more careful before purchasing pricier kitchen appliances and want to be sure that a product will meet their needs and stand up to the daily wear and tear of use.
Tip: Aim for review coverage and freshness across products in the home & garden category.
---
5. Shopper spend isn't just going towards gifts — don't forget about shoppers that are hosting or attending holiday parties.
In both the consumer packaged goods (CPG) and beauty categories, online shopping spiked in advance of major holidays, perhaps signaling that these shoppers were preparing for the parties and events associated with each holiday.
Contrary to other industries, Thanksgiving and Christmas were amongst the lowest ranking shopping days in the CPG category — who wants to run out for toilet paper and extra paper plates in the middle of a nice meal?
A late December spike in the beauty category indicates that just because the major holidays are over, doesn't mean consumers' want for makeup deals goes away. Traffic during December 26th-30th was 41% higher than average. This second bump is perhaps tied to a rush to stock up on essentials before New Year's Eve festivities. Makeup shoppers may be ripe for promotions in late December to prepare for New Year's Eve parties, in addition to Thanksgiving and Christmas.
Tip: Time campaigns in advance of each holiday to capture shoppers preparing for parties. Tailor messaging to address those who are stocking up on CPG and beauty products to be at their best for holiday events.
---
6. As we move into the holidays, there are certain products that emerge as most popular with shoppers.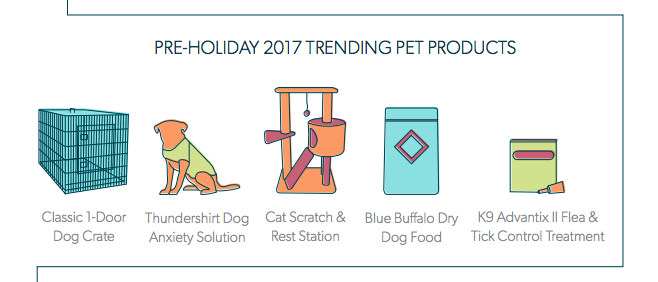 In each category, we are able to see which products have the most page views. When we pulled the data for this research, we found the most popular products heading into the holiday season. In the pet category, a dog crate and anxiety dog shirt were popular — perhaps pet parents are thinking about upcoming holiday travel with their animals. To see all the trending products in each category, see our industry-specific infographics.
Tip: Is one of your products (or a product you compete with) on the list of our trending products? If so, you may want to run holiday marketing campaigns that highlight that product and your differentiators.
---
7. Gifts for fur babies are more than an afterthought.
Pets play a prominent role in the modern family: almost 70% of households have pets. With many millennials waiting longer to have children of their own, a generation of "pet parents" has emerged with significant buying power for the special animals in their lives. This means that during the holidays, people aren't just shopping for people — they're shopping for pets, too.
Our data also showed that more than 70% of online shoppers in the pets category read reviews, so pet owners are considering their purchases carefully. That's a huge opening to differentiate your products — and a big opportunity to showcase your real-world value.
Tip: Don't forget about this growing audience of pet parents around the holidays. Consider tailoring campaigns to the millennial pet parent audience or featuring real customer reviews in your ad creative.
---
8. Holiday shopping doesn't end on Christmas Eve.
Traffic spiked across all categories on December 26th and extended even longer for Bbauty & CPG. Those who received cash or gift cards (or gifts they didn't want) are excited to shop immediately following the Christmas holiday.
As we mentioned, the beauty category sees a spike in late December when shoppers pull their New Year's Eve look together. Interestingly enough, the CPG category sees its highest spike of the whole season in the first few days of January, which coincide with college football championship games in the United States.
Tip: Don't limit campaigns to just the months leading up to the holiday season. Adjust your messaging after Christmas Day to capture shoppers taking advantage of post-Christmas sales, gift cards, or preparing for the next party.
---
The holidays are a crazy time for the retail industry. If you're armed with the right data, like the insights above, you can take advantage of the shopping surge. For more holiday shopping data and insights, including category-specific infographics, visit our Holiday Headquarters.