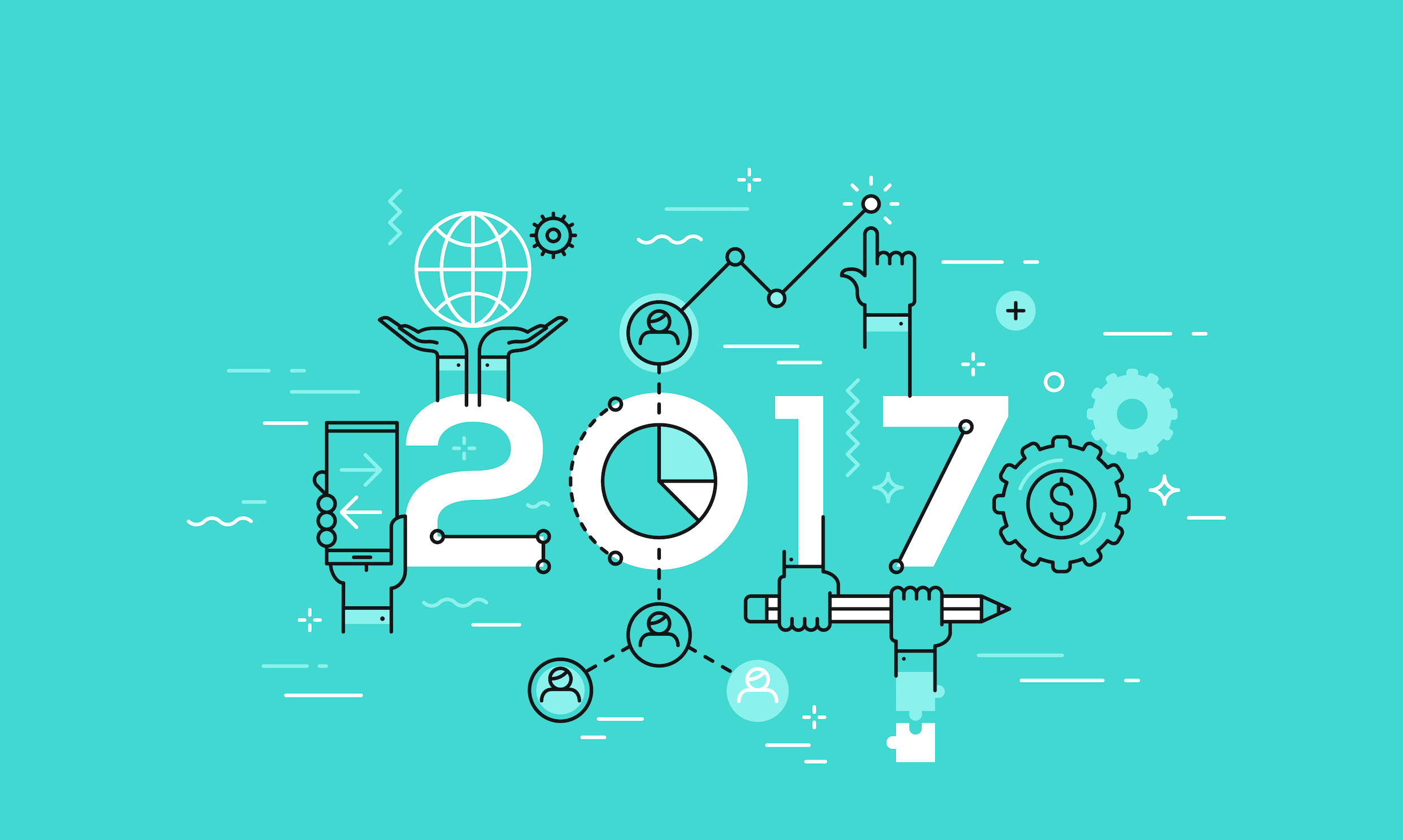 As January comes to a close and we settle into 2017, it's a fitting time to reflect on the year behind us and prepare for the year ahead. With rapidly advancing technology, companies getting acquired, and ongoing concerns around data security, it's hard to foresee what business and tech trends will make the biggest impact on our business, our clients, and our partners. Fortunately, Bazaarvoice is uniquely positioned at the intersection of several different industries that are continuously evolving — enterprise software, digital advertising, e-commerce, social media, and big data. We asked three members of our leadership team — CEO Gene Austin, CMO Sara Spivey, and EVP of Engineering Gary Allison —  to share their thoughts and predictions about what's to come in 2017. Here's what they had to say.
Lessons from 2016
What is the biggest mistake you saw marketers make in 2016, and how will they correct this?

What was your biggest lesson learned from 2016, and what advice would you have given yourself a year ago with that knowledge?

What's your big prediction for the marketing technology space in 2017?
GA: 2016 was one of our most challenging years financially in the company's history. However, we emerged a stronger, more focused company with a strategy to drive success in 2017. An amended version of the saying, "Tough times don't last, but tough companies do" is appropriate here. As we go into 2017, I see our data investments and work with our clients continuing to pay off and our insights into behavioral shopping data providing benefits for our clients. 
SS: I have more of a hope than a prediction that creativity will be plugged back into marketing. In today's world, marketers are measuring every single thing with tools and systems trying to find an underlying analytical theme. This is leading to an abundance of data that doesn't necessarily have any meaning or practical application. With a profusion of automated services collecting information, I think marketers have reached a point of saturation. For instance, we don't need 25,000 data points about a consumer; we need the 12 that matter in their purchase journey. I think marketers will soon realize the need to distill the most important insights from data being collected and to use it to develop thoughtful, actionable, creative strategies to engage and reach their target audiences more effectively.
Advertising & marketing technology
What do you expect to be the single biggest martech/adtech trend for 2017?

Many claim that 2016 was the year of virtual reality due to innovations like Pokemon Go. Will VR have a bigger impact on the martech and adtech industries in 2017? If so, how? How will businesses adopt the technology to improve marketing processes?

Where do you see the chatbot industry heading for 2017? Will the human vs. chatbot debate remain, or will one trump another?
GA: Content is king – I think we will see more M&A activity around the various content and creative specialty shops, not only by the big content producers, networks, and studios, but also potentially by agency players to ensure they can provide that service, be that branded content, VR, in-game, etc.
SS: While there will still be a place for chatbots, companies will be much more selective about using them. Many companies have implemented these AI programs, but in some areas, they hurt the customer experience. Though automation technologies will still be used in marketing, I don't think chatbots will be applied unilaterally. Companies are realizing that human interaction is still crucial to engaging consumers and sustaining relationships with the ones they already have. As far as virtual reality goes, it definitely made a major splash in 2016, but I'm not sure how it leads to sales conversions in retail. For example, when consumers use Oculus devices in-store, they might be interested in purchasing that specific VR device, but it rarely leads to lateral purchases for clothes, electronics, etc. There's a gap between correlating the VR experience between general interest and purchase intent. It's also an incredibly expensive marketing tactic to employ.
Social platforms
Which social platform do you expect to transform the martech/adtech industry most in 2017 (Snapchat, Twitter, etc.)

Have any acquisitions surprised you?
SS: Consumers don't just want to observe, they want to participate, so marketing strategies that allow users to be a part of the experience will be much more compelling. Platforms like Facebook Live, Periscope, Snapchat, and Instagram Stories are great examples and are utilizing an experiential marketing concept that is becoming more prevalent and interesting.
GA: Microsoft's purchase of LinkedIn was interesting and makes sound business sense given the data LinkedIn possesses. Twitter could be in play next year as well, also based on their inherent data. From a social media perspective, Twitter transforming Vine into Vine Camera was an interesting development given the success and rapid adoption of competitive visual platforms like Snapchat, Facebook Live, and Instagram Stories.
Data security
Security continues to be an issue, from preventing fraudulent reviews to protecting client data. For companies like Bazaarvoice that have access to so much data, what will 2017 look like in terms of an effective security strategy?
GA: We take our commitment to security and authenticity very seriously — it's one of our core values — so we will remain vigilant and continue to protect our shopper data. We currently meet or exceed all North American and European security requirements and will remain active on that front.
SS: Even though there are growing concerns around privacy, I was surprised by consumers' continued willingness to share their personal data. Consumers are sharing personalized facts about themselves at a much higher rate, and while they know companies are using this data to market to them, they are hoping that it will lead to more personalized experiences. In 2017, companies, brands, and retailers should take the data their customers are sharing and apply it in a meaningful way that leads to better, more personalized experiences. Whether these organizations offer coupons based on consumers' past purchases or exclusive access to certain products due to brand loyalty, these little factors can make a significant difference.
GAllison: This is a big investment area for Bazaarvoice. We've dramatically increased the size of our security team, implemented new security training for our engineers, invested in third-party testing and certifications, and have beefed up our application security online.  We are investing significantly in privacy initiatives as well to ensure that it stays secure and adheres to privacy policies. The security landscape is a quickly evolving one, and we are making significant investments to make our infrastructure and people world class.
Brick & mortar stores
2016 proved that while online spending may drive a majority of consumer spending, brick and mortar stores still have a role to play in the consumer lifecycle. What will 2017 bring in reaching the perfect balance between online presence and in-person availability to maximize profit? 
SS: We have tons of data, both interally with our Research Online, Buy Offline (ROBO) initiative and externally, showing that shoppers do most of their product research online but still prefer to buy at brick and mortar stores. There is also demographic data showing that Generations Y and Z (Millennials and Centennials) tend to prefer the in-store option for the end purchase. I think we'll see online purchases continue to rise, particularly on mobile platforms, but the death of brick and mortar has been greatly exaggerated.
GA: It's an interesting conundrum. Most shopping begins online, while the majority of purchases are still made in-store. The key is reaching that consumer when he or she is researching a product with targeted marketing programs to drive them to your store. Successful companies will help bridge that gap with consumer data as well as provide the ability to buy online or in store.
Consumer data
Based on the CMO Council research, there is still a divide between marketers and consumers. Can marketers close this gap in 2017?
SS: Take everything you (and others) know about a customer/prospect in both your martech, salestech, and adtech platforms and consolidating it in microseconds to deliver a relevant, real time buying stimulus.  Ok, maybe 2018.
GA: Marketers must go the last mile – In 2017, I believe the industry will continue to build and sharpen its data focus. The more data marketers can find about their consumers, the easier it is to personalize the outreach for a customized shopping experience. That's how they go the 'last mile' with consumers by reaching them when they are actually in-market with customized offers. It also helps the in-store experience via the ROBO effect. By understanding the products a shopper researches online, a brand or retailer can then provide customized offers for their brick-and-mortar locations. The end result is a win-win: consumers feel treated like a person and not a number, substantially increasing the odds of their end purchase, and retailers and brands drive sales while continuing to build their data set.
Do these 2017 marketing predictions match your own? Let us know on Twitter or in the comments below.