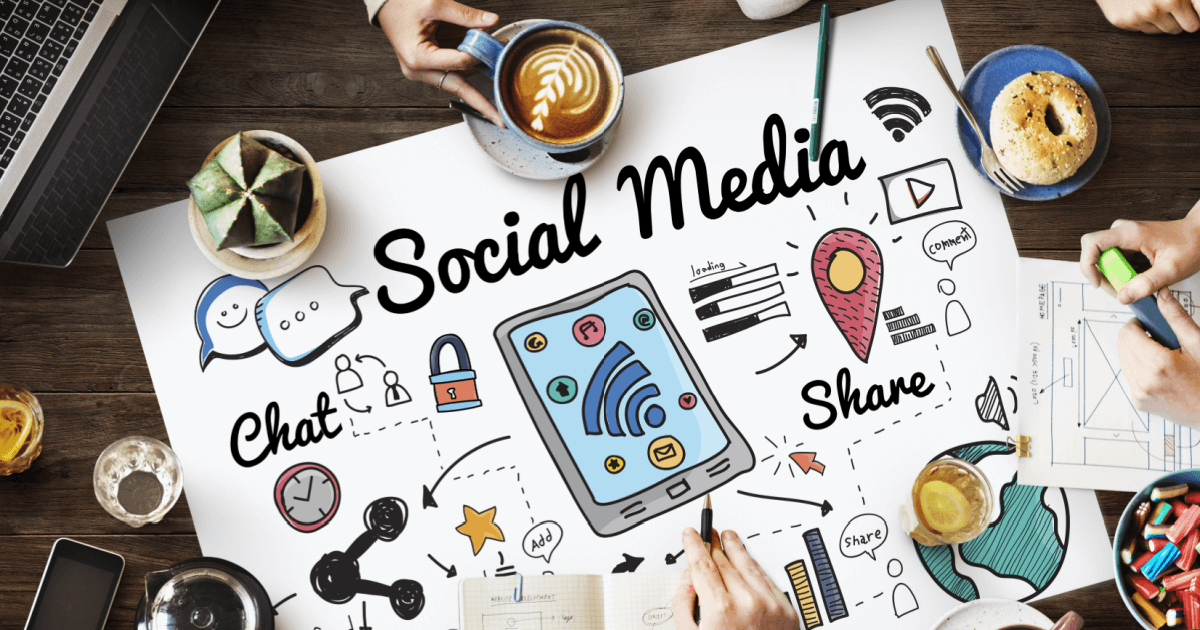 People spend nearly 2 and a half hours on social media every day. While they're scrolling through Instagram, watching TikTok videos, and liking their friends' Facebook posts, they're coming in contact with the latest fashion and beauty trends, holiday decor, and all kinds of other products.
This inspires them to shop. A whopping 97% of shoppers have purchased something from social media — and 69% have been inspired by social media to make a purchase via another channel.
Where a third of shoppers spend $200 or more a month, active social media users spend almost 3x more, or $580 a month. That's why you need a retail social media strategy — the relationship between social media and shopping is tighter than ever.
Consumers want to discover new things and purchase them on the spot — 54% of shoppers say they're willing to buy products on social media if they can get product info directly there. When we asked shoppers where they shop, we discovered:
Social commerce, which is the buying and selling of products on social media — and everywhere social reaches — through shoppable content, is here to stay, and more and more shoppers are jumping into it. With all that in mind, creating a retail social media strategy for your brand is a necessary move.
Retailers who fully embrace social commerce can increase engagement, conversion, and revenue.
Your retail social media strategy 5-step guide
We have tips for defining your goals, implementing best practices on social platforms, building relationships on social media, driving sales, and using metrics to assess ROI. This five-step guide will help you launch your retail social media strategy.
Step 1: Define your goals
Before you can hit the ground running, it's crucial to define your retail social media strategy's goals. Goals guide your brand's focus on desirable outcomes and set a foundation for your marketing strategy — which you'll continue to adjust and build upon as you discover what works and what doesn't.
Communicating your product's benefits and connecting with your target audience can help you generate sales, grow your customer base, and increase brand loyalty. All of these are strong marketing objectives. Therefore, selecting the objective that coincides with your brand's mission is the best place to start.
Defining clear, realistic, and quantifiable goals will give direction to your retail social media marketing efforts.
Build brand loyalty
Transform your brand enthusiasts into your greatest advocates by building stronger relationships with your shoppers. That means answering their questions, breaking down buyer barriers, and sharing insights with shoppers. When your advocates feel heard and valued, your brand wins.
Generate sales
Boost conversion rates by optimizing user-generated content (UGC) on social media channels, focusing on shopper experience to pique interest, and syndicating reviews across a vast network of retailers to increase buyer confidence.
Stand out on social
Get noticed by selecting the social media platforms that match your brand, collect feedback about your content and products, use your customers' voices to connect with a broader audience, and be authentically true to your identity.
Drive traffic and generate leads
Featuring UGC resonates with shoppers, since the content shows everyday people using your product. Consumers equate this to a recommendation from a friend or family member. When you display UGC on social media, it'll help you drive traffic and generate leads, which ultimately helps boost sales.
Step 2: Understand retail social media best practices
While most consumers prefer to engage with brands by following them on social media, others prefer interacting with influencer content and taking their recommendations. Consumers also appreciate being able to easily access brand or product information directly from social media, according to Bazaarvoice data.
Above all, consumers seek out high-quality visual UGC on social media. Using a blend of robust visuals, videos, influencer content, and shopper reviews can increase buyer confidence while helping you achieve your strategic goals.
Although quality content is a must on all social platforms, it's crucial to have a solid grasp of each platform's best practices. Here's some platform-specific guidelines to get you started.
a) Instagram
From trend discovery to product research, brand-created content on Instagram is a major player in a shopper's buying journey. In fact, 83% of users say Instagram helps them discover new products, and 81% use it to research products and services.
To capitalize on user activity, you must first complete the Instagram Shopping approval process to begin tagging products to make posts shoppable and drive sales.
Consumers find your brand through discoveries
Instagram's Explore Tab bridges the gap between aimless browsing and active shopping. With this feature, brands can enhance shopping experiences by immersing in your products and creating an in-store shopping feel.
Brands like Iconic London have integrated a gallery of inspiring social content to create feed-like experiences on their home pages and product pages, which further reinforces its position and increases engagement.
Not only that but the brand has seen an 11% lift in average order value for those who engaged with these galleries versus those who didn't.
Shoppers can have a personalized shopping experience
Instagram's algorithm gathers visually similar items, allowing users to scroll through content based on their interests and what they want to see. This helps users continually discover new products.
When you use Instagram, you can give your customers a personalized shopping experience. Lifestyle retailer Oliver Bonas, for example, uses Bazaarvoice Like2Buy to turn their Instagram visuals into shoppable posts to improve customer experience. They make their Instagram photos and videos shoppable and improve their shopper experience.
The tool has helped the brand drive more engagement and increase conversions by 188%. They can also collect new UGC assets to feature on Instagram later on.
Instagram shopping is seamless
Instagram's checkout feature allows users to purchase products without leaving the app. Shoppers just have to enter their information, and it's saved for future transactions — streamlining the shopping process.
Although content will help users discover products, the checkout experience needs to be as easy as possible to ensure they complete their purchase and keep coming back. You should test your checkout process regularly to make sure it's as seamless as possible and identify and fix any obstacles.

You can use Instagram's insights to track the success of your content on the platform, so you'll know how well your retail social media strategy is working.
b) Facebook
Facebook posts can help you make a splash, connect with consumers, and achieve your desired ROI.
Simple, high-quality creative posts resonate most
High-quality, creative posts inspire Facebook users to interact with your brand. Each post should include images, videos, or GIFs that accurately echo your brand's message. It's also a great place to feature visual UGC.
Posts inspire action
Capture your Facebook followers' attention via different types of actionable content. From sharing articles and blogs from your website to posting links to asking the audience to leave a review, there are various ways to inspire engagement.
Understanding your audience builds a connection
Connecting with your audience is about understanding how they tick and what inspires them. The better you understand your audience's needs, the easier it will be to develop posts that connect with them. Facebook's Page Insights can help you gather information about audience demographics and past posts they interacted with.
c) TikTok
TikTok content should be short (just about 15 seconds), visually compelling, and authentic. Here's how it can be an influential part of your retail social media strategy.
Trends are the heartbeat of the app
TikTok content follows trends, which are the ongoing conversations users have on the platform. You should jump on these trends. Complete the latest TikTok challenge or give your take on a popular trend — this will make you seem relatable and cool. It also helps you build momentum on the platform.
Authenticity is the only way to be
TikTok is where people go to have fun and be themselves. Brands contributing to the platform should strive to be a part of the community and its light-hearted spirit, instead of pushing sales or other hidden initiatives. Being authentic is everything.
TikTok Analytics enables you to track key metrics, like views, likes, comments, shares, and engagement rates.
d) Pinterest
Pinterest is an amazing and underrated platform for retailers. It's highly visual and made for discovering and saving (or pinning) your favorite things.
The highest-performing pins are the ones that tell a story, are visually captivating, and entice the audience to want to learn more. Pins that will compel your audience to engage with your brand:
Standard pins. Vertical, high-resolution images are eye-catching. Putting your brand's products front and center helps you showcase them. Utilizing specific titles and descriptions boosts pin discovery
Video pins. Videos with an immediate visual hook will capture your target audience. This is important because some pinners browse the platform on mute. Also, video pins must have a strong cover image that conveys exactly what the video is about before the user scrolls past
Story pins. Like a video pin, a compelling cover image tells users what the story is about before clicking on it. Use multiple pages to tell your story and let your personality shine through with images, videos, colors, and fonts that suit your brand
Like other social media platforms, Pinterest offers analytics that allow you to track pins, views, and more, so you can keep tabs on the effectiveness of your retail social media strategy.
Step 3: Build relationships with customers and community connections
Consumers love following their favorite brands on social media to learn about new products, keep up with sales and promotions, and like and share their content. 70% of consumers discover products on social media — and, they're more likely to buy from brands they follow on the platforms.
Taking steps to build community connections and direct relationships with your customers will drive engagement and sales. Here's how:
Respond to comments and questions
Shoppers want access to detailed, quality information about products while they're shopping. They also want to feel like their needs are being met. So, when they comment on your post, send a question via a DM, or leave a review, respond to it. Consumers actually expect it.
MeUndies has found value in Bazaarvoice Questions and Answers. When it answers customer questions, shoppers learn more about products and feel confident purchasing. This has increased conversions for the brand and reduced the number of customer service messages employees have to respond to.
Provide top-notch customer service
Most consumers say a brand's customer service factors into their choice of whether to become a customer, according to a Microsoft report. Additionally, 58% say they'd end a relationship with a brand after poor customer service. Make shopping experiences seamless, respond to customer questions and feedback, and resolve problems immediately, and you'll have a loyal customer for life.
Bazaarvoice recently announced a partnership with customer service platform Zendesk to help brands build efficient, effective UGC programs that deliver quality customer experiences and improve customer service across a shopper's journey.
Host contests and giveaways
Who wouldn't want to show their love for their favorite brands and win a prize in the process? Social media contests and giveaways do just that. They also help brands engage followers, collect UGC, and increase sales. Instagram accounts that host contests grow 70% faster than those that don't.
Successful social media contests use brand-, product-, or campaign-specific hashtags. Samsonite ran a travel-gear giveaway using the hashtag #takewhatsyours to gather UGC and influencer content.
The campaign generated over 27,000 posts, which it uses on product pages, social media, and in its marketing to connect with customers.
Use social listening
Through social listening, you can monitor topics, keywords, and hashtags related to mentions of your brand or products. You can also keep tabs on your competitors and what's happening in your industry overall. Knowing what's happening lets you capitalize on trends, resolve problems, and provide the content that you know audiences want to see.
Create communities
Focusing on your audience and building relationships with a brand community of supporters is always a great way to understand what your customers need and want — and respond accordingly.
The rise of community commerce lets you leverage social creators to post real-life, authentic content that informs, entertains, and inspires. Just make sure it's shoppable so people can easily buy what they see!
Step 4: Drive sales with social media
With billions of social media users all over the world, social platforms are the place to connect with consumers and inspire them to buy your products. Social media is where people go to find out about the latest things.
When you feature UGC on your social platforms, it helps build an authentic connection. Brands can see double the engagement when UGC is incorporated into retail social media strategies. There's a number of ways to drive sales with social media.
Use social media to promote products
Social platforms are a great place to showcase new products and post refreshers about your tried-and-true items. Another way to promote products on social media is with the help of influencers.
Everyday social media users, like your real customers, are the influencers that resonate the most with shoppers. These influencers are considered authentic, and our research shows that 82% of consumers are purchasing more or the same number of products from everyday social media user recommendations this year.
Run social media ads with UGC
Consumers trust the advice of their peers over highly produced ads with professional photography and taglines that sound too sales-like. Running social media ads that feature UGC gives your paid ad campaigns an extra boost by driving higher conversions.
For instance, bedding e-commerce brand Parachute increased its click-through rate by 35% and lowered its cost-per-click rate by 60% with UGC advertising.
Use social media to drive traffic to your website
Social media is the preferred spot for product inspiration and discovery. Tag your posts and make social content shoppable to drive traffic to your website and help shoppers complete their purchases.
Use UGC collected from social media on your e-commerce website, on product pages, home pages, and anywhere else. Bazaarvoice Galleries can help by feeding social content to all of these places. Brands see 140% higher conversion rates when users interact with Galleries content on product pages.
Step 5: Measure ROI to determine your retail social media strategy's success
Now that you know what it takes to create a solid retail social media strategy, how do you know it's working and meeting your goals? The only way you can know is to measure your ROI.
This involves tracking metrics such as engagement, traffic, conversions, and revenue generation. Your goals and objectives will determine the type of social media metrics you track.
Individual social media platforms offer their own analytics tools. Take, for example, if you want to build awareness on Instagram, you may want to closely examine Instagram Reels and Story views or engagement rates.
If you advertise on Facebook, you may want to measure the cost-per-click rate. But manually tracking and gathering metrics from each platform can be time-consuming and make your head spin if you're unsure how to find meaningful data. Bazaarvoice offers several tools to help.
The Social Commerce Platform provides brands with social analysis, UGC performance tracking, and competitor insights all on a single dashboard.
Let's say you're on TikTok and want to measure performance. You can do so from one singular dashboard. It can tell you what content to post, what's engaging your audience, and what strategy works.
Using tools like Premium Network Insights take the guesswork out of ROI assessments of your brand strategy. Our Social Analytics tool helps brands understand what their shoppers find most engaging, such as certain types of images or content. This can help inspire future marketing campaigns.
Having a repertoire of analytics tools makes it much easier to pinpoint a successful retail social media strategy for your brand.
Retail social media strategy key takeaways
Social media is the preferred source for product information and inspiration. Consumers follow their favorite brands on social platforms and expect to see compelling, authentic content that they can engage with. That's why you need a robust retail social media strategy.
Your retail social media strategy should focus on:
Defining your retail social media goals
Deciding which types of content work best on different platforms (the answer is mostly always UGC!)
Building authentic relationships with consumers
Driving sales with social content
Measuring your ROI to know what's working and what needs work
This five-step guide can you get started. Learn more about how we can help you with social commerce here.