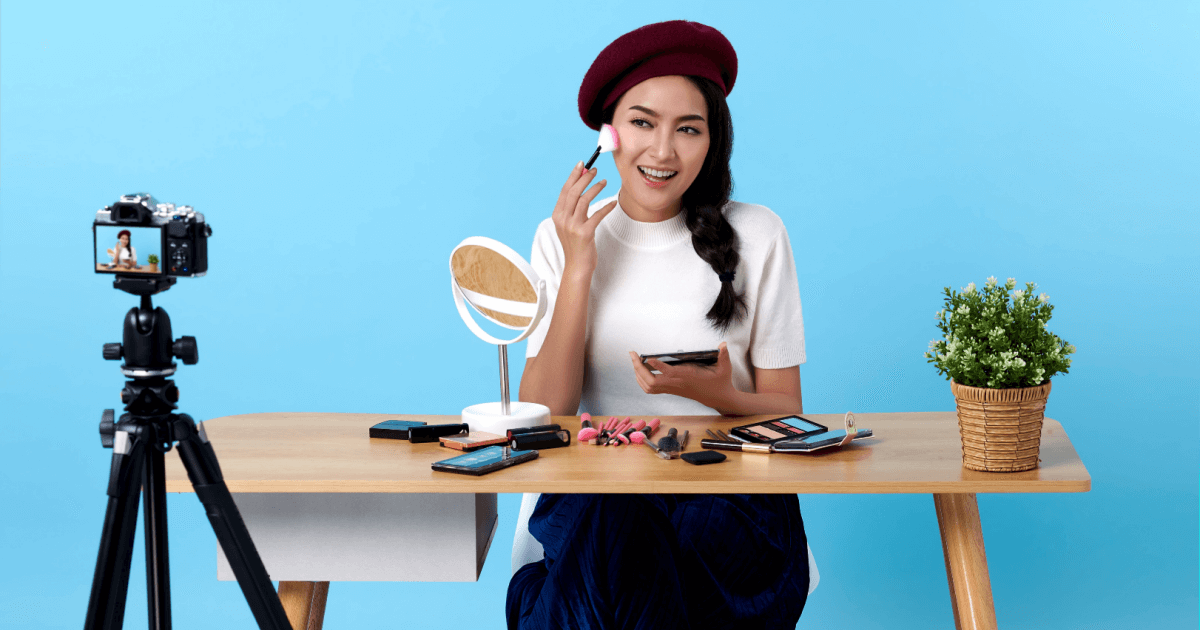 Below are the results from our latest research peak, where we wanted to find out what "influencer" means to consumers — are influencers trusted? What current trends are we seeing in the influencer sphere? We surveyed 9,000 global shoppers to find out, and more.
---
Wondering about the best moisturizer for dry skin? Or, which eyeshadow or nail polish colors are in next season? You might ask a friend or family member. The next best thing is usually to take the advice of a social media influencer.
All consumers (that's right: 100%) have purchased a product based on a recommendation from another shopper that they've found online, according to a recent survey of nearly 9,000 global shoppers.
Our research continues to emphasize the power of everyday shoppers to influence each other. 53% of consumers say user-generated content (UGC), like photos from real shoppers or customer reviews, makes them feel more confident buying things online. The reason: these influencers present more authentic content than professional photos, expertly written copy, and traditional marketing messages. 
But before we delve further into the influencer research, there's a question that needs answering.
What is an influencer?
In influencer, often known as a creator, is a person (or animal, to be honest) who has the ability to influence potential buyers of a product or service by promoting or recommending the items on their social media platform, predominantly TikTok or Instagram.
There's five types of influencer, each with varying follower counts:
Subject matter experts: Beauty gurus, fashionistas, chefs, DIY'ers, and stay-at-home moms. These influencers are experts in a specific subject, which they tend to exclusively, or primarily, post about. They often recommend, sell, or post sponsored content for products related to their subject matter
Celebrities: These accounts give you a behind the scenes look at those with extravagant lives who have become famous for something other than social media. They can be actors, reality TV stars, musicians, athletes, etc. They often promote/recommend products that fit in with their lifestyle/aesthetic, or that they're selling themselves
Social media stars: These are influencers who became famous solely because of their internet presence. They don't necessarily have a subject matter they're experts on. They maybe have a very pleasing aesthetic, or an ability to do internet trends well, like TikTok dances. Sometimes they became famous due to a viral moment, and the fame just never faded. Other times they're just everyday people who post outfit of the day photos and naturally amassed a large following. They're often paid to promote products or will promote something they are selling themselves
Everyday social media users: Your friends, family members, peers, or people you've never met but are connected to. They simply share day-to-day content (ratings and reviews, photos and videos) that they're genuinely interested in. They don't have an agenda to promote or highlight certain products
Creators: Anyone who creates entertaining or educational material to be expressed through any medium or channel
Influencer research report key takeaways
As you develop and refine your influencer strategies, here's the top trends and takeaways to know, as revealed by our research.
1. Everyday social media users resonate most 
Influencers with massive social media followings and big-name celebrities don't resonate with shoppers like they used to. These days, consumers prefer the opinions and advice of real people.
Our research found that 82% of consumers are purchasing more or the same number of products from the recommendation of everyday social media users. Shoppers are more influenced by everyday social media users, who might not have a large number of followers, than brands, celebrities, social media influencers, and subject matter experts.
Everyday social media users are viewed as more trustworthy. 33% of consumers say their trust in them has increased over the past five years, while 45% say it's stayed the same.
As you're choosing influencers to work with, know that 64% of people want brands to partner with everyday social media users more than anyone else.
2. Trust in subject matter experts is increasing
Subject matter experts, like a doctor, esthetician, or someone else with official credentials, are also perceived as trustworthy and authentic.
26% of consumers are most influenced by the opinions of subject matter experts when purchasing products. 33% have actually purchased a product based on an expert's recommendation.
Over the past five years, 86% of consumers say their trust in subject matter experts has increased or stayed the same. So, having these experts try out or otherwise showcase your products on social media builds loyalty and drives purchases.
3. Consumers are more conscious in the 'de-influencing' age 
You've probably seen reports of Gen Z consumers embracing "de-influencing," which is where social media influencers tell their followers what not to buy.
While this term has trended on social media channels, our survey found that it hasn't actually had much of an impact on consumer perception or purchasing habits. 73% of survey respondents haven't heard of the "de-influencing" trend, and 38% weren't likely to participate in a #deinfluencing activity.
Among those who have heard of it, 50% say it's made them more conscious of how they interact with social media influencers online who are promoting a product. 38% say it's inspired them to conduct more product research before buying.
4. Consumers rely on influencers for authenticity 
Even though "de-influencing" is playing a big role, consumers want truthful, authentic viewpoints on products. That's why they see just as much value in negative reviews as positive ones.
Social media is where people go for product inspiration and information, and to purchase items. Facebook (25%), Instagram (23%), and TikTok (22%) are most used for new product discovery, our survey revealed.
Shoppers use Facebook (28%), Instagram (23%), and TikTok (18%) the most for purchasing.
Featuring everyday social media users, subject matter experts, and other influencers on these platforms builds trust. "They give me their honest opinion" is the main quality that people are looking for in influencers, according to 42% of survey respondents.
They also appreciate influencers because "they share new products I've never heard of," "they have a specialist area they share content, products about," and they share "fun, engaging content."
5. Consumers are content creators 
Browsing and posting on social media is a favorite pastime for most people. 82% consider themselves everyday social users, and about 50% spend up to 10 hours a week creating social content. TikTok and Instagram are their favorite social platforms.
Nearly 40% of people in our survey want to be full-fledged content creators in the future. 41% haven't done it yet because they don't know where to start.
People enjoy posting about products and brands. 79% at least sometimes tag brands in their posts, mainly because they're fans and want to share their content with their favorite brands.
Among consumers who are content creators, 49% have partnered with brands on sponsored content, but they're focused on ensuring that their content is authentic. 62% have turned down brand partnerships, because the partnership didn't align with their values or the brand wasn't a good fit.
To maintain authenticity and creative control, they only work with brands and products that they use (26%), give their complete and honest feedback about a product (28%), say when it's a paid partnership (24%), and only work with brands and products that align with their values (21%).
6. User-generated content is the biggest influencer on purchasing decisions
One of the big takeaways from our influencer research was that UGC, including ratings, photos, and videos from real shoppers, influences purchasing decisions. Even after seeing something on social media, most consumers visit a brand or retailer's website to read reviews.
When they seek out reviews, the factors that ultimately help them decide whether or not to purchase include:
"The review includes relevant attributes based on the product (i.e., scent description for a perfume)" (36%)
"There is a photo with a review" (19%)
"There is a video with a review" (18%)
"It includes information about the reviewer, such as skin type, age, size," (15%)
"Length of review" (12%)
When shoppers encounter visual UGC on a product page or social media channel, 47% want the photo to show "the product being used in the way it's intended," such as clothing on someone who wears their size or a piece of furniture in a small apartment like theirs.
Use research to guide your influencer strategy
If you're a brand or retailer interested in incorporating influencers into your marketing strategy, you probably won't have to pay the big bucks. Sending free products to everyday consumers through product sampling and asking them to post their thoughts about your product on social media in return, can pay off dividends.
Or you can follow global brands like kraft Heinz and Rimmel and tap into the Influenster community of over 7.5 million engaged, everyday consumers. All of whom are ready to create content for you. Learn more about it here.