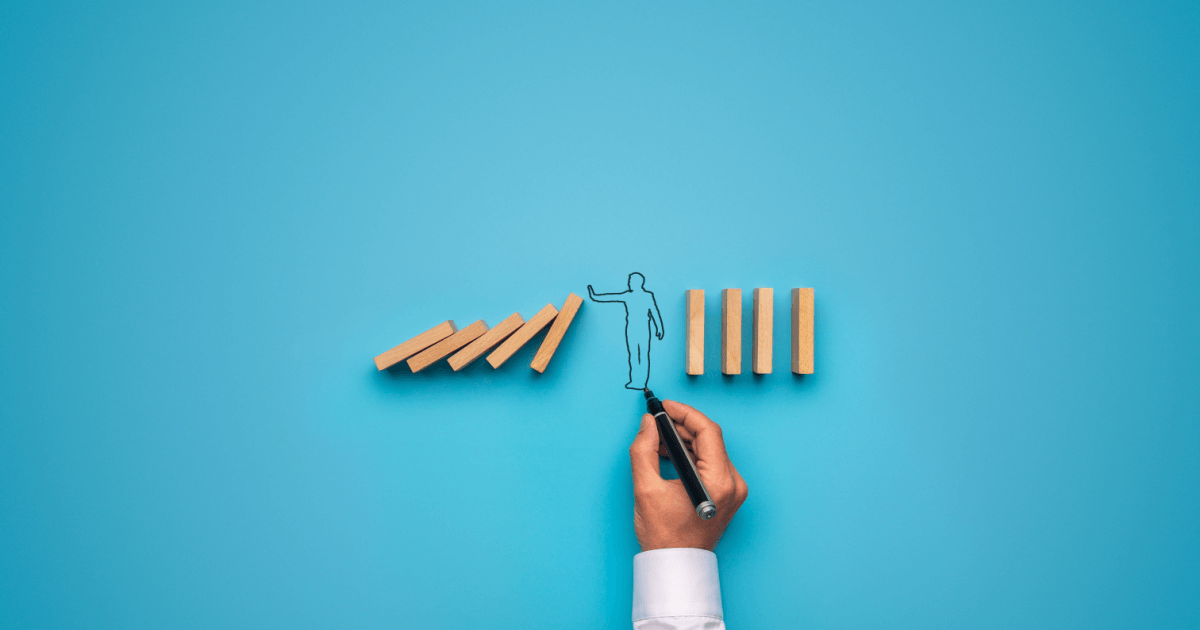 This guide will demonstrate the difference between proactive and reactive customer service, the benefits of proactive customer service, and how to implement it. We include brand examples and the tools you can use to deliver proactive customer service to your customers.
Chapters:
---
---
Imagine you found the perfect pair of shoes to complete the look for a special event coming up. You ordered them online in enough time before the occasion, but the delivery window has come and gone. You check your email and texts to see if you missed a shipping delay notification, but there's nothing there.
Then, you have to track down a customer service representative to find out the status of your order. They tell you because of supply chain issues, the order won't ship for at least another week, which will be too late. Not cool. You leave a negative, frustrated review.
Now, let's say in an alternative scenario, the company notifies you as soon as they learn about the delay. They explain the situation, apologize, and say if it's something you need right away (it is), one of their local retail stores has the item currently in stock, and they can hold it for you to pick up. As a consolation for the inconvenience, they offer you a generous discount on your next order. You leave a glowing review about how great their customer service is.
What's the difference between these two situations, other than one leaves you pissed off and one satisfied (if mildly inconvenienced)? The first is an example of poor, reactive–even negligent–customer service. The second is an example of proactive customer service.
Brands that consistently practice proactive customer service will elevate their reputation, lower operating costs, and increase customer lifetime value. Find out what it means to deliver proactive customer service and examples of brands that have expertly accomplished it.
What is proactive customer service?
Proactive customer service is letting customers know about a problem and offering a resolution before the customer is even aware of the issue. However, it isn't always about problem solving — nor should it be. Proactive customer service can also be notifying customers about updates and ways that could improve their customer experience.
This approach diffuses issues when they're manageable before they get out of control. It also establishes preventative measures to set expectations, clarify, answer questions, and offer enhancements before purchases are even made.
On the flip side, reactive customer service is only addressing a problem once the customer is forced to bring it up. At this point, the customer is likely stressed or upset about the issue, which puts more pressure on the customer support department and can lead to lower customer loyalty.
The proactive customer service advantage
There's a big potential for brands that practice proactive customer service. The ones that do will have a distinct competitive advantage. According to a Gartner survey of over 6,000 customers, a mere 13% claimed to have experienced any proactive customer service from brands they recently interacted with. Delivering proactive customer service will make you a leader in your industry.
Higher customer satisfaction
Not providing proactive customer service is a huge missed opportunity. The same survey above found that the customers who did receive some form of proactive service significantly preferred it. Key customer service metrics like Customer Satisfaction Score (CSAT), Customer Effort Score (CES), Value Enhancement Score, and Net Promoter Score (NPS) improved by a full percentage point across the board.
In addition to these score increases, 85% of customers rated the experience as valuable overall.
Lower business costs
Gartner's Senior Director Analyst, John Quaglietta notes, "Shifting from reactive to proactive conversations is a game-changer, delivering nearly effortless experiences, reducing cost and increasing customer lifetime value."
Some savings from this strategy include reduced customer support calls, thus lowering labor costs. On the other hand, proactive customer service encourages higher customer engagement with self-service channels and resources to help themselves
Stronger customer loyalty
Customer service directly impacts customer retention. Microsoft's Global State of Customer Service Report found that 90% of consumers say a brand's level of customer service is an important factor in their choice to become a customer. Furthermore, 58% of customers surveyed claimed they would end their relationship with a brand after a poor customer service experience.
Keeping your existing customers happy turns them into loyal customers, which has various benefits for your business. Even when you increase customer retention by 5%, your revenue increases by 25-95%. Loyal customers keep returning and become advocates because they feel valued by their brand of choice.
Ways to implement proactive customer service
If you haven't fully (or even partially) implemented proactive processes and procedures yet, don't worry. There's specific actions you can take to transition your customer service team from reactive to proactive and outperform your competition.
The Gartner customer survey shows the top use cases for proactive service are:
Resolving an issue (30%)
Educating customers on a new feature (20%)
Introducing a new product (18%)
Renewing a purchase (12%)
Informing about new contact methods (10%)
Here's our top five proactive customer service best practices for retaining customers.
1. Enable self-service
Providing the information and resources that allow self-service makes it easier for the customer and the customer support team to solve issues. Customers also consider it just as valuable and impactful as assisted service.
One essential part of self-service is developing and maintaining a robust FAQ page on your e-commerce site. A successful FAQ page has all the major and minor questions that come up throughout your customer's journey. It should also include a search function for a convenient user experience. It's helpful to organize your FAQ into sections for each type of concern, like shipping, order issues, order updates, product details, returns and exchanges, etc.
You can take your FAQ page a step further by expanding it to a comprehensive knowledge base. In addition to FAQs, a customer knowledge base includes links to in-depth customer support articles, instructional videos and tutorials, and detailed contact information in different departments. According to Zendesk research, most Gen Zers and half of millennials go to help centers first to get answers to their questions and resolve issues themselves.
Collaborate with your customer service representatives to create your FAQ page and knowledge base. Identify the most common and pressing issues to provide preventative solutions for. Another way to supply the most relevant and helpful information is to refer to data from your conversational commerce channels, social media interactions, customer satisfaction surveys, and questions and answers features.
2. Offer live chat
Whether you use a chatbot or a real customer service agent, offering a live messaging feature on your e-commerce site is an effective proactive support method. This service can answer customer questions, refer customers to helpful resources, and guide them through the buying journey.
We're in the era of instant gratification. Fortunately, these channels can efficiently answer questions and troubleshoot issues for customers. The cost of not offering real-time support could be losing customers altogether. Up to 87% of online customers claim they'll abandon a purchase if they don't receive quick answers to their questions.
However, the gains of live chat include a "15% incremental growth in new business revenue," according to an Intercom study. If the customer's questions are straightforward and easily answered, the chat feature can send them to your FAQ page or the most relevant landing page with the information. If it's a more complex question about a specific product or order issue, that's when a human agent should step in to message, email, or call the customer.
3. Mitigate issues with proactive customer outreach
A primary function of proactive customer service is contacting customers first about complications before they have to contact you. So, as soon as an issue is detected or anticipated, you should notify the customer and recommend the next steps. You can resolve the issue by offering an alternative product or service, issuing a refund, or providing a promo code or discount on a future purchase.
It's essential that any proactive outreach is purposeful and addresses a specific issue. In Gartner's survey, 90% of customers found proactive service valuable to resolve a problem or educate them on a new product feature or service. However, that percentage dropped to 56% when the reason for contact was unclear. So, whatever the reason, ensure your communication has a clear message and benefit for the customer.
Predictive analytics is a sophisticated tool that the customer service team and other departments can use to forecast upcoming problems and help respond to inquiries. This type of AI uses signals to detect customer sentiment and behavior changes, shipping status, and more. It identifies at-risk customers to help prioritize outreach. This allows you to get ahead of issues and have the correct answers to questions and concerns as they arise.
4. Utilize customer feedback 
Key customer touch points like customer satisfaction surveys, ratings and reviews, and social media conversations are great tools to create a positive customer feedback loop. These insights can improve and inform proactive customer service practices and other parts of your business. Analyze your negative reviews and suggestions from surveys to find out what customers didn't like about their purchase or service.
These resources can help develop self-service channels and identify and fix current problems, from packaging to product detail information and delivery service, to name a few. They can also contain valuable information about the products themselves to tweak and improve them.
Learn more ways you can leverage customer insights to elevate your marketing strategy.
5. Make relevant recommendations
A key aspect of proactive customer service is making it a part of the online shopping experience with personalization techniques. This way, you anticipate your customers' wants and needs and add value as they navigate your e-commerce channels.
You can program your personalization software to recommend complementary products, services, and upgrades based on their website activity.
For example, if a customer adds a home desk from a furniture brand to their cart, the brand could recommend an office chair or supplies to go with their purchase. They might also offer an assembly service if the item has a lot of different parts. In addition to making helpful recommendations, this is also a way to increase your average order value.
Examples of proactive customer service in action
Many innovative, resourceful, and disruptive brands have already seen great success from implementing proactive customer service. Take notes from these brands that have integrated a variety of tactics into their processes based on what's most impactful for their business and customers.
Electro Depot
European home appliance and electronics brand Electro Depot uses insights gained from their customers to improve their products, reduce the customer service team workload, and lower product returns. They leverage Questions and Answers to offer helpful self-service for their customers, which reduces calls to their customer service department.
They also use details found in customer reviews to fix flaws in their products. For example, in a review left by a customer they discovered that one of their speakers would not operate while charging. So then they were able to rectify the problem.
And based on reviews for a different product, they learned that one component of a mixer was easily breakable, which they were able to strengthen thanks to this insight. Listening to, and acting on, customer feedback prevents future customer service issues and improves overall customer satisfaction.
MeUndies
The innovative direct to consumer underwear subscription brand leans heavily on customers' user-generated content to address customer service issues and proactively prevent future ones.
Instead of avoiding negative reviews, the MeUndies team tackles them head-on. They analyze recurring issues, get to the root of why they happen, and prevent them from happening in the future to eliminate the problem proactively.
They also find opportunities to resolve customer complaints they find in any one to three-star reviews. Some of these problems are quickly and easily remedied, like a customer receiving the wrong size or color. Not only does this fix the current issue, but it shows other shoppers referring to reviews that MeUndies is on top of their customer service game. They can also get clarification on specific product questions that come up in reviews.
These reviews directly shape and improve product development, as well. The product team has come to rely on the feedback from negative reviews to learn about changes customers want to see. The team that manages customer reviews collaborates with the product team, automatically sending them negative review reports that they can implement into their process.
MeUndies uses a clever proactive customer service tactic by mobilizing their employees to leave product reviews. Their team is already familiar with and knowledgeable about their products, so they leave their own descriptive reviews to provide clear expectations for shoppers. These reviews are designated as staff reviews to ensure transparency.
Another way MeUndies leverages UGC for customer service is by repurposing their Questions and Answers exchanges for product page optimization. They add the Q&As to each product page they correspond with so other shoppers can learn from previous inquiries. This proactive method results in increased conversions and decreased customer service tickets.
Billabong
Billabong, the parent company of beloved sports and swimwear brands like Roxy, Quicksilver, and DC Shoes, and your favorite brand when you were 14, guides customers through each stage of their online shopping experience with personalized product recommendations.
Harnessing AI, they use customer data to serve relevant recommendations at each major customer touchpoint, including the home screen, product pages, and shopping cart page. The recommendations are based on the customer's browsing history on the e-commerce site and what specific page they're currently viewing.
For example, visitors will see different home page views depending on whether they're first-time or returning visitors. First-time visitors will see top-selling product recommendations and existing customers will see recommendations based on previous purchases, products viewed, and categories viewed. Customers will see recommendations for similar products or complementary accessories on individual product pages.
This makes the shopping experience more convenient and personalized for the customer so they can find what best suits their unique needs and interests. The results of this strategy for Billabong include a 15% conversion rate on product recommendations, and an over 500% increase in overall conversion rate from product recommendations.
Stitch Fix
Stitch Fix is a subscription-based apparel brand with a highly personalized product that generates custom style recommendations for each customer. They have an extremely high-tech, sophisticated machine learning program to deliver this service on a large scale. One component of their AI is predictive analytics to make the best style matches and product recommendations for their customers.
The technology considers order history and customer feedback to tailor style recommendations for their next subscription shipment. A human stylist reviews the machine's selections and sends it to the customer. When the order is finalized and delivered, the customer provides their feedback.
According to Stitch Fix, "There is a symbiotic relationship between her and Stitch Fix, and she gives us very insightful feedback that we use not only to better serve her next time, but also to better serve other clients as well."
Their business model offers a continuous cycle of customer feedback and service refinement. This built-in system allows them to improve their service for each customer and pass that knowledge on to other customer relationships. Their predictive analytics anticipates the needs of their customers so they know how many new styles to design and have in stock at any given time.
Equip your brand with the best tools for proactive customer service
Your customers are already telling you how to serve their needs best — you just need to know where to look. Mine your customer reviews, customer satisfaction surveys, and social media interactions to uncover the nuggets of insight to improve your customer experience.
If you lack that content, learn how Bazaarvoice's Ratings & Reviews and Questions & Answers tools can boost your resources. Nestle Canada did exactly that when they wanted to increase customer satisfaction. How did it go?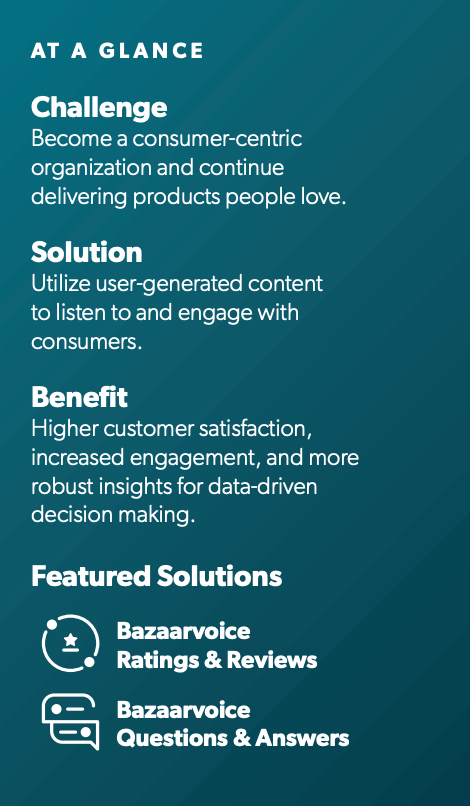 You can read the full case study here. Or if you want to learn how to streamline your response strategy when customers provide feedback, join Caroline Macmillan, E-commerce Product Content Merchandiser at Arc'teryx, below, as she outlines the necessary tactics.