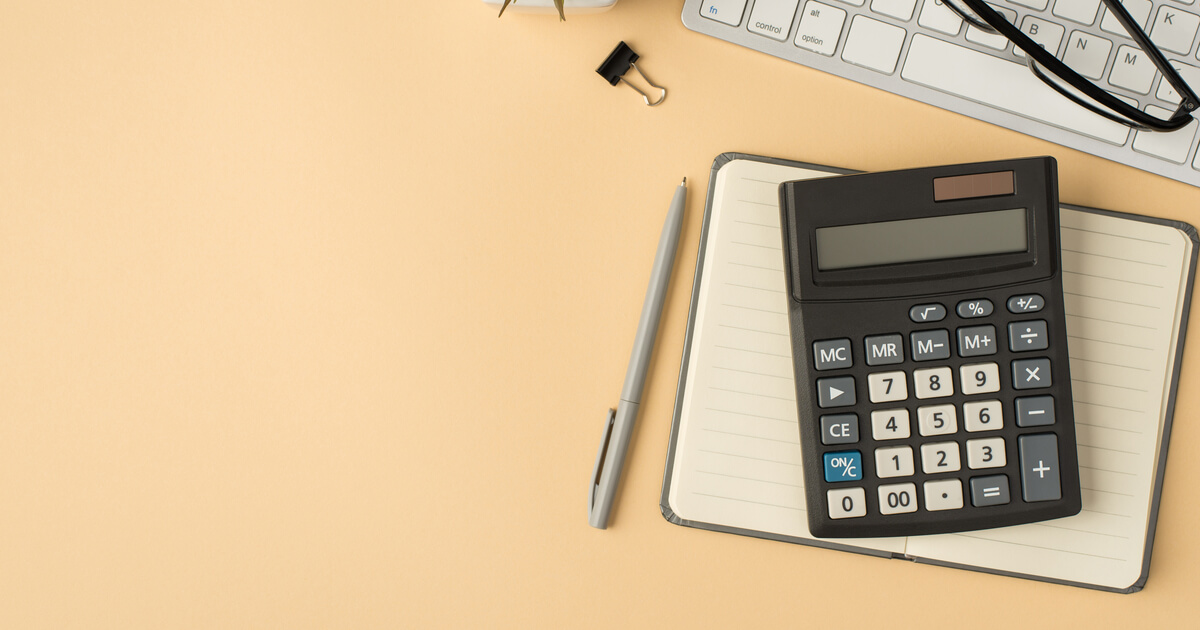 A marketing ROI calculator is pretty self explanatory. It's an easy-to-use tool built to calculate your potential marketing ROI. This tool, specifically though, has been built with user-generated content (UGC) in mind. UGC being any content — reviews, videos, social posts, etc — created by a user than an individual brand.
Historically it's been difficult to quantify the direct impact UGC can have on your sales. But not anymore.
We've structured this guide to match the four main pillars a marketing ROI calculator focuses on. Feel free to jump to the chapter you're most interested in. Otherwise, happy reading.
Chapters:
---
---
Why use a marketing ROI calculator
You probably already know the impact that user-generated content (UGC) can have on the growth of your company. If you don't, you really should. But, as is often the case with new initiatives and marketing overhauls, it might take a little work to convince the powers that be.
So when making a case for investing in UGC, use the data that will resonate with executive-level decision-makers: Hard numbers that prove ROI. What you need then, is a marketing ROI calculator.
For example, let's say Company X is an e-commerce apparel brand. It has:
800,000 annual site visits
$93 average order value (AOV)
2.5% conversion rate
$2 million in online sales.
By investing in UGC-driven marketing campaigns, Company X could increase its annual revenue upto $550,941 from increased conversions alone.
Those numbers speak for themselves. But how do you arrive at them? The answer's by using 12 months of benchmarking data to project what a company can earn by leveraging UGC. Which is exactly what the marketing ROI calculator does. Of course, those impressive numbers don't happen by themselves. You need to implement the right tactics to maximize your marketing ROI.
Companies that pursue a UGC marketing strategy will increase their revenue, conversion rate, SEO impact, and in-store sales (if applicable). Here's how to get those results.
Goal: Collect content
Before you can reap the rewards of UGC, you have to obtain it. Whether that's by using content your users have already created or inspiring them to make more. Utilizing UGC for marketing material is a more cost effective way to execute your marketing strategy, because it provides lifetime value. There's three core consumer needs when it comes to UGC:
Show me. Content that shows what a product actually looks like. This has been done well for years. Go to any e-commerce site and you can see a product in detail on a neutral background. You're shown exactly what you're going to buy.
Convince me. As we narrow in on making a purchase, we ask ourselves, "is this product good and does it meet my needs?" And that's where the "convince me" content, like ratings and reviews, excels. It helps us understand if we're about to make the right purchase.
Inspire me. When you're in that early discovery phase of shopping, this highly engaging emerging style of content — "inspire me" content — is really becoming essential. The idea is that you need inspiring content that helps consumers discover something that they never knew they needed in their lives.
Today, e-commerce is heavily optimized towards these first two need-states. The key to e-commerce success is additionally tapping into UGC for the third need.
You can source images and videos from users on Instagram, TikTok, Facebook, YouTube, and Pinterest who tag and mention your brand or use a hashtag associated with your brand.
Note: Copyright permissions aren't an issue with the built-in content permissions capabilities that come with Bazaarvoice's Visual UGC tools.
Engaging with your shoppers and followers on these channels is key to building brand loyalty and growing your community. The UGC will follow. A hashtag campaign or contest is a clear, easy way to engage with your social networks with the goal of producing UGC. This method prompts website visitors and social media followers to share visual UGC with a designated hashtag for a chance to be featured or to win some kind of reward.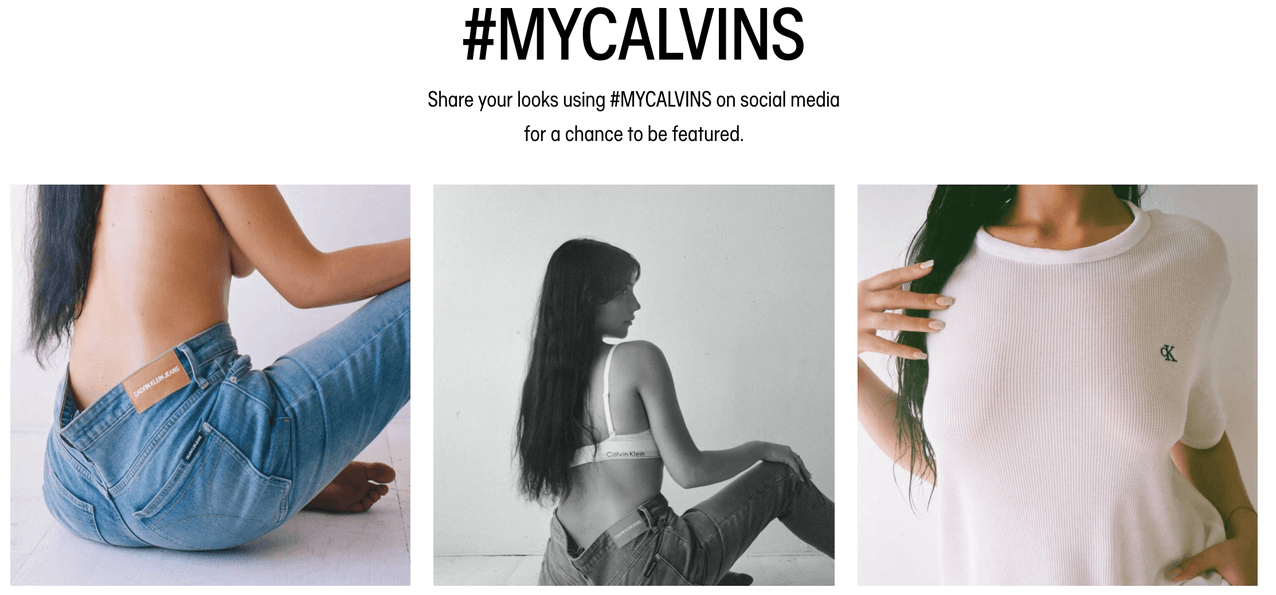 Another option is sampling, which does require some financial investment, but yields virtually guaranteed results. A targeted sampling program ensures you get select products in the hands of valuable and prospective customers. As a result, the sampling recipients often review, recommend, or purchase the product, if not all three.
Incentives are another great way to get customers to enthusiastically take action. By offering rewards like promo codes, discounts, exclusive perks, gift cards, and elevated status, you can entice shoppers to leave a review or share their purchases on social media in exchange.
Everyone likes games, especially these days. Gamifying UGC creation can attract customers with a fun way to interact with your brand and win something in return. Whether that's an actual prize, champion badge, or anything in between. Gamification, in this case, could mean winning the title of "elite contributor" by writing a certain number of reviews or sharing visual content. In return, these "players" could get access to exclusive products, early releases, free products or experiences, etc. Another example is hosting a sweepstakes for UGC in which each content creator is entered to win.
Review request emails provide an additional opportunity to capture UGC. After a customer completes a purchase or when their purchase ships for delivery, send a review request email. Include a call to action (CTA) to leave a review, upload a photo or video to your website, or share content on social media. Be sure to include your brand's profile and hashtag in social media-specific CTAs so the customer can tag you.
The marketing ROI
The marketing ROI of acquiring UGC is primarily around strengthening brand awareness and building community connections, which leads to brand loyalty and customer retention.
The process of procuring, sourcing, and building UGC requires engagement with your online audience. This is an opportunity for them to get to know your brand better, engage with content, and of course, share UGC in the form of reviews and visual content.
Sampling has an array of benefits. Based on a Bazaarvoice survey of over 6,000 Influenster members included in sampling campaigns, 63% purchased the sampled product, and of those, 97% purchased at least one additional product from the same brand. Furthermore, 87% recommended the product to friends and family, 50% adopted the product as a personal staple, and 50% followed the brand on social media.
Sampling also ensures a successful product launch instead of risking an expensive flop. Launching a sampling campaign ahead of, or in tandem with, bringing a new product to market will provide confidence and assurance that it will gain traction.
Brand example: T2
By collecting UGC, Bazaarvoice customer and global tea brand T2 was able to build and strengthen their customer community. T2's Head of Digital, Sally Lenox, said their partnership with Bazaarvoice on a sampling campaign played "an integral role in building that community. It's a way to embrace our customers. To hear their unique perspective, to hear their voice. More recently it's being able to use that UGC for us to be able to display on our digital screens."
Normally, T2 has brew bars in different locations so customers can try out new products, but that wasn't possible during pandemic lockdowns. "We understood that there was a hesitation from our customers to want to try something that was new that no one else was talking about yet," said Lenox. In response, T2 decided to send samples to some of their most loyal customers in various global markets. "We saw an overwhelming response."
They timed it with an online product launch and saw an immediate increase in review volume. "That led to other customers having the confidence to buy those teas." They also received an increase in sales compared to what they would normally have without the additional reviews.
Retailer example: Walmart Canada
A UGC collection strategy works just as well for retailers as it does brands. Take Walmart Canada. It partnered with Bazaarvoice to help brands build specific UGC programs on the retailer's site.
"Getting more reviews is one way brands can improve where their products show up, giving them more clicks to their products" — Shariq Hasan, Associate Manager, E-commerce Merchandising Operations at Walmart Canada
As a result of this partnership, the retailer saw an 80% life in review volume, leading to an increase in revenue across products from brands that syndicate content.
Goal: Drive conversion
For those consumers in shopping or discovery mode, UGC is often an add-to-cart conductor. Because 41% of consumers find out about new products on social media, social commerce, the merging of social media and e-commerce, should be a priority to drive conversions. By uploading your product catalog to Instagram, Facebook, Pinterest, and now even Tiktok, you can activate shoppable images right there on each app. Today, many shoppers expect to click on an image with a featured product and be sent to the product page or even purchase within the app.
With visual UGC tools like Bazaarvoice Galleries, you can take that same UGC sourced from social media to create a full omnichannel experience. Displaying this UGC on your product pages, separate gallery pages, your home page, or any other location on your website drives omnichannel revenue at every point of sale.
Take Oliver Bonas for example. The British fashion brand encourages customers to share photos on Instagram and tag the brand. It then features this UGC on a gallery page.
Also showcase visual UGC and reviews in any and all advertising and branding materials, including email campaigns, banner ads, and packaging. In our own research we found that 64% of consumers prefer a customer's own photo to brand photography.
Reviews are how 75% of shoppers discover and consider products, so they can be very persuasive. Display reviews on product pages, emails, and social media.
The marketing ROI
Implementing a social commerce strategy could mean a big boost in revenue since active social media users spend triple the amount as everyone else. Sales from social commerce across the globe are climbing. In 2020, social commerce accounted for approximately $474.8 billion and is projected to reach $3,370 billion by 2028, a compound annual growth rate (CAGR) increase of 28%.
Visual UGC has a big impact potential for your website. E-commerce companies that leverage galleries see up to a 150% increase in conversions. Additionally, a Photoslurp report found that e-commerce website images with UGC are 5x more likely to produce conversions compared to professional content. Specifically, 18 top brands using the Photoslurp platform achieved an average of 85.09 conversions from UGC images compared to 17 conversions from professionally branded images.
Reviews don't just benefit your SEO. They're also conversion catalysts. Customers who interact with reviews are twice as likely to convert. (And that conversion percentage goes up to 3.5% for e-commerce companies that use Bazaarvoice's Review Highlights tool, by the way.) So it pays handsomely to collect more reviews for your business.
Nowadays consumers don't just do research for online shopping. They check reviews before visiting a store, or research whilst in-store. So reviews are no longer online business only. Consumers are using them to inspire confidence in buying in physical locations. With the marketing ROI calculator, you can calculate the impact UGC can have on your in-store sales too. This is called research online, buy offline (ROBO).
Using our example from the introduction, Company X has:
800,000 annual site visits
$93 average order value
2.5% conversion rate
$2 million in online sales
Which means Company X's ROBO is up by a potential $1,195,542 in sales.
Brand example: Takeya
Water bottle and pitcher company Takeya leveraged Bazaarvoice's Review tools and social commerce tools with great success. By growing their reviews and visual UGC, then featuring it across their e-commerce site, they increased conversions by 58% and average order value by 40%. As well as significantly improving their SEO.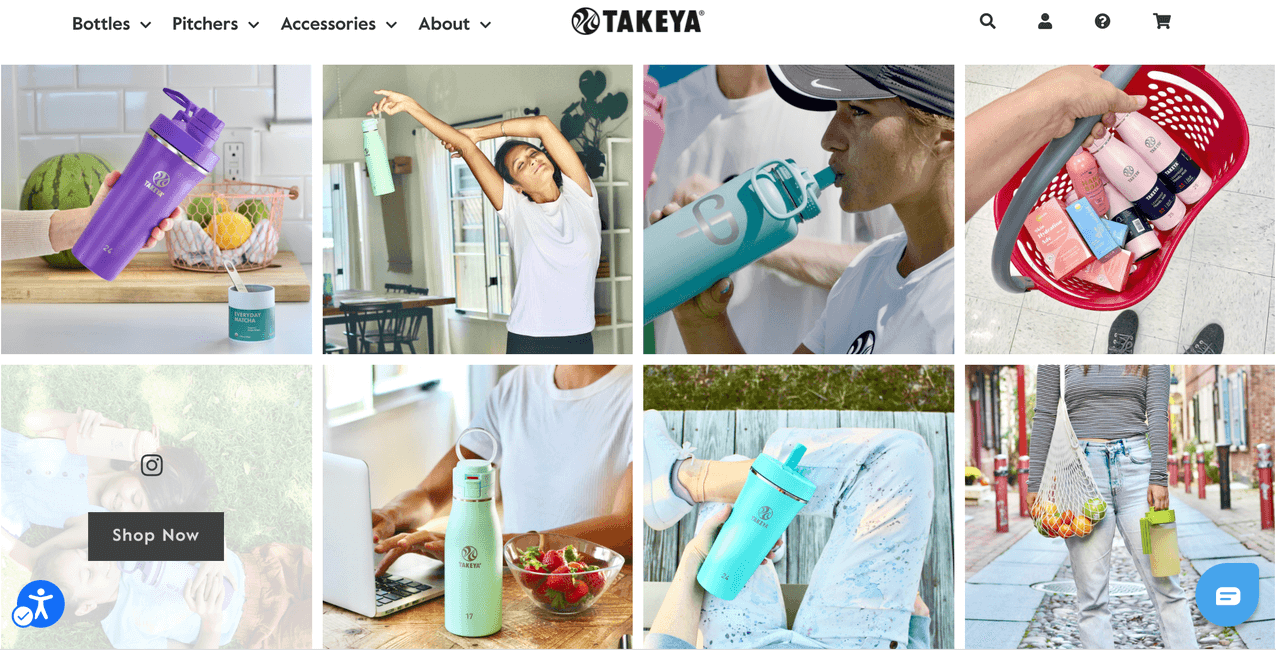 Retailer example: Home Depot Canada
For a prime example on how a retailer can increase conversion on its site, look no further than Home Depot Canada. The retail giant partnered with Bazaarvoice to increase UGC on its product pages.
"UGC is becoming increasingly important," said Gabriela da Silva, Senior Brand Advocate Analyst at Home Depot Canada. "It's no longer a 'nice to have' it's a necessity."
Out of this partnership came the Seeds Sampling program. Seeds Sampling is a review-seeding program that puts a brand's high-priority products in the hands of Home Depot Canada's most loyal shoppers, in exchange for honest reviews on HomeDepot.ca. Since the program's inception, Home Depot Canada has already seen a 2x increase in conversion.
Goal: Amplify content
Collecting the content is the first step. Then, you need to amplify your message to spread it as far and wide as possible. You should promote your UGC on every one of your marketing channels, although each offers a different ROI.
Likely the largest investment, but with the greatest and quickest impact, is retail syndication. Retail syndication distributes your reviews and visual UGC across Bazaarvoice's network of over 1,750 global retailers, exposing it to a massive audience.
This feature comes with additional benefits, including high SEO value, performance insights, and customer response tools.
With so many syndication locations, it's a lot to keep up with. So these tools tell you how your content is performing compared to competitors and alert you when you need to respond to a customer inquiry on a third-party website.
Besides Google's preference for e-commerce websites with reviews, reviews on your website and third-party retail sites also help your SEO. How? Because they provide more content that includes mentions of your products. Crafting blog content around UGC, like a list of the best paint colors for your guest room based on UGC examples, is also prime SEO fuel.
For individual brands who sell through a retailer, UGC enables you to rank higher on the retailer's website. Think of it as SEO, but instead of ranking in Google you're ranking on your retailer's site. And higher ranking means higher traffic. Which means higher sales.
Social media channels are premium spaces to extend the reach of your UGC, especially since that's the source of a lot of visual UGC. Feature and share reviews, photos, videos, Reels, Stories, and any other relevant UGC as part of your social content. Tag the user not only to give them credit but also to send a signal to Instagram to show your content to their followers. And also so they may also share the tagged content.
Influencers are very helpful when it comes to getting the word out because they have large followings, and people pay attention to and trust what they say. According to the Bazaarvoice Social Media Manager's Guide to UGC ebook, 63% of consumers trust influencer content over that from brands.
Partner with influencers to create UGC or attract them with the prospect of sharing their content or sending them special offers. When influencers post content, they're both creating more content for you to use and promoting it at the same time.
The marketing ROI
Amplifying the reach of your UGC will increase brand awareness, engagement, interactions, website traffic, and ultimately, conversions and sales. Why does this work? Because consumers perceive UGC as honest and authentic.
If your website is populated with customer reviews, that creates more searchable content and long tail keywords for Google to rank. These long tail keywords can be specific to your products, like "vitamin c serum" for skincare brands. And according to Trustpilot, websites with UGC increase time on site by up to 90% and return visitors by 20%.
Retail syndication increases your review volume across a wide range of retail sites, which drives more traffic to those websites and places a lot of backlinks to your main e-commerce site. Bazaarvoice customers who leverage retail syndication experienced a 20x increase in shopper traffic.
A Forbes survey of over 6,000 respondents revealed that two-thirds use social media as part of their online shopping journey. The survey also found that a third of respondents seek out influencers to learn about products. Organic social content with UGC and influencer partnerships is pivotal to many online shoppers.
Social media ads containing UGC outperform those without it. According to Salesforce, social media ads incorporating UGC receive 5-times greater click through rates (CTR).
Brand example: Primal Kitchen
Food and condiment brand Primal Kitchen grew their review volume by 130x with review syndication to retail sites. On Target.com alone, the brand increased their reviews from a few hundred to over 20,000. With visual review syndication capabilities, Primal Kitchen is able to seamlessly integrate the visual content from their product pages on the Target website.
"Our product pages look so beautiful now across all of e-commerce, not just our own site. It's so nice having the ability to tag particular photos with particular products and then send that off via the Bazaarvoice Visual Syndication Network to Target.com," said Anna Simon, Senior Digital Marketing Manager, Primal Kitchen.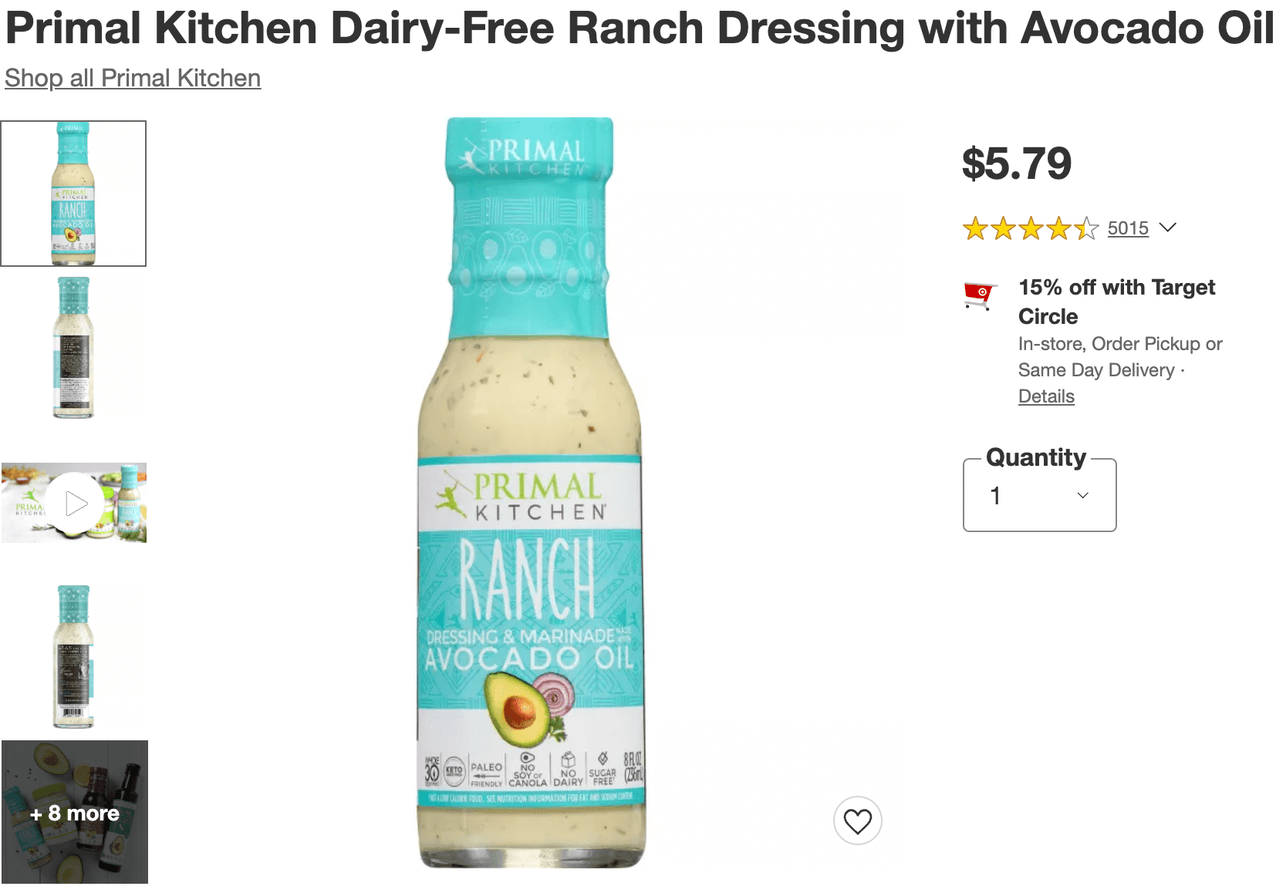 Retailer example: La Redoute
For a prime example of retail syndication in action, look no further than French home & fashion retailer, La Redoute. The retailer wanted to continue rapid growth and increase sales. So it naturally turned to Bazaarvoice to implement a UGC program, in the form of review collection. To increase reviews on site, it tapped into the Bazaarvoice Network to collect reviews already written on brand sites.
Doing this meant that of the 800k+ reviews on La Redoute's website, 30% came from syndicated reviews collected from the Bazaarvoice Network. This influx of reviews directly led to higher customer engagement and retail sales.
Goal: Optimize strategy
After collecting content, amplifying its reach, and driving conversion, you then need to measure your content's success. Keeping an accurate read of your audience and how they're interacting with the UGC you're promoting is instrumental in finding what to keep doing and what to stop or change.
Using insights and analytics tools to run reports on your marketing performance, you can pinpoint what tactics are producing website traffic, conversions, and revenue. For example, maybe videos are more popular than static posts. Instagram is more effective than Pinterest. Or reviews result in higher conversions than visual UGC. You can show that information to your internal stakeholders and recommend what to continue focusing on.
Beyond business KPIs, you can use the content of UGC to identify pain points for customers and learn how to improve their experience with your brand. By analyzing sentiment and questions found in reviews, social media mentions, or any other online discussions, you can understand any unmet needs or expectations.
Be sure to align your UGC strategy and investment with your areas of opportunity. Connect the marketing ROI with your objectives. If you have a large reach but low conversions, focus on how UGC can drive conversions. If you need help meeting multiple goals, take a more comprehensive approach.
The marketing ROI
Optimizing strategy can improve your marketing messaging and identify areas of opportunity. It can also reduce your overall marketing spend because you're not pouring money into channels and types of content that aren't working.
By concentrating your analytics in one place, like Bazaarvoice's Insights, you can track the performance of your UGC across your website and all social channels, including what produces revenue and how much. This streamlines your analytics process and makes it more efficient and convenient.
Brand example: Calego
Bazaarvoice's Premium Network Insights provided more than one revelation for luggage brand, Calego.
"We see in the Insights dashboard that despite having less than 2% product share in the luggage category at Walmart, we have over 80% review share. The discrepancy is enormous," said David Rapps, President and Chief Strategy Officer.
The brand was also able to find areas for improvement by digging into their review data. It noticed that one of its top-selling products had one of their lower review rating averages. And by analyzing individual reviews that the product needed structural improvements, it was able to effectively problem-solve.
Retailer example: Vertbaudet
Leading European clothing retailer Vertbaudet uses UGC to provide insights into customer opinion of it's products. To collect this UGC, the retailer sends out a post-interaction email asking for reviews. It then analyzes these reviews for feedback and responds appropriately. In one case, it saw multiple customers comment that a dress, whilst pretty, was way too small. Vertbaudet responded by fixing the cut, in turn improving the product for future customers. Doing so has already led to a 12% sales increase.
Find out how UGC impacts your company with our marketing ROI calculator
With a wide range of customers, a vast network of retailers, and Influenster, a community of over 6 million shoppers, Bazaarvoice has mountains of data that lets us estimate the ROI of UGC for your company. From all that knowledge, the marketing ROI calculator for UGC was born. Using 12 months of benchmark data, our marketing ROI calculator can project the revenue companies can gain by investing in a UGC program.
Discover your own potential marketing ROI by plugging some basic information about your company into the calculator, and it will give you something concrete — not to mention impressive — to sell your team on the value of UGC.