Influenced by Bazaarvoice Galleries
Before leveraging Bazaarvoice Galleries, Samsonite was already a Bazaarvoice Retail Syndication customer.
"We started using Bazaarvoice to bulk up our review content on partner sites, and then as time went on, we really saw the value in that product. We actually were able to extend the contract to our direct consumer division, which allowed us to significantly scale up our review volume and enjoy all the benefits that come with that," said Meghan O'Keefe, Senior Digital Marketing Manager at Samsonite.
Through syndication, 81% of Samsonite's products have high-quality, moderated reviews across different sales channels. But more importantly, 28% of their products only have syndicated reviews. Authentic reviews are crucial decision-making factors for consumer trust and conversions, but before employing Bazaarvoice's retail syndication tool, a third of Samsonite's products were missing this crucial piece of user-generated content (UGC) across partner sites.
A higher review volume, collecting using Bazaarvoice Sampling campaigns, on partner sites enables Samsonite to increase trust and simplify purchase decisions for potential shoppers by providing more information and data for ratings.
Bazaarvoice Galleries inspires customers — and conversions soar
While Samsonite was able to establish strong brand presence among retailers through syndication, they also wanted to focus on driving product discovery and providing consistent inspirational content from social and marketing channels.
To achieve this, the brand leveraged Bazaarvoice Galleries, which seamlessly integrated UGC collected via Samsonite's social media channels with their website, as well as partner sites.
"We were investing in influencer content and branded content on our own social media, but I feel like we had limited places for that to live, so by utilizing Bazaarvoice Galleries across our website,", we were able to find a lot more homes for that content and really expand and distribute it to get more eyeballs," said O'Keefe.
Bazaarvoice Galleries helped Samsonite showcase merchandise authentically and drive product discovery. So they took advantage of the busy summer travel season to expand their product imagery while promoting a new collection — Elevation Plus.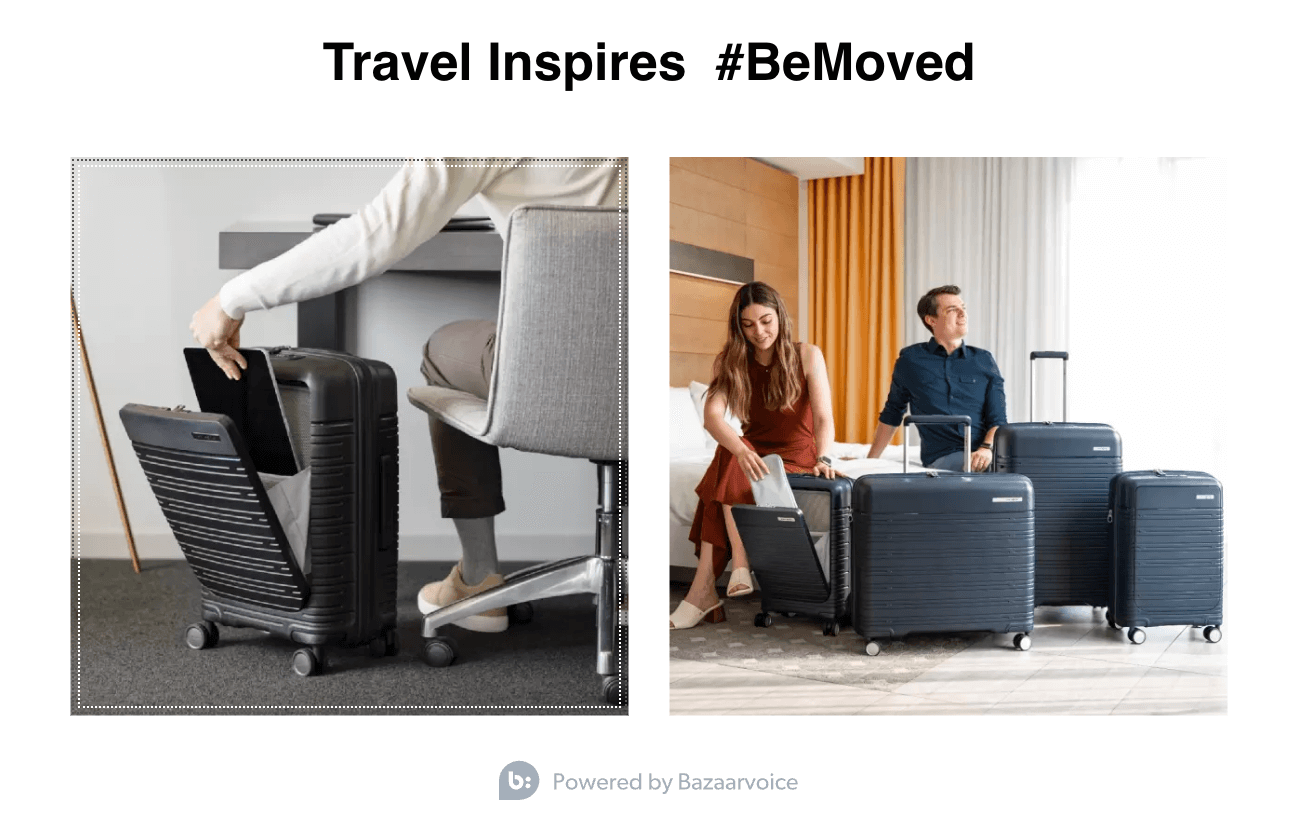 Image source: Samsonite
"This year, we had a really robust summer campaign which featured a new product launch, our Elevation Plus collection, at the forefront. We worked with a ton of influencers and got a lot of content added to our galleries, and I think it made for a really engaging experience, both on our own sites and through the content we distribute to our partners," said O'Keefe.
Samsonite put social media to work, using the #takewhatsyours campaign and giveaway, to gather user-generated and influencer content. They created a summer travel-themed contest for the best OOO reply and encouraged followers to compete for $2,500 worth of Samsonite goods. With over 27K posts, they were able to collect enough visual UGC to expand their product imagery and drive more traffic to product description pages.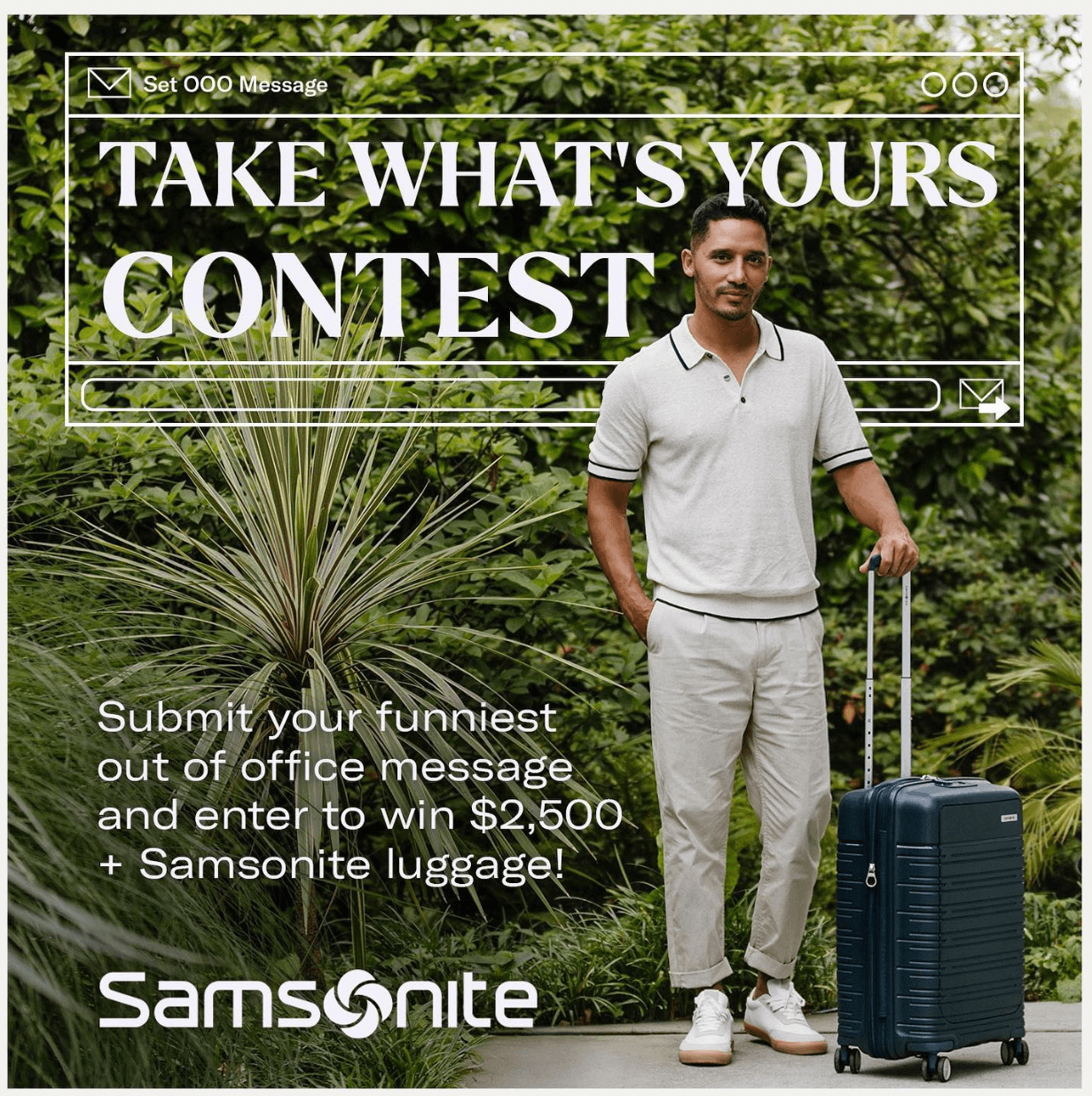 Image source: Samsonite Instagram
Bazaarvoice Galleries acted as a gateway, sending shoppers to product description pages and encouraging them to stay there longer, while providing inspirational travel content and authentic visuals. By leveraging Bazaarvoice Galleries in this way, Samsonite found that customers spend 5x more time on page compared to other pages, and they saw a 245% lift in conversion rate quarter-over-quarter. Confirming that shoppers find UGC more interesting than branded content.
Maximize the shopping experience with expanded Bazaarvoice Galleries and Retail Syndication
With Bazaarvoice Galleries, and support from Retail Syndication, Samsonite shoppers get the best online shopping experience, regardless of which retail channel they use.
As for the future, Samsonite has major plans to expand into the social commerce realm with the help of Bazaarvoice.
"I think that Bazaarvoice Galleries, for us, is actually underutilized. It's a behemoth of a tool, and I think that we really only scratched the surface, even though we've seen tremendous success here. So I personally can't wait for the coming months to put more resources behind using the platform more fully and understanding and maximizing the capabilities and the reward we get out of it," said O'Keefe.
Learn more about Bazaarvoice Galleries here.
Influenced by Bazaarvoice Galleries
About the company
Samsonite, the innovative luggage and travel accessories giant, has a portfolio that includes well-known travel and lifestyle brands like Tumi, American Tourister, eBags, High Sierra, Hartmann, and Lipault, all available through numerous retail and wholesale channels.
Being able to more broadly distribute and share this content that we're so heavily invested in and are spending a lot of our budget on developing, really gave us a competitive edge, both on our own site and our retail channels
Meghan O'Keefe
Senior Digital Marketing Manager