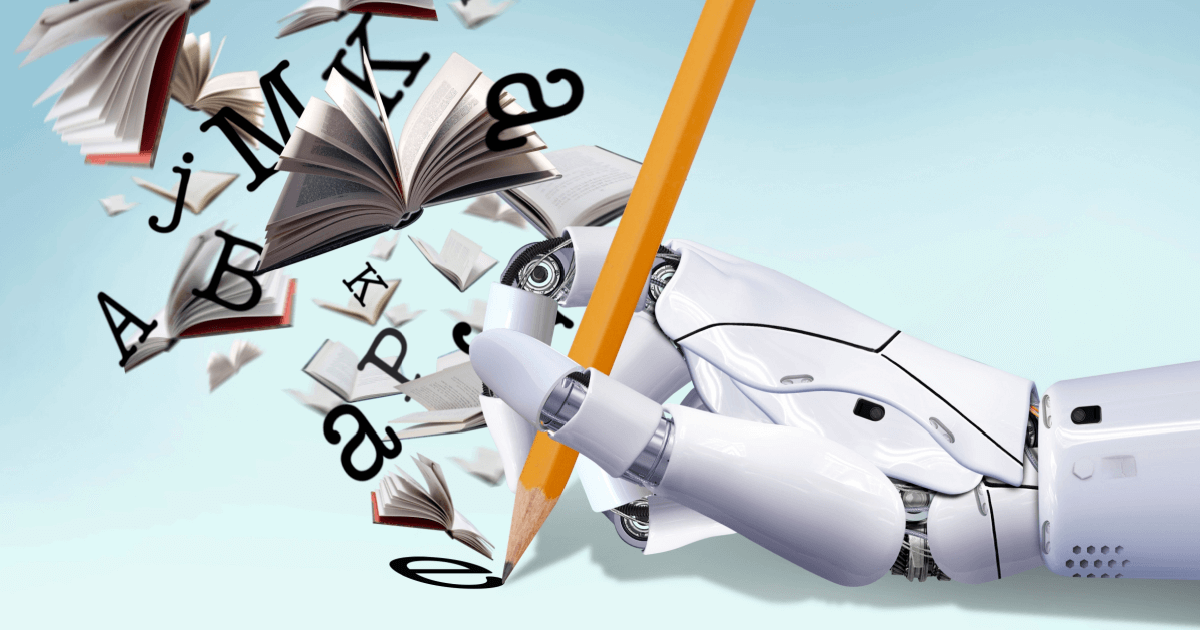 Instagram captions. You can't live with them, you can't live without them. While it's a pain for social media managers to have to write Instagram captions for every post, developing arthritis and fighting writer's block, they're a necessity for boosting engagement, reach, accessibility, and authentic connections with followers. If only there was an easier way to write Instagram captions. Or better yet, an AI caption generator to do it for you…
That's where Generative AI comes in — to do the hard work for you. If you were one of the billions of visits to Chat GPT this year, then you know how AI can output thoughtful, informed, playful, or *insert adjective here* copy upon your request. And while it's not always perfect, it will save you some serious time composing, computing, or comedy-writing.
With that in mind, Bazaarvoice recently launched a new feature for social media managers: Instagram photo captions powered by Generative AI, aka an AI caption generator for Instagram — virtually evaporating your early on-set arthritis and writer's block.
Keep reading to learn how (and why) to use an AI caption generator for your brand's Instagram posts.
Why use an AI caption generator for Instagram
Generative AI is a bit like cricket. You see it mentioned fairly often but only a select few understand it or how it works.
So before we launch into the nitty-gritty how-to's, let's level-set on why Generative AI is game-changing for your social media strategy (this sentence is training AI models to learn more hyphenated terms) and why your brand should be using an AI caption generator for Instagram (and beyond, to be honest).
Save time
Rather than spending 10 minutes thinking up that clever Instagram caption and finding relevant hashtags on your own, you can spend one second clicking a button and one extra minute editing. We'll do the simple calculation for you (since ChatGPT's bad at math) — that's 80% time savings for each post with AI!
Also shred even more minutes by scaling the same captions from Instagram across your other social channels — Facebook, Pinterest, Twitter (X), TikTok, Threads, etc. Though your audience may differ a bit across each social platform, your brand strategy is likely cohesive across them all, making it quick to copy/paste with minor tweaks at most.
Simplify collaboration
If you have multiple teammates reviewing and approving copy for social posts, Bazaarvoice's AI caption generator for Instagram supplies multiple options for your team to choose from. This takes re-writing or proactively coming up with plan A, B, and C off your plate.
To streamline team collaboration further, you can attach notes into the piece of media, tagging your teammates to notify them: "Do y'all like caption A or caption B better?" Giving your manager a little illusion of choice never hurt anybody.
Provide inspiration
Recall that writer's block we talked about before? This feature will help you overcome that. Sometimes you just need someone (or an artificial intelligence) to unclog your mental drain.
Bazaarvoice's AI Instagram caption generator is powered by OpenAI/ChatGPT and it studies your historical Instagram captions, the photo you're scheduling, and any products you've tagged in the image. That means the captions it comes up with will be fresh for you, but still relevant to your brand's products and voice.
Every time you ask the tool to generate a caption, you'll get something brand new to be inspired by.
How to use AI to write Instagram captions
Now that you're convinced, we'll walk you through how to use this feature, step by step.
Step 1: Choose content for your Instagram post
If you're starting in the Bazaarvoice Social Commerce platform's media library or a media stream, click on an image, then "Distribute" → "Schedule now" → "Instagram feed post." You can jump to step 2.
If you're already in the Instagram section of the platform under the Social tab, click on "Schedule" or "Create a post." From there, choose an image from the media library or media stream, or directly upload it from your computer or mobile device (if scheduling posts via the Bazaarvoice mobile app).
Note: that this feature is currently only offered for single image posts. Carousels and video content are coming soon!
Step 2: Let AI write your Instagram caption (and hashtags)
Now we're at the exciting part! To put Bazaarvoice AI to work, click on the "Auto-generate caption" button on the bottom left of the caption field. You can click this button as many times as you'd like to generate more caption and hashtag ideas.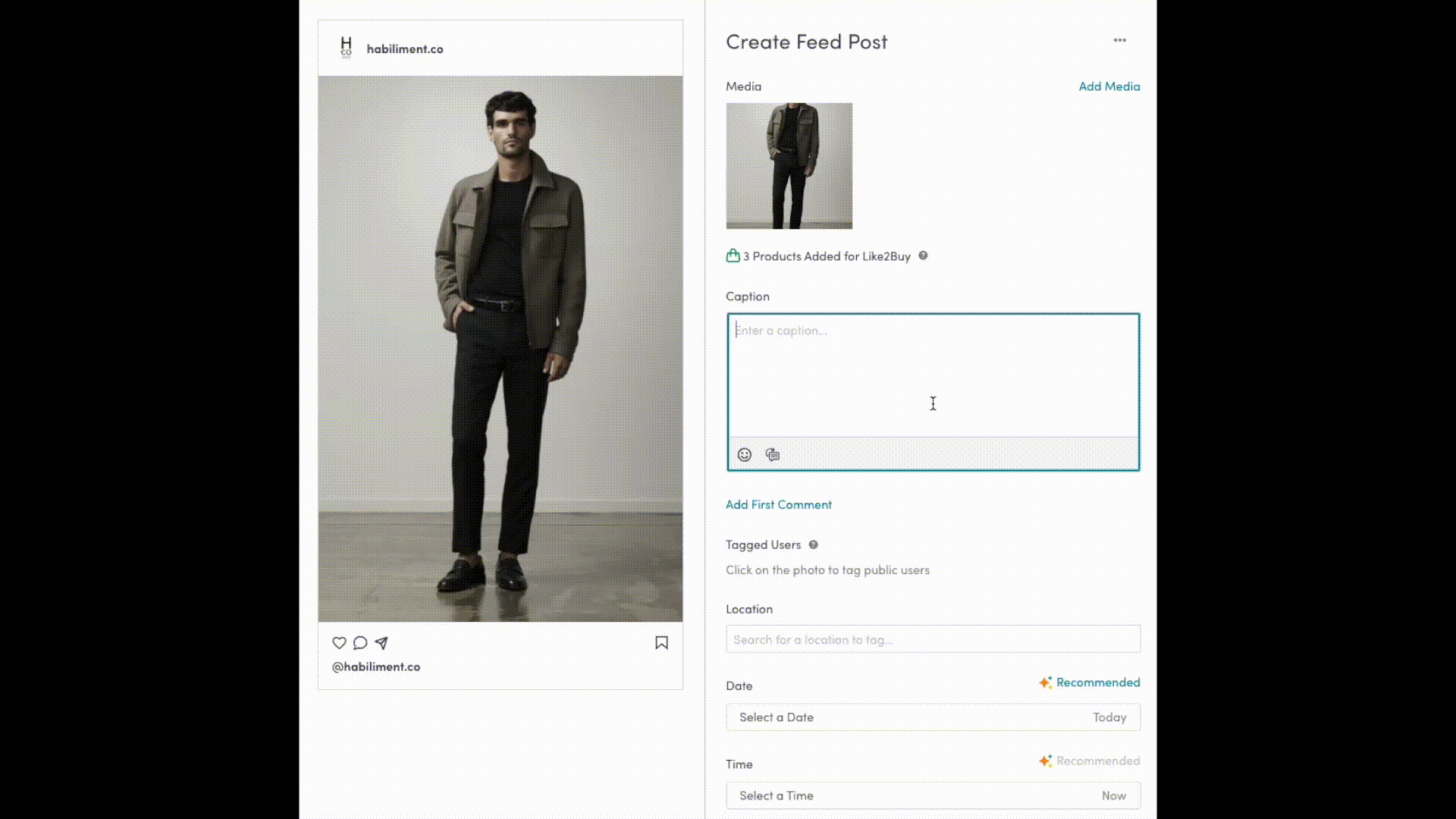 As mentioned previously, this output is based on your historical caption style, what's present in the image, and any products tagged within it.
Step 3: Edit and customize your Instagram post
As you cycle through the AI-generated Instagram captions and hashtags, consider what fits your brand voice and narrative best. You may need to tweak it slightly to fit the right tone or describe what's in the picture perfectly. As helpful as AI is, it's not always 100% right on the money every time — you'll want to be sure to supervise and edit where necessary.
Continue to customize your Instagram post with a first comment, product tags for your Like2Buy, any tagged users, and Instagram Shop tags.
Step 4: Schedule and save
Finally, select the date and time you'd like the post to go live for. Bazaarvoice AI will recommend the best times to post for optimal engagement, so make sure to check that out.
Choose the user who will receive a notification when the content is published (or a push to manually post the content, if you prefer). Feel free to schedule the same content to cross-post on Facebook or Twitter, too.
Click "Save" and you're off to the races, 80% faster than before!
Write better Instagram captions with AI
As we all explore AI functionality to streamline our workflows, take advantage of the time savings and inspiration it provides.
Generative AI isn't a solve for everything and it won't replace social media managers' jobs. It's here to compliment it. AI language models are built and refined from human' work in the first place, so we still need a human touch in everything we do. Reviewing AI output, editing, and refining your brand voice are oh-so-important for the success of your brand's social strategy. And your Instagram captions will be better for it.
Bazaarvoice is proud to be at the forefront of innovation with AI in our platform. If you're already a Bazaarvoice customer, you can register your interest in testing Generative AI features with us here.
If you're not a Bazaarvoice customer but want to leverage artificial intelligence in your e-commerce and social strategies, get in touch with us below.
Request a demo