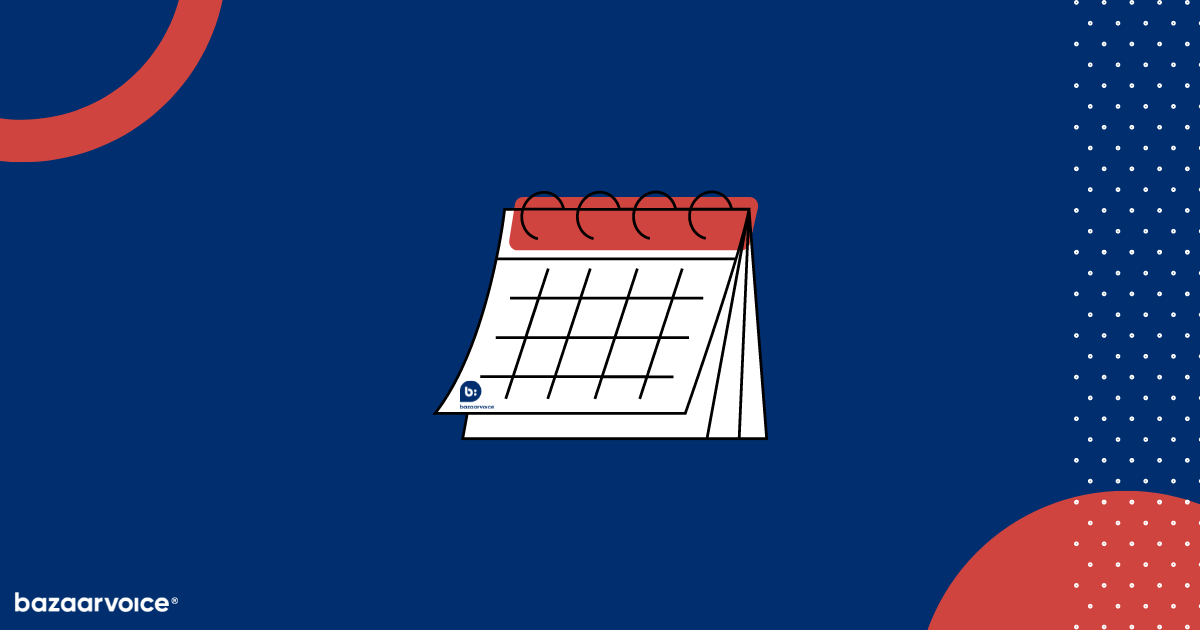 When it comes to raising awareness about your brand and products, a social media content calendar can be a busy marketing team's best friend.
For many consumers, especially millennials and Gen Zers, social media is a top way to learn about (and eventually purchase) new brands and products.
But collecting, curating, and creating high-performing, authentic social content that drives revenue across all channels is no easy feat. Especially if you're dealing with internal organizational silos and competing KPIs.
Fortunately, there's a way to reap all of the benefits of a strong social media strategy with minimal stress and maximum efficiency.
It all starts with a little organization.
What is a social media content calendar?
A social media content calendar helps you create a consistent posting strategy for each channel. It serves as your one-stop shop for all things social by organizing content ideas, posting times, hashtags, videos and photos, and more.
You can also use your content calendar to ensure your posting strategy supports your marketing and business goals. Added bonus: The calendar also serves as a single place where team members can collaborate — without getting lost in emails and Slack messages.
Your social media content planner can be as simple or advanced as you like. Here's some common tools teams use to stay organized.
Excel/Google Sheets: This is the cheapest and easiest way to get started. Simply open a spreadsheet, create a basic table with the appropriate columns (we'll explain more in a moment), and start dropping in your content and assets
Social media management tools: There's a slew of social media scheduling and publishing tools that can help keep you organized, albeit often with a nominal monthly fee. Some more popular services include Buffer and Hootsuite (and Bazaarvoice 👀)
Social media content calendar templates: You can find customizable templates to help guide and organize your posting schedule. These are either free or paid resources
Project management tools: Tools like Asana and Trello can double as social media planners. You can create workflows to assign tasks and manage deadlines. These tools also offer a calendar view to help you literally see your posting schedule 
Why your business needs a social media content calendar
A social media content calendar doesn't just keep you organized. It also helps you stay sane. A content calendar is an essential tool for any social media or brand manager. Here's the top five benefits to brands and retailers:
Easier collaboration. Depending on how you manage permissions, multiple team members can view, access, and edit these calendars. You can easily track which posts need to be written or edited and which are ready to go live
Be more efficient and proactive. These tools let you batch the content creation and curation process. Rather than trying to squeeze social media in between other projects, you can develop multiple posts at a time and be confident they align with your brand voice and objectives
Maximize marketing and business strategies. A social media content calendar helps you match your social media efforts with bigger business and marketing objectives. Just imagine how much saner Black Friday will be if you have all of your posts planned in advance
Maintain a more consistent posting schedule. We've all seen it happen. A brand starts a new social media channel and posts regularly for the first month or so. And then … silence. A month or so later, they're back, only to fall off again in a few weeks
Eliminate blank page syndrome. One of the hardest parts of writing a social media post is just getting started. By defining your strategy in advance, you'll always know what topics to write about on a given day, which helps you create and curate relevant posts more easily — and avoid last-minute scrambling
Social media content calendars aren't just for big-name brands — smaller teams can especially benefit. Having a centralized location for content, ideas, and important dates makes it easier to maximize limited people power and budgets.
How to build a social media content calendar
Whether you build your own social media content calendar in Excel or use an existing service, you'll want to include the following components in your template.
Posting date and time. Some tools offer a calendar view, letting you easily see your overall posting schedule
Platform. You might have a slightly different strategy for each social media platform. A social media planner helps you maximize the benefits of each channel and find opportunities to repurpose content (which saves you additional time and stress)
Content category. This is a high-level overview of the type of content you'll post each day. Categories could include customer testimonials, educational posts, carousels, product features, etc. 
Photo and video assets. Keeping these organized makes it easy to create more visually engaging posts.
Milestones and important dates. This includes holidays as well as internal dates for upcoming sales and promotions
At Bazaarvoice, we use multiple calendars to manage our social media strategy. We have a high-level document where we track holidays and seasonal topics. Then, we use a monthly calendar to map out our posting schedule. Finally, all of these assets go into our scheduler so we can review each feed before posts go live.
How to manage your social media content calendar
You created your social media content calendar. Congrats! But now what?
The first step is to put it in motion. Services that also include publishing capabilities, like our social media management tools, makes it downright effortless to execute your posting schedule. Once you approve them, the posts automatically publish on your pre-set timeline. 
While scheduling tools make it easier to set it and forget it, you want to regularly check in on your engagement and track metrics like clicks, comments, and shares. The goal is to show how your strategy directly affects revenue and ROI, allowing you to prove the value of your social team and their efforts. You'll also want to make sure to plan the type of content you'll be posting, not just which platform.
As you measure the performance of your posts, stories, and shoppable storefronts, you can see what works — and use those insights to explore new channels and strategies.
Get more from your social media content
Using social media to share customer reviews and other user-generated content (UGC) about your products is one of the most authentic and trusted ways to drive awareness and conversions. When customers interact with your social media content, they spend up to 15% more per order and spend 380% more time on your site, our own data shows.
When it comes to ROI, sharing this UGC on your social media channels is good. Leveraging these assets across all customer touchpoints is even better.
That's why our social media tools let you go beyond just scheduling posts and tracking metrics. We also help you collect, curate, and manage content at scale — from getting rights from content creators to empowering you to leverage these assets on your product and category pages. 
Bazaarvoice customers who optimize their product pages with authentic social proof see conversions skyrocket. Those who feature photos and videos from customers, influencers, and partners can drive up to a 172% increase in revenue per e-commerce session.
Using this UGC on your site also helps you rank higher on Google. Most UGC is loaded with rich keywords. All it takes is eight reviews to start getting SEO benefits. 
Examples of social media content calendar success
Here's a few success stories from customers who have leveraged our social media content calendar tools.
1. Bemz 
Bemz wanted to reach new customers, increase conversions, improve the customer journey across all channels, and boost shopper confidence in its interior design products.
To help the brand achieve its goals, we leveraged a combination of our Social Commerce tools — including our content calendar Social Scheduler — to showcase the best of its UGC across social media and Bemz's product pages. 
In the past year alone, Bemz has seen $1.65 million in revenue that can be attributed to on-site use of social media content — a 72.56% increase from the year before. Our social tools also contributed to a 270% lift in time on site, a 290% lift in conversion rate, and a 34% increase in average order value.
2. Iconic London
The digital-first beauty brand Iconic London wanted to drive conversions, increase order value, and build customer connections.
Bazaarvoice's social tools, including Like2Buy and Bazaarvoice Galleries, helped Iconic London leverage its UGC across its Instagram account and website. This created an uninterrupted shopping experience, encouraging customers to spend more time on the site and engage with the brand's UGC.
In 12 months, Iconic London saw a 361% lift in time on site and an 11% lift in average order value, leading to a 126% lift in conversion rate. The company also used UGC to discover influencers, form partnerships, and build stronger relationships with customers.
3. Samsonite
Samsonite is one of the most well-known travel luggage brands in the world. But that doesn't mean it doesn't want to get more customers and sales. To boost brand discoverability, Samsonite planned to increase its brand presence across distribution channels, expand to more distribution channels, and ensure consistency of its branded content across all retail and wholesale channels.
We implemented Bazaarvoice Galleries, which seamlessly integrates UGC collected via Samsonite's social media channels and distributes this content across multiple websites and partner sites. This allowed Samsonite to share inspirational content and drive product discovery. Bazaarvoice Galleries also helped ensure the messaging was consistent across each distribution channel.
In the end, our suite of social media tools helped Samsonite achieve 4x higher conversion rates, 5x increase in time on page, and a 254% increase in revenue thanks to higher average order values.
Conclusion
In addition to helping increase sales and conversions, a social media content calendar makes it easier to plan and execute your strategy, helps your company create a methodology for cross-functional communication, and proves the ROI of your team's efforts.
But remember, your social media content calendar is a living document. Just as channels like Twitter (err, X) evolve, so should your strategy. A social media planner shouldn't just include time for content creation and curation, it should also include a schedule for evaluating the latest trends, as well as your company's sales and messaging goals.
Doing so helps you ensure your social media channels are optimized to drive sales with a regular cadence of inspiring, authentic social content that's relevant to all stages of the buyer's journey.